Early in life, Peter Dunham had a school friend who just so happened to be the son of iconic British interior designer David Hicks. This led to a tour of the legend's home ("He walked me through with his cigarette holder in one hand, in some very debonair outfit—he was like the James Bond of decorating") and eventually a job in Hicks's office. Dunham liked the work, so he asked Hicks for advice. The legend's pro tip? "My dear boy, don't go into this line of work, it's a dreadful way to make a living, it's way too difficult."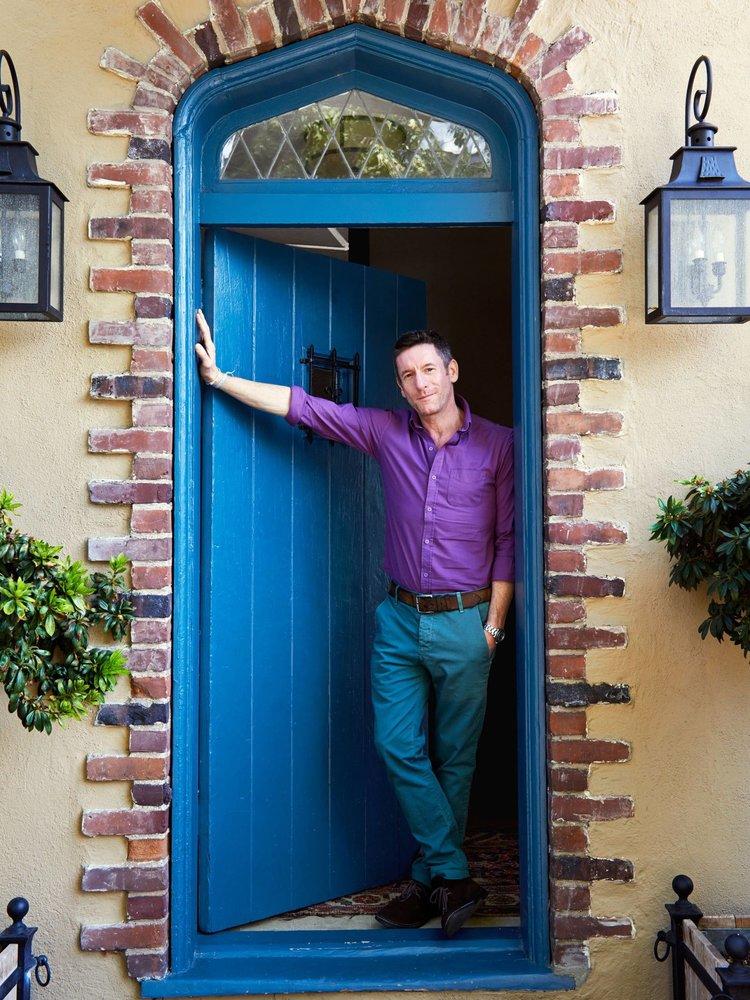 Courtesy of Peter Dunham Home
For a while, Dunham listened. He moved to New York and worked as a real estate agent for 15 years. But something was missing. It wasn't until he was hired for an interior design project that he realized what it was. "I did my first professional installation— someone had paid me to do their living room, my very first job," he tells host Dennis Scully on the latest episode of the Business of Home podcast. "My shoulders just slumped down. This is what I've been missing in those 15 years doing real estate—this must be what they call creative satisfaction."
Dunham began designing in earnest. Inspiration, serendipity and talent saw his stock rise. He had projects published, developed a line of textiles (Albert Hadley was his first customer), and a showhouse kitchen led to snagging a young Jennifer Garner as a client. Of showhouses, and creative risks in general, Dunham is a fan.
"You have to treat it like an artistic expression. Do what you want to do, don't think about the market. Go into it thinking, I'm going to spend whatever it costs to build out your fantasy. How often are we able to do 100 percent of our vision with a client?" he says. "People will remember [your room]. Even if they don't need you right then, they may need you two years later. Every time I expected the least, I got the most."
Dunham's textile line started to take off, and he needed a place to sell it, along with a growing collection of vintage pieces. He wanted to open a shop, but reasoned that other designers wouldn't want to bring their clients to a store with another designer's name on the door, so he called it Hollywood at Home. (An early rejected name? Hippie Deluxe.) The shop, founded in 2007, has since become a renowned Los Angeles shopping destination, and the launchpad for Dunham's growing furniture collection.
For his own casegoods line, Dunham has focused on a price point a bit above box stores, but below higher-end custom makers. Another focus: an ample selection of ready-to-ship items, a choice that reflects the degree to which today's clients have been conditioned to the speed and ease of online shopping, and the price point of retailers like RH. "People want to know the product is available right now. If you have it available and it's only 80 percent of what they want, they'll probably go for it," he says. "They might even go for it if it fulfills 65 percent of their needs. It might not be the color they ideally want, the exact wood species, but it's available right now at an attractive price."
As for the coronavirus-fueled uncertainty of the present moment, Dunham acknowledges we're probably headed into a downturn, but chooses to see the silver lining. "People are spending a lot of time in their houses. …. [They're] noticing, Oh, my God, that looks dingy!" he says "There's going to be a to-do list when this is all over. Even if it's only a month long, people are going to be sick and tired of looking at the same thing. The interior design business will get a bump because of that."
This episode was sponsored by Buildlane and HenryBuilt. Below, listen to the episode. If you like what you heard, subscribe to the podcast (free of charge!) to get a new episode every week.