This week, prolonged lead times continue to hinder global shipping and logistics—and in the meantime, entrepreneurs of all ages are getting in on the growing resale industry. Whatever happens, stay in the know with our weekly roundup of headlines, launches and events, recommended reading, and more.
Business News
Following the completion of a $60 million funding round, multibrand consumer goods company Pattern plans to use the newly raised capital exclusively to purchase direct-to-consumer home goods brands, RetailDive reports. The company already owns subsidiary brands Open Spaces and Equal Parts, and recently acquired home accessories brand GIR. With a past life as branding agency Gin Lane, Pattern had a hand in launching brands such as Harry's, Hims, AYR and Stadium Goods, and plans to use that industry knowledge to grow its own family of brands.
Shutterfly has agreed to buy home decor marketplace Spoonflower in a $225 million deal expected to be completed in the third quarter, Bloomberg reports. The personalized-photography platform's consumer business has grown for the past eight quarters, thanks in part to the pandemic's DIY boom. With the addition of Spoonflower, which specializes in fabrics and wallpaper, the business will be able to offer customizable soft goods such as curtains and bed linens.
Construction startup Katerra has filed for Chapter 11 bankruptcy, The Wall Street Journal reports, despite a nearly $2 billion investment from SoftBank Group Corp.'s Vision Fund. The company began in 2015 with the goal of transforming the construction industry by preassembling building parts in its facilities and offering additional services like architecture and plumbing. However, an aggressive growth strategy and a high debt load coupled with pandemic-induced construction delays put a heavy strain on Katerra's finances in recent months.
In a move backed by "buy now, pay later" fintech company Affirm, Canadian e-commerce business Shopify has made Shop Pay Installments accessible to hundreds of thousands of merchants in the U.S. Through the use of Shop Pay and the Shop App, the newly expanded service allows shoppers to split payments on their purchases into four equal installments without interest or additional fees.
In other Shopify news, the company has announced its acquisition of augmented reality startup Primer, which allows users to visualize different tile, wallpaper or paint surfaces inside their home. As part of the deal, Primer's app and services will shut down next month, and its team of eight will join Shopify.
Tempur Sealy International, the world's largest bedding producer, has chosen a 130-acre site in Crawfordsville, Indiana, as the location for a new foam-pouring factory, Furniture Today reports. The facility will become the company's largest manufacturing center in the world, building on the industry leader's recent new additions, including a recently opened manufacturing facility in Dallas, and plants in the Northeast and West Coast slated to open later this year.
Sotheby's has set up shop in the virtual realm with a new location in the Decentraland metaverse—a virtual reality platform on the Ethereum blockchain, where users can dispatch their avatars to interact with others, make purchases and create art. According to Artnet, the new space is a replica of the auction house's London galleries, and can be found in Decentraland's Voltaire Art District. Visitors can browse through displayed works and watch a livestream of the final sales from Sotheby's "Natively Digital" NFT auction, online through June 10.
High Point x Design, a group created to reimagine High Point as a year-round center of design and creativity, has announced its executive board and constitution. The new leadership includes five elected officers: Tom Van Dessel of Splashworks as president; Woodbridge Furniture's Cass Key as vice president; Frank Leyon of Oly as membership director; Stancil Wilson of Stancil Creative Group as secretary; and Hendrix Barney & Co.'s Jack Hendrix as treasurer. With an additional seven appointed officers, the HPxD board has also established multiple working committees devoted to finance, strategy, events, communications, membership, jurisprudence, and a WOW team to demonstrate the group's commitment to planning and creating an element of surprise.
Jessica Romm Perez has left her role as Domino's editor in chief for a position as head of partnerships for online design platform The Expert. There, she'll work alongside founders Leo Seigal and Jake Arnold to build and launch the brand's e-commerce strategy. Perez will remain an editor-at-large for Domino and continue to contribute to the magazine's podcast, Design Time.
Launches and Collaborations
In an initiative started by Andi Owen, CEO of the Herman Miller Group, 20 companies (Herman Miller, Knoll, Pentagram, and Fuseproject among them) have come together to create the Diversity in Design (DID) Collaborative. The focus of the group lies in making systemic change in the design industry—specifically by increasing the number of Black creatives in design. Through programming like the launch of a DID Design Fair in Detroit in early 2022, the organization aims to build awareness of design as a profession in middle and high schools, along with offering mentorship and job opportunities for college-aged students and beyond.
Dan Rubinstein has launched "The Grand Tourist" podcast, which will feature a series of interviews with luxury tastemakers across fashion, travel, food, design and architecture. The program debuted with two episodes featuring celebrity chef Francis Mallman and Victoria Broackes, the new director of the London Design Biennale—upcoming guests include designer Patricia Urquiola, architect Daniel Lidbeskind, and U.K. garden designer to the queen Tom Stuart-Smith, among others.
Target has teamed up with designer Justina Blakeney to create a line of home goods called the Opalhouse, designed with the Jungalow collection. The new line features more than 300 pieces of bedding, home decor, furniture, wallpaper and bathroom decorations in Blakeney's signature striking hues, available now in select Target stores and debuting on the retailer's site on June 26.
Floyd has announced the launch of The Rug—a versatile product available in one style with five different color and size options. Made from sustainably sourced New Zealand wool and Indian cotton, the piece comes in natural heather, anthracite, green blend, green/tangelo and deep blue.
In a celebration of its 180th year, Rinck has collaborated with Fromental for a hand-painted silk wallcovering called The Classicist Sketchbook. When designing the new product, Rinck president Valentin Goux found inspiration in the company's woodcarving studio and large-scale draftsman's sketches of decorative molds used in interior projects.
Interior designer Danielle Rollins has teamed up with Judith Ripka for the launch of the Ocean Reef Collection—a line of jewelry designed with nautical elements in mind. Available online and in-store, the selection features medallions in lapis, mother-of-pearl, black onyx and blue topaz incorporated into a variety of pieces.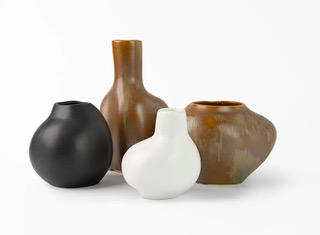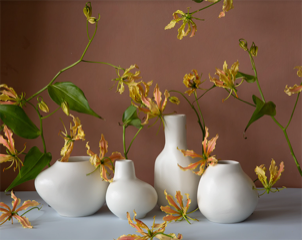 Ceramics brand Haand has debuted its first lines of vases, tapping floral designer Doan Ly to style and photograph the new pieces. The Ripple Vases collection marks a departure from the brand's focus on tableware in recent years, allowing Haand co-founder Mark Warren the chance to design something with both sculptural and functional elements.
Rifle Paper Co. has released its first swimsuit line alongside Summersalt, available online at either brand's site. The collection of more than 15 bathing suits and cover-ups features hand-illustrated floral designs created by Rifle co-founder and CCO Anna Bond.
Showhouses
The Kips Bay Decorator Show House in Dallas has announced the location for this year's second annual satellite showhouse. Re-imagined by architect Cole Smith, the 11,259-square-foot Georgian estate is situated in the city's Old Preston Hollow neighborhood and contains a grand foyer, six bedrooms, seven bathrooms, a wine cellar, theater and pool, among other living areas. Hosted by the Kips Bay Boys & Girls Club, the building will be open to the public for one month beginning September 24.
Recommended Reading
Many designers have heard the phrase "I just can't picture it"—but what if you couldn't picture anything? Recent research has shown that an estimated tens of millions of people may lack a mind's eye, meaning they're unable to conjure images in their head, NYT reports. While scientists have also found that a small portion of the population experience hyperphantasia—an incredibly vivid mind's eye—those with a condition known as aphantasia have described the experience as "thinking only in radio."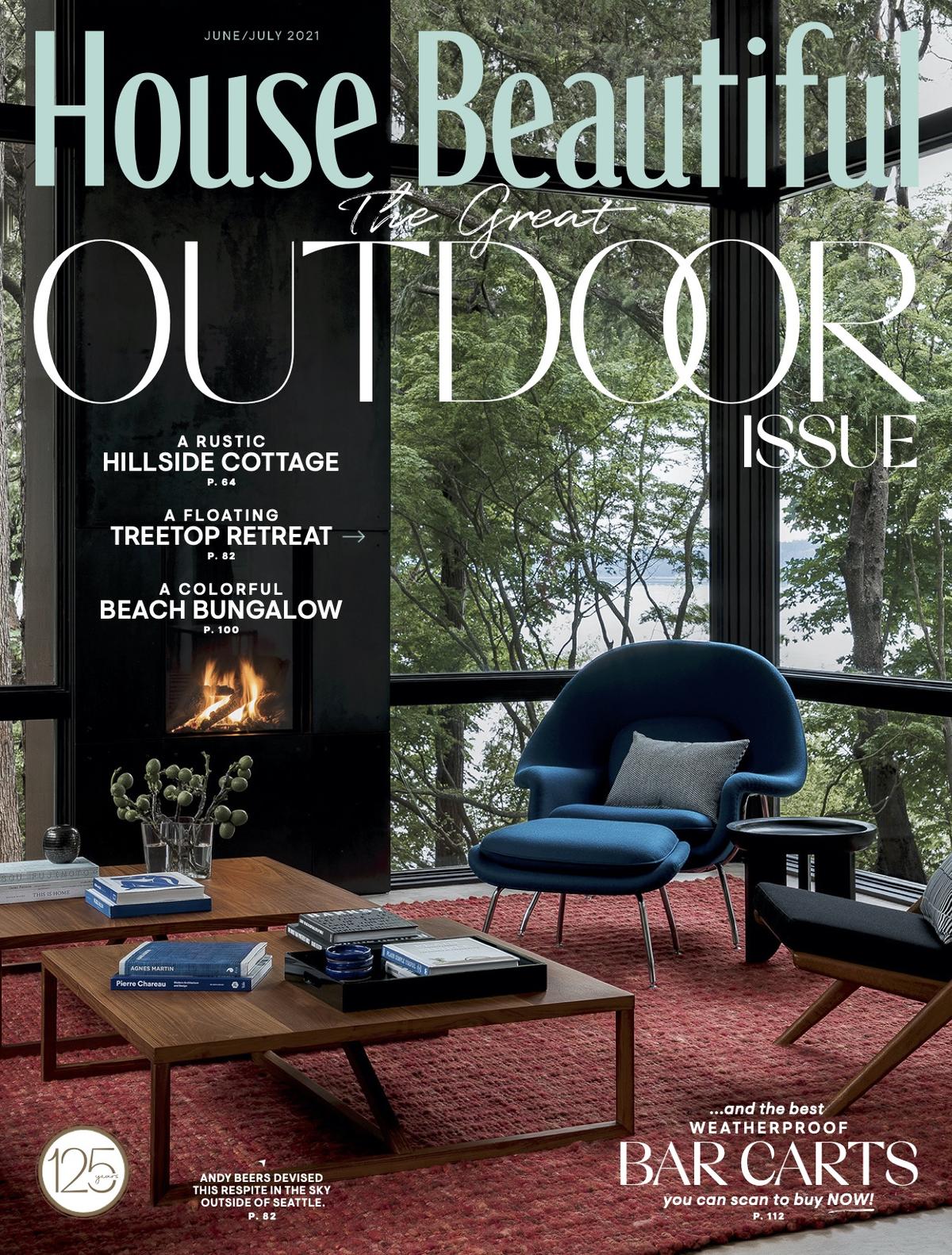 Courtesy of House Beautiful
Those who have ordered a sofa in recent months may be wondering the same thing—what's taking so long? Business of Home editor in chief Kaitlin Petersen offers a peek behind the curtain in the latest issue of House Beautiful, dissecting the multifactored issue at every step along the assembly line and beyond. From foam rations to a skilled labor shortage, those delays may be more complicated than you think.
Cue the Applause
The American Society of Interior Designers has announced the 2021 recipients of its National Awards, naming Joey Shimoda as this year's Designer of Distinction; Kia Weatherspoon as the recipient of the Design for Humanity award; Jill Pable as the recipient of the Design Luminary award; and the Academy of Neuroscience for Architecture as the recipient of the Design Innovation award. The organization has also inducted several new members into its 2021 College of Fellows, including Denise Rush, Jeff Smoler, Kay Sargent and Toni Wyre, along with Paula Wallace as the 2021 Honorary Fellowship inductee.
Call for Entries
The Hospitality Diversity Action Council has announced the launch of its First Annual Awards of Excellence—an initiative created to honor those working to promote diversity, inclusivity and equity in the hospitality industry. Awardees will be selected in the categories of professional excellence; promotion of diversity, inclusivity and equity; and affecting change. Entries will be accepted until June 23 and winners will be announced in August. To enter a submission, click here.
Salone del Mobile is now accepting submissions for The Lost Graduation Show, an exhibition created for young designers from the 2020 and 2021 graduating classes who may have missed the opportunity to present their work while finishing their studies during the pandemic. Curated by Anniina Koivu, the program will accept works from all areas of design and exhibit the finalists at the special "Supersalone" event held September 5 to 10 at the Rho-Fieramilano fairgrounds, as well as on a corresponding digital platform. Entries will be accepted until June 18; for more information, email info@thelostgraduationshow.com.
Garden & Gun is now accepting entries for its 12th annual Made in the South awards, open to Southern-made product submissions in the categories of food, drink, home, style, outdoors and crafts. The overall winner will receive a $10,000 prize and a feature in the magazine's December 2021/January 2022 issue. Entries will be accepted until July 1; for more information, click here.
The SIT Furniture Design Award 2021 is now receiving submissions from furniture designers, interior designers, industrial designers, manufacturers, brands and design studios globally. Each year, the program selects an Innovation of the Year award to one finalist, with a corresponding prize of $3,000. For more details on how to apply, click here.
The Harvard Graduate School of Design's Loeb Fellowship is now accepting applications for the class of 2022. The yearlong residential fellowship is geared toward professionals with a minimum of five to 5 years of experience in their field, whose work advances positive social change through the crafting of natural and built environments. For the first time this year, the Loeb Fellowship is also partnering with Harvard's ArtLab for a joint program offering additional resources. To submit an application or learn more about either program, click here.
Homepage image: The Rug by Floyd in anthracite | Courtesy of Floyd