In our series, What I Love, we're asking designers to build us a mood board of what's inspiring them right now.
Courtesy of Evars Collective
Nancy Evars has a knack for decorating with pink. The San Carlos, California–based designer behind interior design studio and showroom Evars Collective understands how sophisticated textiles in rosy shades can both soften and warm up a space.
Her current mood board, crafted for a client's primary bedroom, is anchored by a plush blush-hued wool rug by Safar Rugs. "The rug inspired the whole room," she tells Business of Home. "Soothing colors and textures are so important when designing a bedroom—it's important to choose materials that exude warmth and coziness."
Though a solid pink piece served as the starting point of the scheme, Evars sprinkled in an assortment of prints and patterns in similar hues, but not without the occasional splash of deep moss green or rich blue-gray for balance. "It feels cozy and intimate, yet playful and a little dramatic," says Evars. "All the perfect elements for a primary bedroom."
Here, she breaks down the details—from grasscloth wallcoverings to glazed sconces.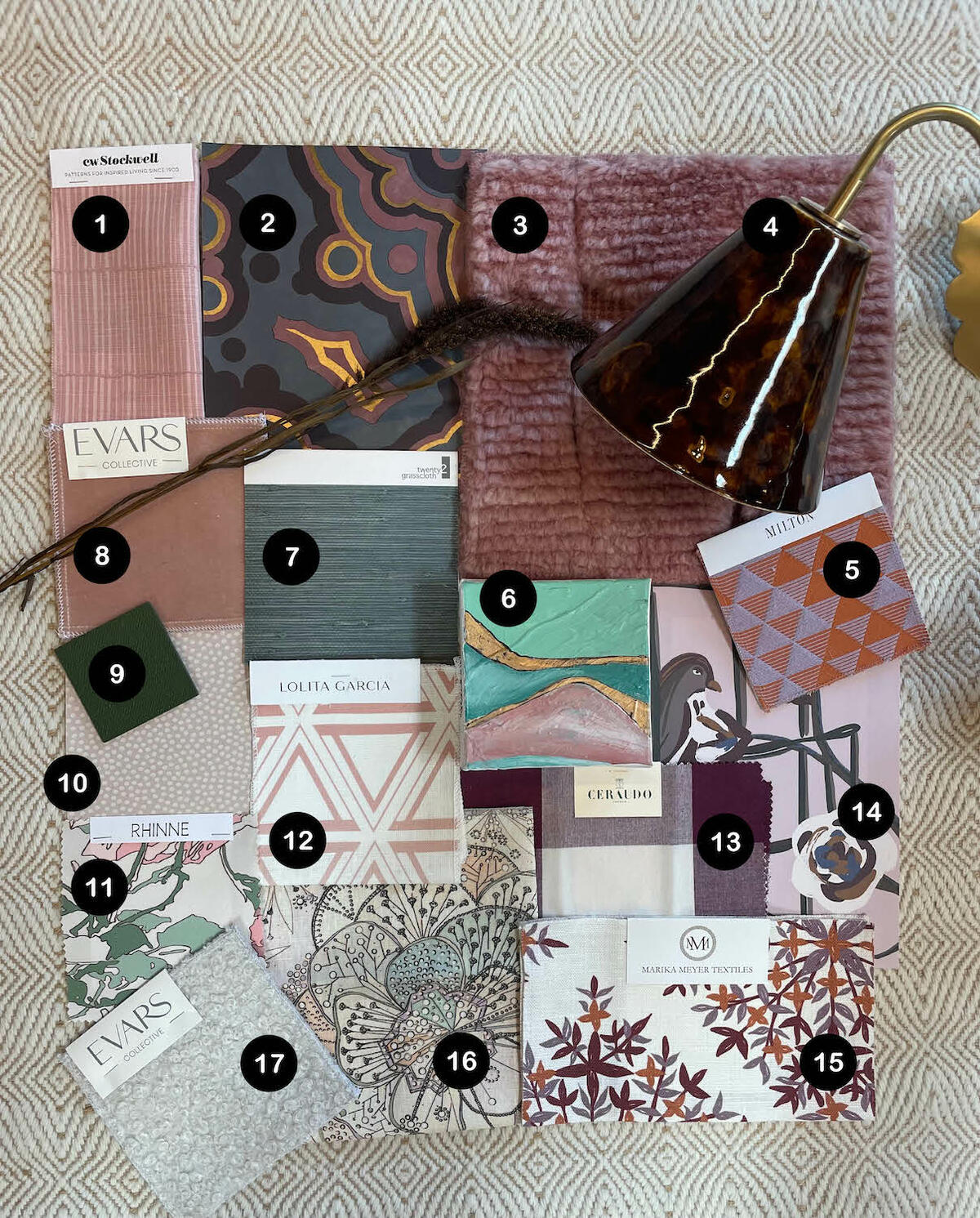 Courtesy of Evars Collective
1. CABANA BELGIAN LINEN IN DUSK BY CW STOCKWELL
"This is one of my go-to stripes for both upholstery and drapes."
2. AGATE WALLPAPER IN MAHOGANY OBSIDIAN BY FAYE BELL
"I am obsessed with Faye's unique patterns pulled from natural forms. I love the idea of this wallpaper on a ceiling."
3. HAND-KNOTTED WOOL RUG IN WINE BY SAFAR RUGS
"The softest, most plush rug—perfect for underfoot in a bedroom."
4. CIRRUS DOUBLE VANITY SCONCE IN TORTOISE BY HWANG BISHOP
"The richness and dark tones of the tortoise finish is a great balance to the more feminine hues."
5. MAGIC EYE RENI FABRIC IN ORANGE BLOSSOM BY MILTON TEXTILES
"This modern pattern [offsets] some of the more feminine elements in the room."
6. SALT FLAT 17 BY ANDI YABLONSKA AT EVARS COLLECTIVE
"We represent this artist at Evars Collective, and her mini "Salt Flats" series is my favorite. They can be hung in a large grouping of nine or 12 for a beautiful installation."
7. JUTE GRASSCLOTH WALLPAPER IN DUNGAREE BY TWENTY2
"I use grasscloth wallpaper as often as I can. The texture instantly warms up a bedroom."
8. COMO WASHED VELVET TEXTILE IN ROSEWATER BY EVARS COLLECTIVE
"Our Como washed velvets are so soft, and this colorway has a touch of gray to balance the pink."
9. MOSS FAUX BELGIAN LINEN SWATCH BY MADE GOODS
"Our go-to bedside tables are always from Made Goods, and this textural finish in Moss is gorgeous."
10. SMALL DOTS WALLPAPER IN POWDER BY HELENE BLANCHE
"I can see this wallpaper in a walk-in closet. A little bit of pattern that won't compete with the wardrobe."
11. LADY EDITH'S ROSES FABRIC IN CLAY CORAL BY RHINNE
"A contemporary take on classic pink and green."
12. CÔTE/OMBRÉ PANEL IN DESERT ROSE BY LOLITA GARCIA
"I love mixing graphic patterns with florals, and this textile from Lolita Garcia is actually an ombre panel. I can't wait to use this for stunning drapery."
13. COSMOS CHECK FABRIC IN FIG BY CERAUDO
"I always gravitate toward any colorway named Fig!"
14. SPRING CHINOISERIE WALLPAPER IN ROSE BY SHE SHE
"Chinoiserie, but make it modern."
15. ASTER FABRIC IN 03 BY MARIKA MEYER
"For a bolder drapery, these flower blooms in vibrant hues are a showstopper."
16. BLOOMFUL JOURNEY LINEN FABRIC IN WISTERIA/CELADON BY HELEN PRIOR
"Helen Prior starts all her patterns on clay before bringing it to life on cloth. So inspiring!"
17. BORREGO TEXTILE IN NATURAL BY EVARS COLLECTIVE
"We use this textured fabric a lot in bedrooms. It's especially nice as a long lumbar pillow on the bed."
Homepage photo: A flat lay by Nancy Evars | Courtesy of Evars Collective