Helen Prior isn't satisfied working with just one medium. Instead of dividing her creative energy between ceramics and textiles, the New Paltz, New York–based designer created a production technique that combines both of her passions. She engraves blocks of clay with stylized patterns and motifs that she then uses to design fabrics and wallpapers. "My mission is to create something original in a stylized way that people recognize and enjoy and want to have in their homes," she tells Business of Home.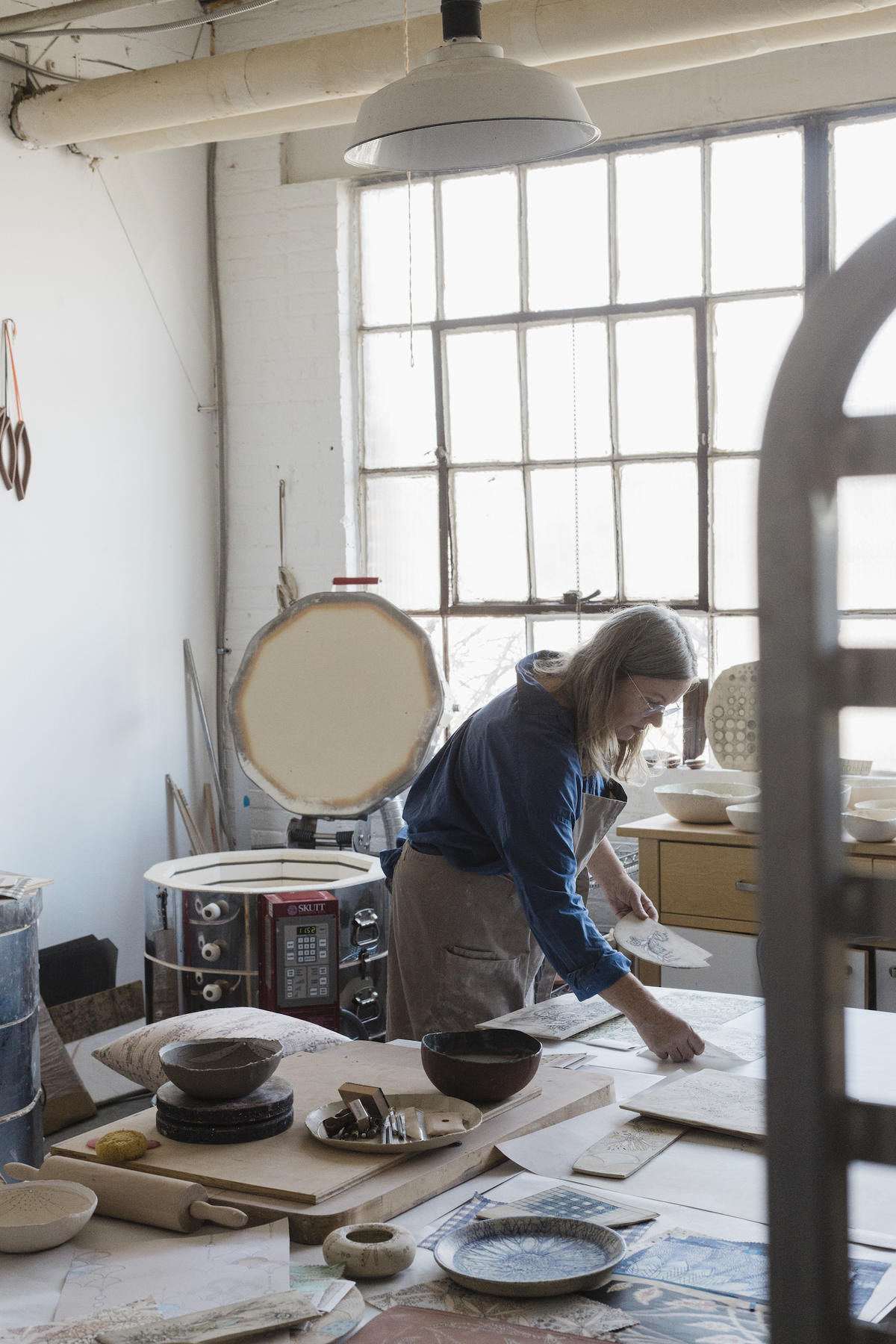 Growing up in Rugby, a small town in eastern Warwickshire, England, Prior experimented with ceramics in high school but ultimately pursued a degree in fashion and textiles at Middlesex University. After graduation, she moved to New York and landed jobs developing prints for fashion designers including Emanuel Ungaro and Anne Klein before opening her own design studio in the late 1990s. "I developed prints for fashion companies such as Anna Sui, Rebecca Taylor, Trina Turk and Diane von Furstenberg," she says. "And in my free time, I took ceramic classes."
As Prior grew more and more enamored with pottery, she began brainstorming ways to integrate it into her textile designs. In 2019, she opened her eponymous studio crafting bespoke ceramic pieces, as well as fabrics and throw pillows, using hand-engraved clay blocks (which she calls "manuscripts"). "I press shapes into the clay with the same tools and stamps I use to decorate my ceramics," she explains. "Once they're fired and glazed, I photograph the clay pieces and scan them into the computer to create a repeat pattern, before digitally printing them onto fabric."
To forge her delicate ceramic designs, which include everything from bowls to vases to wall art, Prior drapes thin slabs of clay onto a mold and engraves it with linework while it's still soft. "Each piece is truly one of a kind," she says. "Even when I use the same pattern, the shape of each vessel is distinct. It gives my work an organic feel."
Her first collection, called Cross Pollination, features ceramic vessels and fabrics clad in an abstract floral and foliage pattern inspired by the unruly wildflowers growing in her garden. "I am most inspired by closely examining the details, rhythms and shapes in nature," Prior says. "For example, the centers of flowers, the details in veins in the petals and leaves, and other organic patterns."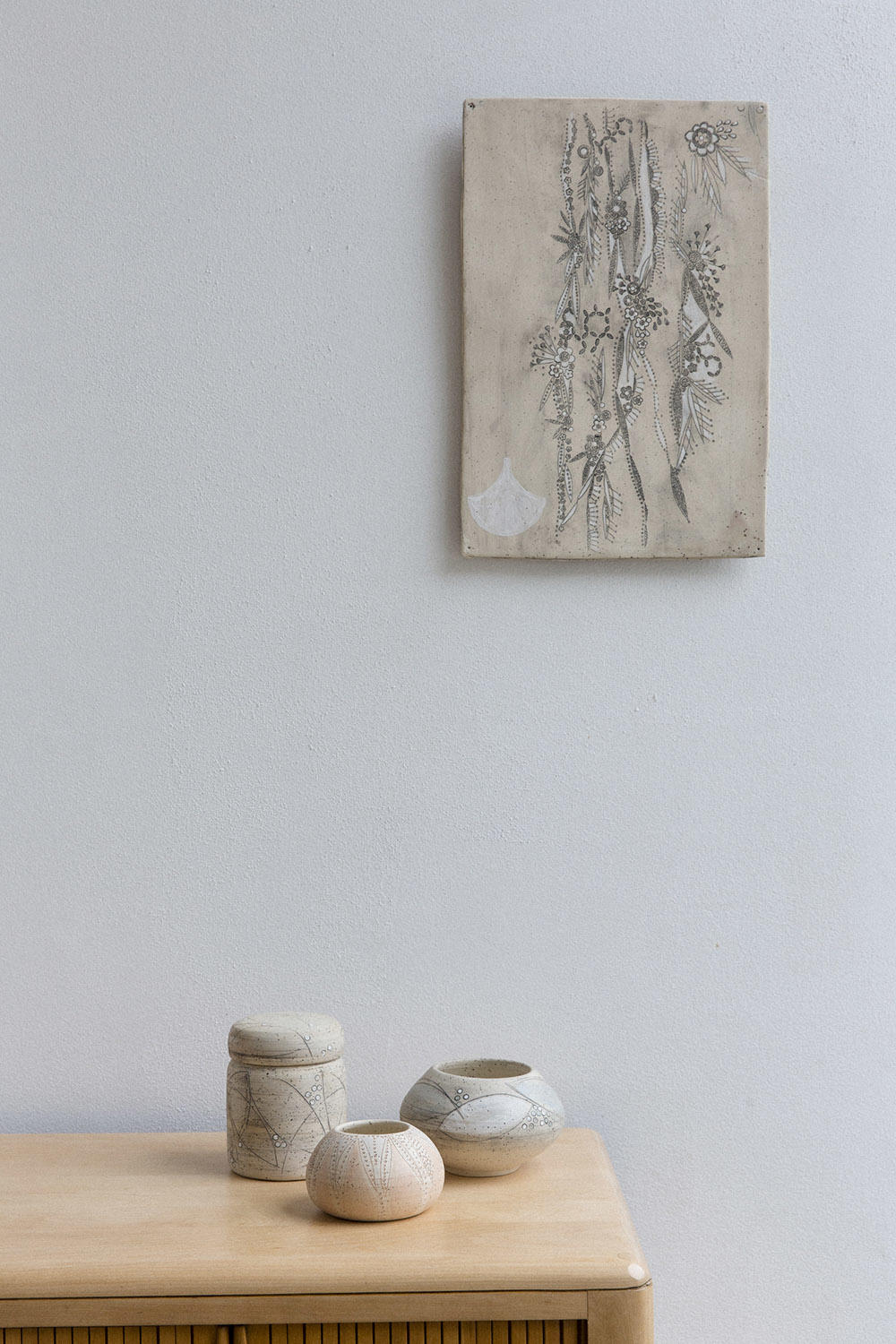 Along with hand-molded ceramic pieces and patterned fabrics, Prior turns her clay manuscripts into whimsical wallcoverings. "I use the same process as I do for fabric, except the patterns are printed onto a really lovely premium matte wallpaper," she says. "I use raw clay like a sketchbook—it's the starting point for all of my designs."
Prior is presently working on her next collection, a line of functional ceramic housewares she plans to launch in mid-2022, which, of course, will also be translated into fabrics and wallpaper designs. "Home furnishings have a longer shelf life than fashion garments," she explains. "This allows me to spend time developing pieces that will be valued for years to come."
Looking ahead, Prior hopes to collaborate with other artisans on custom furniture pieces and introduce new colorways into her current cloth, throw pillow and wallpaper collections. Her dream: a boutique hotel filled with her designs. "I love the idea of my work being a pleasure to look at," she says. "At first glance, it's beautiful, but the more you look at it, the more interesting and complex it becomes."
To learn more about Helen Prior, visit her website or follow her on Instagram.
Homepage photo: A pair of Helen Prior's Clay to Cloth fabrics, including Pollen Abundance linen in Petal and Garden Grow linen in Celedon | Courtesy of Helen Prior