Most interior design firms max out at a few employees. Even the biggest names of the business will tell you they like to keep it small. A big operation is 10 people—20 is rare. South Florida designer Marc Thee oversees 70.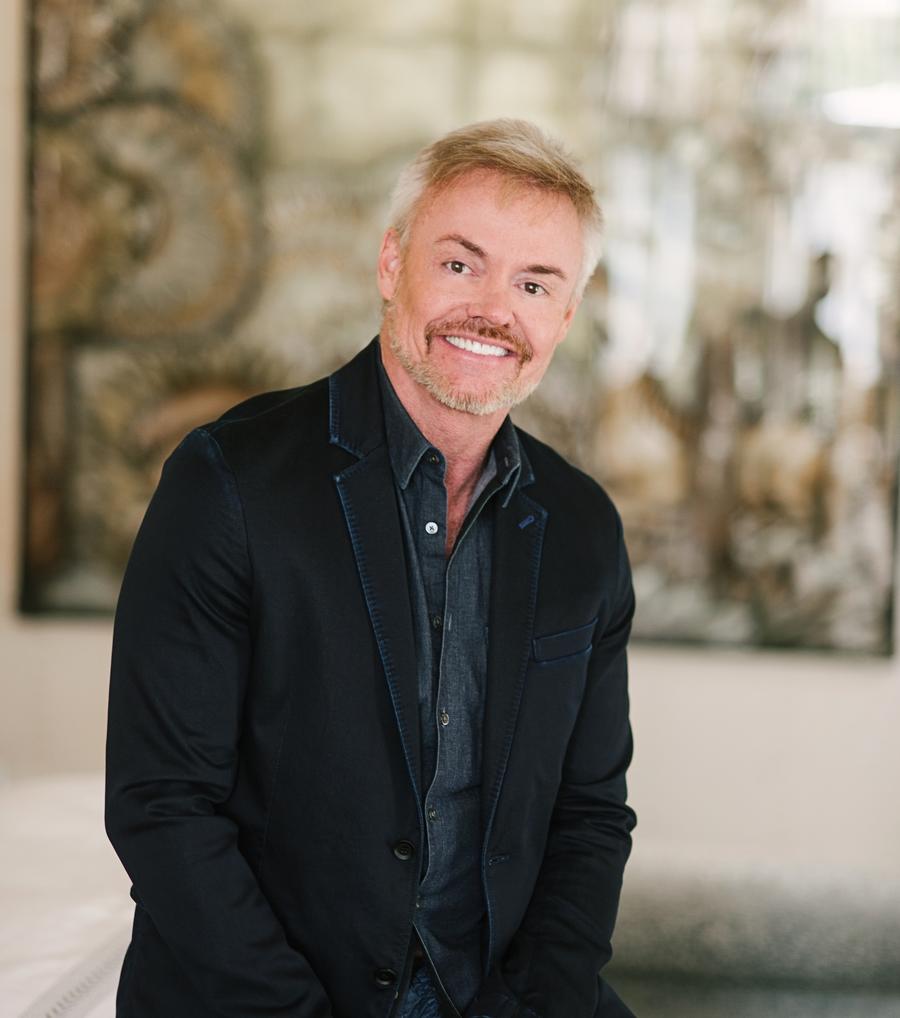 Courtesy of Marc-Michaels
Of course, it started small. He and Michael Abbott, his then romantic partner (now their partnership is strictly business), opened Marc-Michaels Interior Design in 1985, running a small showroom they started with a U-Haul's worth of inventory. "We made $16,000 the first year, and then it doubled, and then that number doubled, then it doubled—then the recession came and it all went away, and it's been coming back since," Thee tells Dennis Scully on the latest episode of the Business of Home podcast, recorded in front of a live audience at DCOTA's Winter Market in February.
What's his secret? Though Thee's projects are beautiful, it's not aesthetics. It's a total focus on the only thing that matters: how the client feels. "Interior design is singularly the client's perception of your service. How you handle challenges in the job, how you report progress, how you account expenses. It's not about what you think they think, it's about their truth," he says. "They might find that this info is coming after the fact; they might find that things they've asked you to follow up on are falling through the cracks. That's suicide." All of Thee's projects have a person designated as a client communicator, someone to collect information and keep the client abreast of what's going on.
"Our clients want more than beautiful homes—they want them on time and somewhat on budget. If your definition of beauty is the best of the best, traveling around the world, and you're delaying the project a year, you're not doing your client a service," Thee says. "You've taken a year away from them, and the firm probably earned a lot less. … I tell my staff: Stop thinking like designers."
Speaking of his staff, over the years, Thee has found that he gets better results promoting from within, as opposed to hiring outside talent. He's also developed methods for encouraging the next generation to take the reins (deferring to project managers in meetings with clients is one, pairing a more creative team member with a more pragmatic one is another). "I don't need to go to an install to know it's going to be incredible—and that's huge," he says.
It hasn't all been sunshine and growth. In 2018, the Great Recession forced Thee's firm to cut back (at its peak, the company staffed 90). But the difficulties also inspired some creative thinking. "Our president glanced overseas at China, looked at the Middle East [for new business]," says Thee. "The challenge of trying to pay our light bill allowed us to enter a new arena of design that changed the complexion of our company. We can now present in global arenas, [something] that we never would have been able to do had it not been for that challenge."
And today? "Like any business, when the hunting is good, you have to hunt. So we are tired."
This episode was sponsored by Buildlane and High Point Market. Listen to the interview below, and if you like what you heard, subscribe to the podcast (free of charge!) to get a new episode every week.
Homepage photo: Courtesy of Marc-Michaels