Forget summer—thanks to Maison&Objet, the real luxe, fun and volupté starts this fall. From September 7 to 11, parallel to Paris Design Week, the next edition of the semiannual decor and design trade fair is on a sybaritic mission to "Enjoy"—which is the gathering's festive, pleasure-centric theme. At stylish showrooms and chic boutiques, historic museums and of-the-moment pop-ups, 350 venues hosting 450 vendors representing more than 2,200 brands are all set to tempt attendees to give in and indulge their every whim. Delights include beaucoup product debuts, custom-curated panels and programs, infinite opportunities to network and inspiration around every arrondissement. When it comes to fulfilling wishes, few cities on earth are as well-suited to the task—a fact fair organizers intend to capitalize on. Beyond the Villepinte exhibition center, the week's events are scattered like caviar throughout four iconique quartiers: Opéra-Concorde-Étoile, Marais-Bastille-République, Rive Gauche and, new this year, Palais Royal–Place des Victoires–Pigalle. What better way to celebrate the sensory pleasures of Paris!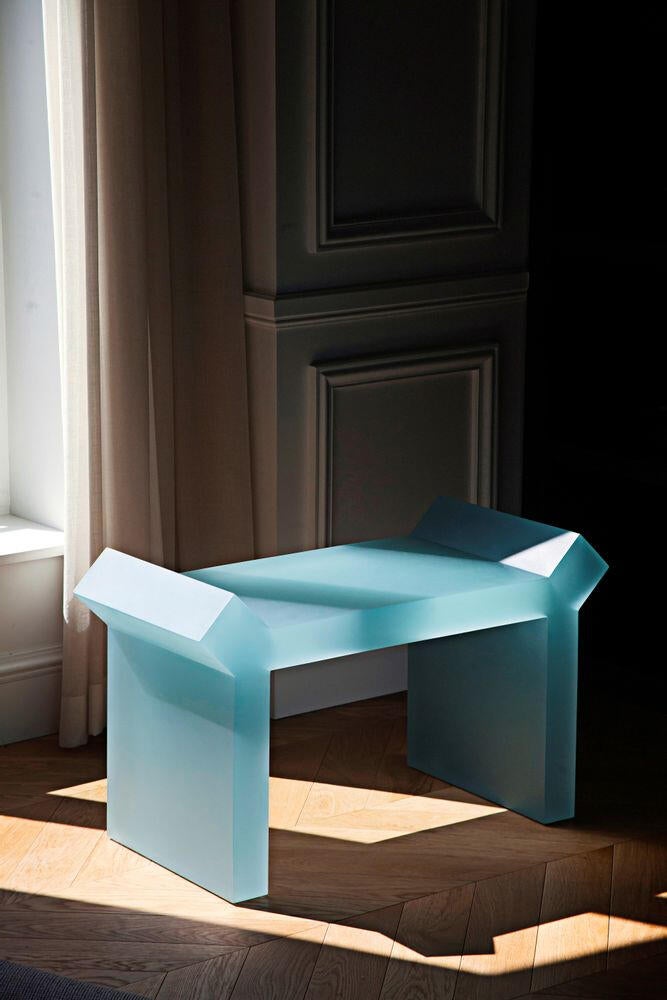 "The idea of Maison&Objet has always been to renew interest in the industry every six months," says the fair's marketing and communications director Caroline Biros. "It's not just about buying or previewing new products. It's also how architects and designers can understand what's happening in the world: What direction is society moving in? What does that mean in terms of retail trends? Of aesthetic movements?"
Two immersive new additions to the show aim to answer those big-picture questions while awakening all the senses. At the Well-Being&Beauty sector in Hall 5A, holistic intentionality underscores every product choice. "We're speaking about sex, burnout, CBD, light therapy—topics that are not yet exactly commonplace in the home goods conversation," says Biros with a laugh. Hall 6 invites visitors to explore the current challenges and thrilling possibilities in the restaurant and hotel scene with a trio of stimulating vignettes by visionary French design voices Friedmann & Versace, The Socialite Family and Roque Intérieurs. Tentpoles of the Hospitality Lab, each space tells a story: Friedmann & Versace's spa doubles as a contemplative study; The Socialite Family's bedroom also serves as an artist's studio where creatives can paint a picture or practice their instrument when on the road; and Fabien Roque's velvet-wrapped lobby by day becomes a gleaming dance club at night. Furnishings from brands such as Dedar Milano, Galerie B. Edition, Meia Madeira and Gravor add to the richness of these hybrid interiors.
"People want to feel at home in a hotel and in a hotel at home," says Biros of the overlapping Venn diagram of residential and hospitality design tendencies. "In either setting, it's about provoking a strong emotional response."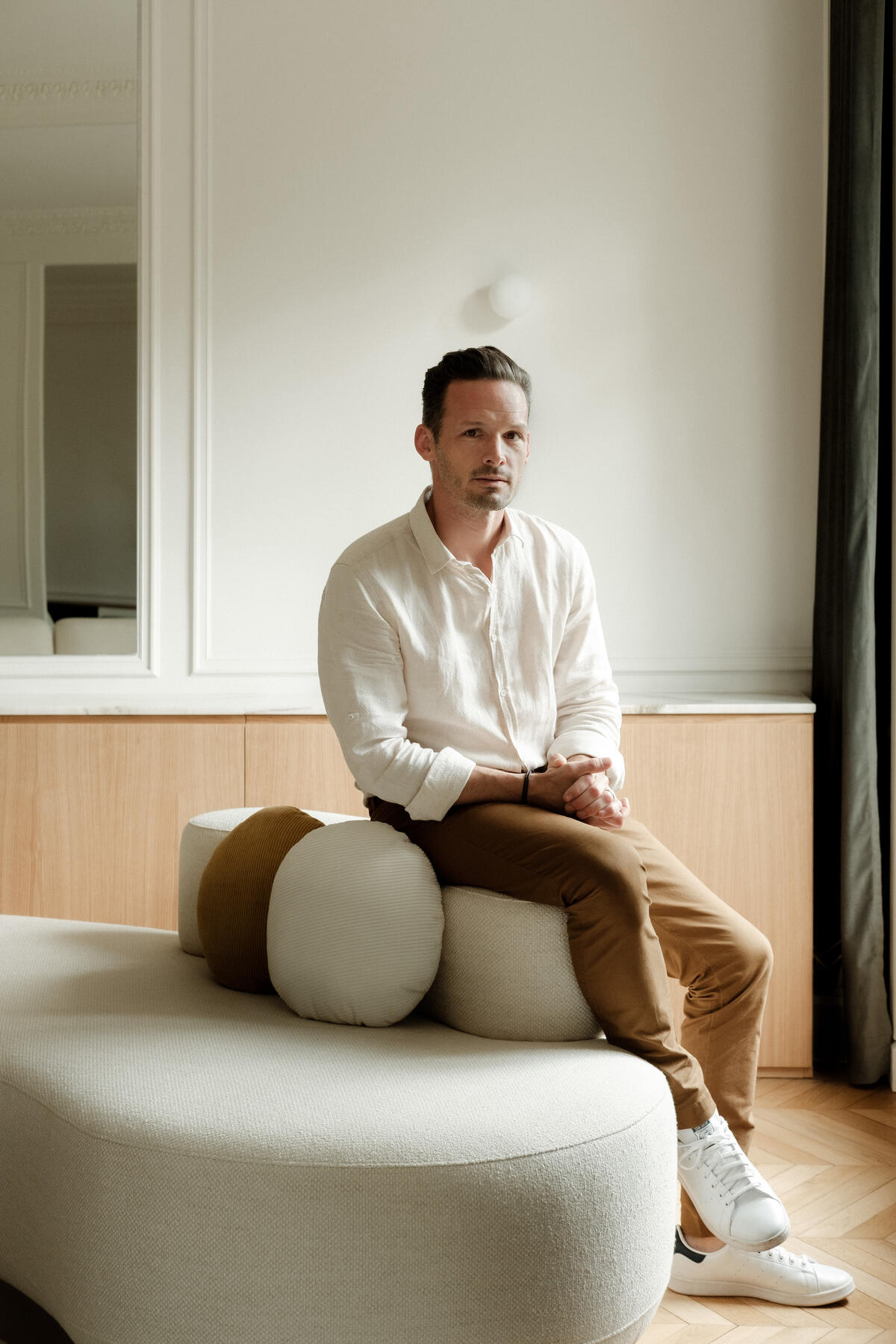 Swathed in drapes of cognac gold, the swank but welcoming lounge conceptualized by Roque accomplishes just that. "I wanted a cozy atmosphere conducive to partying," he says. A hand-crafted central table functions as the room's focal point, displaying three different heights to address sundry needs: It acts as a reception desk at its tallest level, while two lower sections accommodate remote work, morning coffees and after-hours cocktails. There's even a nook in which to nest a bucket of champagne, to be popped open once the deal is closed. An embedded audio system further enhances the ambiance. "Customers may wonder where the music is coming from as the soundtrack evolves, like the table itself, over the course of the day," says Roque. Contrasting with the lush velvet curtains and textural sectional sofa, metallic accents reflect light throughout the space. "I played with mirrors and polished stainless steel materials for that nightclub atmosphere," he says.
Catering to every conceivable encounter, from business meetings to romantic rendezvous to family vacays, the work-hard, play-hard, multipurpose installations of the Hospitality Lab characterize the "maison" in this fall's Maison&Objet. Its "objet" counterpart, the Well-Being&Beauty sector, offers a chance to rest and reset. Targeted toward the individual consumer, this new initiative prioritizes the importance of self-care in every featured product. Highlighting items like home cleaning solutions, cosmetics and skin care with environmentally safe ingredients and recyclable packaging, each promotes personal and planetary health.
"Complementing the booths and the brands, we've built an experiential space where visitors can partake in things like stone therapy sessions and yoga classes that demonstrate how the wellness category is expanding," says Biros. Whatever the related product, the goal is twofold: to foster desire for it and leave good vibes only in its wake. When the urge to acquire strikes, members of the trade will be able to shop the show on the spot. A result of Maison&Objet's recent expansion into B2B e-commerce, the new MOM (Maison&Objet and More) web platform provides a win-win option that lets vendors immediately convert leads into orders, while visiting industry insiders benefit from the near-instant gratification of getting the newest stuff right now.
With five full days of daring designs, surprising discoveries and the singular culinary and cultural diversions of Paris, Maison&Objet is the most wonderful way to herald the autumn season and ignite a creative fire for the remainder of the year. "It's an optimistic break," says Roque of the event. "The joy will be omnipresent." Clichés about the City of Light aside, Maison&Objet is an international fair, with influences from the Scandinavian countries, for example, and Italy, of course—"but with the pleasures of Paris," adds Biros. So mark your calendars, schedule your flight and take her message to heart: "The last word is the same as the first: Just come and enjoy."
This story is a paid promotion and was created in partnership with Maison&Objet.
Homepage image: Paris-based Roque Intérieurs styled a hotel lobby combining warm velvet curtains, gleaming steel accents and, as its centerpiece, a custom-made table with three different heights to serve sundry purposes | Courtesy of Maison&Objet