Designer Fernando Mastrangelo will debut his latest series of sculptural furniture, "Escape," in a solo show at Maison Gerard in New York. The exhibit is set to unfold mid-month.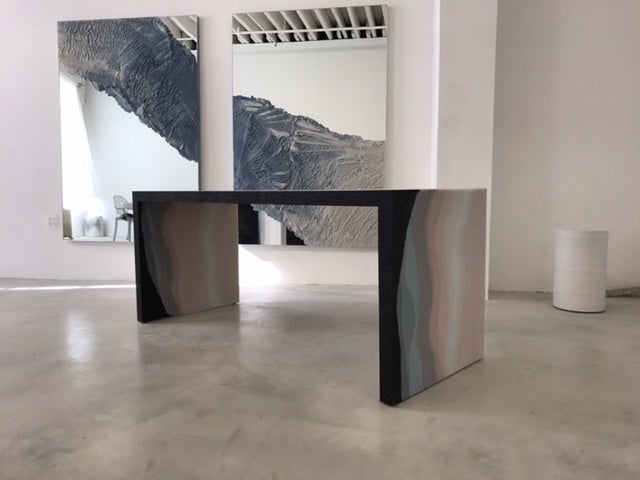 Table from Fernando Mastrangelo's "Escape" series
The escapism-inspired collection is exclusive to Maison Gerard. "Each piece is like a three-dimensional landscape painting—the simple, geometric forms are seamless gradients of tones and textures," says the gallery. "The materials impart an ethereal quality. Silica, with its lava-like texture, composes the foreground. Hand-dyed sand is stratified with delicate veins, subtly changing in tone to suggest layers of earth, and distant mountain ranges. Crystalline, almost translucent powdered glass constitutes otherworldly skies and bodies of water."
The collection, which includes a desk, coffee table, bench, bookcase and credenza, will be on view from April 14 through May 5. 
"I really love and admire showing artists like Fernando who are always evolving, pushing the envelope and experiment with materials and mediums. I'm truly inspired by their creativity; it's limitless," says Benoist F. Drut, gallery principal of Maison Gerard.