It's not every day that a product manager at Google leaves behind a stable, well-paying job at one of the most successful companies in the world to pursue an uncharted career in luxury lighting design. Tack on the fact that the light fixtures themselves are a near-impossible feat of engineering, and you've got quite the gamble. For Ted Bradley, it was well worth the risk.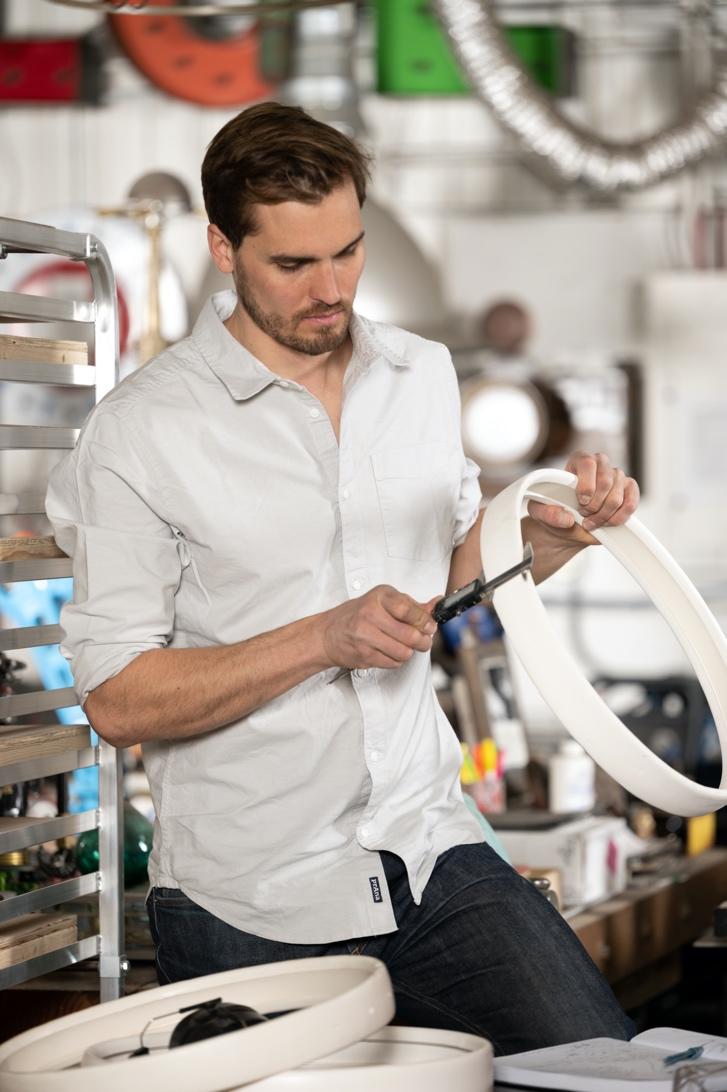 Courtesy of Ted Bradley Studio
After 10 years in the tech space, Bradley, like many who come to design as a second career, realized that he was looking for something more from his day-to-day work. "I felt like I had almost fallen into [tech] by a bunch of small decisions that led me down that path," he tells Business of Home. "The years were starting to click by faster and faster, and taking a step back, it was like, Is this what I want to do? Is this where I want to be and invest my next 10 years?" But if not tech, then what?
Bradley looked to his teenage passions, recalling happy memories of unadulterated making. "It was things like ceramics and engineering, design, invention and nature," he says. "As you grow into adulthood, you become more sophisticated and it feels like this long path toward growing expertise in an area, but maybe drifting away from the things that you had always cared about most."
While his ceramics skills had laid fallow for some years, Bradley's engineering mind helped frame his design aspirations as a creative problem. He knew that he wanted to create ceramic rings and arrange them into various lighting fixtures, so in October 2019, he began developing the processes to make his chandeliers, reaching out to a number of ceramics experts to ask for input as he embarked on this challenge. Most told him to give up.
"I had one guy say, 'This is either impossible, or a 10 out of 10 difficulty,'" says Bradley. "I had another guy tell me, 'This is straight-up impossible. You'll never fire these [rings], because they'll crack. The complexity that you'll experience trying to form the ring will be equal to the complexity that it takes to create a process—and equipment—to dry the ring and that will be equal to the complexity, process and even the new tools that you'll have to create to fire it.'"
In short, Bradley was taking on a ludicrous challenge just by designing these thin ceramic rings, let alone the fact that he planned to line them with LED lights and mount them on a fixture.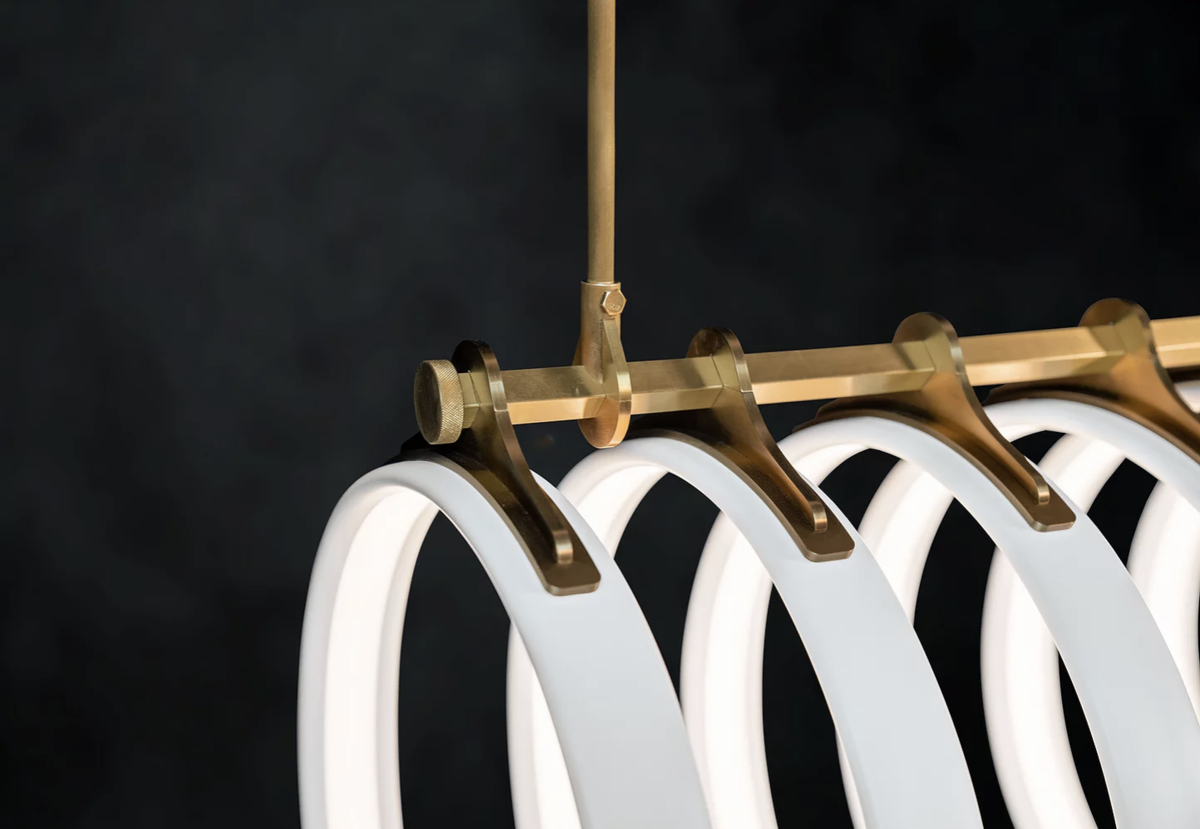 Courtesy of Ted Bradley Studio
Through a series of failures, Bradley grew acquainted with the caprices of the clay that he had selected—a gleaming white material sourced from New Zealand—and engineered a custom-rigged system to dry and fire each 17-1/2-inch ring. "I ended up having to build a drying rack that was encapsulated on all sides with plastic," he says. "I had a pan of water in the bottom with a heating element to raise the humidity, and then I had two Bluetooth sensors that alerted me to the humidity level. I found if it was above 94 percent, the rings wouldn't dry at all, and if it was below 91 percent, they would crack." Then there was the business of just lifting the rings once they'd dried. "It seems so obvious—like picking up a bowl. No! I had to create a custom apparatus just to be able to lift it."
It took a solid year of trials with dozens of materials, finishes, molds, drying fixtures and firing methods before Bradley settled on his current approach, an admittedly unforgiving undertaking. "It's not like software, where you write a line of code, hit enter, compile, and run," he says. "This [process has] a two-week test cycle—so if you make a tiny change on the front end you have no idea what's going to happen until it comes out of the kiln two weeks later. On one hand, I have this ideal of perfection, and on the other hand, I have wet mud, and trying to get these two things to be one was very difficult." By November 2020, Bradley had completed his design.
All told, the prototype of his debut fixture, the Samsara chandelier, took about $50,000 to produce (not to mention a year's worth of unpaid work). "Unfortunately or fortunately, when I designed these pieces, I made no compromises and no considerations of [the] cost [of materials] at all," says Bradley. "I have this strong belief that in order to be successful, I have to be willing to spend money. And it's scary." But the payoff? A seriously impressive feat of engineering that takes shape as a rhythmic arrangement of cascading porcelain rings.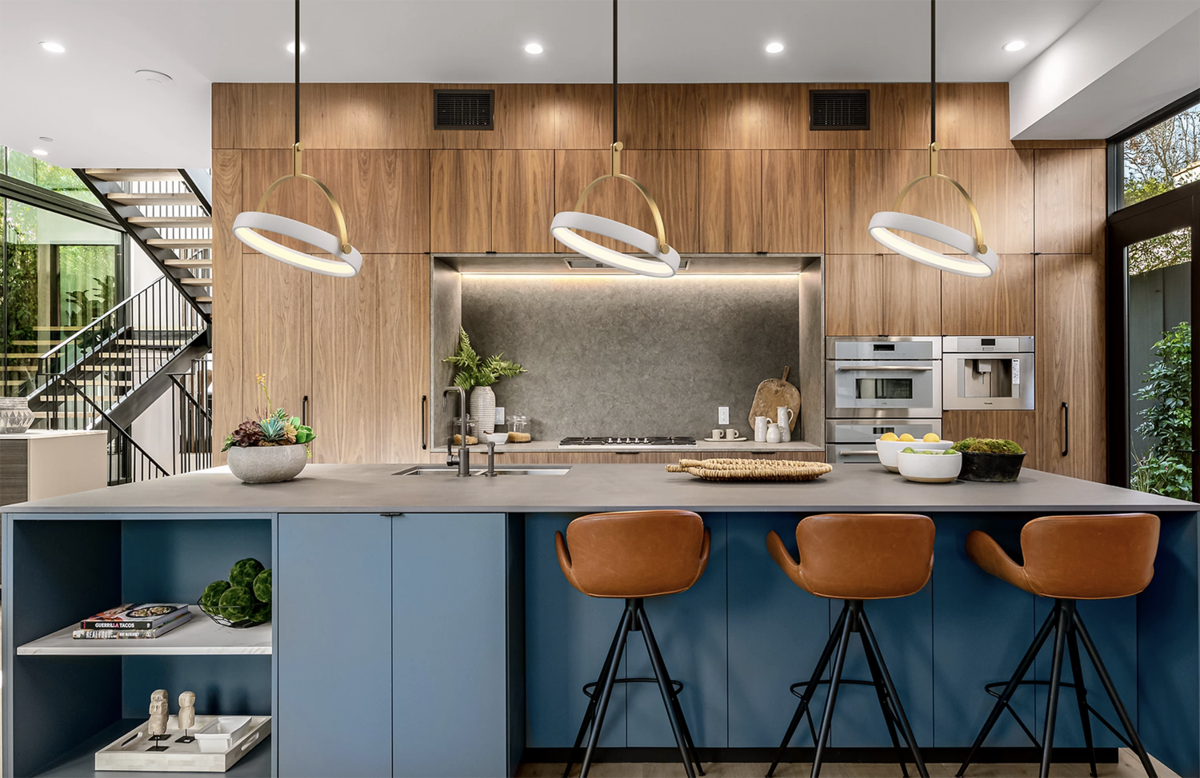 The chandeliers will be priced somewhere between $16,000 and $24,000, depending on the number of rings included in the design—customization is a central pillar in Bradley's business model, and one that he hopes will help attract his ideal clientele. "I want to take the time to build meaningful relationships with individual designers," he says. "When they order a piece from me, they're not getting something that 2,000 other people have—the catalog is meant to be a jumping-off point so that we can have a conversation and create a custom piece."
With his inaugural line of fixtures developed, Bradley is just beginning to explore potential showroom representation, hoping to see his pieces land in the same market as the likes of Apparatus, Lindsey Adelman and David Weeks. And although Bradley is new to the home industry, he believes that his modest portfolio grants him a strategic position as he makes his way into the trade market. "The advantage of starting from zero is that every piece can be special and unique for the individual client, and I love the idea of creating not just beautiful objects, but a beautiful space that people can enjoy."
Homepage image: The Samsara chandelier | Courtesy of Ted Bradley Studio