Designers Vicente Wolf and Katie Scott are teaming up on a panel at the Architectural Digest Design Show this weekend, and also on a new jewelry line. Moderated by Linda O'Keefe, design writer and co-author of Wolf's book The Four Elements of Design: Inspired by Earth, Water, Air and Fire, the March 19 discussion, "Spirituality in Design," will center on "how to create spiritually positive interiors and to find beneficial ways to utilize all aspects of design, architecture, landscaping, interiors and urban development to achieve a higher level of living." The panel will draw on each of the author's books, including Scott's Let It Be.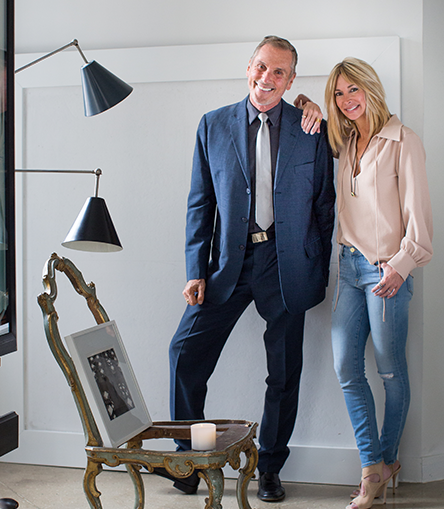 The two designers sat down to discuss their work with EAL: 
What do the four elements mean to you?
Vicente Wolf: It means a key to opening self-discovery in likes and dislikes that can help the reader to zero in on their personal style and approach to their home.  
How do you balance them within a home?
VW: Depending upon the room and usage, one can start the blend of color, textiles and material that one discovers in reading The Four Elements of Design.
What elements do you consider critical in creating a balance within the home? 
Katie Scott: The elements that I consider critical in creating a balance within a home are color, texture, diversity and the art of restraint. There is incredible beauty found in tension between two opposing objects. That being said, I also create a common denominator throughout the home, which creates a seamless thread linking everything together effortlessly. The key is webbing all of these elements together in a minimalistic design. Too much of anything is not a good thing.
What does a spiritual home mean to you?
VW: A space where one can be self-reflective, peaceful and tranquil, a space where one can regenerate oneself so you can go out and face the world with a positive outlook.
KS: A spiritual home to me is an outward display of our internal transformation. It inspires us to live authentically by embracing your unique identity and encourages you to be fearless in your endeavors. Spiritual thirst is a universal desire, and how wonderful it is when your home can stir your emotions in such a beautiful and positive way!
How did the jewelry line come about? 
VW: Katie Scott and I had long discussed the type of jewelry she produced and how could my thinking be incorporated into the collection.
KS: I was working on a project for a client and I was interested in purchasing a few pieces from the VW Showroom. It was fate when Trudi Romeo, the showroom manager, intercepted my email inquiry. From what seemed to be an ordinary purchase for work, we established a beautiful friendship through our shared love and passion for living a Spirit-filled life, and then along came Vicente! What a dream to have an opportunity to collaborate with a mentor and develop such a divine relationship.