What mistakes are you making when it comes to buying art for your clients? Katharine Earnhardt, founder of Mason Lane Art Advisory, has seen them all. And now she's on hand as EAL's latest columnist to explore how to avoid making those mistakes and, in some cases, how to correct them. Joining our roster of columnists, including Christiane Lemieux, Sean Low and Dennis Scully, Earnhardt is also one of EAL's gifted LAUNCH instructors. We'll let her take it from here ...
________________________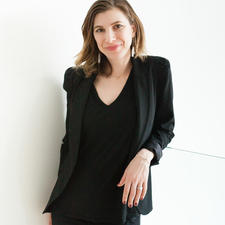 Have you ever tried to source art for a client? Has it been a frustrating or fulfilling process? Let me guess—clients either can't pull the trigger, want to hang their old "art," or think they'll get new art "eventually." You're left with a nearly finished project that can't be photographed. Annoying. But don't fret.
I'm thrilled to introduce my new bimonthly column with Editor at Large, intended to help you improve the art sourcing part of your business (and your revenue, accordingly). In it, I'll be forthcoming about anything art-related, from pitch strategies to resources, art pricing and quality. I believe sharing is caring, and what better way to further our creative processes than learn from each other? Let's get started. Our inaugural topic is:
Getting Clients On Board With Art Buying
Tip No. 1: Talk to the client about art at the start of a project. It's no wonder many are uninterested in buying art after that giant renovation that fishtailed their new home down payment. Include art in the initial scope of work rather than as an afterthought. Some key talking points:
Art is an essential part of a balanced, complete space.
Art is one of the best ways to make a space personalized.
Good art doesn't have to cost a fortune.
Tip No. 2: Be specific about your scope of work for art buying when you discuss it at the project start. You would never outline a design scope as "Furnishing the living room ….. $xxxxx." Similarly, "Art placement" should not be a line item. Instead, break down exactly what you propose doing and the associated cost and timing. For example: "Art sourcing for three signature walls (living room, dining room and master bedroom), assuming 30 hours of art research, presentation of recommended pieces and gallery/studio visits, for a total cost of $xxxxx. Any additional time will be billed hourly. This fee does not include the cost of art, framing, transport or install."
Speaking of art costs and logistics, on tap for the next column: Budgeting for Art.
Share your thoughts on the tips provided and chime in with any ideas or questions to inspire future posts.
Katharine Earnhardt is the president and founder of Mason Lane Art Advisory, a Brooklyn firm that styles walls nationwide.