In our series, What I Love, we're asking designers to build us a mood board of what's inspiring them right now.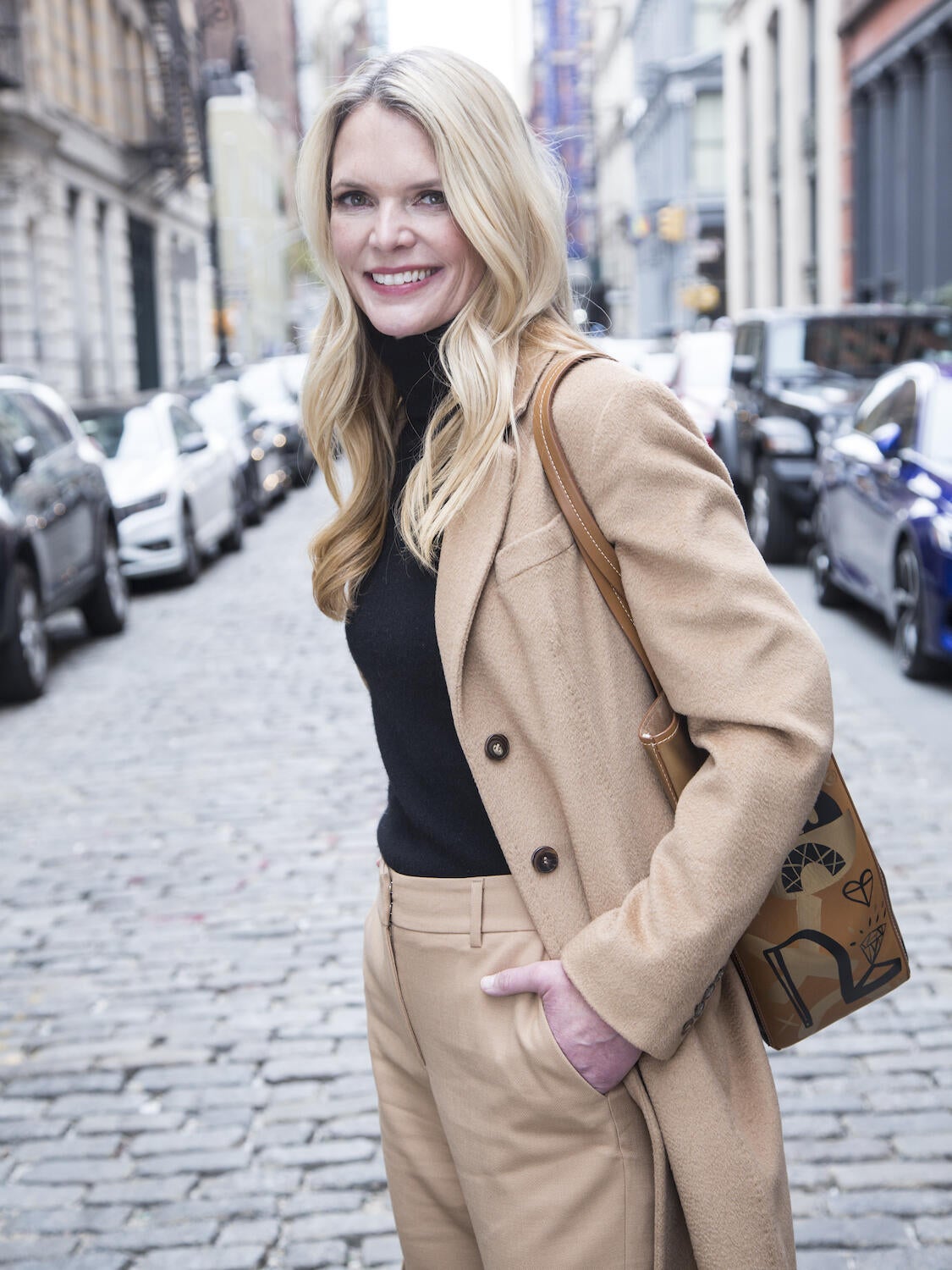 Make no mistake: Judy Dunne is inquisitive. The New York designer behind Butter and Eggs says that, above all else, she is best described as a "curious" person. "My curiosity drives me to travel and learn from and about different cultures, especially with regard to aesthetics," she tells Business of Home.
Her current mood board further proves the point. Inspired by her international travels to Paris (where she keeps a residence), Egypt, Italy and Mexico, Dunne drew from the colors and materials of each respective location when crafting the scheme. "Centuries of metalwork and pottery practices, sensational desert sunsets and rich textiles are all things I experienced along the way," she says.
Dunne describes the final design as "peaceful and warm"—drawn together by organic elements such as vibrant earth tones and naturally sumptuous finishes. "The flat lay is a nod to the colors and texture we find in nature," she says. "The magical moments where we slow down and see something special, whether it's looking at stones at the bottom of a riverbed or simply observing flowers in the garden."
Here, she breaks down the details—from teal-hued cowhide samples to fluted brass pulls.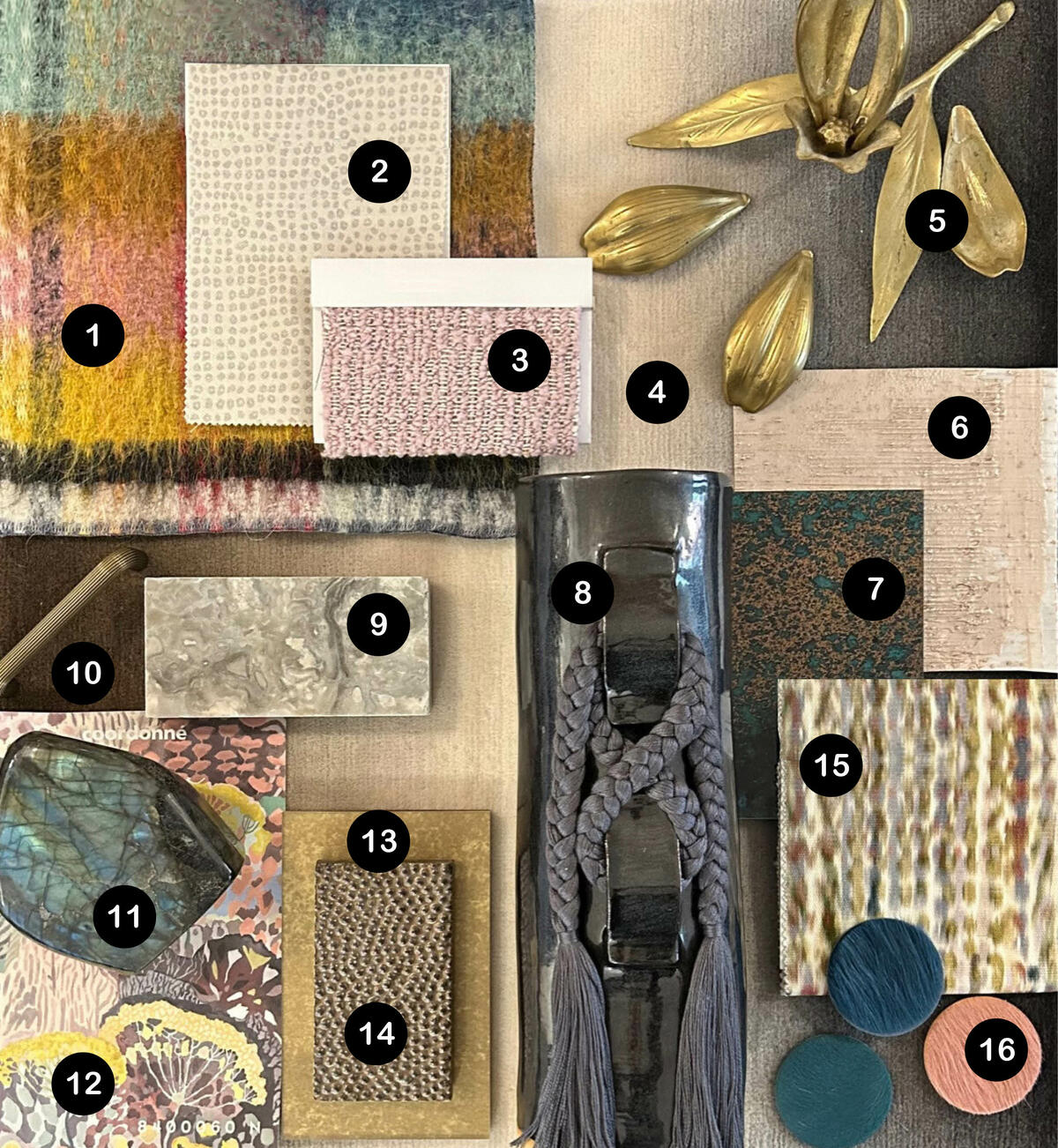 Courtesy of Butter & Eggs
1. NESTOR FABRIC IN PLAINE BY PIERRE FREY
"I love the vibrant color and cozy softness of this fabric; it reminds me of the view of the winter sky at dusk at my home in Shelter Island."
2. RUNE FABRIC IN HOWLITE BY HOLLAND & SHERRY
"This fabric has a luxurious, tailored-yet-fanciful pattern that manages to be both playful and sophisticated."
3. FE KAROO CENT-TROIS FK.103.02.22.25 FABRIC IN ROSE AND IVORY BY TOYINE SELLERS
"Toyine's fabrics are instantly recognizable for their rich color and texture. This one is durable and adds the perfect pop of texture and color to an accent chair or throw pillows. I am looking forward to using this to upholster a wall in a young client's room."
4. CUSTOM OMBRE RUG BY ART + LOOM
"This 100 percent wool rug is both durable and super soft. We created this bold design as a stair runner to span two floors in a town house. It creates consistency, adds drama, and although it is light in color in many areas, we strategically placed the darker tones at the top and bottom of the stairs to minimize the appearance of wear."
5. VINTAGE BRASS FLOWER ASHTRAY BY THE 1818 COLLECTIVE
"Vintage pieces bring a unique character and authenticity to a space, especially when curated into a mix of old and new pieces."
6. ENLIGHTENMENT WALLCOVERING IN ROSY MEDITATION BY PHILLIP JEFFRIES
"We used this wallcovering to enliven a vestibule, where its painterly quality adds texture and a touch of shimmer to the space."
7. COPPER + RESIN PANEL FINISH SAMPLE IN BLACK OXIDIZED PATINA BY WÜD
"Our goal is to create inviting spaces that tell their own stories, and this finish is a real conversation-starter. I love how the emerald green sets off the copper speckle; it has such depth and dimension from all angles. This would make a showstopping backsplash for a bar—perfect for entertaining friends and family."
8. 696 VASE BY KAREN GAYLE TINNEY
"This is a truly unique vase from a wonderful artisan. Karen's work juxtaposes textiles and ceramics in endlessly surprising ways. Each piece is better than the next, but this remains a favorite."
9. BLUE GRIGIO ONYX SAMPLE BY NY STONE
"This would make an amazing fireplace surround; truly, there is no substitute for nature's sense of design."
10. CUSTOM CABINET PULL IN ANTIQUE BRASS BY E.R. BUTLER & CO.
"The right hardware elevates cabinetry by giving it life and personality. These custom fluted antique brass pulls by E.R. Butler & Co. add a sense of rhythm to the piece and are jewelry for a lucky cabinet."
11. LABRADORITE STONE FINISH SAMPLE
"This gemstone has a beautiful grounding energy and just a hint of iridescence. Labradorite is said to help relieve stress and anxiety, and promote healing. It also looks amazing in this gorgeous Turtle table by Young Projects at Verso."
12. POLLENSA SPRING WALLPAPER BY COORDONNÉ
"This sophisticated yet whimsical pattern would look great in a powder room or even inside a closet as an unexpected gesture."
13. BRONZE + RESIN PANEL FINISH SAMPLE IN DUSTED MEDIUM PATINA BY WÜD
"I love the subtlety and visual texture of the gold dust on this bronze resin panel; it would be the perfect choice for a custom credenza."
14. MOLTEN BRONZE FIELD TILE BY MICHAEL ARAM AT ARTISTIC TILE
"This textural metallic tile has such a wow factor. It would [make a statement] as a kitchen backsplash or provide a terrific accent wall in a powder room."
15. NUANCES FABRIC IN PAMPA BY PIERRE FREY
"This design adds the perfect touch of playfulness and color to almost any space. We recently used it to make a custom shower curtain—talk about elevating the spa experience!"
16. CUSTOM COWHIDE COLOR SAMPLES BY KYLE BUNTING
"Kyle Bunting has the most delicious colors and the durability of cowhide can't be beat. I love using this in homes with children and pets since it is so durable and playful. We especially enjoy working with this studio because they are able to bring to life anything we can imagine."
Homepage photo: A flat lay by Judy Dunne | Courtesy of Butter & Eggs