"I would be jumping up and down telling my friends: 'Oh my god, don't you see what's happening—we need to do something!'" Ippolita Rostagno tells host Dennis Scully in the latest episode of the Business of Home podcast. "But of course, these problems seem so large that it's like, Where do you start? This is an Italy problem."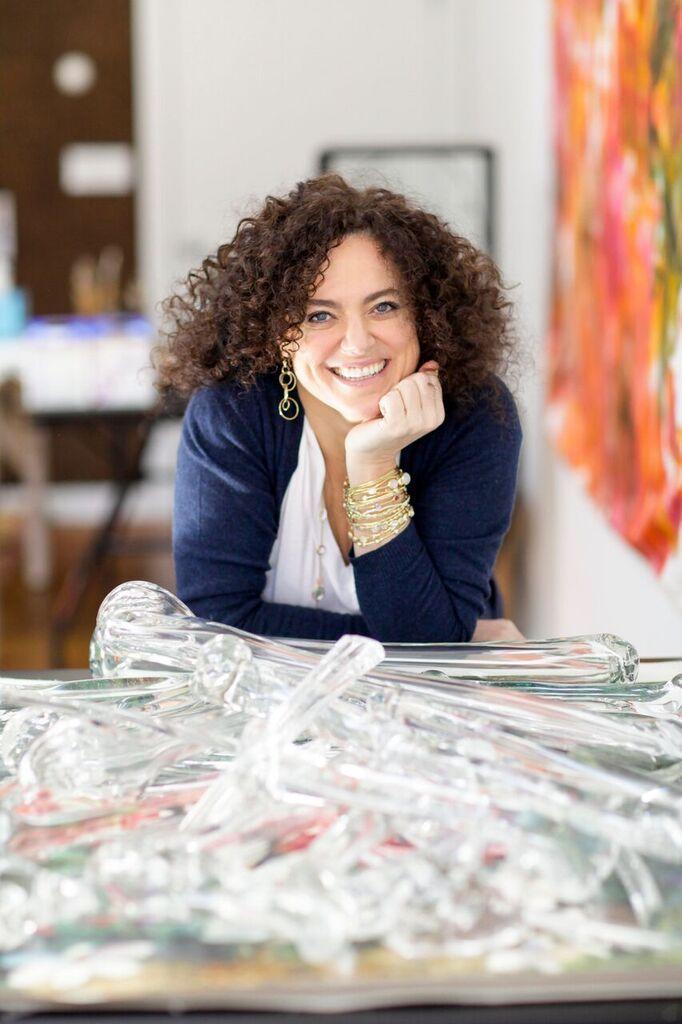 Rostagno is familiar with Italy problems. The acclaimed jewelry designer grew up in the Oltrarno neighborhood of Florence, where artisans have practiced their trades for centuries. Rostagno left Italy to study in America, but every year she returned, she noticed more and more empty shops.
"At the beginning, you think, 'Oh they moved,' or occasionally somebody closes. … Then it happened at such an alarming rate that everybody closed," says Rostagno. Interestingly, she attributes this trend partially to the artisans themselves. "Thirty years ago, people started discouraging their children from entering the business. [They would say,] 'This is just a hard living, you should go be a doctor or a lawyer.' The attitude was, 'You're such a loser, you're going to be a decorative painter?'"
Initially, Rostagno hoped to tackle the problem by developing a business school curriculum that integrated hands-on craft skills inspired by her own experience as a jeweler. "Everything I feel I've learned about running a business, I've learned because I've spent so many years problem solving with my hands." At first she encountered some foot-dragging from students: "'Oh, do we really have to go carve cameos? Can't we just go to a museum?' But the certainty of knowing how to do something gives you a place in the world."
Soon a more urgent issue arose: The artisans' declining numbers had reached a crisis point. As soon as Rostagno could place student interns with firms, the companies went out of business. Frustrated with the twists and turns of Italian bureaucracy, she took matters into her own hands. "I thought, Forget that, I'm going to do this American style."
Artemest was the result. An e-commerce platform dedicated to Italian crafts, the site currently features more than 500 artisans selling their wares, which range from furniture to flatware. At first, it was difficult to sign up even one. "What I realized is that you have to talk to them twice. First you have to introduce the idea and they shut the door on you," she says. "Then, you have to go back when they've had a little time to think about it and say, 'You know what, I'm a craftsperson too, I totally hear you, I know your pain.' If you can properly communicate that you understand what their problems are, they're willing to trust you."
Artemest has grown exponentially since its founding in 2015: Rostagno says its recent yearly growth rate has been over 100 percent, and that, to her surprise, the average sale is quite high—roughly 3,000 euros ($3,400). Perhaps the biggest shock is how well some old-school artisans have taken to a metrics-driven approach.
"Even though the craftsmen have amazing talent, the taste level was somewhat out of sync. One of the things I concentrated on at the beginning was helping them create products that were a little more on trend. Once they start selling, they immediately start producing things that resemble what they just sold, and their sales improve. … Then they start saying, 'I'm gonna make a lot more things like this and have them available right away.' Once we started changing our shipping windows to be available to ship right away, sales improved. We make them aware of that dynamic, so that if they want to participate in faster growth, they have an opportunity."
Rostagno plans to keep growing the site and, after successful pop-ups in London and New York, take Artemest on the road to other cities. The future may see her bring the model abroad. ("I recently spoke with someone in Switzerland who is very concerned because the violin makers are going out of business there," she says.) But for now, Rostagno is content to focus on her country of origin.
"I truly believe that Italy needs to focus on creativity, because they really can't compete in other areas. … They can't do it faster or cheaper, but they can do it better."