This week in design, Le Creuset had Twitter abuzz after revealing its newest color, Shallot, with a bit of dramatic flair. Stay in the know with our weekly roundup of headlines, launches, events, recommended reading and more.
Business News
Bed Bath & Beyond filed for bankruptcy over the weekend, and will start the process of closing its 360 stores and 120 BuyBuy Baby locations later this week, The New York Times reports. According to its Chapter 11 filing in the U.S. Bankruptcy Court for the District of New Jersey, the company—which claims $5.2 billion in debt and assets of $4.4 billion—expects all 360 stores to close by June 30. The filing marks the last chapter in a troubling recent period of the 52-year-old retailer's history, marked by runaway acquisitions, C-suite musical chairs and a failure to invest in e-commerce. For an idea of what lies ahead for the company, read Warren Shoulberg's analysis.
Ikea is investing $2.2 billion in U.S. expansion over the next three years. As part of its biggest investment since entering the U.S. market in 1985, the Swedish furniture giant plans to unveil eight new stores and nine smaller "plan-and-order point" locations, where customers can design home spaces and select furnishings. The retailer also plans to upgrade its existing U.S. stores and add 900 additional customer pickup locations nationwide. Though the company has not revealed where any of the new locations will debut, Tolga Öncü, head of Ikea retail, told Reuters that Ikea sees an opportunity for expansion in the South in particular, where the company has yet to make a significant impact.
Foreclosures are on the rise in the U.S., Bloomberg reports, with filings up 22 percent in the first quarter of the year compared to the same period last year. Recent data maps out a trend over the last year, which has seen foreclosure activity—though still below pre-pandemic levels—increase on an annual basis for 23 straight months. The upward trend can be attributed to higher unemployment rates, an ongoing economic downturn and a backlog of foreclosures that are still coming through the pipeline since the end of the federal government's moratorium in mid-2021—part of a program that began in December 2020 and temporarily protected the estimated 2 million homeowners who fell behind on their mortgages during the pandemic.
Cartersville, Georgia–based rug company Surya signed an agreement to acquire the Dallas-based home decor wholesale company Global Views for an undisclosed sum. Following the acquisition, which is expected to be completed in the coming months, Global Views will continue to operate as an independent brand, with CEO David Gebhart remaining on at the helm. As Surya president Satya Tiwari told Designers Today, the company plans to make a stronger play for the high-end interior design segment with the addition of Global Views and its variety of accent pieces and accessories.
Skilled trades have faced increasing labor shortages in recent years, but new data published by the Associated Builders and Contractors trade group paints a particularly dire picture: Job openings in the construction industry averaged 390,000 a month in 2022, with roughly a quarter of existing workers over the age of 55. As The New Yorker reports, the trades are poised to take on an even more crucial role in the workforce as the country embarks on a clean energy transition that will require huge numbers of electricians, HVAC technicians and plumbers to execute. In order to attract more potential tradespeople, vocational schools are adding clean energy curriculums and construction companies are raising wages.
Alternative materials startup Woodoo completed a $31 million funding round led by Lowercarbon Capital with participation from investment firms One Creation and Purple, TechCrunch reports. Founded by architect Timothée Boitouzet, the company has sought to develop decarbonized wood-based materials as an alternative to glass, steel and other high-emission materials. Woodoo has created three main materials: a glass alternative used in car dashboards, an animal-free leather alternative used in fashion and luxury industries, and a structural wood alternative for potential use in construction. With the new capital, Woodoo plans to refine its current offerings, and build on existing partnerships with brands like LVMH, Volkswagen, Mercedes and construction giant Garnica.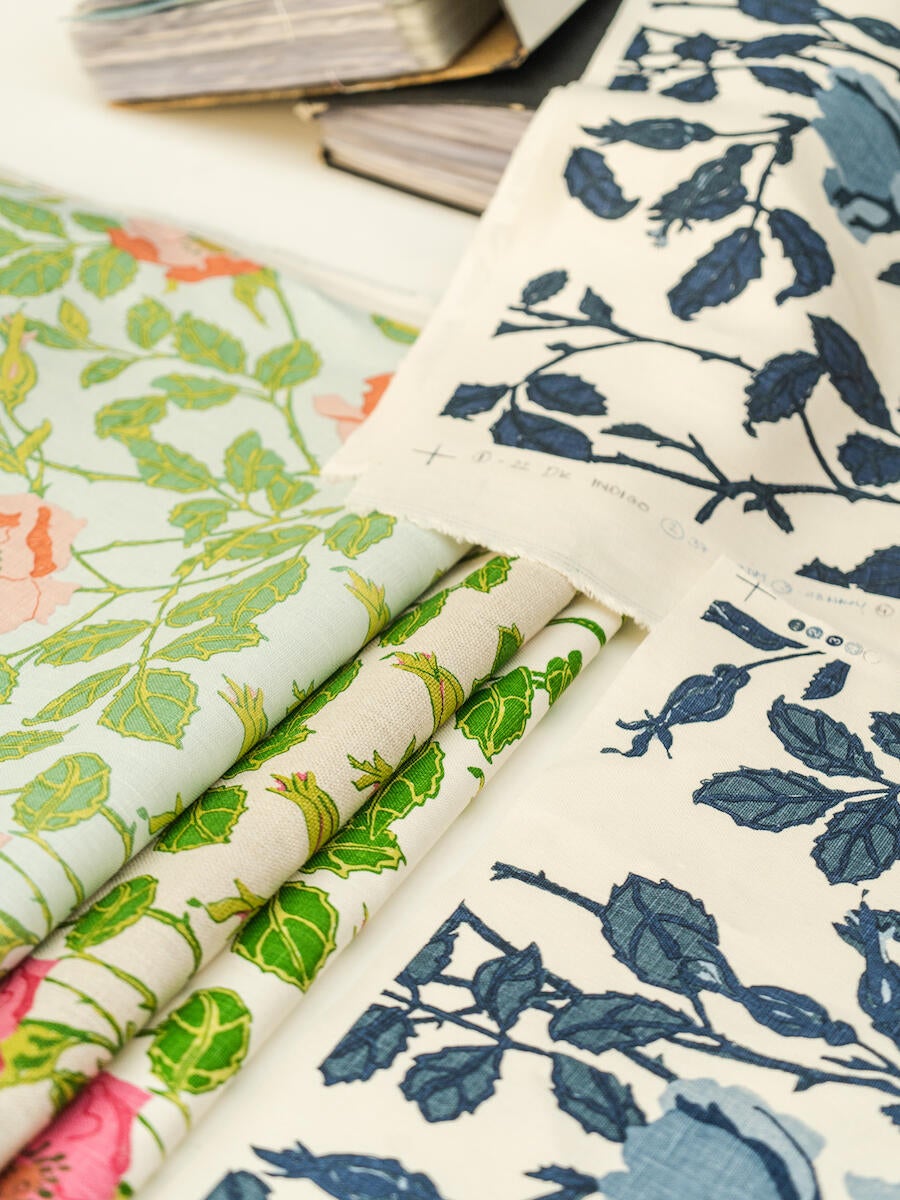 Launches & Collaborations
U.K. textile house Christopher Farr Cloth debuted a new fabric collection to mark the coronation of King Charles III next month. The new line features a re-imagining of an archival print created by the late Michael Szell, who formerly served as an interior designer for several members of the British royal family. Called Richmond, the hand-printed fabric—available in four different colorways, Aqua, Indigo, Hot Pink and Peach—will also be presented to King Charles next month in advance of his coronation.
Austin-based design shop Son of Rand partnered with New York–based interdisciplinary glassmaker Sticky Glass for a collection of hand-blown cups, vases and tableware. Crafted by Sticky Glass founder Grace Whiteside, the collaboration draws inspiration from the Memphis movement's playful aesthetic, bright colors and curvy shapes.
Showhouses
Real Simple has debuted its second annual virtual home, called Get It Done, in collaboration with 3D rendering service YouSee Studio, architecture firm Ike Baker Velten and New York–based interior designer Molly Torres Portnof. The 360-degree virtual home includes interactive elements that allow visitors to access linked products, and home how-tos like updating old kitchen cabinets, installing smart garage features and preparing for a new paint job.
Recommended Reading
While Candy and Andy Roberts have lived in eight different homes during their 40-year marriage, one thing has remained consistent: their interior designer, Nadia Watts. For many designers, a successful redesign can evolve into the first of many projects that follow clients throughout their lives—from starter homes to forever homes, and then on to vacation homes and sometimes even the next generation's homes. As Jessica Flint writes for The Wall Street Journal, the lifelong collaborations often reveal touching insights about a designers' and clients' evolving style through the years, and sometimes lead to close personal friendships.
In Netflix's new show "Beef," the world of art and design provides a vivid backdrop for an escalating feud between Danny, a struggling contractor, and Amy, the founder of a home and lifestyle brand called Kōyōhaus. As Diana Budds writes for Curbed, the series's many references to contemporary design—a billionaire's brutalist mansion, gloopy ceramic sculptures, a vast sterile gallery filled with rows of chairs on display—poke fun at the industry while revealing its characters' desperate pursuit of upward mobility and a luxury lifestyle.
In the realm of furniture design, certain chairs have earned a spot in the hall of fame (the Thonet, the Wassily, the Eames lounge chair, to name a few) while thousands of others—designed in their wake as knockoffs, trend-chasers or revenue drivers—have simply served to crowd the market and contribute to the millions of tons of furniture clogging landfills each year. For Fast Company, Elissaveta M. Brandon consults a variety of experts in an attempt to answer the question: In the age of overconsumption, "Does the world really need another chair?"
Cue the Applause
Carl Hansen & Søn has been appointed as Purveyor to the Royal Danish Court—a distinction that recognizes the company's quality, business management, social responsibility and integrity. In earning the predicate, the Funen, Denmark–based family-owned business joins 108 Danish and foreign companies who have also earned the prestigious title.
Homepage image: Real Simple has debuted its second annual virtual showhouse. | Courtesy of Real Simple