The International Interior Design Association now has a new home: its headquarters at 111 East Wacker Drive in Chicago. The 17,000-square-foot space, which opened during NeoCon on June 12, was designed by Contract magazine's 2016 Designer of the Year, Todd Heiser of Gensler.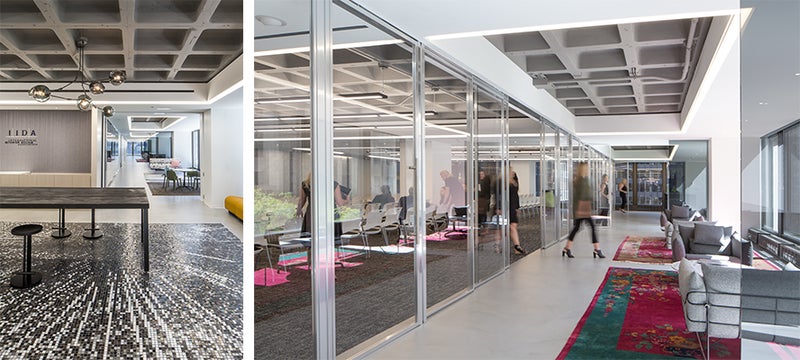 "IIDA leads commercial design excellence across the globe and advocates on behalf of its network of practitioners who consistently seek to elevate the profession," says Cheryl S. Durst, the association's executive vice president and CEO. "We have a deep understanding of how design impacts lives. Our new headquarters celebrates the workplace and demonstrates how purpose, function, product and aesthetic come together to encourage productivity, health and wellness through human-centered design."
Among the features of the building, which hosts IIDA's 25 employees as well as design industry pros, are a mosaic-tiled entryway, Herman Miller's innovative Living Office concept, light-filled offices and meeting spaces, and a resilient floor with floral design.
"The opportunity to create the new IIDA headquarters spoke directly to my passion to redefine design's purpose," says Heiser. "I found endless inspiration from all aspects of this project: the physical space, which is stunning, and the world-class lineup of manufacturers who contributed to this high-profile and large-scale project. And, most of all, I was inspired by the driven and determined people who are the heart and soul of this visionary association."