The 50 States Project is a series of candid conversations with interior designers across the country about how they've built their businesses. This week, Columbus, Ohio–based designer Cheryl Beachy Stauffer of Crimson Design Group tells us about looking for efficiencies, creating a leadership team and letting go of the details in order to focus on the big picture.
Did you always know you wanted to be a designer?
Not until I was in my early 20s, but I knew I would own my own business by the time I was 12. I was always really driven to be a business owner—it just took me a while to figure out what that would be.
I went to school as a business major but went back to my creative side when that was too much math. I found a one-year design school in Columbus because I wanted to have a fast track, and I got an associate's degree and moved to New York straight out of school. I worked in SoHo managing a retail boutique—that was my first experience getting my feet wet, and then I came back to Columbus and worked for a design firm for four years. I launched Crimson in 2003—I finally had the courage, and it was the right time.
What was the awakening for you that your business should be a design firm?
I'm definitely a creative soul and free spirit. I thought I was going to go into art therapy, and thank God I didn't. I love the psychology of design, and how our spaces relate to our spirits and are so connected. Of course, my mother said, "You need to be an interior designer," when I was in high school, and you don't want to do what your mother says at that point in life, so this was just a natural fit for me.

Had you seen design as a career, or had you seen people in creative careers? Did you grow up knowing that was possible?
No. I was born in Paraguay, South America, to a family of Mennonites, and design wasn't even a thing. But my mother and my grandmother loved the beautiful things in life, and they brought me up appreciating the natural beauty that's around me all the time. That's really kind of what spurred it on.

When you launched the business in 2003, what did the firm look like?
It was just me, and my office was in my home. One of my first hires was an intern named Stephanie Fulkerson Walker, and she is now my design director. She's been with me for 17 years, and it's been amazing. She's my right hand, and she leads all my residential projects.
We started with a couple clients that I knew from my previous firm, and it just organically grew. After a few years, I met a developer in town and did a couple of his residential projects. As that grew, I started doing all of his multifamily projects. My firm does 50 percent commercial and 50 percent residential, and multifamily apartments are a big part of our work.
The approach for those is different, I would imagine. How do you manage that?
Our firm is now set up where we have a commercial design team and a residential design team. We have crossover, because even in a commercial environment it's creating a home—just for 300 people versus one family. We use a lot of the same vendors, and it marries really nicely.
Reagen Taylor Photography
In the early days of the business, how did you structure your firm?
I hired a bookkeeper and an intern fairly quickly. Those were the two people that I had for years. It just organically grew, and I stayed in my house for a couple years. Then I did a hotel project out of town that helped me launch in the commercial world. As the volume grew, I added designers and back-of-house staff, and now we're a team of 19.

Was that just kind of one-by-one where you were filling needs?
I have this formula: "If the firm has $350,000 worth of sales, then I can hire another person." Because I love the business part, I really look at the numbers and the income that a person is going to generate to offset my costs. As we've grown, the challenge has been that you need more support staff to help the design side, but they don't make as much money as the designers. It's always a game that we're playing and trying to figure out what that right balance is, and as we've grown we're working on being more efficient. I have an operations person, Amy Wilcox, and I'm always challenging her. She's like, "I want to hire somebody else." I'm like, "No, let's figure out how to be more efficient. Maybe we change some processes." In the beginning, I had no process—the word "process" makes me cringe. But as we've grown, I've realized we have to have processes in place to be scalable.

Your role has to have changed so dramatically now that you have a team of 19. When did you most strongly feel that shift?
Right before COVID, we started implementing EOS [the Entrepreneurial Operating System, a set of business tools for entrepreneurs], and it transformed our business. Through that, I was really looking at what my role is, and my role is visionary. I'm really good at big relationships, visioning for the company and the culture keeper—that's what I really want to do. My goal is to sit there and not do as much design work.
Then COVID hit, and you did whatever you had to do to survive, right? I took a five-week sabbatical this summer, and I'm really being disciplined about sticking to my role. I don't want to be pulled back into the weeds of design because frankly, I have designers who are much better designers than I am.
What is the dividing line between having the vision for the company but not getting pulled into the design details?
Oftentimes, I'll ask myself, "Can someone else do this?" and if the answer is "Yes," then I shouldn't be doing it. When I came back from sabbatical, I put a sticky note on my monitor that says, "The devil is in the details." That's where I can get stuck, and it keeps the firm from moving forward. If the visionary is looking down all the time rather than out, we're never going to move forward. I believe that you hire people to empower them. I have an empowered team who's really good at their jobs, [so I do my best to] trust them. It's a constant mental reminder, and you have to be really disciplined with yourself.

What did implementing the EOS mean?
Well, I didn't have an operations person. So after hiring that person, I created a leadership team. Now, I have a strong team who can help with everything. I was carrying a lot of weight on my shoulders. Now, I'm able to give it to my leadership team and put it out there—it isn't all just up to me to make things happen.
Who is that leadership team?
Amy is our COO. We have HR, and then we have Stephanie, my design director, and we are adding a killer finance leader too. That's why I was able to take five weeks off. I did not check my email.

What was that initial transition like? Was it easy for you to give away those things?
No. Amy and I call it "rumbling"—we had lots of hard conversations. If you're not rumbling, you're not a healthy team. Amy kept challenging me, like, "Are you going to let that go, Cheryl? Why are you doing it that way?" She really challenged me, and she came from a huge corporation and knew nothing about design. She had a lot of outside knowledge that she was able to bring in. We're constantly redoing our organization chart and moving people based on their strengths. I'm such a huge proponent of [an assessment called] StrengthsFinder—we do the predictive index—and I really like utilizing people for what they're good at. I don't want them to be struggling every day they're at work.

How long does that process take before it starts to feel really good?
I feel it took us a year to have consistent weekly meetings and quarterly full-day meetings where we're really assessing where the business is going. I had to write down where I wanted the business to be in 10 years. I had to be really clear. Visualizing where we are going and then working to get there has brought this internal structure to my dreams that helps us attain them.
How did COVID slow down or complicate that transition?
We had our best two years in 2020 and 2021, growing 30 percent year over year. When you grow 30 percent, and then you grow another 30 percent in a freaking pandemic, [at a time when] you can't get anything, it creates a constant challenge. We had a huge residential project, and the client said, "I don't care that we're in a pandemic. You knew that this project was supposed to be installed on this date." So you do anything that you can to be creative and move mountains for your clients and give them that service. I was in it with my design team. When they were at home and didn't feel safe going out—it was me. I was at the office, I was on construction sites, and I was determined to keep moving forward.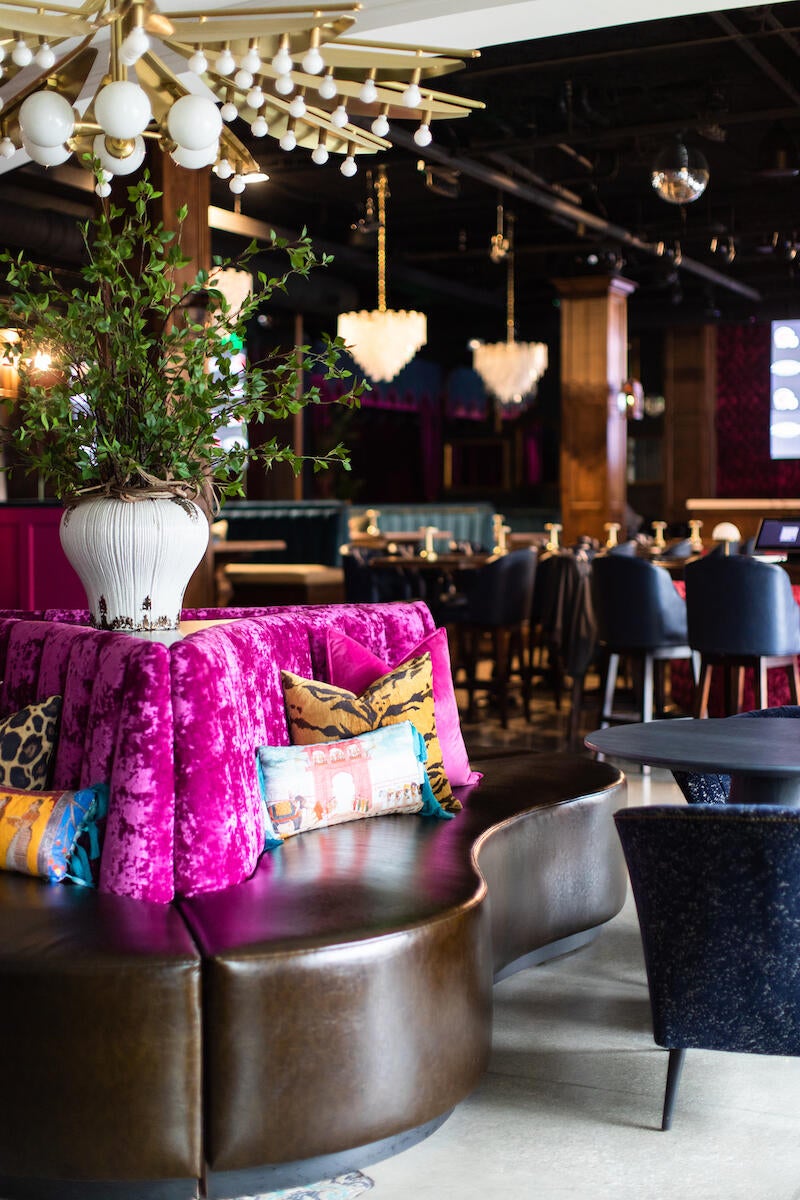 When did you know that you needed a sabbatical? How did you plan for it, and how do you feel afterward?
I knew I needed it years ago. I think specifically through COVID, all of us worked harder and everything became so much more complicated. I have two young girls, and I said, "Once they get to grade school, I want to be able to take some extra time off in the summer with them." I was going to do this sabbatical last year, but I couldn't.
This year, my youngest is in kindergarten, and I just said, "I'm going to do it. I don't want anything to get in the way." I planned a trip to France that I couldn't cancel. It was like a maternity leave—when a designer goes on maternity leave, we have a three-month plan, and I treated it the same way. What needs to be completed? Who's doing it? Who's going to own that project or that task? It really pushed me to get all of my work done, so that I could get out of the weeds.
How did I know I needed it? Often, you don't realize how burnt out you are until you stop and take time off. My brain was at a point where I had decision-fatigue overload. I couldn't make small decisions—there was no space. I had little energy, and it was affecting my health physically and mentally, so I knew I had to do something.
Coming back, do you feel different?
Oh, my gosh, yes. I told my husband that I've been buried for a really long time, and I've slowly been unburying who I really am. We often ask people, "What makes you happy?" But we should be asking, "What makes you excited?" Right? I think the older you get, there are fewer things that really make us excited. I've had to think about that: What gets me up every day, and what puts that fire in my belly? Life's too short to not be doing the things that bring you joy.
What does that mean for you?
I've been laughing a lot more. I've read three fiction books for pleasure. I had lunch with girlfriends that I haven't seen in a long time. I sat at the pool. I slept in. I took my kids to a painting class. Another girlfriend said, "You're living the artist's life." I thought that was so beautiful. I was living the artist's life, and what does that look like? For me, it was all of those things—artful living.

You mentioned that part of the plan was getting some of the projects you were overseeing across the finish line. Will you take new clients and new projects personally now?
No. I don't want to go back there. I have to be really disciplined. With new clients, I tell them I will only oversee my team and vision for the project. I'm sitting at the table with the bigger developers and relationships, and if it's [someone] referred by a client, I tell them that Stephanie's going to work on it and that she's been with me for 17 years. That gives them trust.

Is that a challenging conversation or are clients receptive?
For the most part, they're pretty accepting. Often their concern is that they are not meeting the designer at the first meeting. They might have a concern like, "How am I going to like the designer that you're going to team me up with?" Usually, I'll be at that second meeting to hand off that transition, or even the third meeting depending on the size of the client, so they're building rapport. Once I know they built the rapport with the designer, it's much easier to hand it off.
How many active projects are you working on at a time as a team?
About 55.

How do you decide which you say yes to?
We recently changed our minimum-budget criteria. We've upped it so that we can have fewer larger projects. Being in the Midwest, we have to do more smaller projects to do the same revenue as you would in another market. We're trying to shift and say, "No, we're only going to take projects starting at $250,000." That's all-in cost—including furniture and design. But if a good referral is from another client, and they say $150,000, we're going to take it if it's the right client. We say that number because we don't want tiny little powder room projects—they involve too much hand-holding.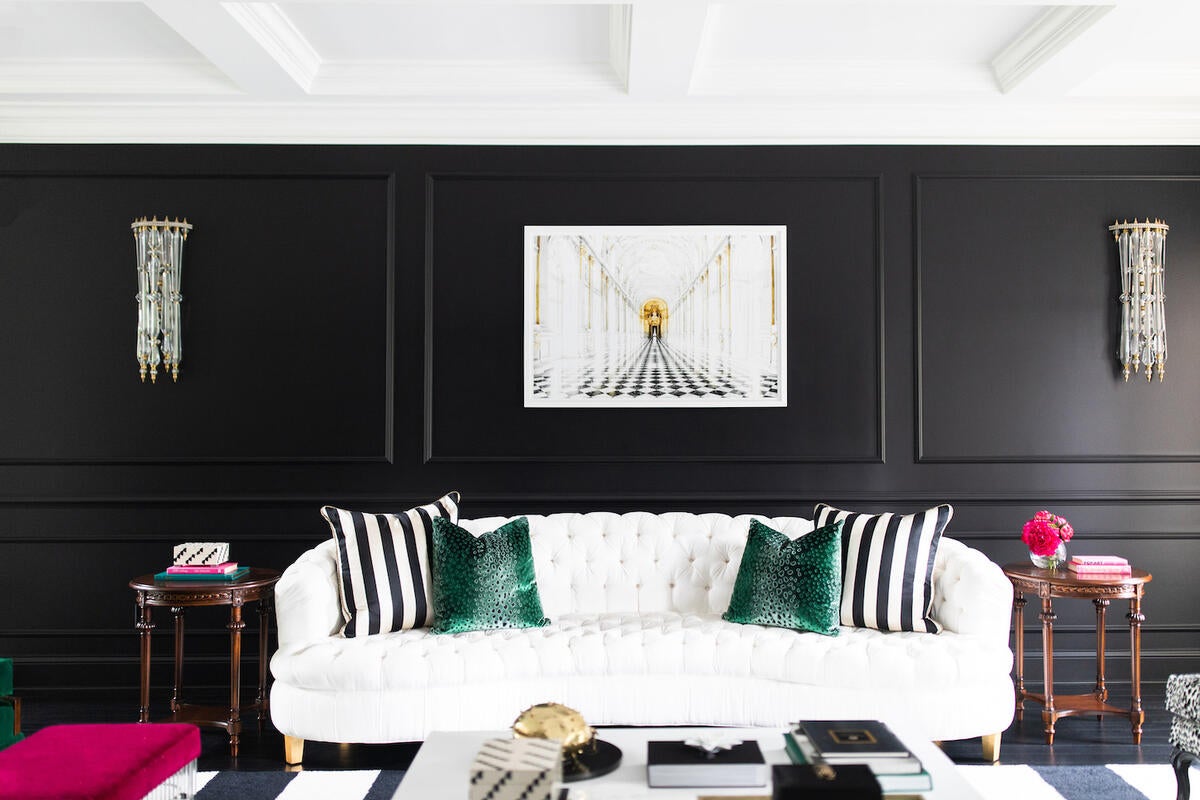 Can you tell me about your market in Ohio, and in Columbus specifically?
Yes, because I'm very excited for Columbus, Ohio. I've been on a mission lately to try to get more attention here. Intel recently announced that it's building its largest U.S. site, [a 1,000-acre megasite with two factories just outside of Columbus,] and it is happening in my backyard. We are like 10,000 homes a year behind schedule to support the need for the growth. It's a huge opportunity.
I think it's going to be like Austin, Texas, in five years. A lot of our clients are moving from California and New York and coming in from the coasts. Those are some of our better clients because they're used to what things cost, and they've seen a lot more. The [more modest] house a California client had in San Francisco for $3 million, here [they're getting] a mansion. It's a great opportunity to be here, and it's really going to grow. We're going to have a challenge with contractors supporting the need—some areas of town have 60 permits underway, and they're saying, "We're not doing anything for six months because the infrastructure can't support the demand." So Columbus is going to be on the map in a much bigger way.

Through COVID, I have had quite a few clients buy second homes, and that's given us an opportunity to grow in those markets too. We're working in five states right now. We have a couple projects in Scottsdale, Arizona, as well as South Carolina, Michigan and Texas.

As a native Midwesterner, I feel like I can ask you this: Do clients come to you with a different mindset about what their home should be than what you see from colleagues and peers on the coast?
They do. If they grew up here, their world is much smaller, right? We don't have design centers here, so they're only exposed to what they see in retail: Restoration Hardware, Crate & Barrel and Pottery Barn. Often, that's what their comfort zone is. We always tell them, "If you want Restoration Hardware, you're not going to hire us because you didn't hire us to get something you can go get on your own." As a design firm, we want to push them to expand their world and what they're exposed to. The best compliment someone can give me is "This does not look like Ohio."

What are the extra steps you have to take to get people comfortable to make that leap?
It's all in building the relationship, and being curious and not judgmental. It's about asking the right questions. It's understanding how they're living. It's who they are as people and what is going to build trust. Trust is a different thing for every person. If it's the financial piece, we're going to give them spreadsheets. If it's making sure that their mother-in-law loves it, then we're going to ask a lot of questions and maybe even want to meet the mother-in-law. So it's really finding out what they need in order to trust you.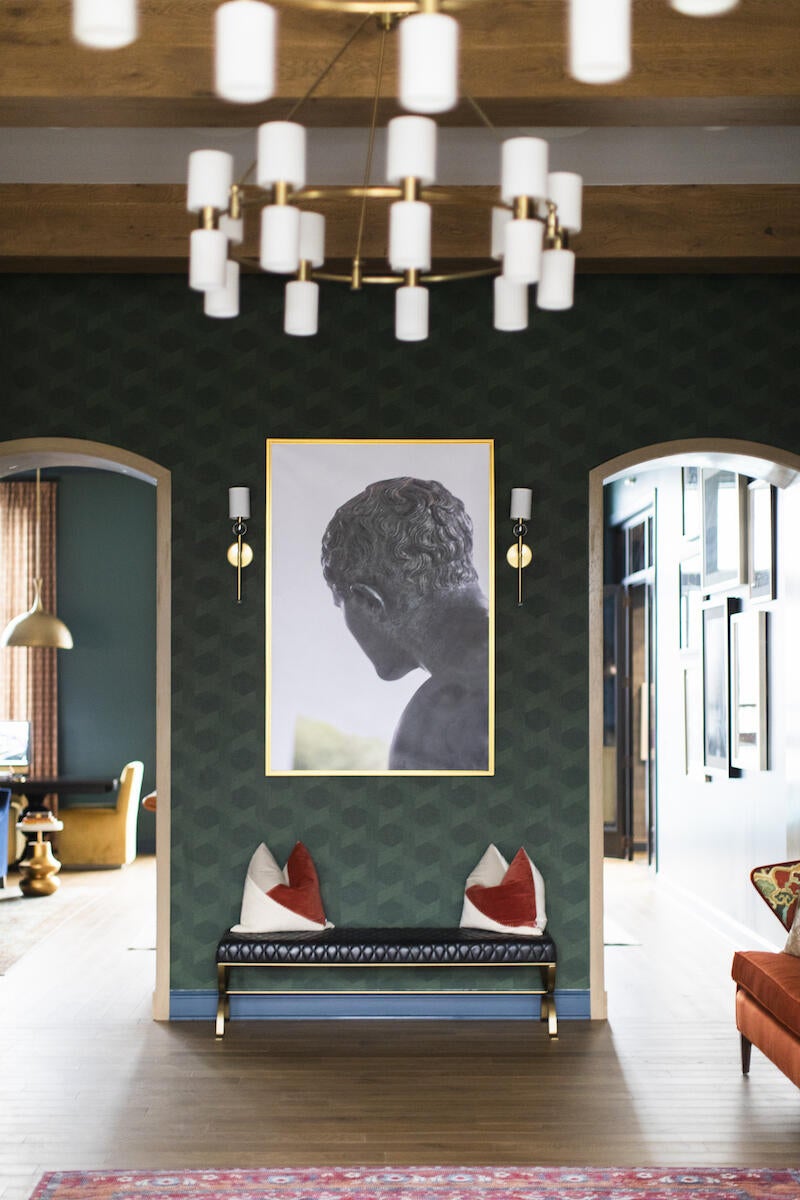 How and where do you shop?
We're always at High Point Market. We're in New York. We go to the Chicago Mart, and we do the Maison&Objet show in Paris. My husband and I travel a lot, so I look for smaller vendors throughout my travels. Lately, we've been working with a lot of local vendors.
How have you approached billing?
Almost all of our residential projects are monthly and hourly, and our commercial projects are all flat fee. We're moving in the direction of more flat fees for residential too.

What does it take to make that shift successfully?
We need the client to make quick decisions. We're doing a deep dive into the profitability of projects, and how much time it took to do a project of a certain size, so that we can have a formula. So when we get a project of a similar size, we quickly run the numbers and feel comfortable about the decision that we're making for the fee.

Is that interest in a flat fee for residential work about finding efficiencies?
It's about happier clients. I've always been taught that if the client knows your value, the price goes away. You always have to sell your value, and once the value [comes into question], the price becomes a bigger issue. We know that we're giving clients exceptional value and we can get a higher price for a flat fee, and have a happier client because they're not getting monthly invoices and wondering, "Well, why are you charging me for this?" They're not feeling nickeled-and-dimed as much, and I think in the long run it just works. This is always the conversation with design firms across the country. We are always going back and forth—there's never a right answer. You have to do what works for you.

Do you charge a markup on products in addition to that?
Yes.

Is talking about that complicated, or are clients pretty accepting?
No, they're pretty accepting. All my designer friends on the coasts are like, "I don't even know how you get away with this." Kati Curtis in New York is a good friend of mine, and we're always going back and forth because most people on the coast have higher fees and they have to spell out their markup. I don't ever do that—never.
The conversation varies depending on the product and project—if it's commercial versus residential. If I think the client is going to shop us a lot, we always try to stay really comparable and relative to what's out there. I tell the client that we negotiate the best price for them, and we do. We negotiate with our vendors all the time to get the best pricing. I say, "You will never pay more than retail."
Are there a lot of clients who want to shop the firm's selections?
Yes, those clients with small $1,000 projects do. I sometimes think [they come from a mindset of] "I want to hire a designer; I'm not sure that I can 100 percent afford this, but I'm going to go with it." Our bigger clients, the ones that we have a trusting relationship with, are like, "You guys got it." They don't have time to be shopping online, and that's the ideal client. Sometimes clients have even said, "Oh, I decided I was going to go look to see if I could find it cheaper. I might have found it a little cheaper, but then it came in damaged. I had to mess with it, and it's just not worth it. Just let the designer do it." I throw up the flag really quickly. If a client really wants to go buy a bunch of their own stuff, let them do it and figure it out on their own. Generally, they'll come back if they are the right client. Give up control, and let the client feel like they're in control—it just works much better.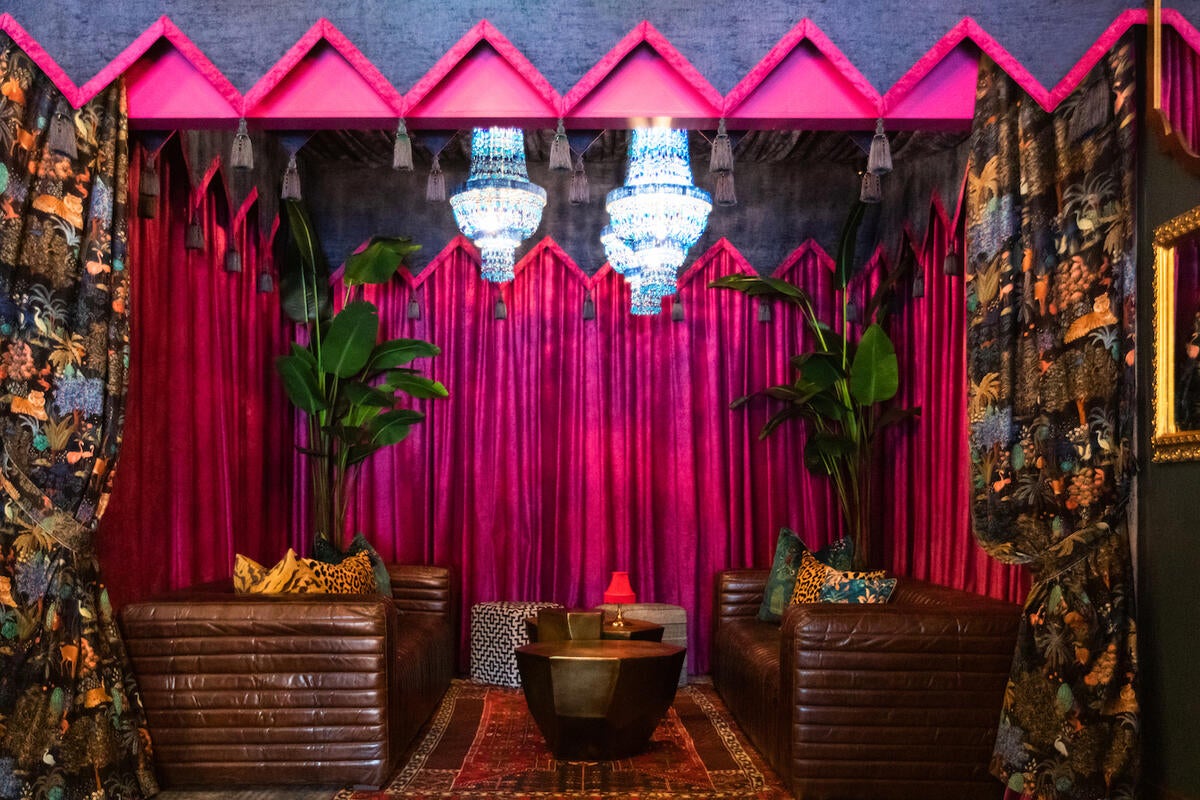 I know you donate some of your fees—can you talk about that?
We donate a percentage of design fees to organizations that clients are passionate about. That giveback has been really fun. We built a home in Thailand in 2019 for 25 kids that we support every month. That whole global perspective and giving back to people really drives my husband. It's been fun to see how our business has grown because of it.
Does that attract clients?
It often resonates with clients and gives us a point of connection. It could be a charity that they're really passionate about, or it gives us an opportunity to have deeper and bigger conversations than just "What color do you want on the wall?"

You learn a lot about someone by seeing where they want to give.
And if we feel like their values don't line up with our values, we won't take them as a client. They don't want to work with us either.

What is the biggest thing you wish you had known when you were starting your business?
It is to really be honest with yourself and that you have to think bigger. Your vision has to be bigger than your resources, and you have to believe that your vision will happen. We're the only people that will get in our own way—it's nobody else's fault but our [own]. If I could have learned that earlier—to just feel the fear and do it anyway—I would be further ahead.

You're coming up on a 20-year anniversary. When you look ahead, what do the next two decades look like for the firm?
I would love to be an employee-owned firm doing over $50 million. I want to do some international work in the hospitality and residential world to create a really strong, solid foundation for my employees and the company.

Is the future to you in commercial or residential work, or a mix of both?
It's a mix of both. I think I subconsciously realized that when I started Crimson—because I didn't have my name in the business—I wanted it to be much bigger than just me. As we started working with developers, the commercial work is so much less emotional and easier in a lot of ways. We have two strong studios, and we're really staying true to what we're really good at. If we were just in the hotel business, it would have been much harder for us last year, so having the residential side helps through those downturns, and then the commercial side helps when the residential is down. It has really worked for us and helped to protect us.
What does success look like for you?
That's a hard question. I think success for me right now is being able to be in the moment and enjoy the ride, rather than always looking ahead for the next thing. We have big, huge goals for the business, but I think right now, after my sabbatical, it's about how I can have more time. How can I do the things that I enjoy and rest and still work? How can I make those two play nice together?
To learn more about Cheryl Beachy Stauffer, visit her website or find her on Instagram.