The 50 States Project is a yearlong series of candid conversations with interior designers we admire, state by state. Today, we're chatting with St. Louis–based Jacob Laws, who launched is eponymous firm six years ago, and recently made his first big hire—his partner, Michael Feldman, as the firm's COO. He shares how coming from a creative family influenced his career, the way his billing encourages creativity and camaraderie, and how winning a prestigious award brought him exciting new opportunities (and challenges).
Tell me about St. Louis—how did you come to start your business there?
I am St. Louis born and bred, and my family has been here for generations. But my path to design was this really lovely fairy tale story of me letting out my inner Picasso on my parents' walls at age 4. I was young and my parents wanted me to have an outlet for my creativity instead of ruining things, so they enrolled me in art classes at the Saint Louis Art Museum. One of the first classes I remember taking—and I was young—was on architecture in St. Louis.
St. Louis has such a rich history of architecture. You might get this wonderful French-Norman chateau out in the country that was built in the 1930s as a family's country estate, but in the city you have these Second Empire and Italianate–style townhouses that are just out of this world. The city is so old and spread out and when all of these different areas converge, there is this melting pot of architectural styles that make up not just the metropolitan area, but also the surrounding counties. I was always asking my mother to drive me up and down city streets like Portland Place and Westmoreland Place, wondering what it was like to live in a house that was like a museum. I was that weird kid that didn't want to go outside—I'd rather talk to my aunt about her new window treatments.
Did you always know you wanted to be a designer?
I come from a relatively creative family, so they were always very supportive of my creative pursuits. My Uncle Phillip, my mom's younger brother, was an amazing architect and interior designer, and I was just in awe of him. Some summers or spring breaks, I would go shadow him in Los Angeles or New York. I was too young to actually work, but I could peek around his life and work. He was always a hero of mine.
That's amazing. I feel like so many people say, 'I didn't know this career was possible.'
Totally. I did, and it was just a normal thing to me. I would have these adult conversations with my friends who were my own age, and they totally didn't get it, so I started to talk to adults about the things that would eventually become my profession. I wanted to talk shop before there even was a shop.
How did you set out to pursue design?
I went to college for art with a focus in art history, but it wasn't centered around interior design. During the classes at the art museum [as a kid], I was like, I love this, so this is what I'll start doing and we'll see where it takes me. After school, I owned a T-shirt company where I did all the designs myself. Then I started working for another firm; when the design director there left, I became their senior designer. I was there for seven years, then went out on my own six years ago.
How did you know it was time?
It was just a gut feeling. There was this pivotal moment—I was working on a project that was super high-stress, very intense, and it literally put me on Xanax. It was a family that moved to St. Louis from Los Angeles, and they needed everything done within 32 days. That was back when I was like, "I can do anything! I don't need to sleep!" And I just bit off way more than I could chew. I was doing it all on my own [and there came a] moment when I was like, "If I'm doing all of the work on my own, I can do this on my own—and under my own scheme, the way I want them done and branded."
I thought about what my life would look like if I told my business partner I was going to go out on my own for about a day and a half—and then I actually did it. I didn't plan on doing it, it just kind of happened. I was like, "You know what, I think it's time for me." And the next day I went to the bank and opened a business account and just started from there, working out of my house.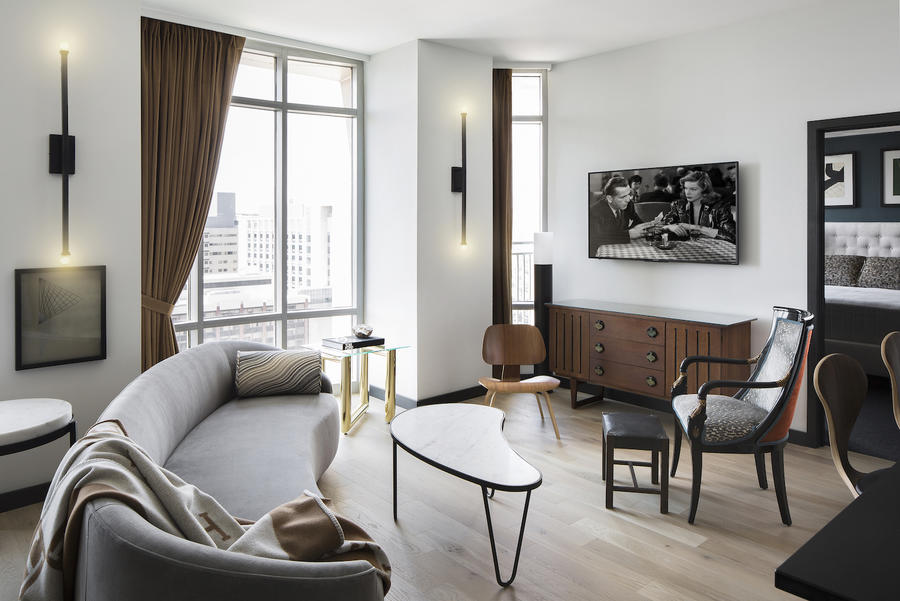 Courtesy of Jacob Laws Interior Design
How did you find those early clients when you started on your own?
I had a lot of very loyal clients, and luckily by that point I had been published enough locally that a lot of people knew my name. Honestly, about 90 percent of my business is referral-based. For instance, one of my favorite clients, whose house my architect and I completely dismantled, added to and rebuilt—a friend was having tea at her house and saw my work (she had seen my client's house before the renovation), and was like, "You know, we're thinking of doing A, B and C at our house in the city, give me his number." And that turned into what is now a three-and-a-half-year-long project that I'm still working on.
That's amazing.
I absolutely adore these clients. They're wonderful—very private, but hysterical. There's a funny side-note story, if I can go on a tangent. So I've been imprisoned at home for like three months longer than anybody else because I slipped down the marble front steps of that client's house when they were icy, and I shattered my ankle in three places.
Oh, no!
I literally could not get out of bed for a month and a half. My last follow-up appointment with my surgeon was two days before everything started shutting down, so I've been at home for way longer than the COVID isolation. Needless to say, I am tired of looking at every single wall of my house. I was finally at a project all day yesterday placing accessories and rearranging things that have been delivered during the isolation period, and I'm like a kid in a candy store. I don't have to wear a boot on my ankle, so I'm just like, "I'm putting on Guccis and I'm getting out of this house!" I couldn't wait.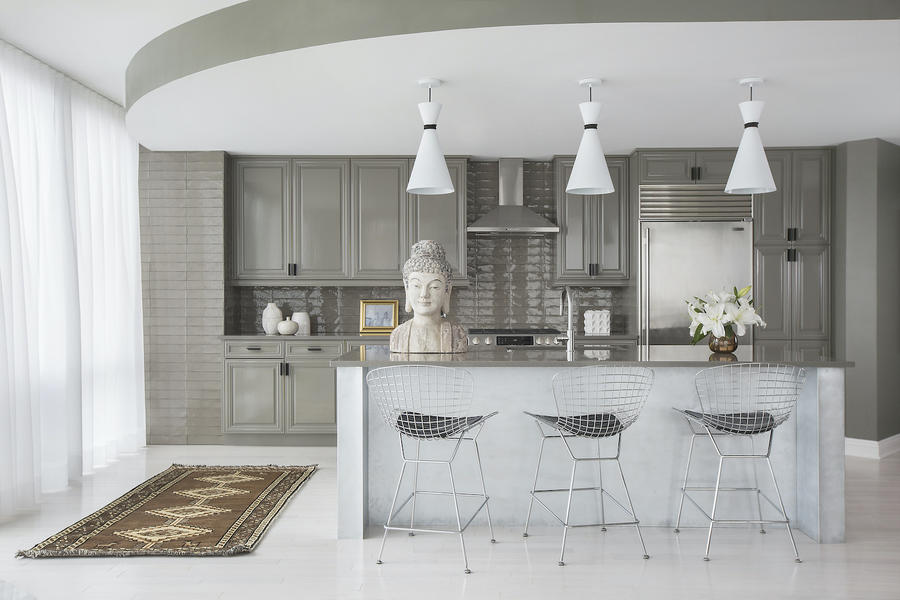 Courtesy of Jacob Laws Interior Design
So you started your own firm five years ago—and it was just you for the longest time?
It was just me.
What did that look like? How are you doing these big projects by yourself?
Well, I am a control freak, so that's how I do it by myself. It was never a messy or disorganized operation, because I'm a very organized person, but it just was overwhelming. I couldn't see the forest through the trees—it became normal for me to have eight balls in the air and to be spreading myself so thin that I didn't even realize how stressed I was.
Last summer, I officially brought on my boyfriend, Michael, as the COO of Jacob Laws Interior Design. The firm was at such critical mass, workload-wise, that I either had to redevelop my operations or stay like a mom-and-pop shop and be OK with that. It's been a transition—I've had to let go a little bit and delegate, and that's been hard. Even if it's something that I don't know how to do, like back-end operational stuff, and even things that I don't want to do, I've had that do-it-yourself mentality for so long that it's just kind of embedded in me.
So it's just the two of you?
I've had interns and assistants [as needed], but my first real hire is my second-in-command, who is Michael.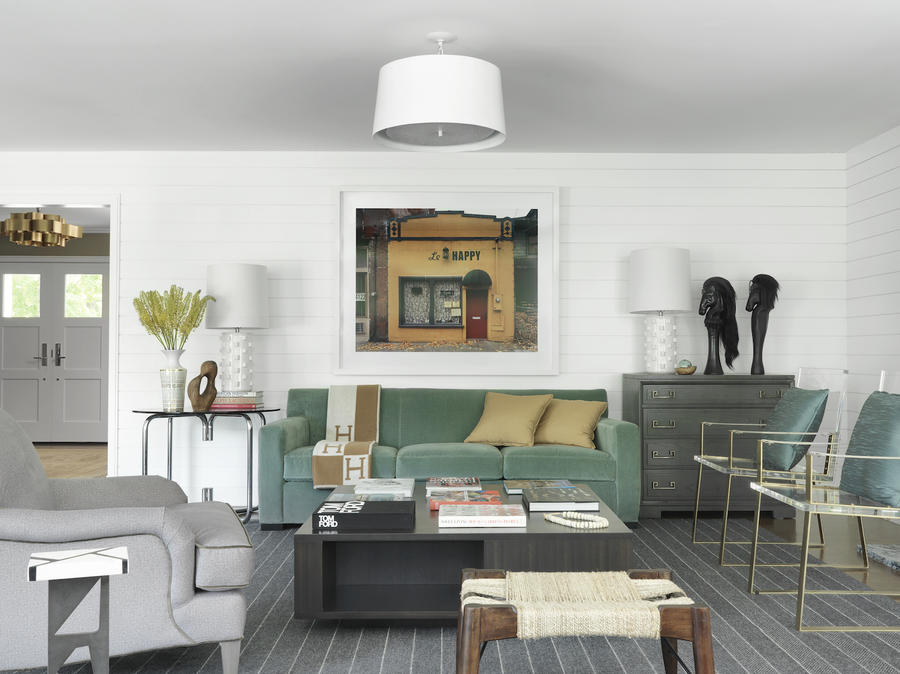 Courtesy of Jacob Laws Interior Design
What made him the right person for the job, and how did you decide to jump into business together?
Michael and I started dating the summer I started my firm, so he saw it grow from its infancy. He was there for it. He went to Emory and worked for mortgage companies in Atlanta for 16 years before coming back to St. Louis, because he's from here too. So he could see from an outsider's perspective—and as someone who knew how things should be run from a professional standpoint—how things were not working. For the longest time, I was like "What do you mean? I've got this!" But he could see the stress and the toll it was taking privately.
How do you divide up the work now?
I'm doing exactly what I was born to do. I'm the creative. I design and source everything, and Michael [handles] back-end operations. It works well—and is something that maybe should have been done a long time ago.
If you have a new client, for example, do you take that meeting together? Or are you still spearheading that part of the business as well, like the onboarding?
We've been taking those meetings together so that Michael can learn that end of the business. To me, the first meeting with a client is kind of like a first date. Some clients aren't good for me, and I'm not good for some clients. Of course I would like to say yes to every project, but at this point—and I'm lucky in this regard—if it isn't going to be creatively fulfilling for me, I probably won't take it, because I'm working on projects right now that are so special and that [do bring me] real happiness. It just isn't worth the extra stress to cram something else in there [that won't be meaningful].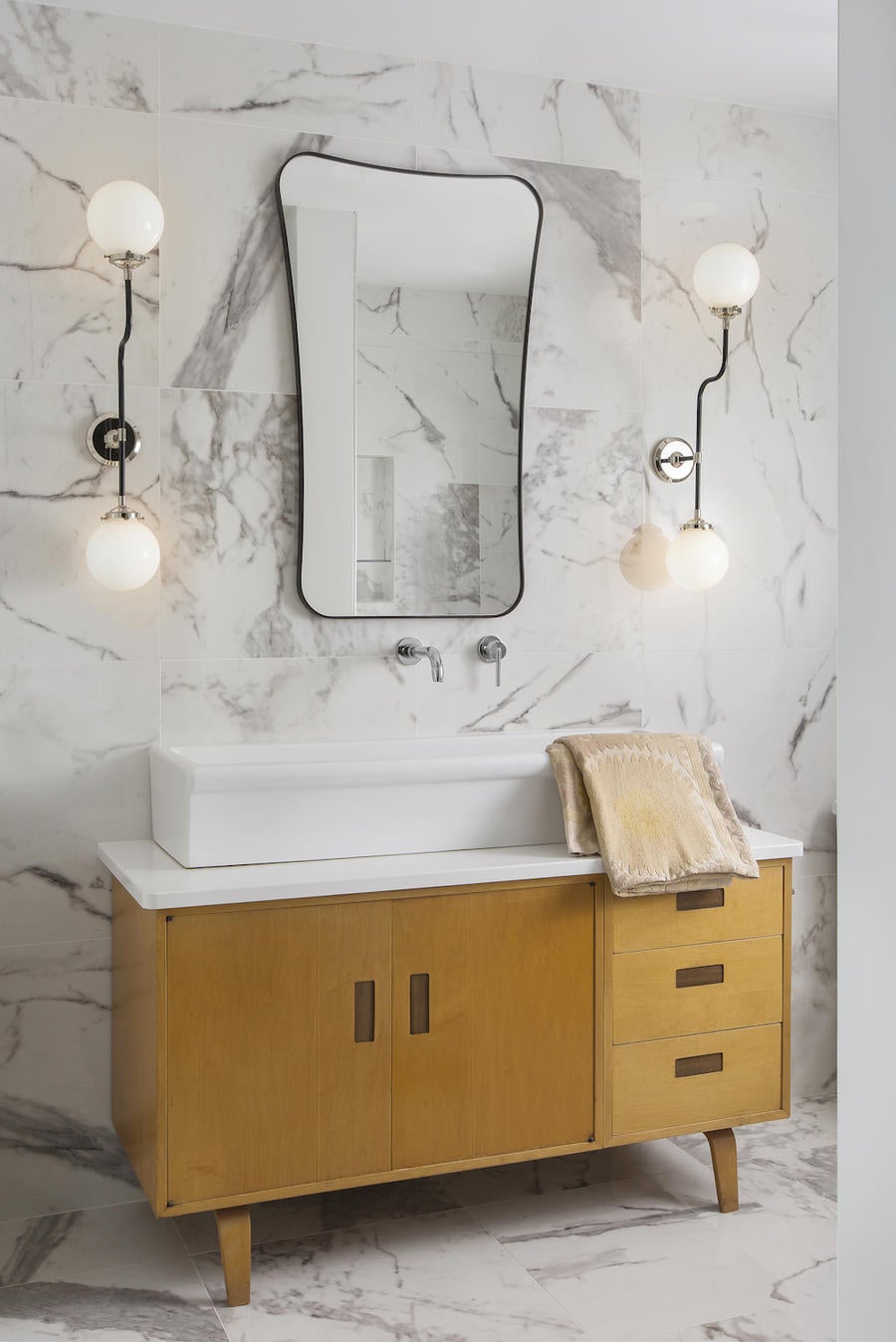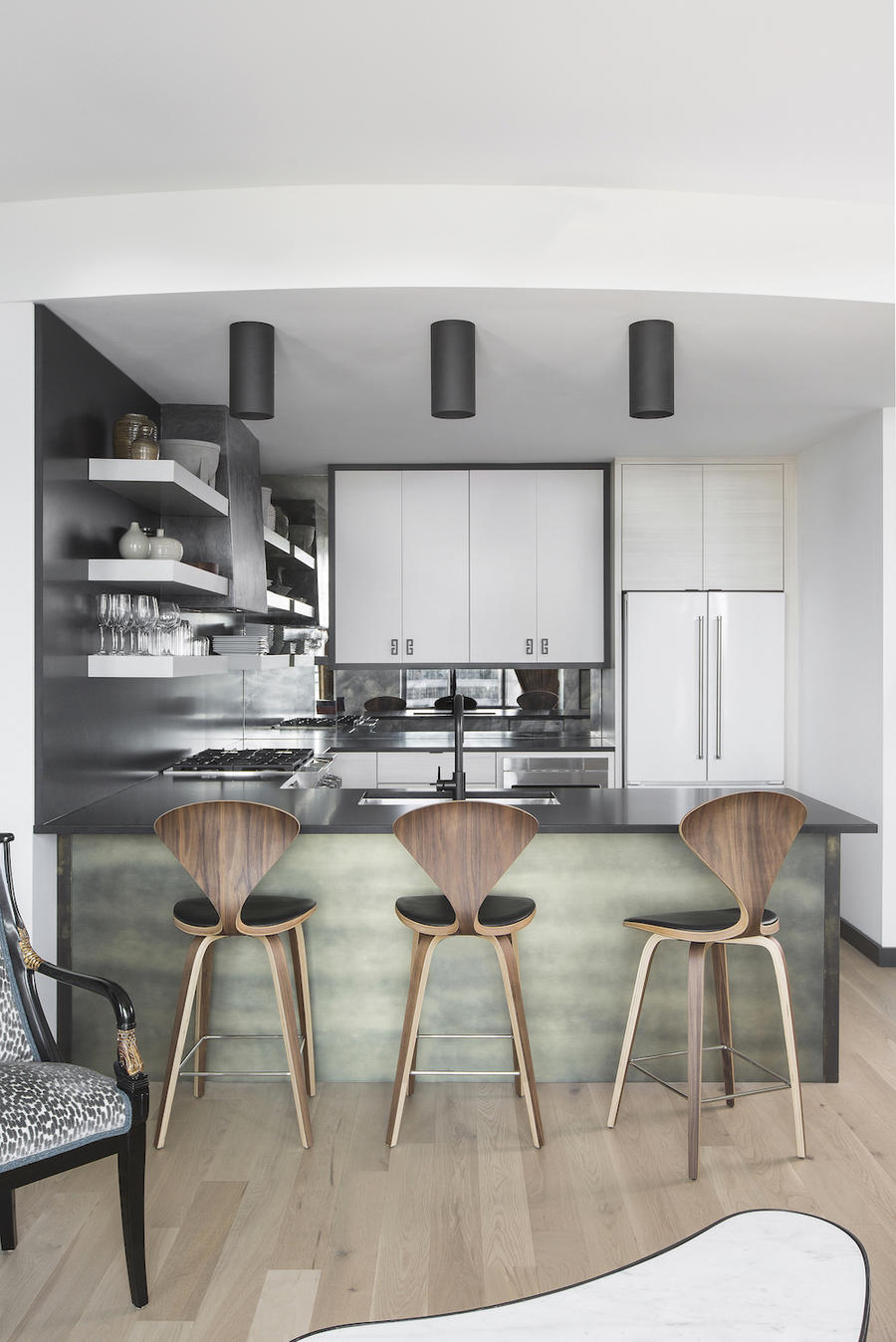 How do you decide what to say yes to, or what you have the bandwidth for, or what's going to be the right fit?
Intuition? I know that it's not a one-size-fits-all thing for designers—and believe me, five years ago I would say yes to everything. I'd be like, "OK, you have a $10,000 budget and a 10,000-square-foot house? I'll do it!" That's an exaggeration, but I really would try to figure out a way to make it happen. It's trial and error, and again, I've had really loyal clients and a lot of my business is referral-based, so in the beginning, before we even really meet clients, they know what they're going to get with me.
And what do they get? What is working with you like, and what is the process that you go through with your clients?
I think I make it fun for them. I like to educate my clients along the way—to give them the opportunity to know what they're choosing, why I'm selecting things, and why the pieces that I'm selecting are important to the overall feeling and design.
I would imagine there's a lot of storytelling you have to do to make that work.
Totally! One of the things I love about our industry is that what I'm doing is essentially creating a story within a space. That's how I perceive design: telling a story and creating an atmosphere. I think that it's my responsibility to take my clients on this ride and let them see what the end results are going to look like—or at least have an idea of what they've gotten themselves into, in their mind's eye.
How big are your current projects, and what's the scope of work you're typically taking on?
Most of the homes I'm doing right now are pretty substantial. Like I said, St. Louis is an old city with amazing turn-of-the-century architecture, and those houses are quite large—anywhere from 8,000 to 11,000 square feet. And then two other projects are about 5,000 or 5,500 square feet.
That's not to say I wouldn't work on anything smaller, because design kind of transcends space. That's something that I am always trying to promote: It doesn't have to be a huge, expansive space to lend itself to a project or a creative vision. But most of our projects right now are pretty big.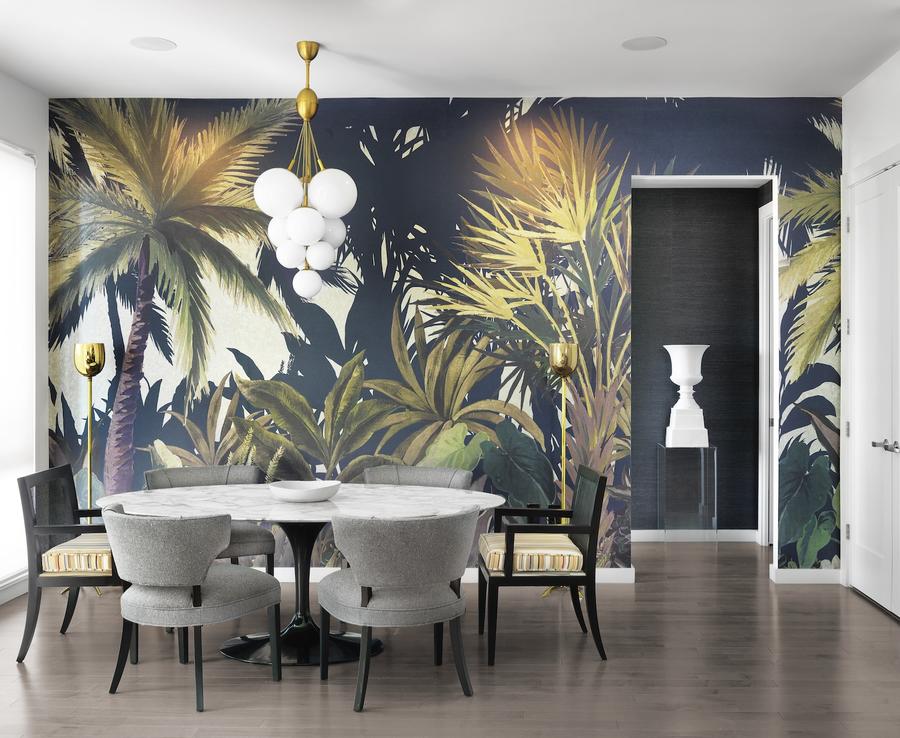 Courtesy of Jacob Laws Interior Design
Is most of your work in those historic neighborhoods?
I was doing a new-build project in Chicago last year, as well as helping a friend who's still building her house in the northern suburbs of Chicago. I'm all over the place these days, which really happened after winning the Fashion Group International Rising Star Award in 2018.
How did that come about, and what did that change about your opportunities?
It wasn't planned at all! St. Louis was once the second-largest garment district in the nation after New York, and the garment and fashion industry created a lot of jobs in the Midwest. I'm on the board of directors of the Saint Louis Fashion Fund, which works to create jobs here again—we've already opened two factories ... for knitwear, which is awesome. And because of the designers that the fashion incubator here supports, two of our first class of designers were both up for FGI awards in 2017, so I went to New York for the awards ceremony at Cipriani and was just blown away by the other designers—household-name designers—that were there in support of FGI.
Another Fashion Fund board member is very involved in FGI here in St. Louis, and when it came around in 2018, she told me that she nominated me for the home design and product design category. And I was like, "But I don't have a product line—what do you mean?" So I took custom pieces that I had designed myself for several different projects, and those became a capsule collection, so to speak, that was presented to the FGI board in New York. I knew that I was a nominee, so we went [back to New York for the awards ceremony]—the whole family packed up and went to the big city. And then I ended up winning!
What was that like?
It was just this wonderful moment professionally that pivoted my expectations for what the future could be—and what it will be. It made me see things in the far distance as not just a pipe dream, but tangible things that could actually happen, and that were really happening in that moment. It was that right time, right place [experience] when you feel that yes, this is what I'm supposed to be doing, this is where I need to be going.
So is that collection in the works?
It's still in the wings. I started taking meetings [and have mentors] pointing me in the right direction as far as what kind of collection to create and how many pieces. But with retail being what it is right now, is there a place for us in the market? And if there is, where is that place? When I started out, I was creating a luxury high-end collection, and we were talking about Bergdorf's or the fifth floor of Bloomingdale's in New York. That's how Kelly Wearstler started her product line, and where I saw myself. But the way things have changed, who knows? Maybe we take a beat, step back and revisit it in two years.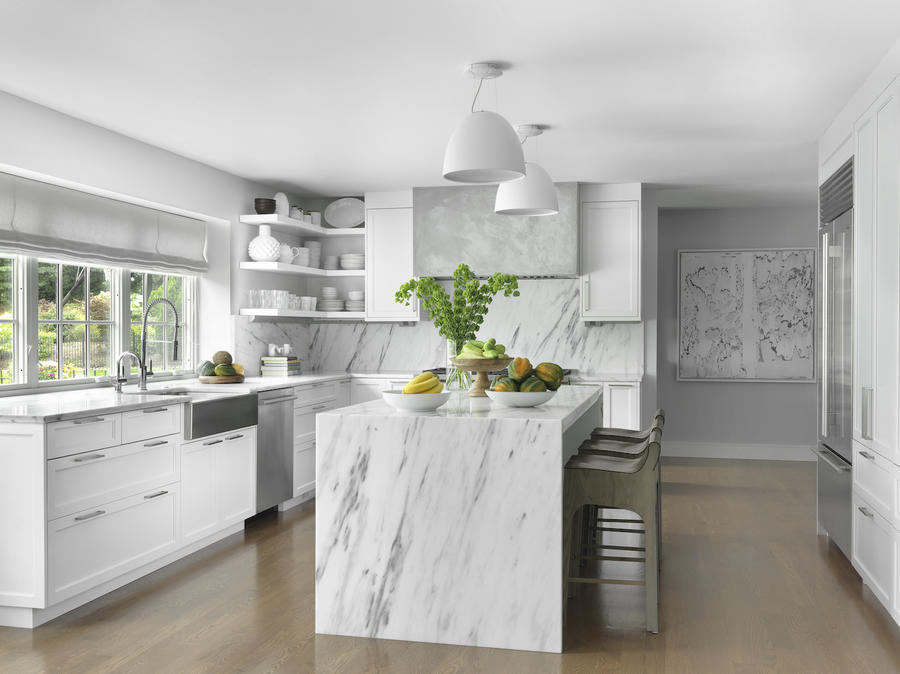 Courtesy of Jacob Laws Interior Design
In your design work, how do you approach billing?
That's one thing we're working on now. I've always charged a design fee instead of billing hourly because it was easier that way. It isn't necessarily a set fee, but depending on the scale and the budget of the project, I establish a design fee and then that client basically has direct access to me and my product lines for the duration of the project. I have designer friends who only bill hourly, but to me that seems very complicated; I don't want to have to be timing my conversations with a client and be billing them every time we talk. To me, that makes the relationship and connection that I'm building with my clients, who do become friends of mine, seem a little forced or fake. Like, "You're paying me to be your friend so that's the only reason I'm listening to you" kind of thing. I feel like I have more freedom to create when I'm not thinking about billing all the time.
Do you charge markup for the product you're installing as well?
Yes, we do charge a markup, which depends on the project, the budget and what vendor we're using. We don't use an across-the-board markup.
Do you ever get pushback from clients on how you charge?
No, because we're really transparent—and also, some clients don't want to know. They couldn't be less interested: "That is why we hired you; we just want you to do your thing and we don't want to know or need to know." And I get it—it's like, I didn't tell my surgeon how to fix my ankle. That's been the mentality and the attitude of most of our clients. It's, "This is your game, you're the boss." But if they want to know, I'm open with them.
If I say, "My fee for this project is $100,000," I can't remember the last time someone was like, "Well, I'm not going to pay that." And if that was the case, I probably wouldn't take the project because that just sets the tone for the entire project. Like, if this client doesn't see my value, then they'll nickel-and-dime things throughout the entire project, it makes things more stressful, and it takes double the time because then you're going to have to go back to reselect, negotiate—and sometimes there just isn't room in a markup to negotiate. A price is what it is.
How did you land on your fee—and for someone who's looking to make the switch from hourly to a fee, how did you start to map out what the right number was?
It depends on the scale of the project, but I know now how much time I'll be investing in a project after the first couple meetings with a client. If it is a total renovation where we're gutting the 8,000-square-foot house down to the studs, I know that that's about a year-and-a-half to two-year project. And that's a lot of time out of my life. So it's just kind of a matter of setting a standard of what you're worth and what your time is worth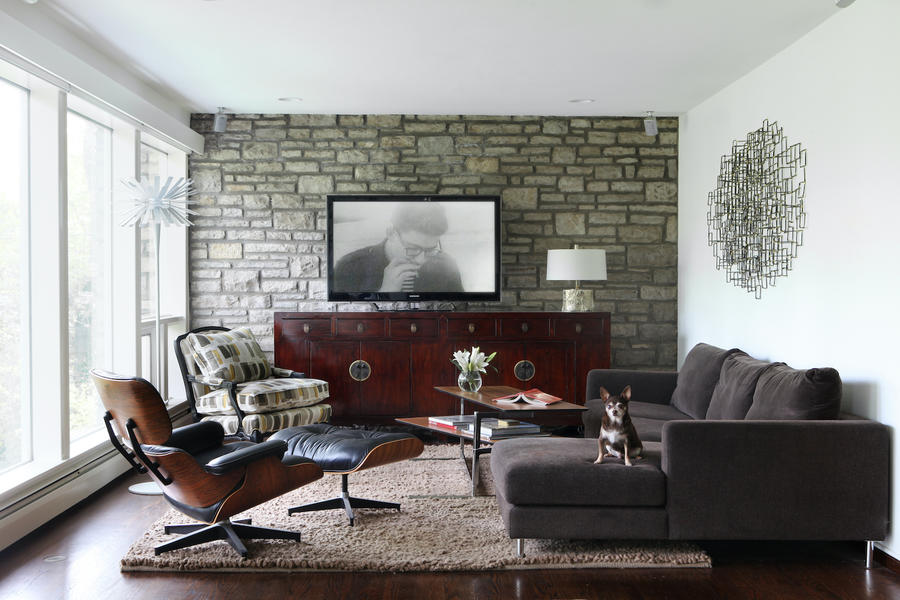 Courtesy of Jacob Laws Interior Design
You said you know what the fee should be after the first couple of meetings. When in the process do you bust out a contract and start talking money?
That's easy—it just depends on the client. Some want to sign a contract within the first hour that you're meeting with them. They want to get down to business; they've already decided that they want you to work on the project with them, and they're all about the bottom line. Other clients want to hang out and shoot the breeze, and like I said, it's kind of like a first date—they're trying to feel you out and you're trying to feel them out, and you just want to see if you're going to vibe.
With the flat fee, do you get stuck when you have indecisive clients?
That can be frustrating, because if you're going back and reselecting, you're like, "Ugh, I [already] designed this whole project." Luckily, that doesn't happen often.
What are your biggest overhead expenses—do you have an office now that it's the two of you?
When Michael became COO, he was very opinionated about the fact that I needed a studio. It got to a point where I was working on such large projects that every surface in the house was covered in samples. My beautiful Saarinen table, you couldn't even tell it was there. I had a printer plugged in on the kitchen counter. And for a designer to live that way is a little soul-crushing. Looking back, I don't know why I dragged my feet for so long—it really was the fact that I just was not used to changing the way I was doing things or delegating responsibility. It was a matter of me letting go and saying [to Michael], "OK, you know better, you're seeing this from another perspective. What do you think I need to do?" Now, we have a great studio in the St. Louis design district—a converted loft in a former Model T factory, with the old car elevator still in place! We're on the fourth floor and we love it; the space is fantastic and it gets great light.
Has it changed the way you work?
Oh, totally. I mean, I love our house again. And it has completely changed the day in, day out. I work out of trays, so I'll have like an old bracelet that I love or a piece that I bought on vacation that I'll be inspired by, and I'll put that in a tray with some fabrics and kind of wrestle with what needs to be edited for a few days. Those trays are sitting around the office, along with stacks of samples or fabrics. Now, there's a designated place for a mess—a beautiful mess, but a mess. We've been there for not even a full year, so it's still kind of new to me. It's a totally new way of working—a new world.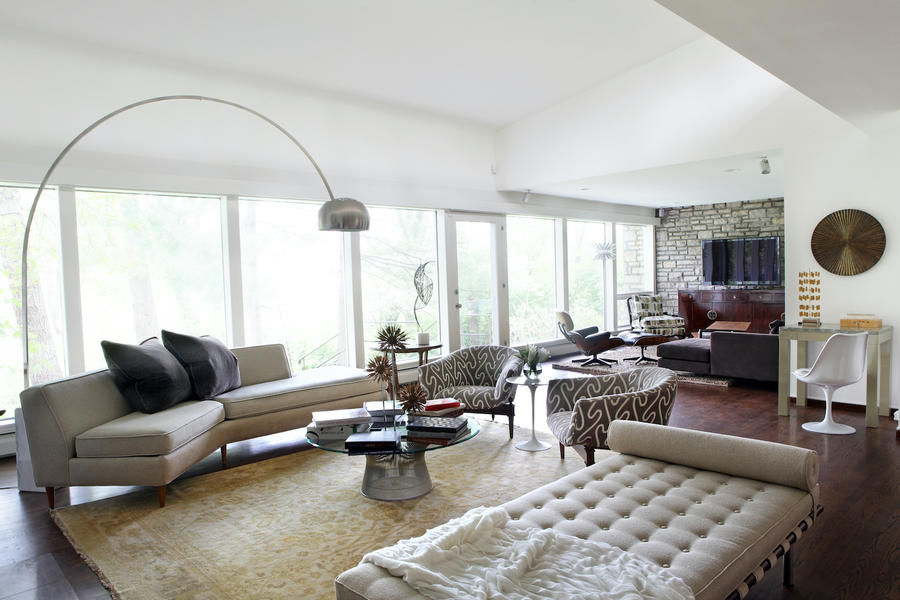 Courtesy of Jacob Laws Interior Design
You said you're thinking about changing the way you charge. What would that look like?
I am the kind of person that wants everything to be in place and right now, but with the restructuring of the business, in order for the firm to grow to where we want it to be, it just isn't all set in stone yet. For one project I'm working on right now, we've charged our design fee, but I'm also keeping track of my hours so we know which way of charging is more beneficial and more cost-effective, or where we make more money. But I've found myself forgetting—I will fall into a rabbit hole of looking at rugs online or something, and Michael's like, "How long did you do that for?" And I'm like, "I don't know, an hour and a half?" So it really is hard to change—the way I'm researching, even.
I was going to say, would a switch like that change the way you have to work in a lot of ways?
For me, I think so. It would change my motivation. Right now, the way I charge with just a flat design fee, it gives me more space creatively to not have to worry, "Did I charge enough? Am I being compensated for what I'm doing appropriately?" Is it worth it to totally change, to reinvent the wheel for myself? What we're doing right now is kind of like trying on different hats.
Would you see growing and adding different employees?
I would love to add additional employees. It would be great to oversee different designs but also be able to delegate responsibilities so that I have more time for other things. Which is, again, something I'm still working on: a nice life-work balance.
When you figure that out, you call me back.
I will give you the formula! I'm still trying to figure it out myself. When you're somebody like us, so used to working all the time—even if you don't mean to be working, you're kind of working. Michael and I travel a lot, and we spend the end of every summer on Cape Cod. Even when we're walking up and down Commercial Street in Provincetown, I'll bop into some new store and end up shopping for a project.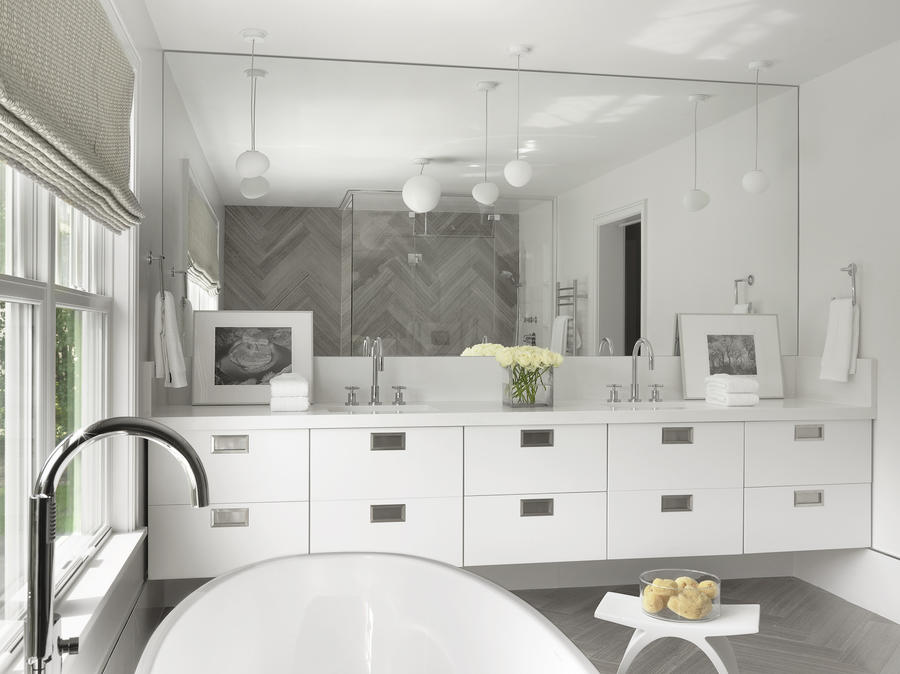 Courtesy of Jacob Laws Interior Design
Do you text off-hours with your clients? Are you 24/7 available?
I try not to be, but I'm really bad at it. So yes, I do text after-hours. That was something that even my therapist was like, "Unless it's an emergency, I don't take your calls." And I'm like, "I know, but it's different!" But how is it different? I try not to be text-happy with a client on the weekends; it's just a matter of professionalism. At the same time, that's hard for me—like I said, I become friends with my clients, and I'm not charging them to be their friend. The lines become blurred as far as the whole texting thing, especially because clients will have ideas at 8 p.m. on a Sunday—and I will too! But I will also screenshot something so that I remember to come back to it on Monday.
What keeps you inspired right now? What is something in the design space that you're most excited about?
Going anywhere. I kid you not. History, art, architecture and travel are the things for me—it's a driving force behind my creativity. Not being able to travel right now, I have 100 percent felt a difference in my soul.
To learn more about Jacob Laws, visit his website or find him on Instagram.