The 50 States Project is a series of candid conversations with interior designers across the country about how they've built their businesses. This week, Chicago-based designer Joy Williams of Joyful Design Studio tells us how her law career has shaped the way she structured her design business, why working with a virtual assistant was a game-changer, and the pros and cons of showing picture-perfect renderings to clients.
Did you always want a career in design?
No, no, definitely not. I went to college and then grad school and became a lawyer. But there's something creative about the law—you're fashioning arguments and figuring out how to reach people. Especially if you're doing litigation and speaking before juries like I was, you're trying to figure out how to connect with people at an emotional level. Yes, there is logic to it, but there is a creative aspect too.
It's storytelling, in its own way.
Exactly. You may not be able to sway the judge with an emotional argument, but you can sway a jury. I always looked at it as, How can I craft an argument so that it makes the legal points that I need to make but also tells a story? You're trying to set the scene for why things should go your way.
What pulled you away from law?
I stayed in law for about two decades. But as I started getting into real estate investing, I came to realize that I really liked designing the rooms, picking out the finishes and that sort of thing. It was a slow process, though. When I bought my first home 20 years ago, I led a complete renovation and acted as my own general contractor, hiring and managing subs. Then I moved back to my hometown, where I bought several properties in succession and once again hired my own subs and skilled tradespeople to renovate the properties. I bought a condo in the South Loop [in Chicago] that I lived in and upgraded from contractor-grade finishes. Then, about 10 years ago, I got the itch to do something bigger and started searching for multifamily investments. I ended up buying a greystone and project managed the partial gut renovation. And for all of these projects, I picked all the finishes, did the space plans and designed the interiors and exteriors of the homes. By the time I met my fiance—who has a background in construction but eventually ended up in the Air Force and later became a meteorologist—I had already dabbled quite liberally in design and construction management.
And then the two of you teamed up to work on projects together?
Yes, and once we began partnering, I realized that the piece of the design-build world I loved most was the design aspect—because I now had someone who could and would happily take over the GC role, and I was free to follow the piece of the puzzle I loved most. I started my design firm in 2018, the same year we did our first flip together.
For those early flips, what was the scope of work to get the properties in shape for resale?
We actually just finished one in Augusta, Georgia, where we took it to the studs and added some new flooring as needed while trying to save as much of the original hardwood as we could. But even for our first flip, we did a full gut rehab. It was more work than we thought it would be, but that's always the case, and it turned out beautifully. It was under contract for three weeks, and it closed in four weeks.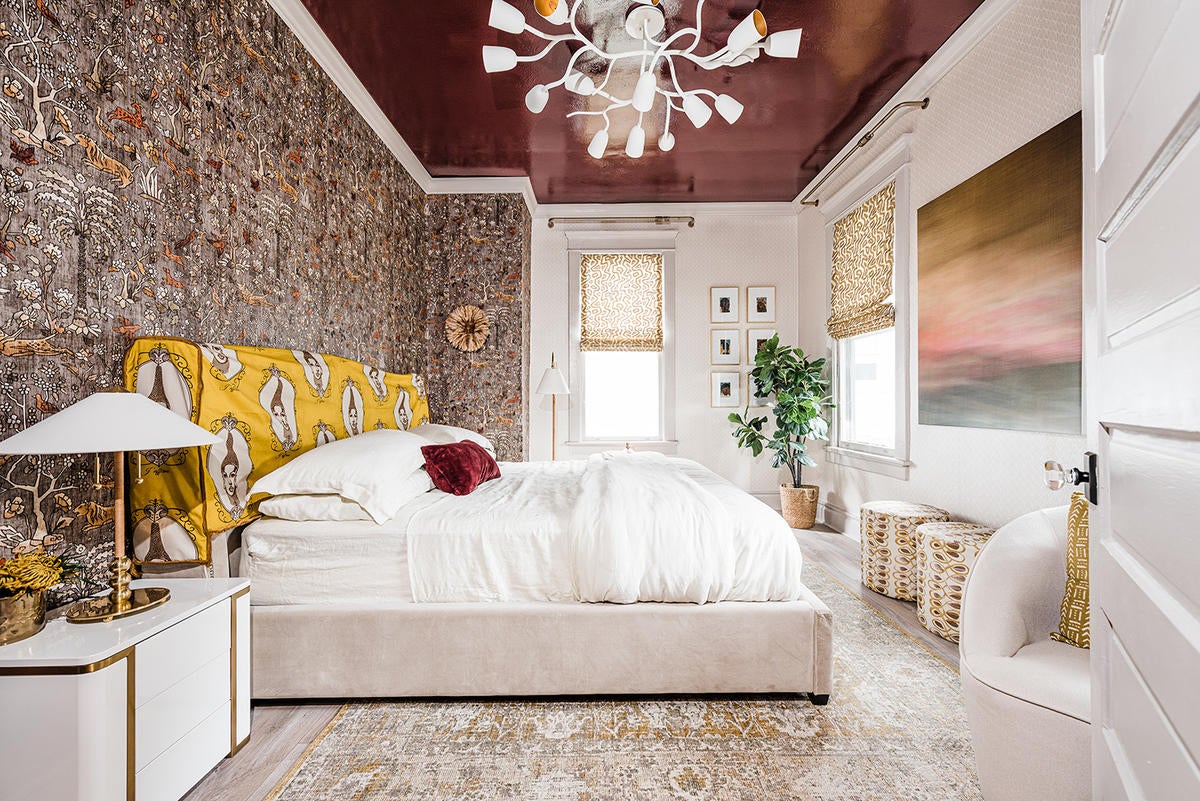 You launched your firm pretty quickly after that. Did you have an immediate sense of "I need to stop doing what I'm doing and move into this space" at that point?
Because I had designed and staged that property, other investors who were looking to get into that market—and some who were already in that neighborhood—tracked us down to find out who designed it. I was getting inquiries from other investors about how I could help them design their rehabs and make them more profitable. It was more consulting than designing, because although the investors want a designer, they are not willing to spend the money.
At the beginning, I kept contemplating whether or not I should go back to school and get a degree, because I think there's value in that. Ultimately, I decided not to do it, so I really had to do a lot of self-education. My first real clients outside of flips were friends from college and grad school, and friends of friends who recommended me.
Whenever I've talked to anyone who comes from law into design, one thing that's not holding you back is any sort of fear about charging for your time. Does that ring true for you?
That is very true. And I learned very early on that people don't respect your business if you do not charge appropriately. I had an opportunity to do a project, and I was trying to give this person a discount because I thought she could give me a little bit of publicity because of her clientele. I probably wasn't really even charging her for my services, I was just charging her to get the job done—and even that was too much for her. That really set my mind to never giving away my services again, and either finding the clientele who can pay for my services and who want me and the kind of design that I want to do, or just not doing the business. Maybe because of my background and having another career that I could always fall back on, I didn't see the urgency in just doing anything for anyone and not charging appropriately.
What does your business look like today?
I'm working on six projects now—though that doesn't include the two showhouses I'm working on, which I think of as advertising vehicles. I find now that I prefer to work with a client long term, and even if we can't do the whole house at once, we can at least have a plan for moving forward with the other areas of the home that they want to work on. I often tell them, "Let's just do a room or two and see how it goes, and if you like my work and you like how well we work together, then let's do the rest of the home." That's pretty much where I am today. This year has been challenging because I've had more work, so of course I need to hire. I had virtual help, but now I've just made my first non-virtual hire: a design assistant who will be coming on in May.
What was working with a virtual assistant like?
I did not go to design school, and although I have a creative bent, I can't draw or sketch. I see things—that might sound odd, but I think if you're a designer you get it. I see it, and if I can explain it and do my little stick-figure drawings, then I can get it done and show you what I mean. Working with a virtual assistant is great because I can explain it to them, and they can draw it.
I also use Duke Renders a lot, and they're just great because they can really get the concept that you are trying to go for. They've gotten concepts that I've had in my head on the first try. So I think if you can work with a great team—whether it's virtual or in real life—you can get it done even if you don't have a design background.
What does that assistant role become now that it's a full-time, in-person thing?
This design assistant is an artist, so she can do illustrations by hand, which I love. She is in design school and really wants to learn the business. I was explaining to her that with a firm as small as mine, she is sure to get some business skills. But I will also need her to do things like run to the design center to grab a sample—I'm more of a visual person and actually need to touch and feel, so I may need her to get the sample instead of waiting for it to come in the mail. I'm getting to the point where I'm contemplating using a virtual assistant for keeping track of orders and sourcing, which I've been doing all on my own.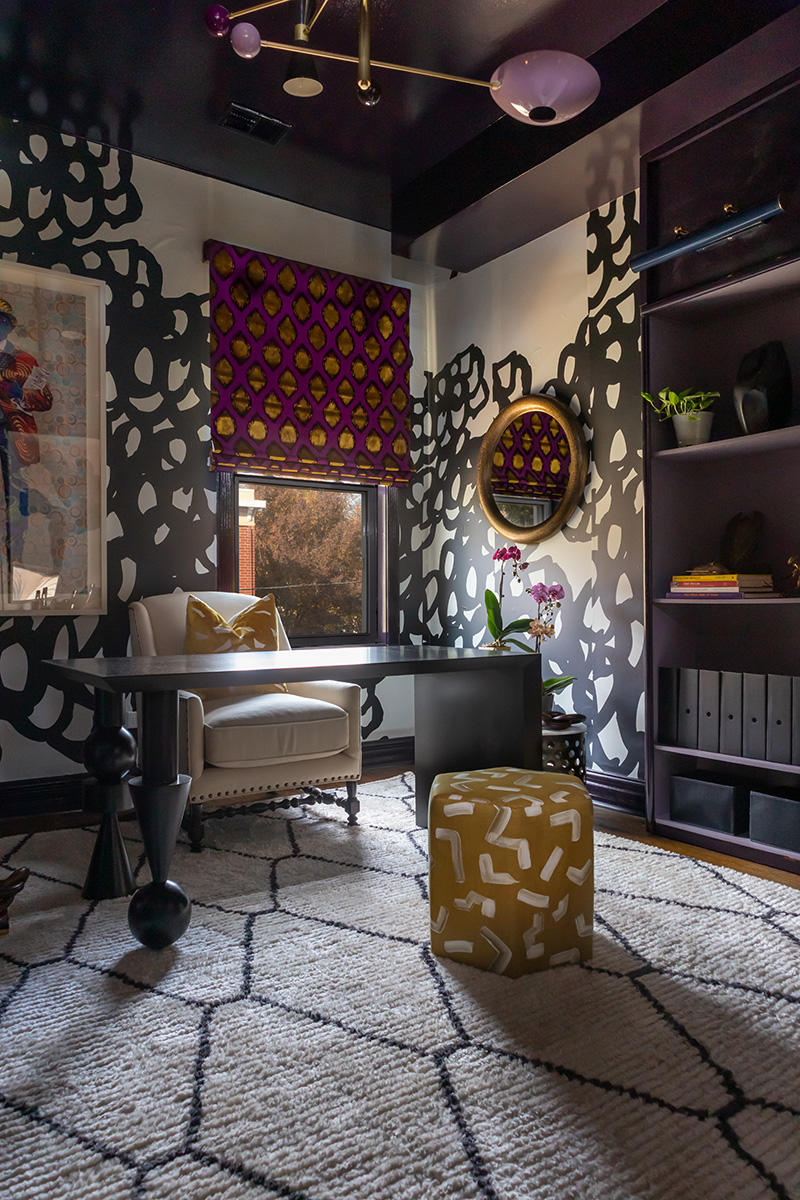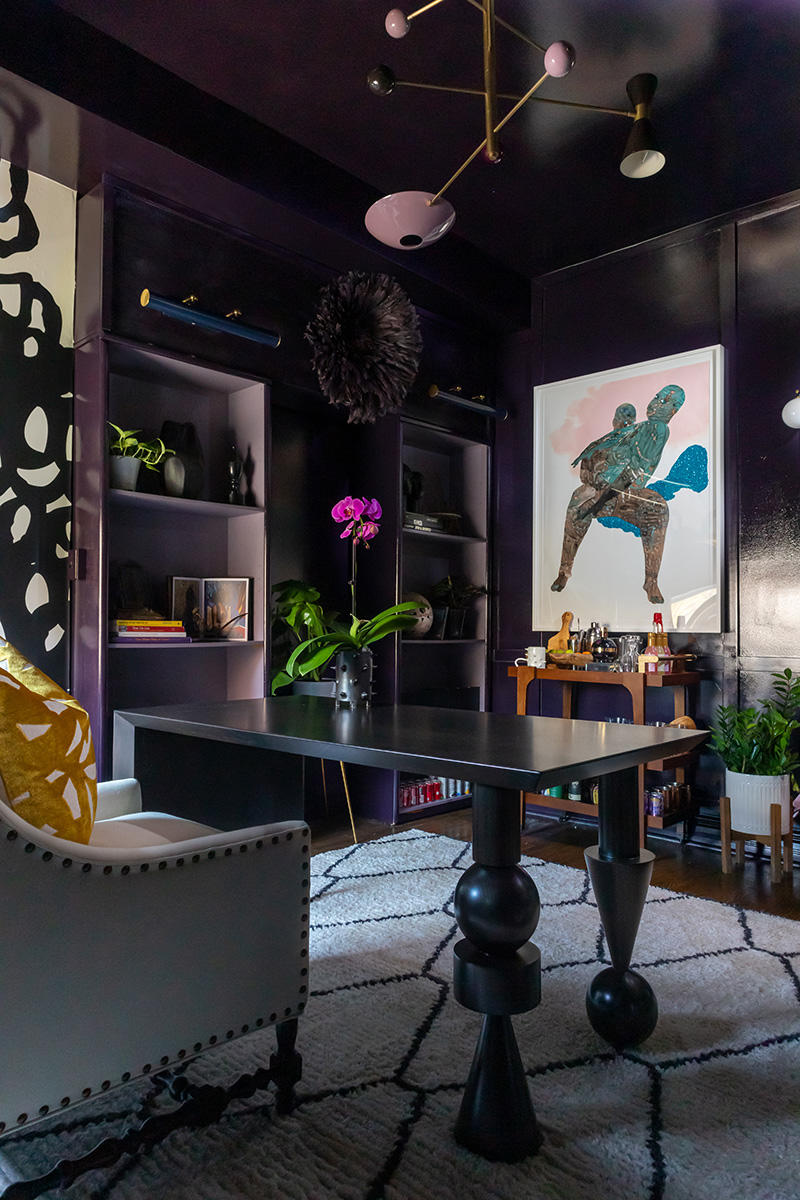 How do you use illustrations and renderings in your work?
Not every client needs to see a rendering to understand where you're going with the room—and not every client even wants to be that involved. But for the clients who can't see it, I do give them the option of getting a rendering. It's not built into my cost because, like I said, I don't think everyone necessarily needs to see one. And sometimes they can be so realistic that if we have to switch out a chair or a sofa because the one in the rendering is not coming for a year or two…
Are people heartbroken because it doesn't look exactly like the picture they saw?
Yes, sometimes people are disappointed if it doesn't look exactly like the rendering. On the other hand, I have a habit of using renderings with my own real estate projects, and often my projects do end up looking exactly like the rendering. It helps me with my design process. I don't think that the client necessarily needs to see it always, but it helps me.
What does the rendering change for you?
I'll give you an example—I just did this room for the Southeastern Showhouse, and in my mind, I could see how I wanted this art installation to be. But I just did the install, and when I left, I started second-guessing myself. I did not have this space rendered beforehand, which is probably the problem. If I had seen it as a rendering, I can cut out the second-guesses on paper so that I'm very confident with the way it should look by the time I'm ready to install.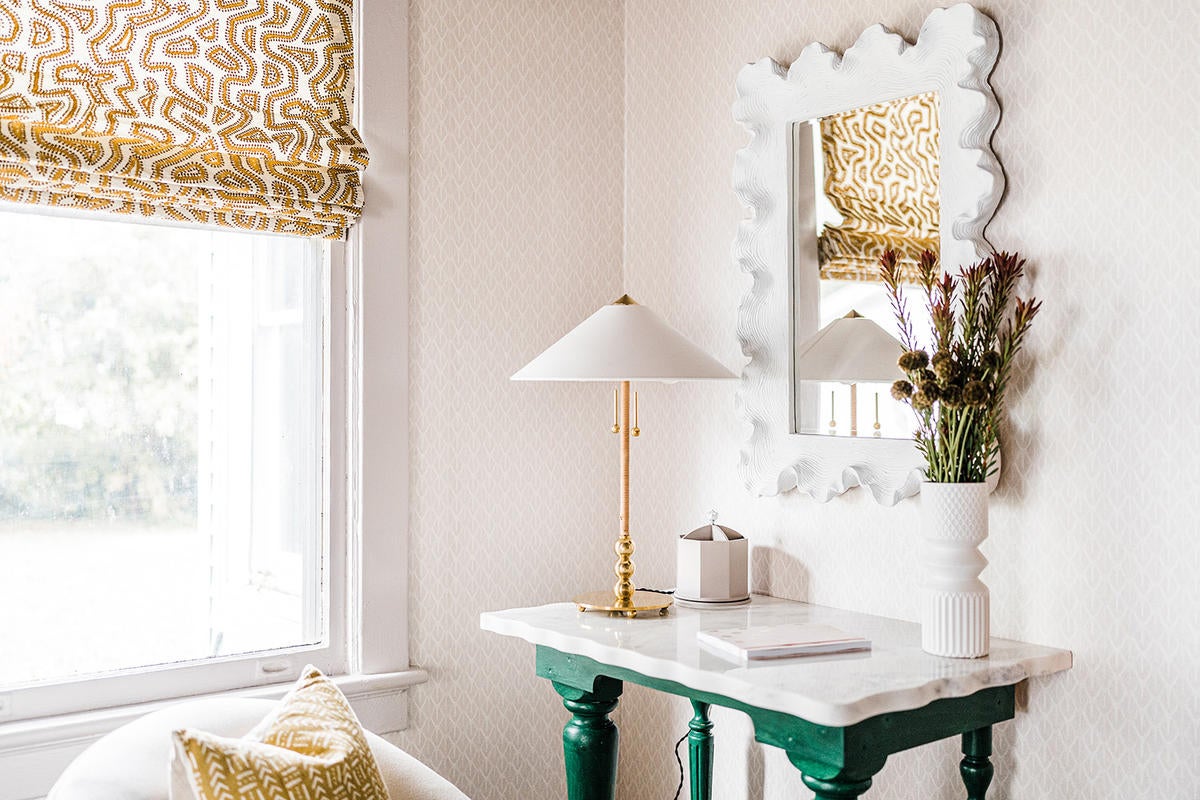 How did you get comfortable talking about money with clients, and how did you approach billing for your work?
You don't put prices on the projects you post online, so people don't really know what a designed room costs. It happened to me recently: Someone wanted me to design an office because they had seen an office that I had really recently done, but her budget was so small that it wouldn't have even covered my design fee. I had to explain that this is how I charge—it's a flat fee, which wouldn't include your furniture or any of the things that you need to make the room what you want it to be. In those cases, I try to suggest other designers.
Are calls like that generally about people not having the budget, or not realizing what their budget should be?
That just happened to me too. A prospective client with a new-build five-bedroom home filled out my little questionnaire, and they put $20,000 to $30,000 as their budget for the whole home.
To furnish an entire five-bedroom new build? Good luck to them.
Exactly. But her explanation to me was, "Oh, I just put that down because I wanted to see where you were." They had been turned down by a designer whose minimum investment was $250,000. I told her, "Your budget is probably enough for one room—and that probably wouldn't include the design fee." I try to give them a framework for how I charge, why their budget might not work and how they might want to rethink it. I don't dismiss people, because their budget is their budget, but I do try to explain why a design business cannot survive charging at that budget.
Was that person open to spending more, or was it just not a fit?
She said verbally that she was open to spending more, but I think it just wasn't a good fit. In my mind, a person who's just spent what they spent to build a five-bedroom home—after that process, they understand what things cost, so it didn't feel like a serious potential client. But the person who wanted to spend $8,000 on a small office—that person I think was earnestly looking for someone who could do it at that price, so I was interested in helping them find someone who would be better suited to do that.
You mentioned charging a flat fee. Did you always do that, or did you start hourly?
I hate billable hours, so I've always charged a flat fee. My fee actually just went up again this year because of inflation. After the flat fee, I charge 25 percent on all of the sourcing that I have to do.
So the flat fee is just for the design work.
The flat fee is just for the design work, based on a $250 hourly rate. That's me knowing how many hours it might take to get a bedroom done. And I do caution them: "If you keep making changes and we go over, then I'm going to start charging you hourly and you don't want that." Every quarter hour, I'm going to bill you for anything I have to do.
How much trial and error was there to get to that correct flat fee?
At the end of last year, I got comfortable saying, "This is the fee. This is what is fair to do all of the work that I have to do to deliver the room that will encompass their vision." I also cut out e-design, because I was doing way more work than I was being paid for.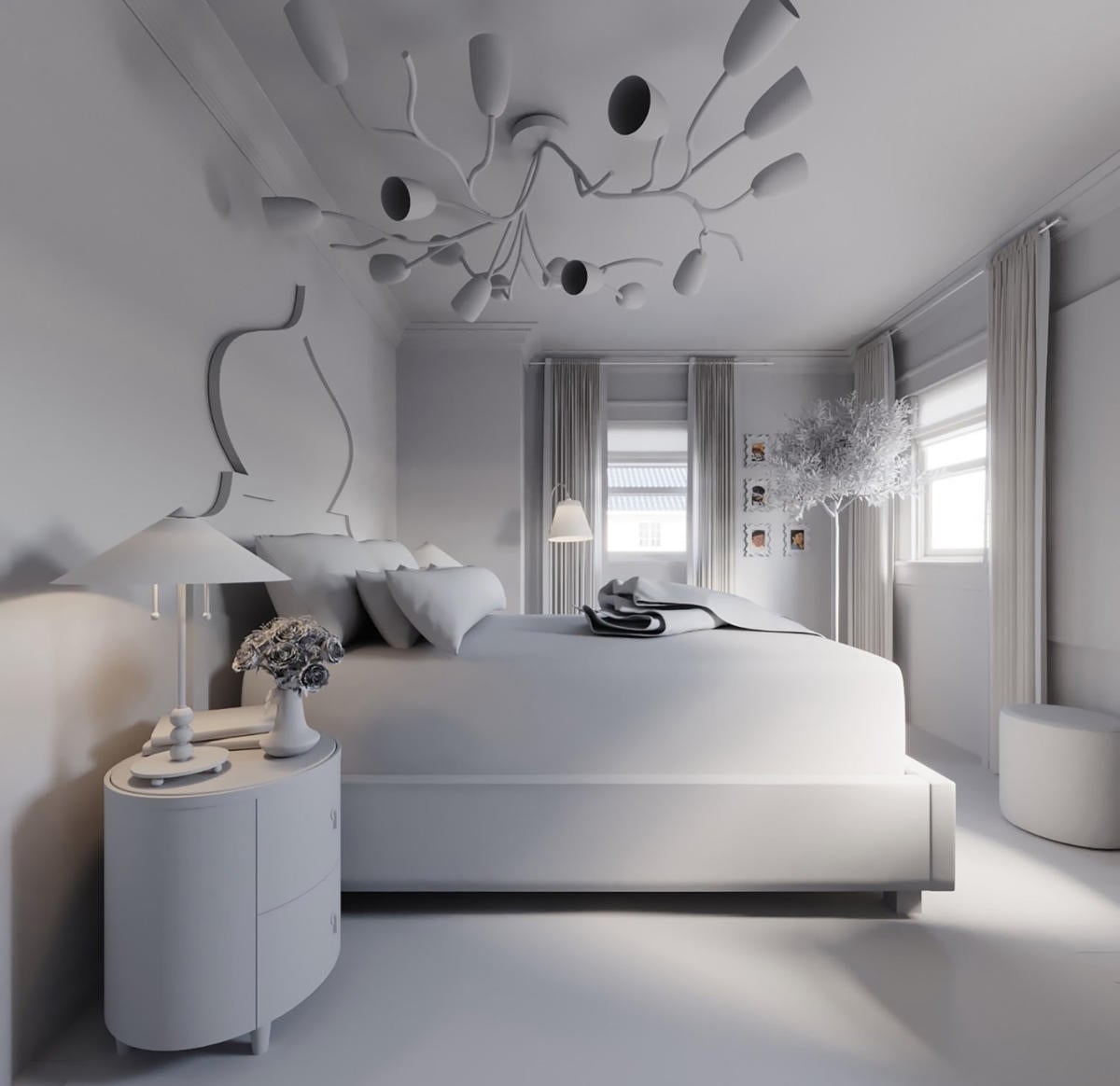 What is the biggest thing you know now that you wish you had known when you started your firm?
The biggest thing I know now is that I don't need a design degree. That is not to discourage others from getting a degree, but I think that thinking handicapped me a little bit in the beginning. I come from a background where education is important, you get licenses, and there's a pride to that. I thought no one was going to respect me going into this field because I didn't have a degree, and that held me back. Now I know that it's more about the business. Yes, you have to do good work, but you have to have a good business sense too.
You're doing two showhouses right now. What made you say yes to those, and what sort of returns are you expecting?
These are my first two that I'm doing—and I'm doing them concurrently, which is crazy, I know. Everyone tells me I'm crazy, but they're small rooms, so it's doable. It's just that they're in two different time zones clear across the country from each other, so that's a little bit of a problem.
How did that happen?
I got the one in Atlanta at the Southeastern Showhouse, which opens this month. Then I was asked to do a space here in Chicago—and I said yes because I want to meet more people in the design community here, so I took it as an opportunity to do that. That's the way I look at it: It's an opportunity for me to network more. For me, it's all about the relationships you build with people.
Someone made a snide comment about it to me a while ago—they were like, "Why are you doing a showhouse? Is it really worth your time?" So I think the other thing that I know now is that you really have to tune people out, because what is for your business is for your business, but it may not work well for someone else. That little green monster is probably rearing its ugly head when they're talking to you about something before they can catch it. And so I think with the design showhouses, I always wanted to do one because you can get to do what you want to do. Yes, it costs you money, but then you can get closer relationships with some of your trade partners, it gets you more exposure—especially for a little tiny firm like mine and as a person who doesn't have a design background. I think it's helpful for me, even just to get to know more people in the design community. I took it very seriously when I was asked to do it—and I hired PR, which I never had before.
For your local clients, what's happening in the Chicago market right now?
My sense of it is that clients are moving forward. I mean, at a certain price point or level or investment, design is still very much a sought-after business. Clients still want well-designed homes, and they are still moving forward. I don't have clients who are saying, "Let's hold off because interest rates went up."
Where do you see the most opportunity to grow?
If I could build this firm to maybe three designers including myself, three or four design assistants, an office manager and a procurement manager, so I wouldn't have to have to wear 20 different hats. If I could just focus on design and bringing in more business, that is enough growth for me.
What does success look like to you?
Success for me looks like happy clients. People who you want to get up and go to work for every day, and you have a fun, joyous time designing their home with them. People who become your friends because you've built something with them that they love—and they want to do it again when the time comes.
To learn more about Joy Williams, visit her website or find her on Instagram.