In Ask an Influencer, Business of Home explores the creator economy. This week, we spoke with Orange County, California–based interior designer Lindye Galloway.
Lindye Galloway was taking a career break. At least, that was the plan, until she happened upon the project that would kick-start a now nearly decadelong journey in design. After working in event design, wedding design and wedding planning before taking some time off to start a family, she began to consider a career transition around 2014. That's when Galloway's husband took her to tour a fixer-upper in their hometown of Orange County, California. His interest was solely curiosity—but once inside the space, all she could see was potential. The pair soon embarked on the process of remodeling the entire house, which she documented on Instagram.
Back then, it was only just becoming clear that a presence on social media could become lucrative—in the right hands, that is. For Galloway, the process was swift. She soon secured her first clients, and as demand grew, she began building out the framework for a full-service design firm. Today, Galloway oversees a 17-person team fielding luxury projects that span the country—a thriving business that might have prompted other entrepreneurs to leave their influencer roots behind. In fact, it's quite the contrary: Galloway continues to invest in new design modalities while sharing her life and work with an audience of 286,000 followers on Instagram.
Ahead, she shares her mental shortcut for an effortless on-camera demeanor, the unexpected vulnerabilities that came with the broader shift toward video, and why bringing on a full-time social media hire—rather than tapping an agency—was the right choice for her business.
When did you start to build your following?
In the beginning, I had no idea what I was doing and I was a one-woman show. Now we have a big team and there's someone that helps me run all of the social, but back then, the only consistent thing was that I posted at 6 p.m. every night. My alarm would go off, I'd be like, "Oh, shoot, what am I going to post?" and I would put something together. In the beginning, I didn't have as much of a strategy as an organic approach—showing the work that I was doing and adding personality to it. It was easier back then.
Three or four years ago, we started to really feel like we needed a strategy. I brought on someone—part-time initially—to help me execute it. I'm still really involved, but I'm also running a business and doing interior design and working with clients, so having someone to execute it has been life-changing.
We've evolved our strategy over time in response to things like Reels, and we're figuring out new content. When things changed [with the algorithm] and the game had to be stepped up, we became very strategic to capture the growth that we wanted. At the time, even up until a couple years ago, Instagram was 95 percent of where our business was coming in from. We've done projects in New York, Utah, Colorado, Austin—we're all over the place, and these people mostly found us through Instagram.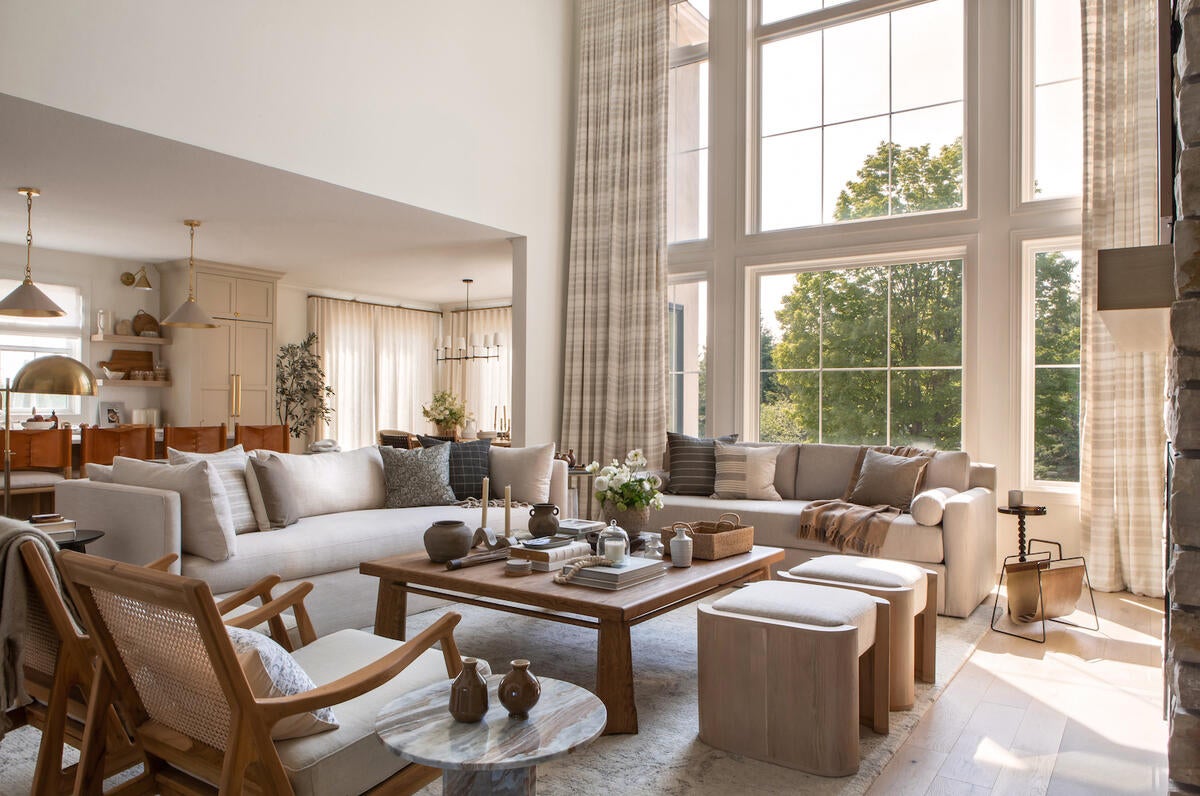 What made you decide to bring on that employee?
The workload. Things were really starting to escalate, and I did not have the time to pour into the execution. I was like, I can come up with creative ideas. I can help put the content together. But I need someone that is like, "Oh, it's time to post," or "Now Stories are a thing, what are we going to do with Stories?" We have brainstorming sessions, but they would be the one to keep their finger on the pulse of what's going on. It really becomes about finding someone that you can trust, and who understands your voice. [I don't think] that can happen with an agency taking over.
What does the process look like with an employee?
In the beginning, I was hiring someone for the logistical side. One of our first full-time staff members was really focused on the execution of logistics, the calendar and content planning. As we've evolved, now we have someone on our team that also has this really strong creative aspect because the reality is, if we're doing a Reel and I need to be in the Reel, I can't [produce] the Reel at the same time. It was about finding someone who has that real creative edge and talent and can not only take care of the logistical side, but also know how to put the content together.
Our homes are the content, but how we string out all of that content is what matters most. Of course, we're always going to post photos—that's a big part of our portfolio, important for gaining new clients, important for the feed. Then the question becomes: What else are we going to do while we're at the install? We're going to do some Reels or a bunch of TikToks, which is a whole other new thing for me.
The biggest difference was having someone that can walk in the room—as my head is also installing and worrying about the details of the actual home—who can follow behind and really create that content. A lot of people use agencies, and I did that for a couple months, but they're not with you every day, creating new content, doing Stories. They might help you figure out during which seasons to post what, but they're not on the ground with you. That has been really pivotal for us in our social media.
Which platforms are most important to you?
Instagram is where we still put the heaviest emphasis, and it's twofold—we have our biggest following there, and also our clientele is not necessarily on TikTok. Our clientele is the 1 percent of the 1 percent—somewhere in the mid-30s and older, and are most likely already pretty trained and influenced by Instagram. Same with our e-commerce shop: The [products are] investment pieces, more expensive than a piece of clothing—generally speaking, those are people also in their late 20s and up, who are starting a home.
We also started doing more with YouTube because Instagram has become less about longer-form content. In order to reach people who want that, or potential clients that want to see what we've done, it's something that we have continued to do, but it is hit-and-miss. We haven't fully built out the channel with a strong following, but we can put a teaser on Instagram, and then have a bunch of people go over to YouTube if they're interested. That has been another way to stretch the content. TikTok for us is primarily those quick, on-the-job clips, a quick tip. Those are pretty short, sweet and give a lot more design advice and perspective. We still believe in being on TikTok and garnering an audience there, it's just newer, and we have more of a long-term following on Instagram.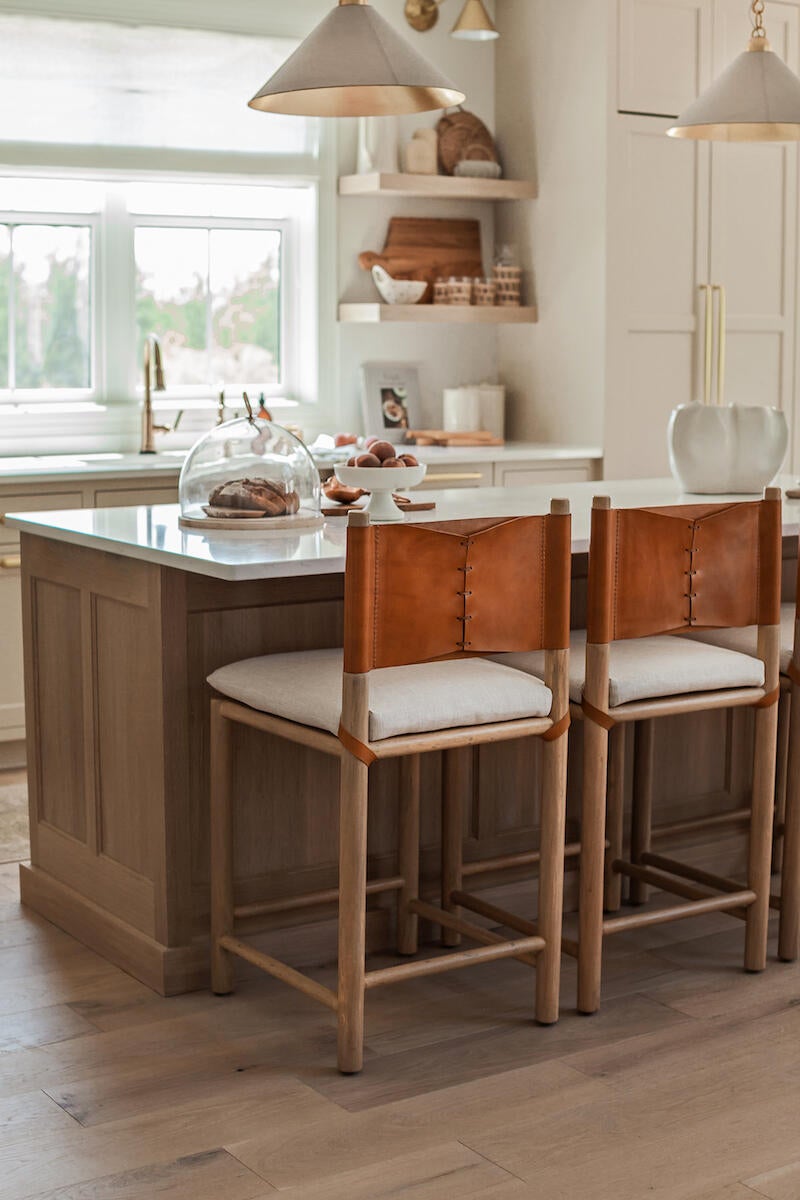 Tell me a little about your overarching social media strategy?
It's multipronged, but storytelling is something that over the last couple years, we've realized it's such an important piece. There were many times where our strategy would be to post this house for a week, another house for another week, just ping-ponging all over and not really creating a strong sense of what the home is, or what our latest collection launch is.
Storytelling has definitely become a [more important] part of that, and we see it very differently depending on what we're launching. If we're launching a studio project, it's very much a story of the style, the inspiration, where we're really looking to be innovative and showing people the process along the way. They've gotten to see the building blocks and how the design details came together.
In the past, we have been able to share a little bit more about our clientele, so we would tell the story about who they were. Now we have clients that are more private, some with NDAs, so we're not able to share as much. So it's now more of a focus on the story of design and where we've curated it from. When it comes to our shop side, the story is different because it's not about building a home and what the clients want, it's more like: What's my perspective on design?
What does the process of producing content look like for you—both physically and mentally?
When we're shooting a home that you're mostly going to see on our feeds or on Pinterest, any of those homes are going to be shot professionally by our main photographer. It's usually a couple days' shoot, and we are really focused on highlighting every single space from a still-imagery standpoint. At the same time, we have our social media director there, and she is going around taking Reels and behind-the-scenes shots for stories. Generally speaking, it's all happening in tandem because we only get a couple of days at the install for that. And then job site visits are easier to capture because the clients aren't moving in and out in a hot minute.
Now it comes very naturally, but I always have to gear myself up before I go on camera—I need a five-hour energy drink, and I need to mentally prepare. It's not always easy, but when I'm in the flow it becomes easier. Some people will memorize a script, but it just doesn't work for me. When I'm memorizing a script is when you'll see that I'm the most rigid and not free-flowing. I know these projects very intimately, so I just like to literally turn on the camera—sometimes I'm standing, sometimes walking, and I'm just talking about this space. I always try to just think that it's a best friend I'm just describing the space to. That way, I'm not trying to perform too much.
How does social media complement your business?
It's a big lead generator, but it's also a branding opportunity. We want that new business, but we also want to be recognized for our expertise and our voice. This gives us the opportunity for that. And from there come brand deals and [collaborations]. I'm a little careful about which partnerships we'll take, because I'll get requests for, like, teeth whitening, and that doesn't really work. Or because I'm a mom, I'll get a ton of mom stuff. I'm really thoughtful about, "How does this integrate into what I'm doing?" For example, we did a rug collaboration—that makes sense because I have a house, we have rugs, and we use rugs all the time. So we could incorporate that in a way that made a lot of natural sense.
How do you decide what your rates are for different partnerships?
We played around with it a little bit. Ultimately, we have our media packet that has a breakdown of the costs. Sometimes, they'll come to us like, "We want the whole shebang." Other times, they're like, "We just want a story," or "We just want feed posts." Other people want to do white label, and we have different costs for that. And then we have a cost for if someone wants to partner with us on a video—there's a rate for that too, because that entails so much more content creation, professional videography, things of that nature.
When it comes to negotiations, I think it's about understanding the brand and understanding how bad we want it as well. I've found that everyone is pretty open to talking numbers and figuring out what is going to bring the greatest value. But a lot of times for us too, it's like: What is our output? What is the ask, and how much is going to be required? If it's one Reel, how involved is the Reel, and how much time do we think that will take? Then, of course, considering your following—in the beginning, if you don't have a lot of followers, you might need to be a little less firm on some pricing and start a little lower to get your name out there so that brands see that you're doing this. Then as you grow and get bigger and have a larger following, some of these can be negotiated more firmly as well.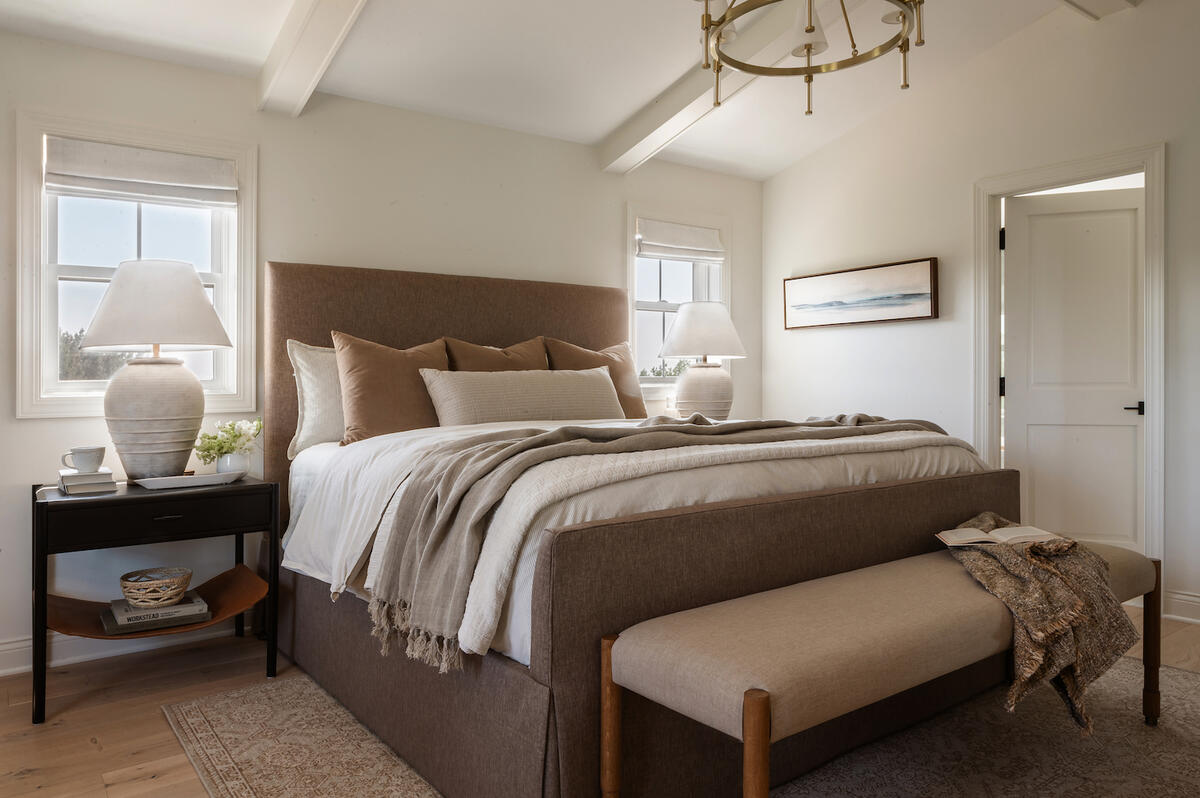 What is in the social media section of your media kit?
We have our stats on each platform. We have a couple of headshots of me, a little bit of our work in there, and a bio of who I am, what the company is and what our vision is for collaborating. That really is to establish [our pitch]: "Here's what we can do for you, here's what our engagement looks like, here's what our followers look like, here's the demographic that we reach, the age group—typically women, first-time homebuyers, and those that are well-established in their home purchasing process." That helps us back up our pricing.
Do you ever encounter trolls or negative attention?
Another benefit of having someone else run your social media is that you never have to see it. I have to imagine it's harder to be a fashion influencer or something because I think people are going to nitpick at you, but with this type of business, we get [less] negative feedback. I have no qualms about the fact that what I design is not going to hit every single person's desired aesthetic, and I think that's the beauty of it. I want to be different, I want to be pushing the envelope, I want to stand out in the crowd, and when you're pushing the envelope, there are going to be moments where people are going to be like, "I don't get it."
Also, when you're doing videos, a lot of times your face is [out there] more. People can pick apart my design and it doesn't bother me, but then people pick on you or something you said, and it can be a little bit harder to swallow. Now that we're having to put ourselves out there in so many different ways, there's more to attack. People are seeing a more well-rounded picture of your personality, which is really good but it can also create more of a negative feedback loop. For me, it's always remembering that anything I put out, as long as I'm confident in it, then I'm OK. I know people say to stay positive—but I think it's more like staying in your competence. It gives you a lot more gumption to just let it roll off your back.
Is keeping up with social media ever overwhelming for you?
When I was running it all by myself, there was a lot more opportunity for me to compare, and now that I have someone that's helping me run it, I feel like my greatest advantage is that I'm not influenced by other people's work as much. That allows me to be more innovative because I'm not falling into the trap of doing what you see [in the feed] over and over again. I'm able to have a different perspective by not having it in front of my face every hour on the hour.
There are seasons when I love it, and there are seasons when I'm just like, I want a break. It also depends on what I'm doing. If I'm at an install—super easy. If I'm traveling—super easy. But sometimes in the day-to-day, you're just so busy that you don't feel like you want to be on as much. I love connecting with our followers, and I do feel like a lot of our authentic relationship-building comes when I'm more "on" in a relaxed way and it's not just a video of me walking through a home. People love that, but they also relate differently when it's different kinds of content. So that's an important piece: not having one type of content, being aware of switching it up.
What's the biggest challenge for you on social media right now?
From a business perspective, I look forward to the challenge of knowing there are more changes coming. Whether it's Instagram or Pinterest, there's going to be more change coming, and you have to be ready to evolve with that. It's different when you are an individual and your brand is fashion or something—I feel like it's a little bit easier to evolve than when you're a business. The reason for that is you have to make pretty crucial business decisions—how are we going to pour the time, the energy, the cost, and all of that into whatever social media trend is coming up? It's about trying to analyze and understand which changes you feel are going to deeply affect your business, and which ones won't.
Homepage image: Lindye Galloway | Sam Frost