How is an industry trade show considered a success when attendance is still down 25 percent, many suppliers have limited amounts of goods, and prices are up?
Answer: When it's the just-finished High Point Market. Last week the show returned to its regular October time slot and format for the first time in two years, and just about everybody involved had an overwhelmingly positive impression.
A bit of context is in order. The pandemic has wreaked havoc on the entire home furnishings show circuit, and the twice-yearly market in High Point, North Carolina, has been no exception. Canceled, rescheduled and truncated events have marred the calendar since the spring of 2020—which meant that a regular October Market, albeit with attendance between two-thirds to three-quarters of a pre-pandemic event, was seen by most as simply outstanding. Combined with an increasingly important pre-Market gathering a few weeks before, the furniture wholesale buying process is largely returning to some degree of normalcy. That, for many, was reason enough to celebrate.
COVID was still top of mind for some vendors—and perhaps most notable among them was lighting supplier Visual Comfort, which decided at the last minute not to open at all. A sign in front of its gated showroom telling visitors it was closed "with your safety and the safety of our staff in mind."
That normalcy was also tempered by the fact that global supply chain issues—exacerbated by unprecedented demand—have created massive shortages across much of the industry, especially in products coming out of Vietnam and China (the two largest case goods suppliers). Most big vendors were gingerly accepting new orders, although often with open-ended delivery dates. At least one major upholstery supplier was urging its dealers to place orders for the first six months of the year so that their requests would be placed into the queue. They stressed that orders could be canceled without penalty, but that getting in line would be critical for any semblance of ordering stability.
Across Market's 12 million square feet, product that was available often carried a higher price tag. For an industry that has generally only known price reductions, these increases were quite unusual. Needless to say, vendors didn't want to talk publicly about how much they were raising prices, but the consensus, at least off the record, was that many have made two, three or even more price hikes over the past year—bumps that cumulatively could add up to 10 to 20 percent at retail.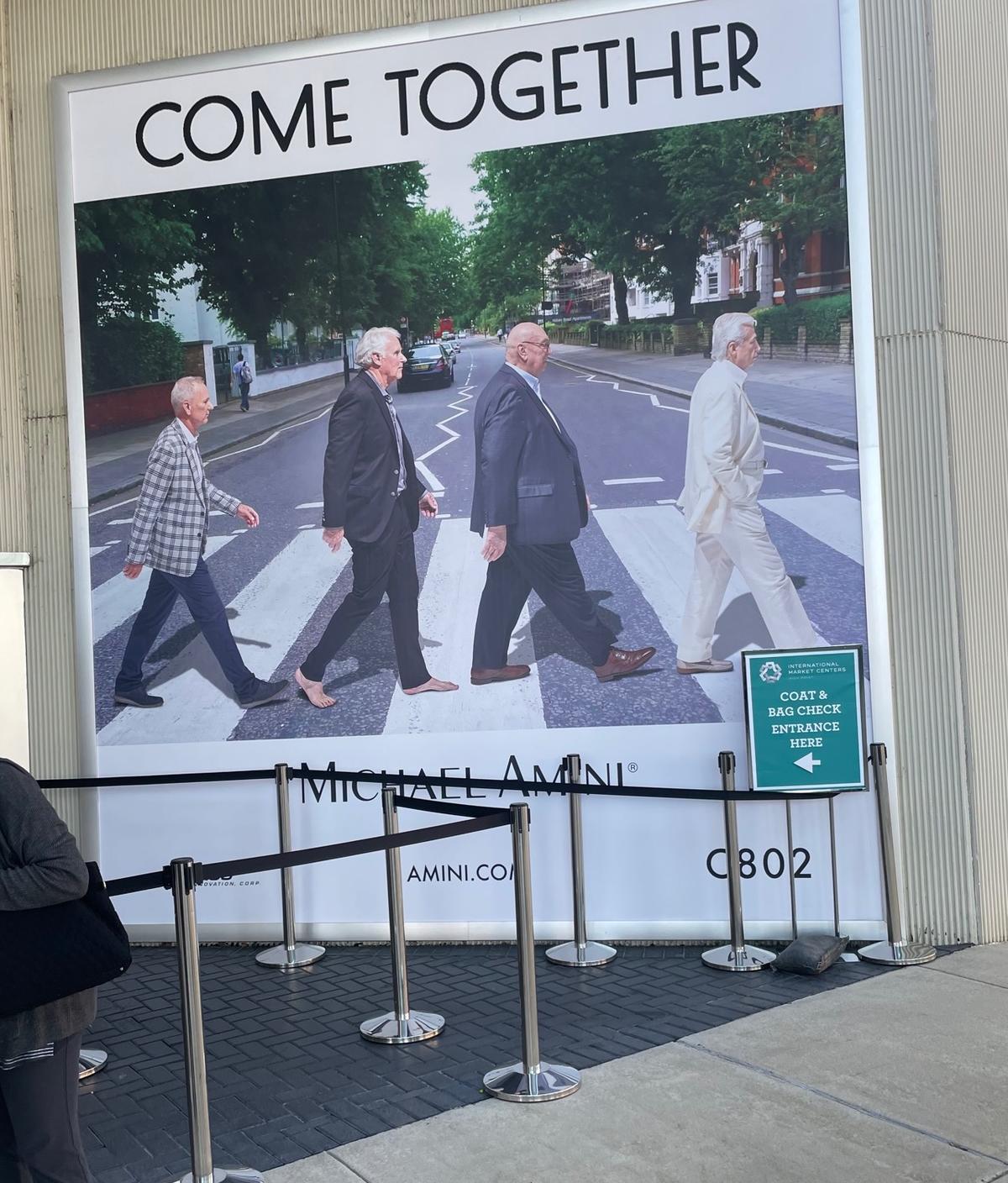 And yet all of it—higher prices, less product and fewer people working the Market—did virtually nothing to dampen spirits. At the Hall of Fame dinner on Sunday evening, more than 1,500 people gathered for a celebration that saw six industry stalwarts inducted. The event took on new meaning with the groundbreaking for the Hall's first physical facility, just down the block from the main Market building, which is scheduled to open in 2023. People were all smiles (or appeared to be so under the masks worn by some) and most conversations began with acknowledging the relief of being back in person again.
Perhaps Michael Amini—the furniture supplier known for its high-styled collections and collaborations with celebrities Jane Seymour and Kathy Ireland—best captured the mood of the Market, deploying a clever marketing campaign that riffed on the Beatles' famous Abbey Road album cover of the Fab Four crossing a London street. The Amini version had four of its executives on the crosswalk, appropriately attired, under a headline borrowed from the album's opening track that summed it all up: "Come Together."
Homepage photo: Market visitors at the Transportation Terminal | Courtesy of High Point Market Authority
____________
Warren Shoulberg is the former editor in chief for several leading B2B publications. He has been a guest lecturer at the Columbia University Graduate School of Business; received honors from the International Furnishings and Design Association and the Fashion Institute of Technology; and been cited by The Wall Street Journal, The New York Times, The Washington Post, CNN and other media as a leading industry expert. His Retail Watch columns offer deep industry insights on major markets and product categories.