In our series, What I Love, we're asking designers to build us a mood board of what's inspiring them right now.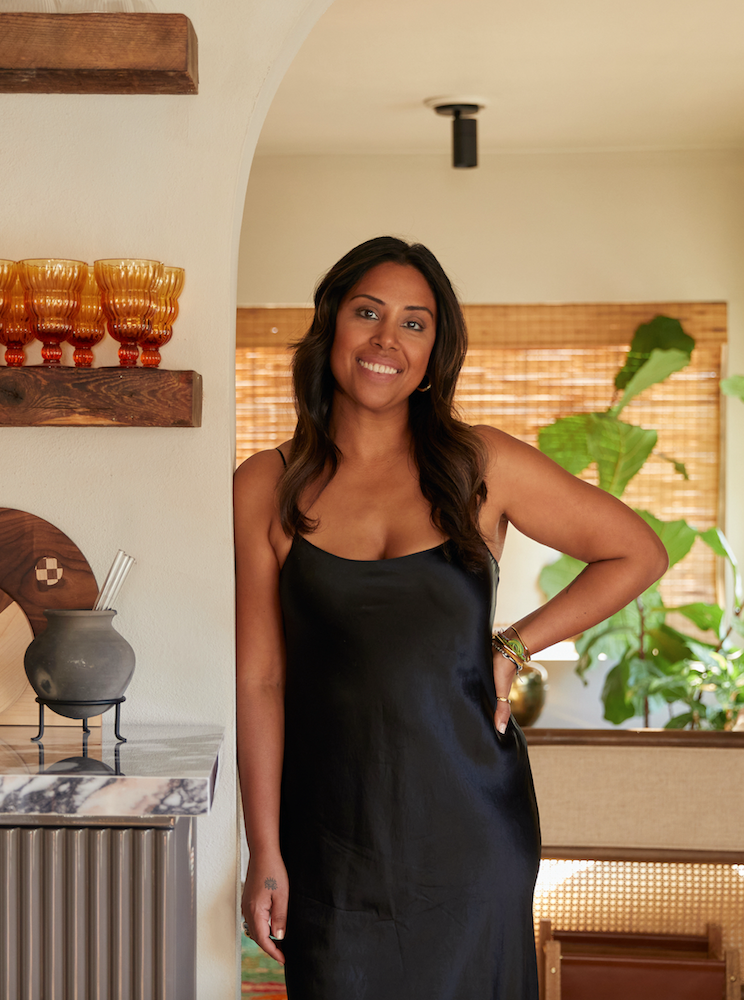 Hema Persad doesn't shy away from eye-catching textiles. The Los Angeles–based co-founder of Sagrada Studio has a knack for balancing bold patterns and saturated hues with warm earthy finishes.
This mood board is an outstanding example. Designed with a client's primary bedroom and bathroom in mind, she drew inspiration from her international travels while fashioning the flat lay. "The paisley wallpaper and terra cotta tones remind me of designs I saw in Jaipur years ago," she tells Business of Home. "And the concrete tile lays a very sleek foundation for all the textures and colors you might see in a hotel in India or Marrakech."
A veritable range of tonal values and tactile materials is what ultimately draws the palette together. "The colors are all ones you'd actually see in nature, and the textures make you want to touch them," she says.
Here, Persad breaks down the details, from hand-knotted, mixed-pile rugs to blush pink zellige tiles.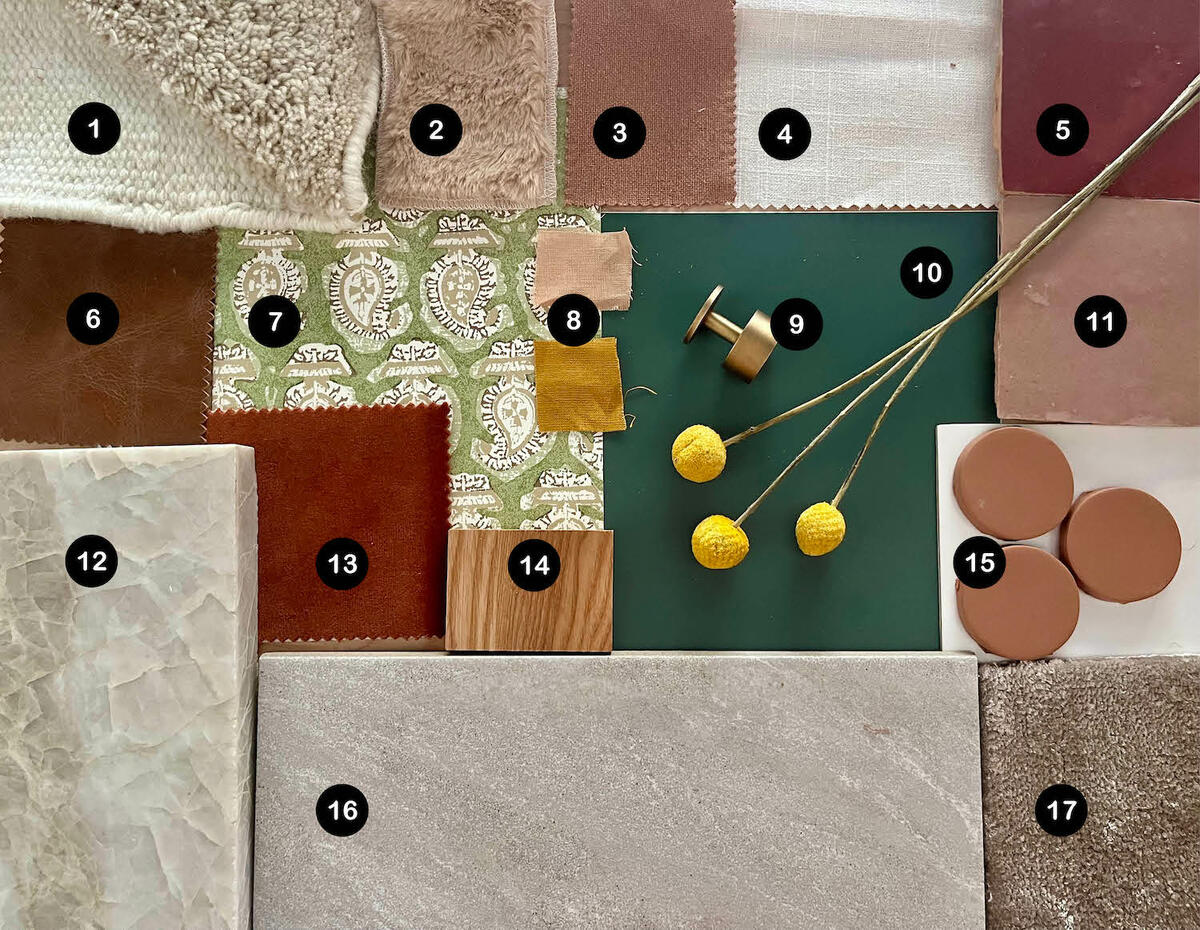 Courtesy of Sagrada Studio
1. UNTITLED 2 RUG IN CREAM/ALMOND BY NORDIC KNOTS
"I love the various textures in this rug. It feels clean but also lived-in, thanks to the canvas weave that isn't too precious. Placed under a corner reading area it gives that cozy feel without being too casual."
2. NEVA CHAIR IN PAMPAS FLOW BY SIXPENNY
"The faux fur fabric is incredibly soft—it's one of the best faux furs I've seen out there in terms of upholstery. On this side chair, it's playful and comfortable, and adds a touch of whimsy to the corner of a bedroom."
3. ELIAS OTTOMAN IN NECTARINE DREAM BY SIXPENNY
"I absolutely love the tone of the linen fabric on this chair. It's not quite orange, brown or terra cotta, but a mix of the three. Paired with the faux fur chair, it sets up the most inviting reading corner."
4. FLAT ROMAN SHADE IN WHITE LINEN BLEND BY THE SHADE STORE
"I love a white linen Roman shade, and this one is the perfect texture and color to let light in and add texture to a room. It's casually elegant and a little imperfect."
5. TERRA ROSA ZELLIGE TILE BY ZIA TILE
"This tile is rich, varied and bold, and makes for a 'wow' moment in the primary bath."
6. JUNEAU LEATHER AND METAL BENCH BY CB2
"The leather on this piece is really supple, and the right shade of camel to add warmth and function to the end of the bed. I love benches in bedrooms, and this is a great one that works with many different color schemes."
7. GADA PAISLEY WALLPAPER IN GREEN BY ANNA FRENCH AT THIBAUT
"This paper adds a touch of international flair because of the paisley print. The warm tones of the green track the earthy feel of the space without feeling too matchy. I'd use [this wallpaper] as an accent wall behind the bed and on the ceiling, and then match the cream tone in it to paint the rest of the walls."
8. FRENCH FLAX LINEN BEDDING SET IN TERRACOTTA AND TURMERIC BY BED THREADS
"Bed Threads makes the most beautiful mix-and-match bedding. I would mix the terra cotta and turmeric together for an eclectic look that picks up on the colors of the adjacent bathroom."
9. OVAL ANTIQUE BRASS KNOBS BY CRATE & BARREL
"These pulls are the perfect aged brass color and are surprisingly heavy for the affordable price. They are great knobs for this bathroom vanity and add to the vintage feel of the space."
10. CURRENT MOOD PAINT BY CLARE
"I love this as a moody cabinet color for the primary bath vanity. It's rich and regal, and reminds me of places I visited in Jaipur, India."
11. DESERT BLOOM ZELLIGE TILE BY ZIA TILE
"Zellige tile gets a bad rap from contractors because it has natural chips and variations throughout, and it can be tricky to install. It's definitely not for people who like symmetry and straight lines. But if you can embrace its imperfections, it's quite stunning and timeless."
12. TAJ MAHAL POLISHED QUARTZITE BY BEDROSIANS TILE & STONE
"Taj Mahal quartzite can lean either gray or brown, and that's what I love about it. Depending on what you pair it with, it takes on the tones of the finishes around it."
13. BETTIE DARK RUST RED THROW PILLOW WITH DOWN-ALTERNATIVE INSERT BY CB2
"The rust throw pillow here adds a touch of luxury. The color is rich and unexpected without being too matchy-matchy with all the other warm tones in the room."
14. ASH WOOD FINISH SAMPLE BY ROVE CONCEPTS
"The warm tones of this wood finish by Rove Concepts complement the rest of the design."
15. MAKOTO 2" ROUND MATTE PORCELAIN MOSAIC TILE IN UMI TERRACOTTA BY BEDROSIANS TILE & STONE
"I love this for the shower floor in this primary bath. Its matte finish is meant to look like terra cotta, but it's really made of porcelain, so it's much more durable."
16. PURESTONE 12" x 24" MATTE NATURAL PORCELAIN TILE IN GRIGIO BY BEDROSIANS TILE & STONE
"When I'm looking for a bathroom floor tile that will just disappear, this is my go-to. I like using materials that look natural, and the thin grout lines in this tile give the effect of seamless concrete."
17. ASHA RUG IN CAPPADOCIA TAUPE BY ROVE CONCEPTS
"This is by far one of the best neutral rugs I've found. It's luxurious and silky, and when placed underneath the bed in this primary suite, it adds a rich texture that leans either tan or greige depending on how the light hits it."
Homepage photo: A flat lay by Hema Persad | Courtesy of Sagrada Studio