In our series, What I Love, we're asking designers to build us a mood board of what's inspiring them right now.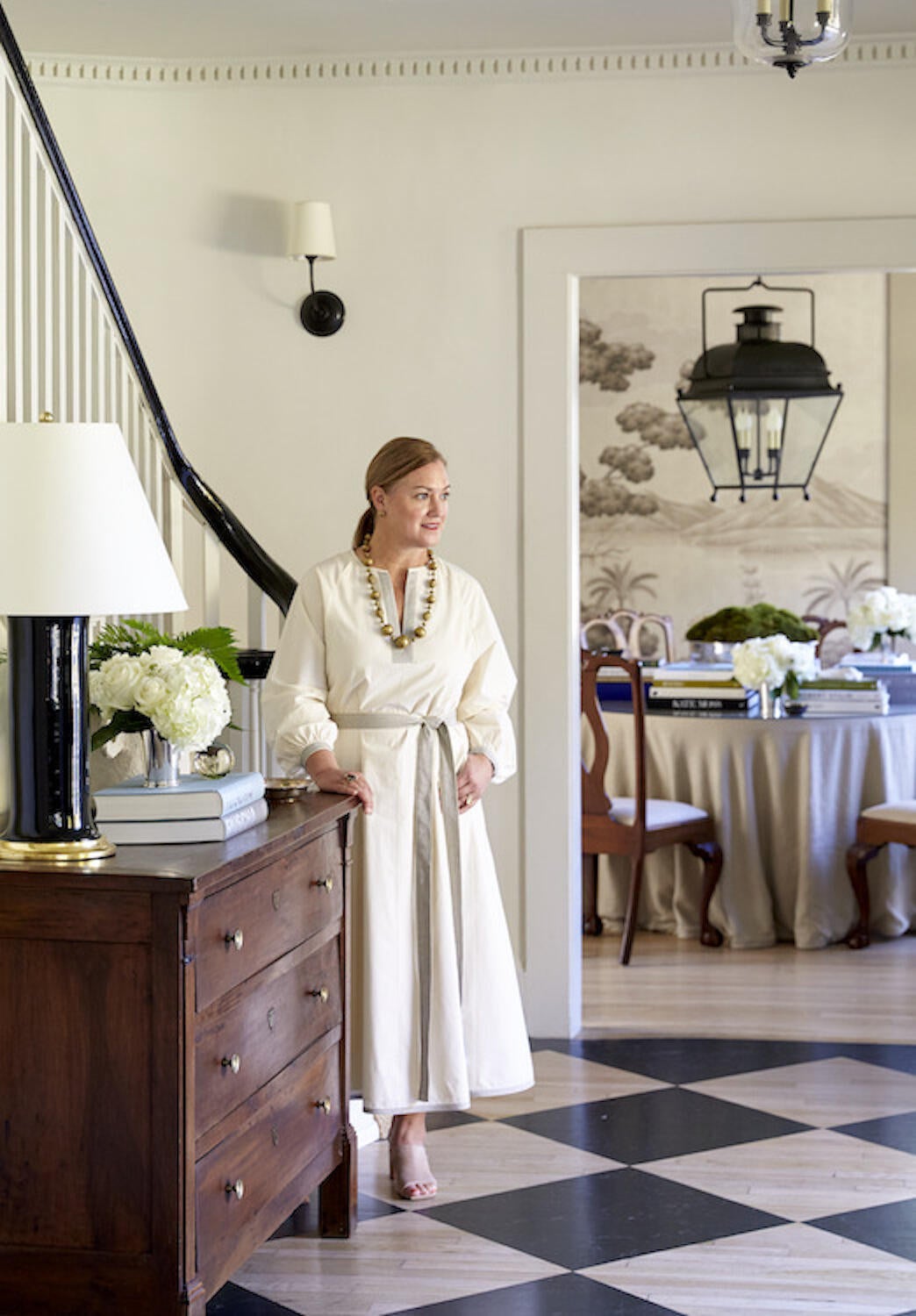 Heather Chadduck Hillegas has an affinity for historic homes and architecture. The Birmingham, Alabama–based designer has a penchant for crafting spaces that are deeply rooted in tradition without sacrificing comfort or livability.
Her current mood board provides an excellent example. After being named Designer in Residence at Colonial Williamsburg—a 301-acre living history museum in Williamsburg, Virginia—Hillegas designed the scheme for the Nelson-Galt House—the oldest residential home in the district, dating back to 1695. "The palette is most inspired by the centuries-old magnolia trees on the grounds," she tells Business of Home. "Rich greens and autumnal tones of brown bring warmth and texture to the home."
A time-honored mix of chunky natural fiber weaves, antique furnishings and gradient shades of earthy brown and green bring harmony to the mix. "These elements marry the primitive feeling of the home with more formal antiques," she says. "They help create an interior that is traditional and tailored, but with a fresh twist for modern living."
Here, she breaks down the details, from jute wallcoverings to skeleton keys.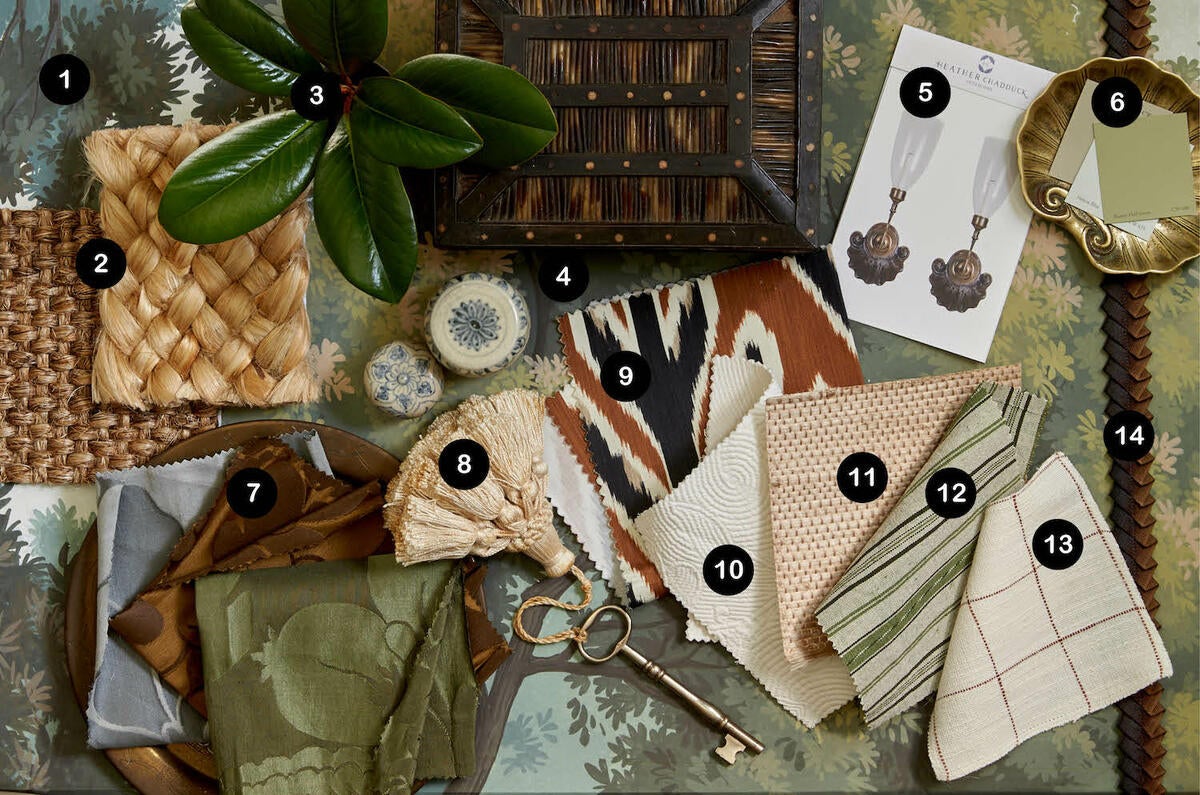 1. REGENCY VIEWS BY THE MURAL SOURCE
"I'm obsessed with the new scenic murals by Paul Montgomery. We installed Regency Views in the dining room, one of the coziest spaces in the home—it has a walk-in fireplace and will be the perfect place to host Thanksgiving dinner."
2. BORA BORA RUG IN SUNRISE AND AGAVE SUPERIOR RUG IN CARAMEL BY MERIDA
"Natural woven rugs are a lovely complement to original rustic heart pine floors. They are ideal for layering old serapes or Oushak rugs on top of them. A few favorites include Merida's Bora Bora in Sunshine and Agave Superior in Caramel."
3. SOUTHERN MAGNOLIA MEMORIAL GIFT TREES BY THE MAGNOLIA COMPANY
"I love magnolia trees and decorate the house with their branches year-round. The Nelson-Galt House is home to the oldest magnolia tree in Colonial Williamsburg—dating back to 1820—and propagated clippings from the tree can be purchased."
4. COLLECTED TRINKETS FROM TRAVELS
"I always take an empty suitcase when traveling to collect treasures like these blue and white ceramic boxes and porcupine quill boxes found on a recent trip to Vietnam. The colors and textures add a handsome depth when styling interior spaces."
5. HAND-CARVED AND PAINTED SINGLE LIGHT SCONCES BY DAVID DUNCAN STUDIO
"I love this handsome pair of sconces. The scale is perfect for flanking a grand fireplace—and the candlelight is quite charming."
6. NELSON BLUE, FINNIE GRAY AND BASSETT HALL GREEN PAINT BY BENJAMIN MOORE
"This deck of 144 historical paint colors is sophisticated yet understated."
7. DANDRIDGE DAMASK FABRIC IN APOLLO BRONZE AND MAGNOLIA BY SCHUMACHER
"A sampling of Italian silk from Martha Washington's dress inspired this fabric by Schumacher. I can't wait to apply the large-scale to club chairs or a daybed."
8. ANTIQUE SKELETON KEYS AND KEY TASSELS
"I love antique hardware, especially rim locks and skeleton keys—they provide the perfect spot to add a fancy key tassel."
9. BODHI TREE FABRIC IN BROWN & BLACK BY SCHUMACHER
"Custom cushions with Turkish corners in Schumacher's Bohdi Tree adorn the sofa. The rich browns and blacks in this pattern highlight the antique pieces. A dash of ikat complements any space."
10. QUILTED SCROLL MATELASSÉ FABRIC IN IVORY BY SCHUMACHER
"Matelassé is French for quilted and mimics hand-stitched fabrics. This one makes a gorgeous custom bedroom coverlet, especially when incorporating odd-sized antique beds."
11. KUMANO JUTE WALLCOVERING IN PUTTY BY SCHUMACHER
"Grass cloth warms up the walls in an instant. I love the large weave in this pattern as it relates to the chunky rugs we use in many of our projects."
12. LIGHTFOOT STRIPE FABRIC IN MOSS BY SCHUMACHER
"This is a rustic stripe developed from archival textiles of the Colonial Williamsburg Foundation. I have my eye on this pattern for dining chairs—I believe every room needs a striped fabric in the scheme."
13. MARIETTA FABRIC IN BROWN BY SCHUMACHER
"A nod to Virginia cloth—a coarse cloth made by natives of Virginia dating back to the 1700s—this windowpane cotton fabric will beautifully drape a canopy bed with an allover pattern."

14. JEAN PAULOMBRÉ PLEATED BORDER IN EVENING BY SAMUEL & SONS
"Intricate hand-stitched passementerie adds a dressmaker detail to window treatments, and the ombre coloring in this trim perfectly outlines a silhouette."
Homepage photo: A flat lay by Heather Chadduck Hillegas | David Hillegas