New works by the Haas Brothers are now on view at R & Company as part of "20 Years of Discovery," the inaugural exhibit at the gallery's new location in TriBeCa.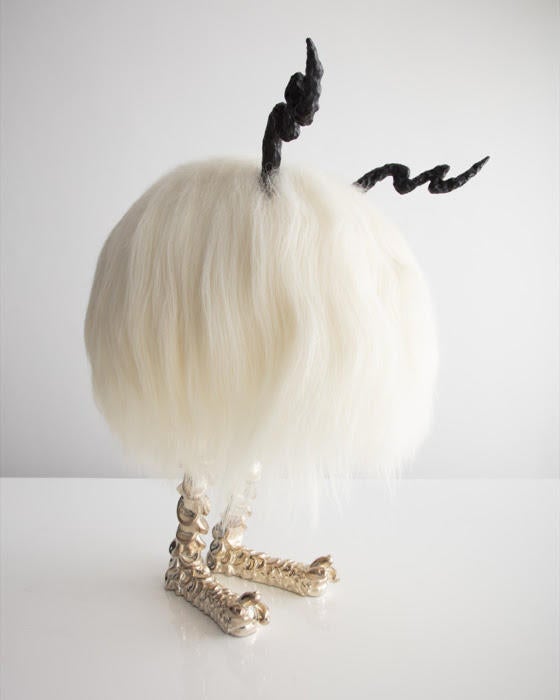 Twins Nikolai and Simon Haas, who are well-known for their biomorphic, colorful furniture and objects, have made new works with fur, cast bronze, and ceramics. Whether a furry chair with horns and feet, a brass stool with knock-kneed legs, or a ceramic vessel that looks like underwater coral with wiggly tentacles, the Haas Brothers' Beast pieces includes armchairs, daybeds or basketball-size sculptures made from shaggy animal fur. Each is faceless, but can have ebony horns, polished bronze hooves, and textured coats.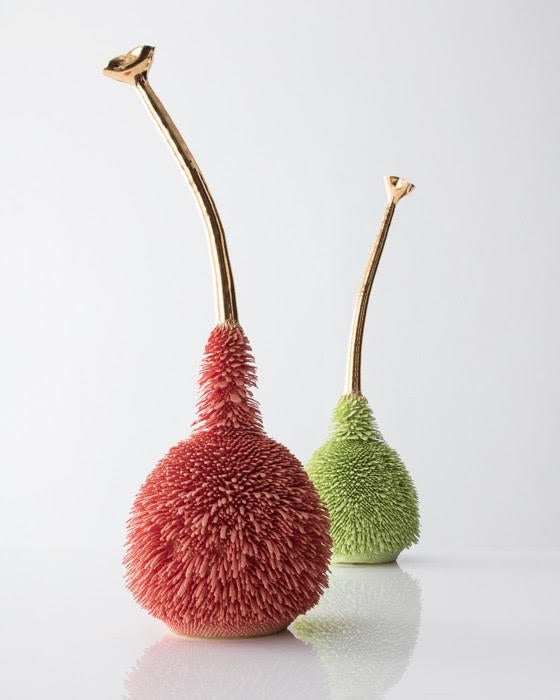 The Accretions are colorful ceramic vases that have phallic and labial features, among which include a puckered slit or long neck that could be erect or flaccid. The vases also resemble coral, fungi, and cave formations. The Haas brothers score the sides of a clay vessel, brush it with slip, let it dry, and repeat. Tiny tentacles, fingers, or cilia (the brothers call them "petals") form on the clay, seemingly similar to candles continuously dipped in wax.
The Hex stools, tables and sculptures are covered in grids of hexagonal brass tiles—a design inspired by honeycombs. When tiling with hexagons, the designers are able to use less grout and more brass than if they were to use triangular or square tiles.
For those who want to see the furry bodies, hexagonal structures and knobby legs in person, R & Company's new space is located at 64 White Street in New York City.
The Haas Brothers also have work on display until late August in an exhibition titled "Stonely Planet" at the Marianne Boesky Gallery in Aspen, Colorado.