In our series, What I Love, we're asking designers to build us a mood board of what's inspiring them right now.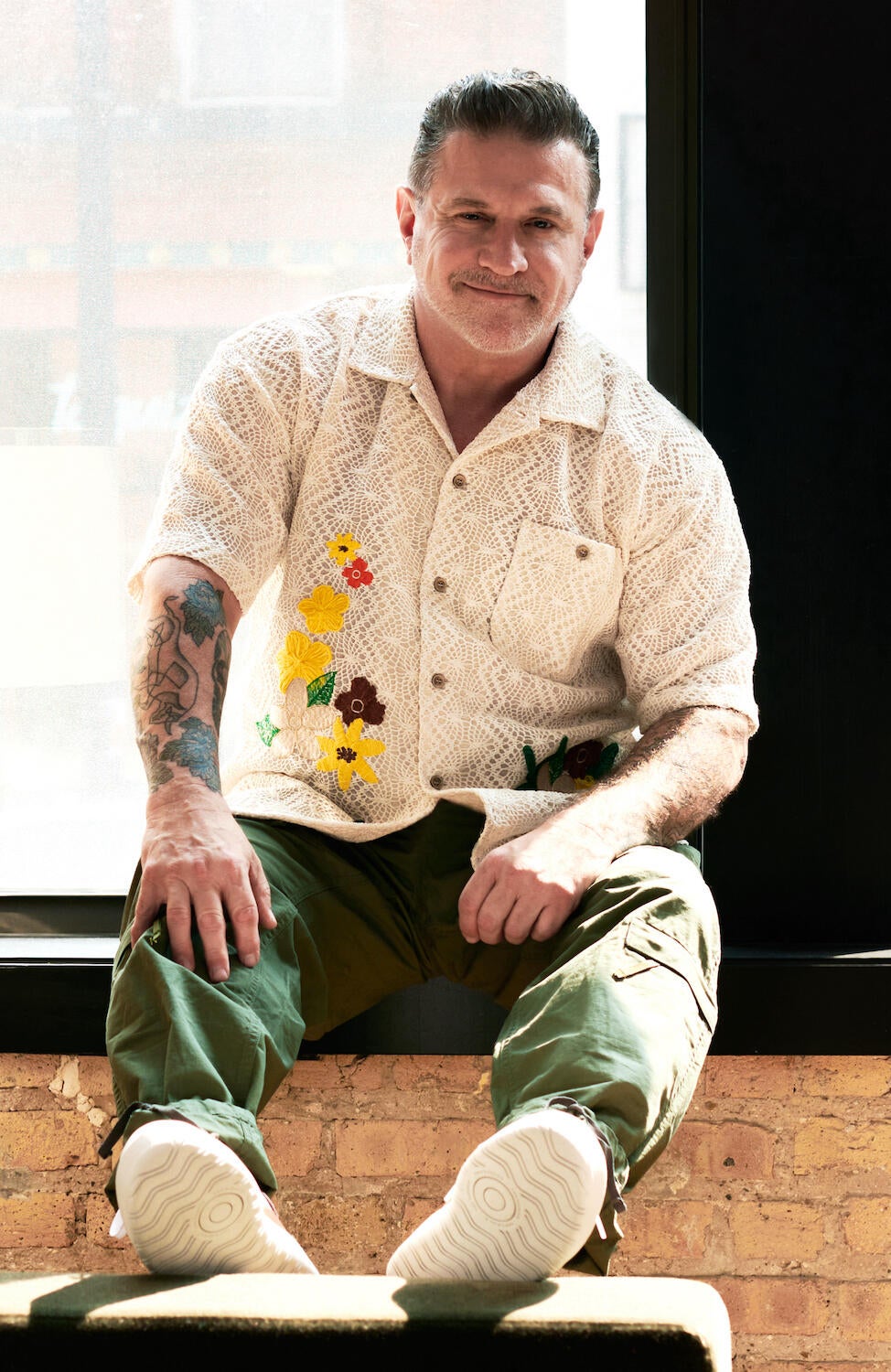 Make no mistake: Gil Melott is a Chicagoan. The designer draws inspiration from the city that surrounds him, and more recently, Lake Michigan. "The blue of the water hits you hard on a summer day," he tells Business of Home.
His current flat lay has a similar effect. Teeming with deep aquas, indigos and bluish grays, Melott's ultimate goal for the scheme was to conjure the colors of the sea. "I wanted to capture the color and how it plays off the waves, reacts to shade, absorbs warmth from the sand and stone," he says. "Blue is associated with freedom, imagination and open spaces, and seems to be an honest choice if it isn't treated with contrivances."
Cool blue hues aside, Melott also employed an array of undulating patterns and motifs—ranging from embossed prints to ultrathick boucles—that evoke the appearance of rippling waves. "Just like water, the mood board has a subtle sense of constant movement," he says. "The weaves, patterns and tactile responses and combinations are dissonant in the most lovely way."
Here, he breaks down the details—from recycled performance upholstery to lily pad–shaped soap dishes.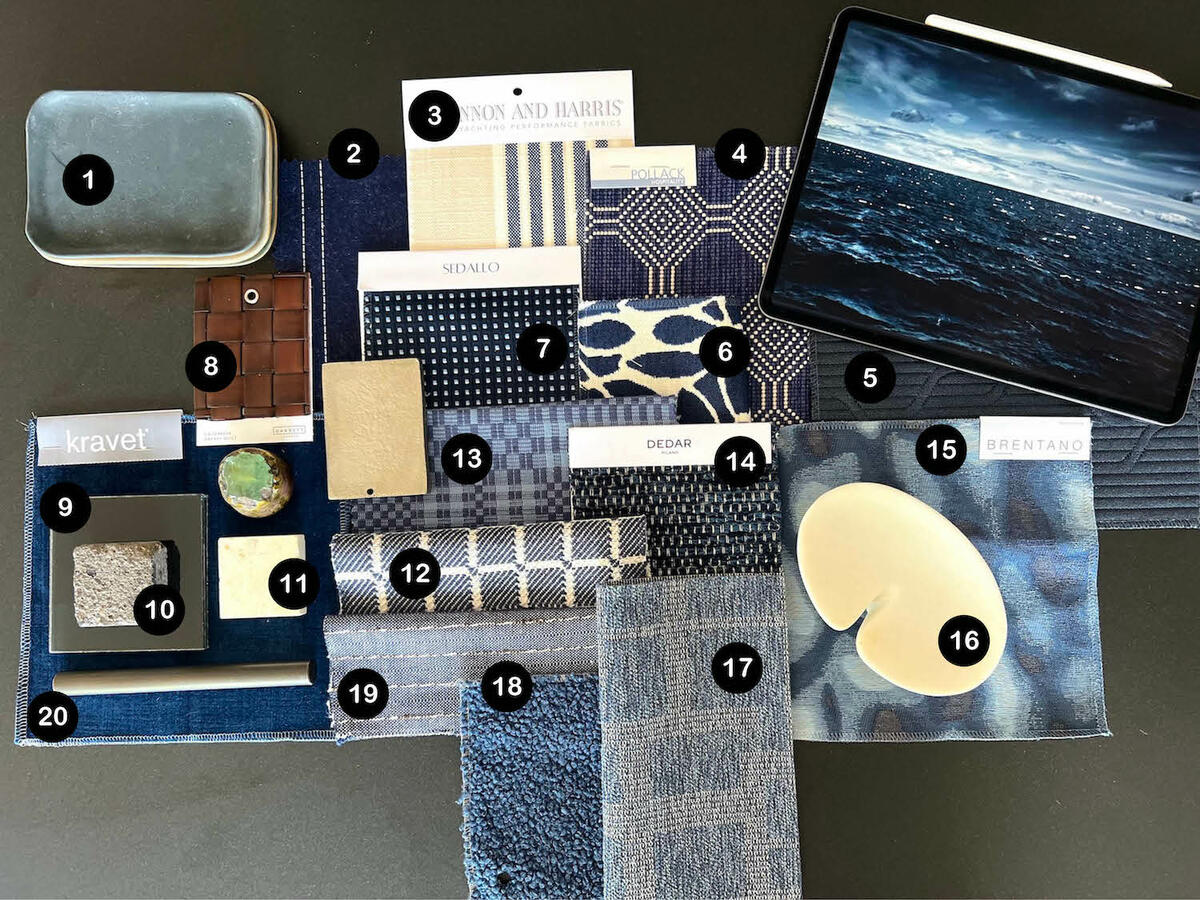 Courtesy of Gil Melott Studio
1. DESSERT PLATES BY THIS QUIET DUST CERAMICS
"I love simple and creative ceramics on a table or for dinnerware. The ceramicist Dubhe Carreño [of This Quiet Dust Ceramics] does it all from her kilns in Chicago and sells them globally."
2. COZY NESTLE FABRIC IN PEACOAT W/DUSK BY DAVID ROCKWELL FOR MAYA ROMANOFF
"I love this fabric and would put it on the sofa, the walls and even the desk. I don't know what that says about me, but I know that the fabric is robust and urbane."
3. SPIAGGIO FABRIC IN LAPIS BY MCKINNON AND HARRIS
"Well, I couldn't get any closer to the water than choosing a yacht performance fabric. This fabric says, 'Let's race, but still be friends.' The fact that it can go on your lawn chair or your kid's headboard is stellar."
4. BILBAO FABRIC IN 2484/05 MARITIME BY POLLACK
"The irony of the colorway being called Maritime isn't lost on me; however, it doesn't read as a traditional nautical pattern and that is part of the genius."
5. NIGHTFALL FABRIC IN INDIGO BY FÄRG & BLANCHE AT BERNHARDT TEXTILES
"This fabric serves as the 'little blue dress' in this collection—a strong foundation to build on, or perfect on its own."
6. PENELOPE FABRIC IN INDIGO BY SUNBRELLA AT SILVERSTATE FABRICS
"Sunbrella continues to expand performance fabrics by creating pieces that are imaginative in design and structurally sound."
7. CHEETAH FABRIC IN 15004-06 NAVY BY SEDALLO
"This embossed print is a great way to add dimension to the scheme."
8. WOVEN LEATHER IN BRANDY QUILT BY GARRETT LEATHER
"Using a woven leather creates additional interest that allows the eye to travel across a room or a vignette."
9. OVERCAST B63 GLASS SAMPLE FROM 3FORM
"I like using glass in places that have high traffic. It's easier to get a wine ring off glass than restore that vintage table, as my mom used to say."
10. PEPPER ADOQUIN STONE FIREPLACE FINISH SAMPLE BY STRIKE BY CHAD DORSEY
"The adoquin stone finish from Strike is an opportunity to build an earthenlike centerpiece fireplace."
11. HONED CREAM STONE FIREPLACE FINISH SAMPLE BY STRIKE BY CHAD DORSEY
"When we work on lake homes or ranches, a fireplace is central to most of the designs. I am a fan of these bespoke designs from Strike. The honed cream stone is a neutral foundation for the collection."
12. OTTO FABRIC IN OTT60 BY TIBOR
"This fabric has a repetitive Bauhaus element that resonates with me."
13. S5823 FABRIC IN INDIGO BY GREENHOUSE FABRICS
"The quilted design is a modern take on age-old traditions. I like adding elements that have a spirit of a moment other than now."
14. RUGBY FABRIC IN INDIGO BY DEDAR MILANO
"The weave of this fabric is full-on luxury. The coiling and twining are delicate enough to allow the fabric to be used on just about anything and luxe enough to be placed on that exclusive find."
15. 4591 DORADO FABRIC IN 07 MIDNIGHT BY BRENTANO
"I like to think if Monet were looking at his famous water lily pond as a young artist today, this might be how he would interpret it. It is a fresh abstract in this aquatic setting."
16. LILY PAD SOAP DISH BY MICHAEL W. DREEBEN AT AKMD
"This is called a soap dish, but I use it as a candy dish or an incense holder. I like items like this that belie their intentions. I also appreciate that its shape is simple and supple."
17. ROADMAP FABRIC IN 66468 HAZE BY STINSON
"The striated patterns remind me of the docks along Lake Michigan. I am impressed by this recycled performance fabric, and I like the fresh approach to pattern-making."
18. DEVIN SHEARLING BOUCLE FABRIC IN DENIM BY FISHMAN'S FABRICS
"The depth and textural dexterity of this extra-thick blended boucle has earned a lot of fans."
19. MARTA FABRIC IN MAR60 BY TIBOR
"When I saw this fabric, I thought of the swimmers who will be up and down the lakeshores and in the pools all summer. The wool and organic cotton are combined to create an elevated denim vibe that is perfectly laid-back."
20. KRAVET DESIGN 29429-50 FABRIC BY KRAVET
"This cotton-based velvet has been a go-to for a long time due to its resilience to stain and the broad selection of colorways."
Homepage photo: A flat lay by Gil Melott | Courtesy of Gil Melott Studio