After a 36-year hiatus, General Electric small appliances are back on the market. A line of 19 new countertop kitchen appliances—everything from coffee makers and toaster ovens to immersion blenders and food processors—launched in October at Best Buy and will come to additional retailers in 2021.
It's been a long road back to the category for the brand since GE sold off its housewares division, first launched in 1907 when Thomas Edison was still involved with the company, to Black + Decker in 1984. Eventually, in 2016, GE divested its appliance category entirely, selling it to Chinese company Haier.
André Zdanow, executive director of small appliances for GE, says that the new chapter of his division started in 2016 with the development of the Opal Nugget ice maker, a product that came out of the GE-backed incubator FirstBuild. The Wi-Fi-enabled machine was originally crowdfunded, but its popularity quickly outpaced FirstBuild's capacity to produce it, leading GE to step in and take over the manufacturing. "And suddenly, we were back in the small appliance business," says Zdanow. "It showed us that the demand was there and that there was room for innovation."
Once the decision was made to expand back into the small appliance category, he and his team knew they'd need to take a digital-first approach, placing an emphasis on e-commerce while still partnering with traditional retailers like Best Buy to roll the products out. They'd decided on the strategy pre-pandemic, but the boom in online sales in the home sector this year has cemented the choice. "It proved to be a very fortuitous strategy," says Zdanow.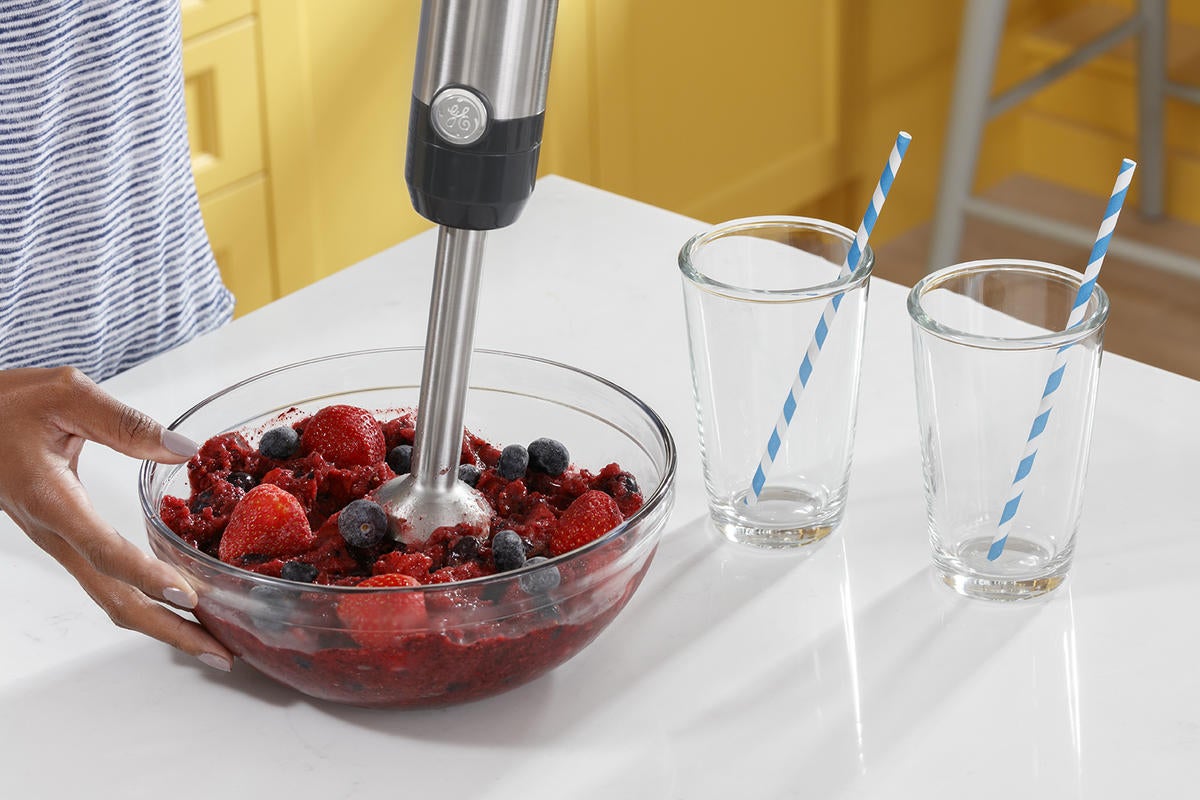 Part of reaching a digitally savvy customer is meeting them where they are, so a robust social media presence has been key to the launch of the new products. The GE Appliances Instagram grid is filled with content you might find on the feed of a food publication, complete with recipes and videos of the appliances in action. The sheer amount of social media content needed to roll out a new product these days was one of the bigger challenges Zdanow's team has faced during their relaunch. "By the time we had pieces ready to photograph, the pandemic was in full swing and it wasn't safe to have the types of photo shoots we were hoping for," he says. They wound up resorting to CGI for some content until it was safe enough to style the products in person.
Wanting to reach both the higher end of the market as well as the less-crowded middle, they developed three labels: GE Café, an offshoot of the company's design-forward line of major appliances, the tech-focused GE Profile (where the Opal Nugget ice maker ended up), and the standard GE, targeted at clients looking for reliable products with fewer bells and whistles.
Connected appliances that have Wi-Fi capabilities and can be controlled through an app or a Google Nest Hub or Amazon Alexa, are a major aspect of both the Café and Profile labels. The connectivity offers users the ability to do things like schedule a morning cup of coffee, but also to specify the coffee's temperature or even have different temperatures stored for certain blends. It also allows GE to monitor how customers are actually using its products. (Zdanow says that the data is anonymized—meaning GE doesn't know that you specifically like dark roast at 8:08 in the morning—but that it does track how many customers are using which features.)
"It's been interesting to watch the journey of these connected devices, because while we may not have thousands of reviews on our products online, we know that thousands of people have set these machines up and are using them every day," says Zdanow.
That the machines are connected to GE's cloud also means that the company will have the ability to update them remotely as the features evolve, similar to how you might install the latest iPhone update.
It's those capabilities that are shaping how Zdanow thinks about the next phase of the 133-year-old division. "I'd like for GE to be closer to the consumer than any other brand," he says. "We're going to anticipate their needs and what they want so that we can continue to be a consumer-led company.
Homepage photo: The GE Café coffee maker | Courtesy of GE