In our series, What I Love, we're asking designers to build us a mood board of what's inspiring them right now.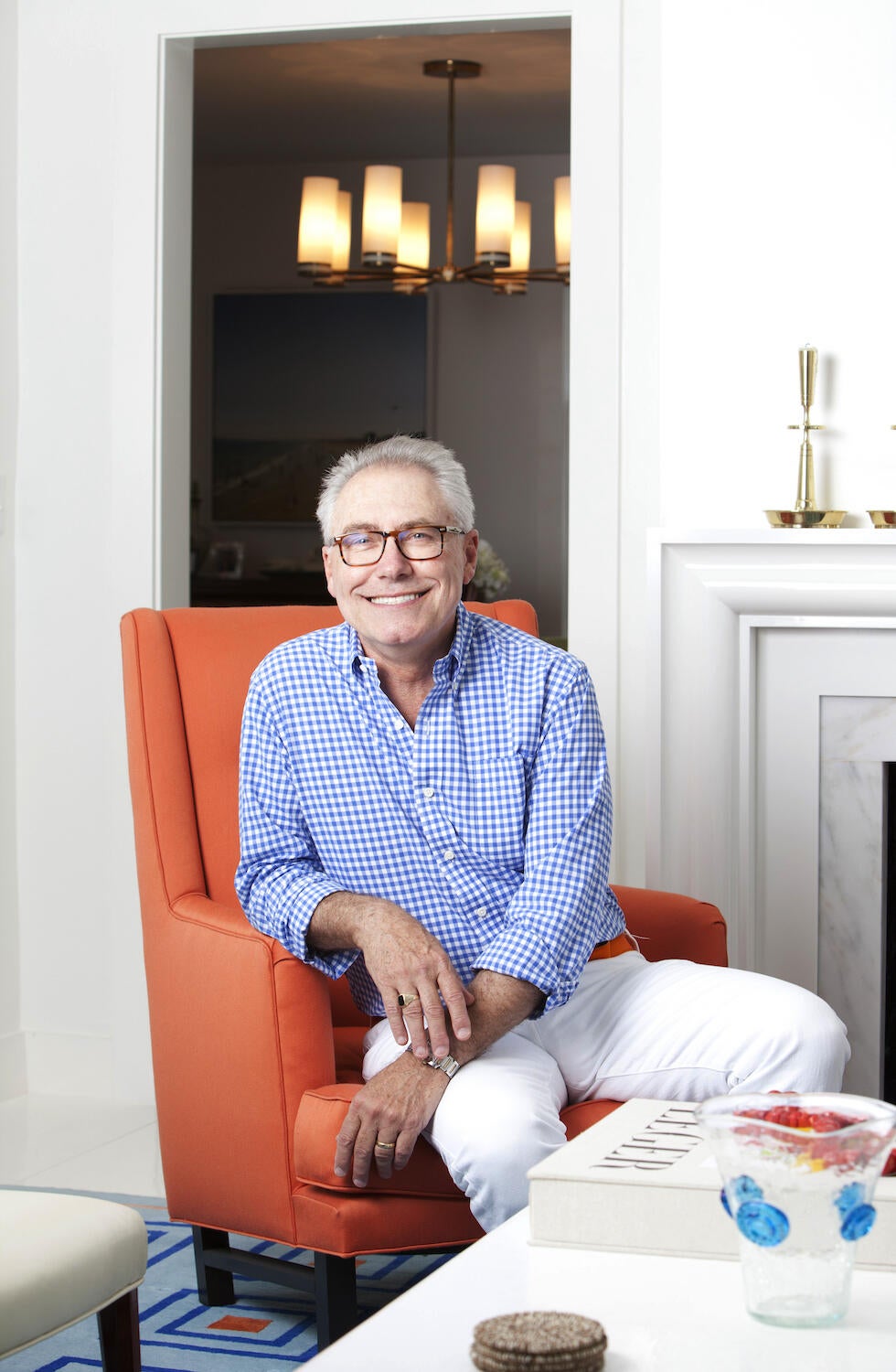 Gary McBournie is smitten with Nantucket. The Boston designer first set foot on the island—30 minutes off the coast of New England—back in the summer of 1987, and has been enamored ever since. "Its natural windswept beauty, colorful maritime history and colonial architecture continually inspire my work," he tells Business of Home.
His current flat lay perfectly illustrates the point. Designed with the tiny coastal town in mind, McBournie employed everything from seaweed-print wallpapers to vintage ship-themed coasters and lobster claws to evoke the breezy spirit of the seascape. "The scheme is inspired by the things that I love most about Nantucket: the ocean, the history and the local antiques," he says.
True to his vision, the final flat lay features a medley of rich blue hues, playful nautical motifs and treasured vintage finds. "I think the overall effect is cheery, optimistic and maybe a bit nostalgic," he says.
Here, McBournie breaks down the details—from decoupaged whale trays to striped sisal rugs.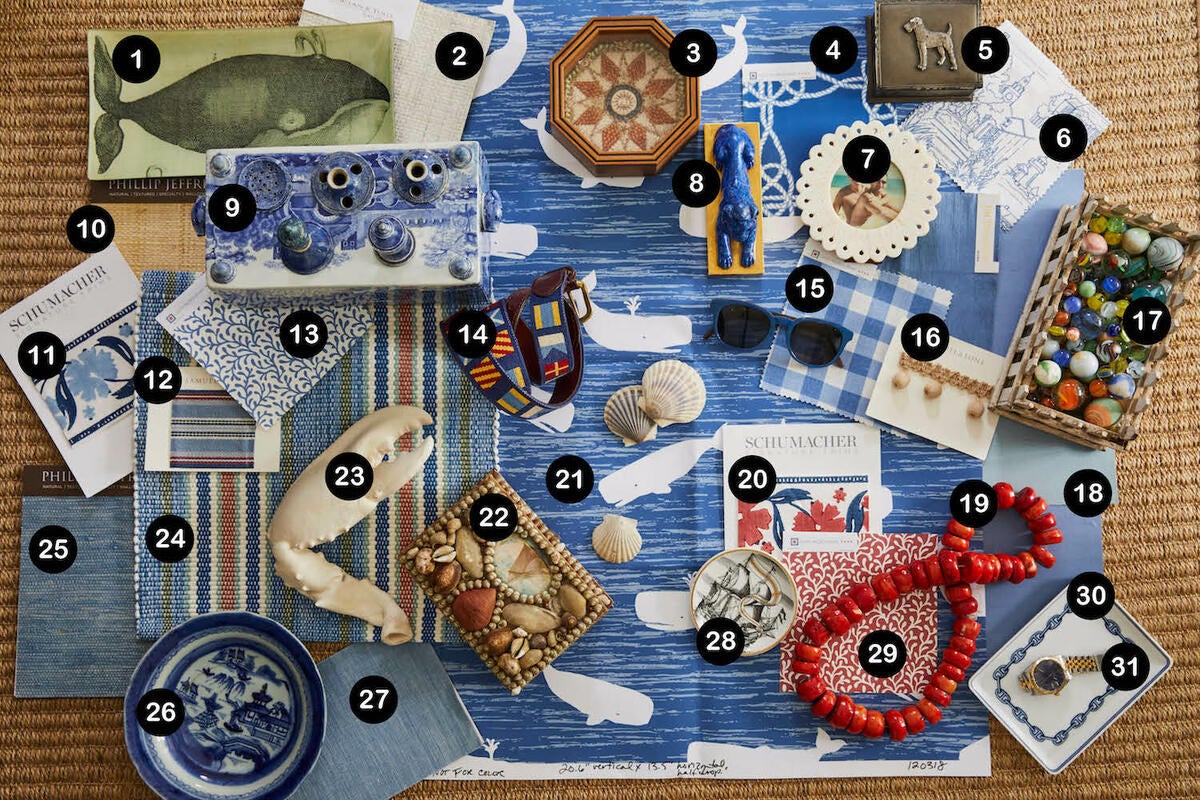 Courtesy of Gary McBournie
1. WHALE TRAY BY JOHN DERIAN
"This whale tray, which sits on my coffee table in Nantucket, is just one of many of John Derian's hand-made creations that I have acquired through the years."
2. HATTERAS METALLIC WALLPAPER BY COWTAN & TOUT
"Metallic wallpapers can often make a big statement, but the textured Hatteras is very subtle and works well in a variety of applications. We recently used this in a lower-level family room without much natural light, and it added just the right amount of shimmer and sophistication."
3. CONTEMPORARY SAILOR'S VALENTINE AT JANIS ALDRIDGE, INC.
"The original sailor's valentines were made by sailors as souvenirs of their travels and incorporated shells acquired during the voyage. Today's crafters may purchase their shells, but the painstakingly detailed labor still produces results like this beauty."
4. SAILOR'S KNOT FABRIC IN MARINE BY GARY MCBOURNIE HOME
"Nantucket once again inspired me when designing Sailor's Knot. It is available as both fabric and wallpaper, and is offered in several colorways."
5. VINTAGE METAL BOX ORNAMENTED WITH A TERRIER
"My love of Welsh terriers is well-known, having owned three to date with the possibility of a fourth still out there, so it was a treat when a friend gifted me this box many years ago."
6. SCENIC NANTUCKET FABRIC IN MARINE BLUE ON WHITE BY GARY MCBOURNIE HOME
"A notebook of old Nantucket postcards acquired at a local auction inspired this pattern. I love the vintage look, as well as the hand of the two-ply cotton sourced from a family-owned textile mill in Rhode Island."
7. PERSONAL PHOTOGRAPH
"Photographs can help to personalize a home, but I like to use them sparingly."
8. VINTAGE FAUX MARBLE LION WITH GILT BASE FROM STAIR GALLERIES
"This blue marbleized lion caught my eye at an online auction, and with a few clicks it was mine!"
9. ANTIQUE INKWELL
"I bought this at auction because I thought it was interesting."
10. ISLAND RAFFIA WALLCOVERING IN PORTOFINO NATURAL BY PHILLIP JEFFRIES
"I love raffia—it's casual yet chic."
11. ADRA HAND BLOCKED TAPE IN BLUES BY SCHUMACHER
"Adra from Schumacher is a favorite trim of mine because I love anything hand-blocked—it just feels more special."
12. THAYER STRIPED BORDER IN BLUEBIRD BY SAMUEL & SONS
"I love the multicolor blues in this tape trim and recently used it to unite the different fabrics in a living room scheme. Tape trims may be small, but they provide a nice finishing detail."
13. SEAWEED WALLPAPER IN SEA BLUE WEED ON WHITE BY GARY MCBOURNIE HOME
"I have always liked a squiggly pattern for an allover wall treatment."
14. DARK N' STORMY NEEDLEPOINT BELT FROM SMATHERS & BRANSON
"This belt adorned with stitched signal flags is a favorite of mine."
15. WESTMOOR CHECK FABRIC IN MARINE BLUE ON WHITE BY GARY MCBOURNIE HOME
"I love the homespun look of checkered fabrics and use them quite often on upholstery, draperies and pillows. The difficulty for me is that small checks can disappear and a large buffalo check can look less sophisticated. Westmoor Check is just the perfect size."
16. BALI JUTE BEADED FRINGE IN BURLAP BY SAMUEL & SONS
"I use this beaded trim on drapery panels. It not only serves to hide the seam, but the dangling beads also add a fanciful element without formality."
17. VINTAGE MARBLES
"I collected these vintage marbles when I was a young boy. They now make an interesting conversation piece as almost no one can see them and not play with them for a moment or two."
18. SLUB SILK WALLPAPER IN ICE BLUE BY DE GOURNAY
"De Gournay's slub silk wallpaper offers a unique bubbly surface that adds character but does not overpower."
19. STRAND OF CORAL BEADS FROM MOROCCO
"I saw these colorful beads in the souk in Marrakech and had to have them. I like the irregular shapes, and the strong color adds some interest to any surface."
20. ADRA HAND BLOCKED TAPE IN RED & BLUE BY SCHUMACHER
"Tape trims, like this red and blue version of Adra I used before [in No. 11], are an easy way to add personality to a project, whether on draperies, pillows or as edging on wallpaper."
21. WHITE WHALE WALLPAPER BY GARY MCBOURNIE HOME
"Part of the Summer 2023 release from Gary McBournie Home, White Whale celebrates the iconic marine mammal made famous by Herman Melville's Moby Dick. The background was designed to mimic a woodcut, another popular art medium on Nantucket."
22. VINTAGE SHELL BOX FROM SYLVIA ANTIQUES
"These boxes from Sylvia Antiques were made as tourist souvenirs in the early part of the 20th century. I like to use them in bedrooms or sitting areas in a home to evoke a sense of nostalgia."
23. LOBSTER CLAW BY CHRISTINE VIENNET
"A dear friend we met in Paris many years ago gifted us several of these claws [by French ceramist Christine Viennet], and I have them arranged in an antique sterling silver bowl in my living room."
24. CUSTOM HAND-LOOMED RUG IN PERFORMANCE ACRYLIC BY STARK
"I am not always a fan of solution-dyed acrylic, but this new offering from Stark is absolutely amazing. It has a soft, cottony feel and is impervious to stains and sun, which is especially important when using rich colors."
25. EXTRA FINE ARROWROOT WALLCOVERING IN MEDITERRANEAN BY PHILLIP JEFFRIES
"Textured wallcoverings add dimension to any space, and this grasscloth from Phillip Jeffries is a favorite. Also, this colorway is perfect for coastal-themed projects."
26. VINTAGE BLUE AND WHITE DISH
"During the lockdown, I collected pieces of antique blue and white porcelain for my Nantucket home."
27. EKAMAI CLASSIC SILK FABRIC IN RIVER GLOW BY JIM THOMPSON
"Raw silk is one of my favorite fabrics, and I love to use it on pillows. Ekamai is particularly special, as it has a softly woven textural hand, and Jim Thompson offers it in a variety of colors."
28. FORNASETTI TALL SHIP COASTERS AT ONE KINGS LANE
"I am a big fan of Italian midcentury design, and these ship-themed coasters by Fornasetti integrate perfectly into my coastal vibe."
29. SEAWEED WALLPAPER IN WHITE WEED ON WEATHERED RED BY GARY MCBOURNIE HOME
"Small patterns complement more graphic treatments such as stripes and checks."
30. VINTAGE CHAINE D'ANCRE COIN TRAY FROM HERMÈS
"A small tray on a bedside table to hold rings, coins and such is a necessity."
31. VINTAGE TWO-TONE DATEJUST WATCH BY ROLEX
"Sometimes you just deserve a treat."
32. [GROUND] STUOIA STRIPE SISAL CARPET BY LORO PIANA INTERIORS
"Sisal carpets are simple and classic, but they can be rough on bare feet. As one might expect, this one from Loro Piana is not only beautiful, but oh-so-soft underfoot."
Homepage photo: A flat lay by Gary McBournie | Courtesy of Gary McBournie