Indoor and outdoor furniture source Seasonal Living has launched a digital magazine. Debuted last month at Las Vegas Market, the bimonthly Seasonal Living Magazine will cover lifestyle content ranging from decor and entertaining to food and travel.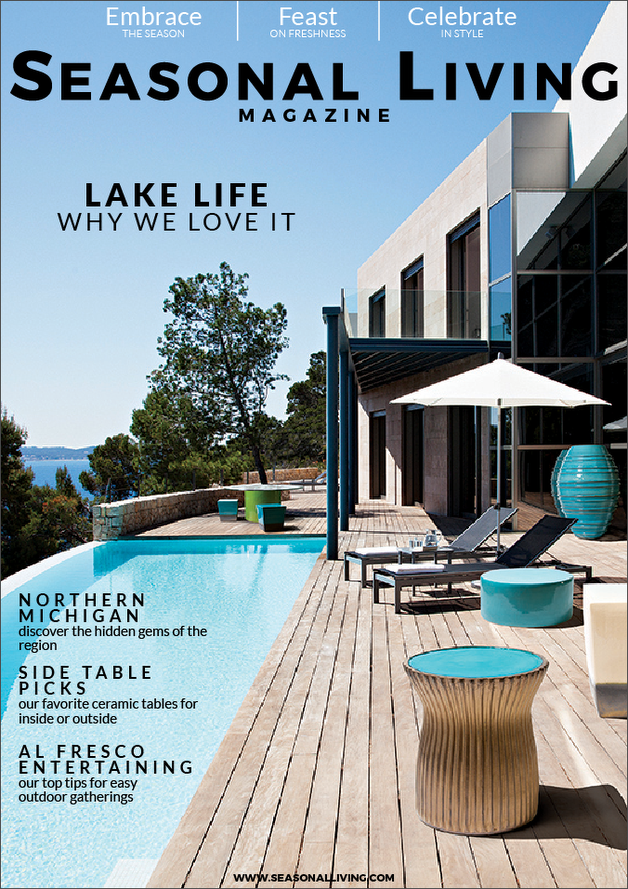 Positive feedback to the lifestyle content shared on the brand's social platforms convinced the Austin, Texas-based manufacturer that a digital magazine would be a worthwhile next step. The eight-page premiere issue includes a recipe-driven feature encouraging in-season ingredients and dining al fresco, as well as a profile of lake life in Northern Michigan.
"[Over the years,] you've talked with [CEO Gary Pettitt] about his global travels, and told him you want to know where and how to travel, both here in the USA and globally, to see the best of what each part of the world has to offer. Many of you have also found out he's an excellent cook and have asked him for the recipes he makes with seasonal ingredients. Some of you have seen how he entertains at home, and have asked him to show you how to entertain and live more artfully…," the brand wrote in a blog post last month. "He's been listening, and today, Gary and the team here at Seasonal Living hope you will find just the inspiration and ideas you've been searching for in the pages of our brand-new Seasonal Living magazine!"
Using video and direct links, the magazine plans to integrate product offerings through a deeper brand message. In an article roundup of side tables, for example, the digital spread features a video showcasing how Seasonal Living's hand-glazed, ceramic offerings are made. The featured products are then linked to the "Find a Retailer" tool on the brand's website, helping promote the company's retailers and design specifiers as well.
"Due to rapidly increasing fragmented distribution channels, we recognized the need to develop strategies that better support our existing customers while also raising our brand profile to end consumers, thousands of whom are already interacting with us on social media platforms," said Pettitt, who is also serving as editor of the magazine. "The result is the introduction of a beautiful consumer-focused lifestyle magazine that connects end consumers with strong interests in home decor, food, entertainment and travel by introducing them to our important retail and design specification customers."