If you Google "Tony Ingrao," you'll find a wealth of projects from the designer's 40-year career: baronial suburban estates, glittering penthouses in the sky—the stuff of shelter magazine editors' dreams. You won't find much else. Though Ingrao's clientele, a mix of celebrities, financiers and captains of industry, often make headline news, he himself is more likely found just outside the limelight. "I'm chill," he says, laughing. Chill, yes. Boring, no. In this week's episode of the Business of Home podcast (sponsored by Universal Furniture), Ingrao shares a rare in-depth look at an epic career.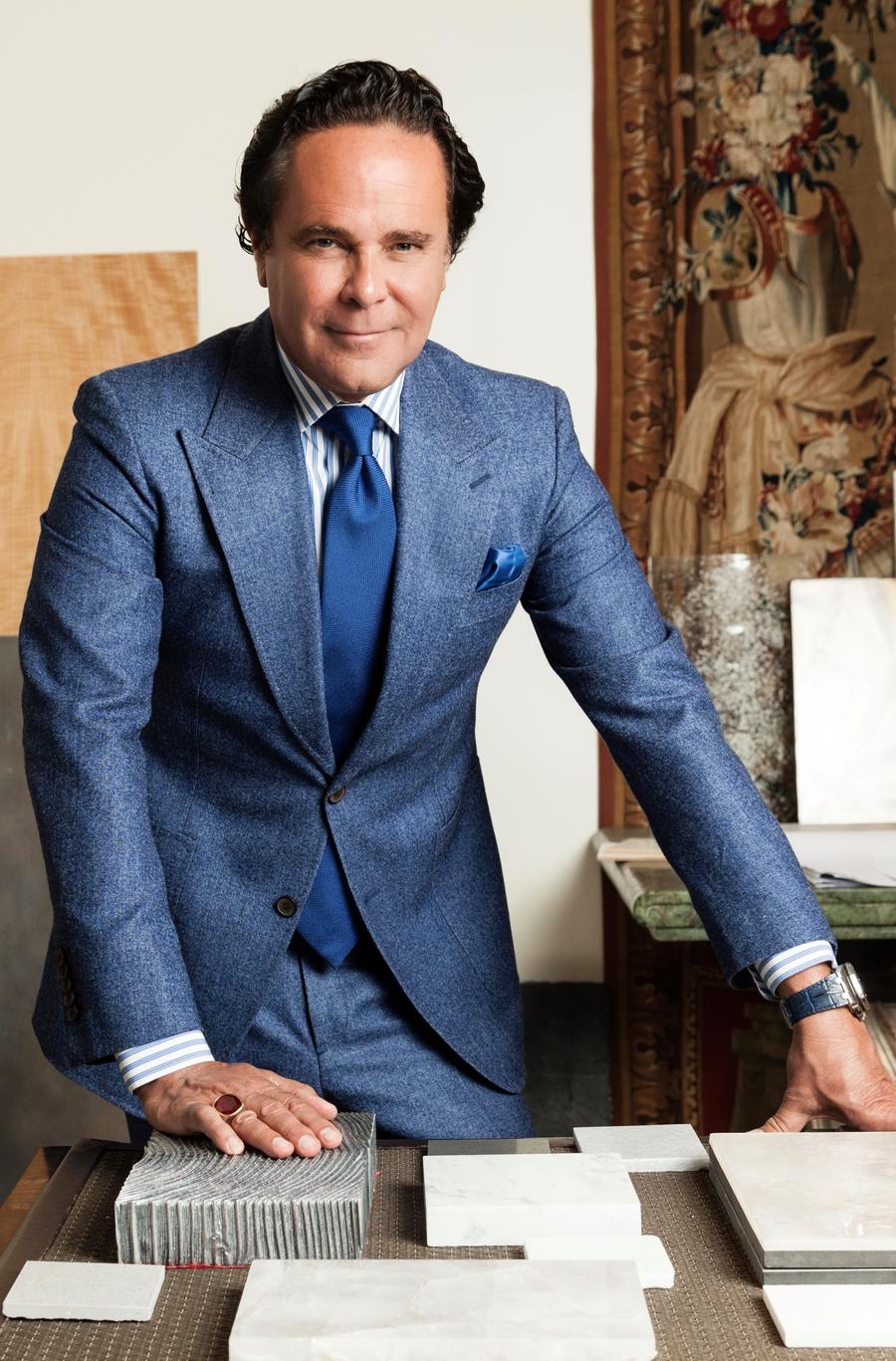 Ingrao's story begins in his parent's business, a wholesale fabric manufacturer that supplied Bill Blass and Oscar de la Renta. He grew up immersed in fashion and wanted to design clothes, but his parents pushed him toward finance—a path he pursued until just after college. An art teacher convinced him he had talent, and encouraged him to apply to RISD. He did, and almost didn't go.
"[While waiting to hear back from RISD] I was applying for a job at Sotheby's, and I got a job to work in the Chinese furniture department," says Ingrao. "So I went to a payphone and called RISD and explained the situation. … They said it's 'not their policy,' but please hold. I held on for five minutes and they came back and said, 'Yes, congratulations, you've been accepted!'"
After art school, Ingrao hit a stroke of luck: A friend introduced him to a client in the electronics business who was building a penthouse in the newly completed Olympic Tower. "I said: 'Peter, I just got out of school.' And he said, 'You can do it, just don't worry,'" says Ingrao. "It was a crazy experience. The client was a wealthy person from the Middle East with projects all over the world, and all of a sudden I was flying all over the place. … I was working on boats and planes and it was my first job."
It was a glamorous beginning, but a stressful one ("I was working 18 hours a day, but they expected you to party with them as well, which was a little too much," he recalls). He almost burned out before he started, until another chance encounter saw Ingrao meeting a stranger in Paris, a man who became his partner (in the romantic sense of the word) for 13 years—kicking off the next phase of his career.
"It forced me to be there and to start exploring," he says. "I started driving all over the country, going to shops and museums everywhere, teaching myself the history of art, architecture and design." When the relationship ended, Ingrao came back to the States with deep connections to European artisans and antiques dealers. The timing was perfect: It was the era of the neo-baronial estate in the moneyed suburbs of New York, the Hamptons were flooded with Louis XIV, and the kings of Greenwich wanted coffered ceilings.
A vibey '60s-referencing contemporary penthouse project for hedge fund manager Richard Perry transformed Ingrao's reputation—an ironic twist, as he was originally brought on to be a custodian of the building's traditional look. "Betty [Sherrill, principal of the design firm McMillen] wanted to keep it very conservative, and she was on the board. I was known as 'Mr. Antique' and they put my name forward and [the board] said 'OK, OK,'" says Ingrao. "[But Lisa Perry] wanted a different look, something fresher. … It's America, you can do what you want."
The Hamptons were flooded with Louis XIV, and the kings of Greenwich wanted coffered ceilings
The project, published in a 12-page spread in Vogue in 2002, turned Mr. Antique into Mr. Modern. The timing, again, was perfect. The aughts saw a shift away from antiques and toward the exploding contemporary art market. Clients stopped wanting castles and began asking for shingle-style houses. Things were getting casual. "People's focus has changed, people want comfort. It's a big demand you never got 20 years ago," says Ingrao. "[Then], people were focused on the look and the show, the pageantry of it. But the world has created a lot of stress for these people. … You have to think, 'I need order, because the world is chaotic.'"
The contemporary work led to large-scale luxury hospitality and development projects, including residences in the Baccarat Hotel and the newly built 35 Hudson Yards. The scale of these commissions has seen Ingrao's office expand to 50, and has the designer thinking about the future—he's currently grooming the next generation of leadership at the firm, as well as working on projects for the children of his earliest clients.
"When you work for clients of different ages, they bring their past with them," says Ingrao. "People never forget: first, what they grew up with; second, the generation that they made their money in; and third, where they are today. But they always have in the back of their head that green bathroom that their grandmother had. They either hate it or love it—but it comes back."