In Ask an Influencer, Business of Home explores the creator economy. This week, we spoke with Tyka Pryde Edwards, the Atlanta-based interior designer and television art director who built an online audience by encouraging homeowners to step outside the box.
Starting her career on the production side of home renovation TV shows, Tyka Pryde Edwards got comfortable working behind the scenes. On shows like Queer Eye, HGTV Design Star and Extreme Makeover: Home Edition, she received a crash course in interior design—drafting, sourcing and installing projects in just a few days, then picking up and starting all over again in a new location with new clients and an entirely new style. Even as her confidence in her work grew, leading to a side business with private clients in between TV shoots, she shied away from chances to step in front of the camera.
On social media, she'd never been very active—until TikTok came along. Drawn into the platform during the pandemic, she began to notice a multitude of design accounts peddling the same white-and-beige home aesthetics. Pryde Edwards realized she had something different to say—and in order to get the message out, she'd have to finally enter the spotlight herself. "All I do all day long is design for people—so I just wanted to teach people what I know, but also continue to encourage people to be creative and cool, and not just try to mimic Joanna Gaines," she says. TikTokers agreed: Within two months of launching her account, she'd accrued 30,000 followers. Today, that count has doubled and spawned a number of brand partnerships, as well as an e-design arm of her business and a new role as a design columnist for Business Insider—all while holding a full-time gig as lead art director on Queer Eye.
Ahead, Pryde Edwards shares how she built an audience of outside-the-box design lovers, why leaning into her strongest opinions helped sharpen her brand, and how she's learning to better vet potential e-design clients.
What are your earliest memories of being drawn to design?
It started as young as 6 years old—I was always rearranging the furniture in my room. Every day, my mom would come home from work, and I would have moved my bed, and she's like, "How are you moving this bed by yourself?" Back in the second grade, I asked my parents to put a mural up with a beach scene because I was like, "Oh, the carpet looks like sand!" And if my bed could be a giant blow-up raft instead of an actual bed, they let me do that—[even though] it only lasted for like six months.
I never really understood that you could make money doing something creative. I was trying to follow a traditional path to make money, so I [majored in business] in Georgia. And I had a horrible time in college. I hated it so much. I ended up leaving school in the middle of the semester—I was getting F's—and moved to Atlanta. I moved in with a friend, and we started doing creative photo shoots. Then I met another friend who was in film school, and she made some really awesome music videos—she worked with Lana Del Rey—and she had her own loft. She was a young Black woman like me, and I was like, "Oh, people are pursuing their goals and making money and not just going to business school because they think they're supposed to."
So I applied to film school and loved it, and graduated with a degree in video production. I got my first job in TV on a home makeover show called Home Free on Fox, and I worked with the art department on that show and met amazing people. It was the perfect combination of everything I love, from photography and directing and lighting to my childhood love of design. I just really found my footing in the art department on home makeover shows.
What is that work environment like?
It's very intense. On most shows I work on now, I usually have about three days to do the makeover. I have some time where I'm designing and ordering furniture, but from the moment the production actually releases the house to me, to the moment we have to reveal it on camera, it's about three days. We're working around the clock. I'm working with all types of vendors, painters, electricians, carpenters, artists, muralists—really cool people—but we're all working on top of each other. It's very high stress and high intensity, but also, as you can imagine, really fun. You're learning much faster than you would in a traditional interior design job. Most networks want you to do something different for each episode. They don't want to see the same thing. I've gotten to really experiment with every interior design style there is, and I'm always getting to try something new, or something I've always wanted to do, which is different than working with regular clients. A lot of people want white kitchens, but in TV you are encouraged to push the bounds of creativity.
What did the next stage of your career look like?
After a few months, Home Free was running into major budget issues and had to cut a bunch of people. Because I was new to the art department, I was the first to get cut. My boss was crying when she told me, and I was like, "I'm never going to work in TV again." I was in bed for a week. Then I got a couple other jobs as a production assistant—not related to the art department, just carrying camera gear, slugging water bottles and stuff. But then one of the people from Home Free—Tommy Rouse, who's been my mentor and best friend for years now—was the production designer for season one of the Queer Eye reboot, so he brought me on board for that.
After Queer Eye, I went to different shows—when a season wraps, you're unemployed again and you have to find your next show, which is intense. There's no job security. It's all through word of mouth and how well you perform on your last job, so I'd always been giving it everything I had, trying to outwork everyone. I did Extreme Makeover: Home Edition and any HGTV show you can think of, and I've been on Queer Eye for all seven seasons.
When did you start taking on your own projects?
I did some homes for my friends and family over the past six or seven years, and then during the pandemic, this extremely wealthy couple in Austin asked me to do their huge property—they had three different houses on it, and I actually lived and worked on the house during the entire pandemic. I was like, "Actually, private clients aren't so bad!" I started taking on private clients between television shows, getting into social media and doing virtual consultations.
How did you launch your social media presence?
I've always loved TikTok. I was a TikTok scroller all the time, and I started watching a lot of interior design TikTok, and I just felt like I had something to add to the conversation, because I wasn't seeing my message being spoken about. When I realized that I could contribute—not just regurgitating the same stuff as everyone else—that's when I was like, "Well, let me just post a video with no expectations. I'll just post every day for two weeks, and I'll just see what happens." I posted a video of rooms that I liked that were really unique, and it got like a couple hundred views, and I was like, "Cool."
Then the next video I posted was about how you could download free art from different museums—you can just print artwork—and that one did great; I think it got 400,000 views. That was shocking to me, and I was so excited, so I just kept posting all these ideas and thoughts I've been having that I've never spoken about, and my audience skyrocketed to 30,000 followers after the first two months. Now I'm at 60,000.
What was that message you were looking to convey?
I saw a lot of design influencers talking about things like how to style a shelf, or how to make your space look like this or that, but it all looks the same. It all looks like Studio McGee or Joanna Gaines, or just very cookie-cutter—I just felt like design was dying. I know it sounds dramatic, but it was. I wanted to give people the basics and the rules: This is how big your rugs should be to make the room feel grounded; this is how you should hang your curtains to make your ceilings look taller. Once you know those basics, you can go crazy with self-expression and do whatever you want within those bounds and the room will still look well-designed. I really wanted to encourage self-expression and individuality and thinking outside the box, but also give people education to demystify high design.
How did people react to that?
I had such positive responses, and people were so grateful. I made a video about how to stop treating your home like a store showroom that has almost a million views now—it's definitely my most popular video. That actually was controversial. I archived the video the day after I posted it, because I was like, "Oh, gosh, people are mad." Then my friend called me and was like, "Unarchive that right now." I just had to grow a thick skin and be like, "OK, people are going to be mean to me, but this is fine."
People were like, "I can do whatever I want with my home—if I want a boring, basic minimalist house then I can [have it]!" Or "I'm just so relieved that you posted this, now this takes the pressure off me." One woman said she cried watching it because she was so stressed out with trying to fit into this picture-perfect mold of her house, and she couldn't make it work, and this gave her the freedom to relax. Those are the kind of people who I'm trying to reach. I'm not trying to piss people off, but it happens.
I think people missed the point that I wasn't coming for minimalism at all—I love minimalism. It was more about people doing these videos where it's all useless decor. It's all this crap that they're buying to try to get this look, and I'm like, "Well, where's your stuff from your life? Because you certainly have stuff in your house that has nothing to do with a white vase."
How did you make the decision to archive, and then unarchive, that post?
When I first archived it, I wasn't worried about it affecting my business. I was just really sensitive. I was afraid of people being mean to me on the internet, and I didn't think I had what it takes to handle that and keep putting myself out there. But as comments started coming in, I was like, "Oh, I can actually totally handle this, because it's balanced by all the love."
I don't want to upset people or make them feel bad, and a lot of people felt that I was attacking them or calling them basic or insulting their sensibilities. I don't want to be someone who's being negative. But then I rewatched it a couple of times, and I'm not doing that. It was my friend Tommy who was like, "This is how you gain your audience: by having strong opinions." People either love it or hate it, but that's how you curate your audience. You don't want to be for everybody.
When did you start approaching your social media with a strategy?
In the beginning, my strategy was to post something every day that you haven't seen before. I was constantly racking my brain for something different I could say, something unique to me, and carving out that unique online persona. I also posted videos that were actionable, where I could tell people, "This is what you need to buy if you have a queen bed," not speaking in general terms or abstract ideas, but giving advice.
What does the process of producing content look like for you?
I use my iPhone camera and the green screen effect. I don't have a microphone or lighting or anything, but I would like to get there eventually. I know if I complicated my process at this stage, I wouldn't post as much because I'm so busy. I just squeeze a video in when I can. I wanted to make posting as bold as possible, and that's why I love the green screen effect, because I can gather all my imagery to back up what I'm saying, and then I just push record.
What role does social media play in your business?
I've had a lot of inquiries from people asking how they could work with me or if they could pay me to help them. So I [linked to the] booking website Square in my [TikTok and Instagram] bios, and I made three packages: a basic one, a middle tier and a three-room package. People were booking me through there, and I'd get an email saying so-and-so requested an appointment. Then I would do Zoom calls and design boards for people. I've done 52 of those for TikTok clients, and I haven't even promoted that service yet—I haven't made a video saying, "Hey, book me through my bio," or anything, because the amount of inquiries has been so intense.
I'd like to get to the point where I can completely transition into doing social media and virtual consultations and maybe transition out of television. I have also found that you need to vet people a little bit, and there are red flags—you can see when someone's going to be unreal, unreasonable or kind of a hassle—not worth the money, basically. Now, I'm a little more cautious and do a little bit more conversation before I accept the project.
How do you work with brands?
My biggest one was with World Market, who I was so excited about because I've used them for years on every television show. I always go to World Market to get my kitchen supplies—they have the best cutting boards. I've also done a few brand collaborations with a couple of pet companies because I have an adorable cat, and I wear some funky glasses in all my videos, so I partnered with that glasses company. I get anywhere from six to 10 emails a day from different brands, but most of them—I'd say 80 percent—just want to send me a free product in exchange for a video. I don't want my page to be a giant commercial, and I don't want to constantly advertise to my followers, so I am really picky in choosing who to work with.
How do those negotiations typically unfold?
I made a media kit in Canva—I just Googled what a social media media kit looks like [to figure out how to create it]. It has my number of followers, my interaction rate and audience [demographics]—[including] age group [and the fact that] it's 80 percent women and 70 percent U.S.–based. [The media kit also provides] my rate, which I set based on what's worth [the effort] to me. You can find some of those statistics [about followers and engagement] in your TikTok account, under "Creator" tools in "Settings," under the "Analytics" tab.
What information is most important to include in a media kit?
Definitely the amount of followers, and then there's something called your interaction rate, which is a percentage based on the amount of views and comments you're getting [relative to] the amount of videos you post. You could have a lot of followers but a 3 percent interaction rate, or you could have 50,000 followers, which I did at the time, and a 10 percent interaction rate, which is really high. That is what I was told is really important to brands.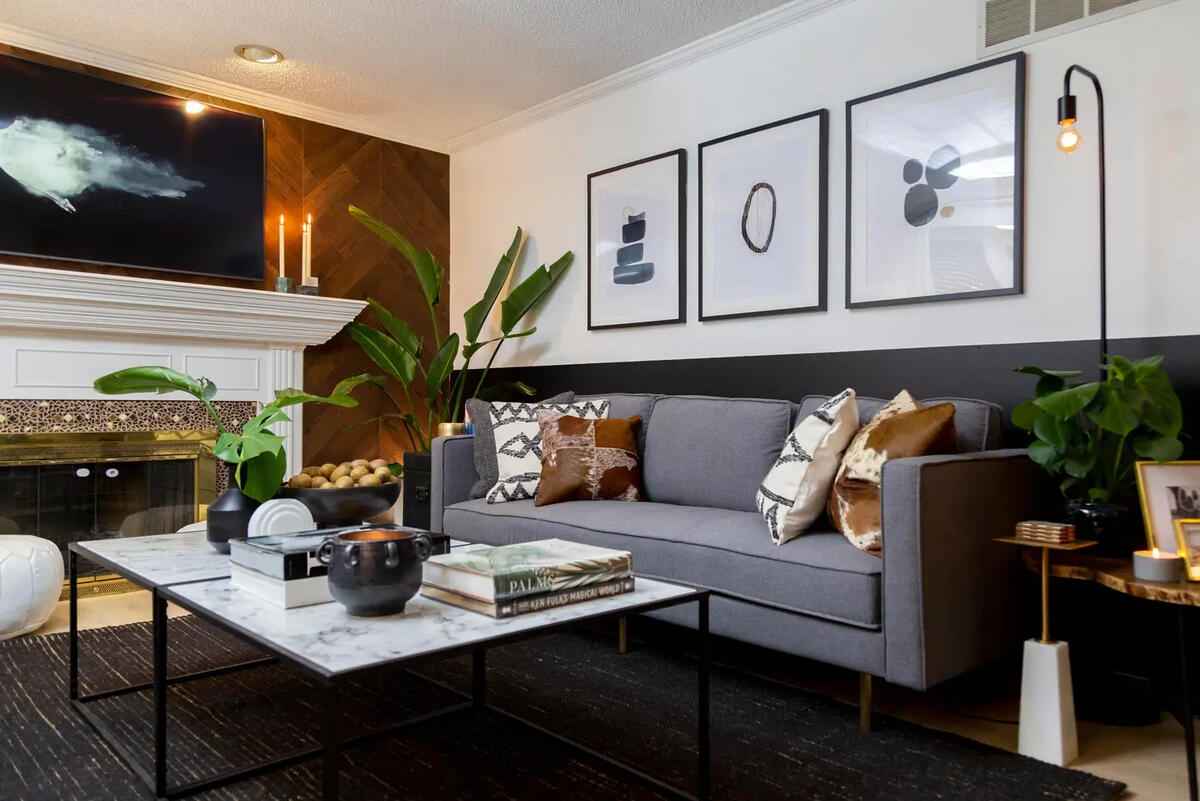 How much of yourself do you share on social media?
I don't want someone who has been following me for interior design advice to hear a bunch of personal stuff that makes them annoyed—like, "Oh, this is not what I'm here for." I think that holds me back from sharing a lot of personal stuff, but I have been trying to be more transparent about my fears or anxieties, or when I experience negative self-talk—just relatable things that we all experience, and how I have had to overcome that to be able to post on social media. I've been posting about that a little bit more, and it's been nice to see the response from people who feel the same way or appreciate that honesty. I'm choosing when to be personal, and making sure that it is impactful and that I'm not oversharing for no reason.
Six months ago, I never saw this [career shift] coming. I never even wanted to be on camera before—when I was working on TV shows, they would try to pull me into scenes to talk to me as a designer on camera, and I always said no. I wanted to be behind the camera. But this sparked something new in me. Now I would love to have my own TV show one day, and I love talking on camera—it's just changed my personality.
Do you still have a personal account?
No, just my public account. [This career shift has] definitely changed the way I interact with social media. I don't feel the need to post my morning coffee anymore. It's more about content creation than [personal] social media sharing in the way that I was before. I was posting selfies or when I was going out with my friends, and now I'm thinking about what brands are watching me and what opportunities I can create from what I post—I definitely don't want to lose any opportunities from what I'm posting, so I represent myself in a more business-savvy way.
How has your life changed since your social media presence took off?
In the most general way, I'm much happier and I feel more fulfilled. I feel a sense of purpose. I'm more confident speaking to people, looking people in the eye. I feel proud of myself, and I feel a greater sense of connection to the world—I feel helpful to people, and it's been such a joy. Before that, I just saw myself continuing to climb my way up in television. I've been a ghost designer for other designers on camera my entire career, and it's a lot of hard work and no glory. That's the job, so it never really bothered me before, but now that I have the confidence, I would love to have my own show one day, or any platform where I can be the face. Representation matters, and I get a lot of comments from other Black women who are happy to see another Black interior designer because there are not that many of us.
Does the workload ever feel difficult to manage?
I'm extremely overwhelmed [at the moment], mostly because I haven't posted in a couple days. It's stressing me out, because I don't want to put my social media on the back burner, since all these other opportunities only [exist because of] TikTok—so I don't want to neglect TikTok, but I also have a full-time job. Right now, I'm working on a huge home makeover show for CBS, and that requires my full attention. If I'm not posting consistently, I definitely get stressed out, and I'm like, "OK, I need to figure this out. I need to post." It is kind of a rat race.
What's the biggest challenge for you on social media right now?
Staying consistent and constantly trying to come up with never-before-seen ideas, because everything under the sun has been done, as they say—but I don't believe that. I try to always find something new to say, but it takes a lot of brainpower and time. When I'm thinking of ideas, a lot of [my inspiration comes from] what people ask me about in the comments and finding a unique way to answer them. I try to stay away from interior design TikTok now so that I am not posting what other people are posting. I get a lot of inspiration from movie sets too, so any time I can be influenced by a movie set or a beautiful photograph or something, I try to turn it into an interior design tip.
Homepage image: Tyka Pryde Edwards | Courtesy of Tyka