Each year, the Fashion Institute of Technology honors a member of the design community who is moving the industry forward and whose work enriches the coursework of FIT's interior design students. Karim Rashid, an interior designer and furniture and product designer with over 300 designs in production, is the latest recipient of the award. Rashid shared with EAL how he became a designer, his design philosophy and his thoughts on his latest award.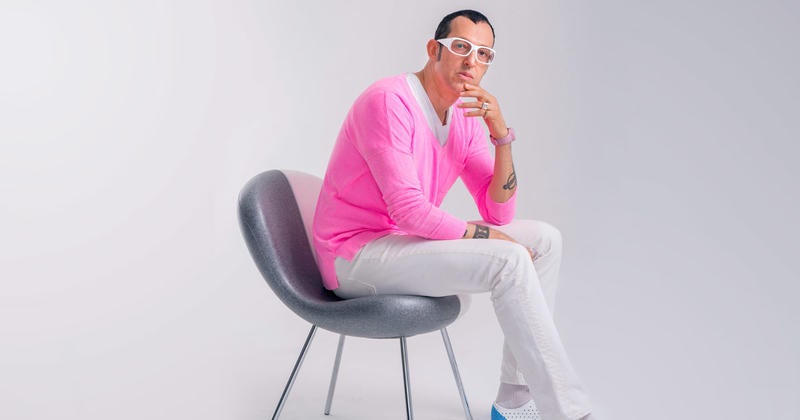 How did your career in design develop?
My father encouraged me to explore the arts and be a pluralist! He was a creative renaissance man—I saw him create furniture, make dresses for my mother, paint canvases, design sets for television and film, etc. We were brought up in an extremely inspiring context that gave me great respect for all of the arts.
When I was older, I specialized in industrial design at Carleton University [in Ontario]. After college, I went to a one-year graduate program in industrial design in Italy, studying with Gaetano Pesce and Ettore Sottsass. Then I did a one-year internship in Milano, and I also took night classes with Achille Castiglioni at the Polytechnic, and I interned with Rodolfo Bonetto over a year, designing TVs for Brionvega, task lamps for iGuzzini, a coffee machine for La Cimbali, dashboards for Fiat. These projects really helped me enter the world of design.
Then I went into being a full-time academic and stopped designing for two years, because I was so fed up with industrial design. I was full-time in Toronto at OCAD, then Rhode Island School of Design (RISD). I was going to quit the profession in 1992 when I was fired from RISD. I was told I was teaching 'philosophy and theory,' not design.
In 1993, I found myself in New York City penniless, and started drawing objects romanticizing about the beautiful world I always wanted to shape. Then I started my office, and after approaching about 100 companies, from La-Z-Boy to Gillette, I only got one client. That was 25 years ago!

I feel the real accolade is seeing my objects in average people's homes, or to see a space realized, enjoyed and experienced by people. Design is for people, not for institutions.
How would you describe your design style? What ideas or motifs does it evoke?
I don't have a "style," and I don't believe in style. My work tries to answer and speak about our technological age, and address the present subject matter at hand. I believe that it is important to not necessarily over-embellish, but to keep a certain truth to a product or space. I also believe that objects and spaces need to touch our sensual side, touch our emotions, they need to elevate a certain experience, and they need to be human. My agenda is to contribute objects in our physical landscape that inspire, that engage, that encourage positive experiences. I define my work as "sensual minimalism," or "sensualism," where objects communicate, engage and inspire, yet remain fairly minimal.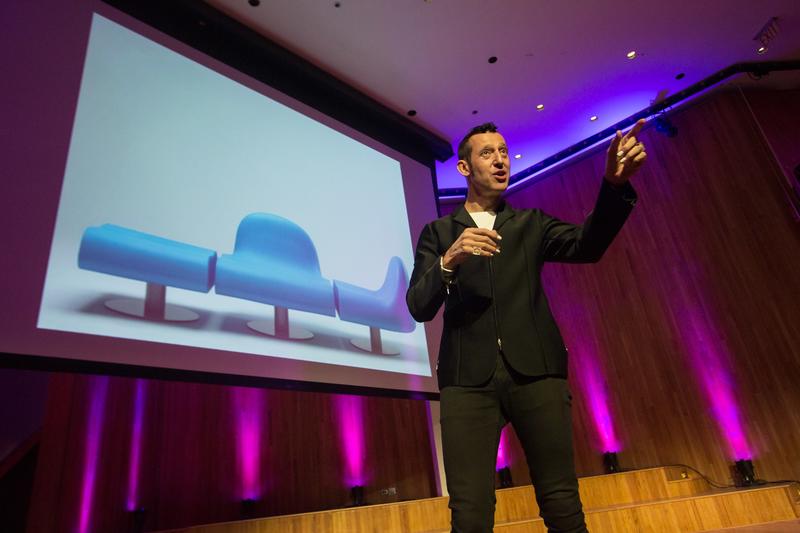 How did it feel to be honored with the Lawrence Israel Prize last year?
Of course, it is flattering. I am always really honored to have people interested in my work and my life, and particularly in my hometown of New York City. I feel the real accolade is seeing my objects in average people's homes, or to see a space realized, enjoyed and experienced by people. Design is for people, not for institutions. The highlight now is to see that over 1 million people on Facebook like me because I always saw design as a populist act, not an elitist act.
As part of the award, you gave a lecture at FIT. What knowledge or advice did you hope to leave with the students?
I hope to impart to students that design is about working with contemporary criteria to shape our future human experiences. Hence, it is about working with the industry to create quality, betterment, and [opportunities to evolve] us forward.
For young designers, I always give the advice: Be smart, be patient, learn to learn, learn to be really practical but imbue poetics, aesthetics, and new paradigms of our changing product landscape. You must find new languages, new semantics and new aesthetics, and experiment with new material and behavioral approaches. Also, always remember obvious human issues in the product, like emotion, ease of use, technological advances, product methods, humor and meaning.
What are you working on right now? Any new projects you can share?
Right now, I'm working on a pop-up store for a French shoe brand, a line of eyewear for a Korean brand, new lighting with Axo Light, an electronic bidet, an extension of my Lamborghini furniture collection, a new water bottle, a retail complex in Saudi Arabia, three interiors of hotels in Norway and Germany, an office in India, and a fantastic modern condo in Moscow.