As winter marches on, design brands at home and abroad are coming up with innovative ways to display home furnishings and decor in brand new spaces. In our monthly roundup, BOH gathers all the expansions and openings to have on your radar.
Showroom Spotlight: Élitis debuts two new showrooms in Florida and Los Angeles
After the successful opening of Élitis's flagship U.S. showroom in New York more than six years ago, CEO Olivier Thienpont knew the French wallcovering brand wasn't finished staking its claim on major American design hubs. Recently, the company made good on its promise, targeting its next two largest U.S. markets for the debut of new showrooms—a 2,600-square-foot space in the South Florida Design Park, and a 1,800-square-foot space in Los Angeles's Pacific Design Center.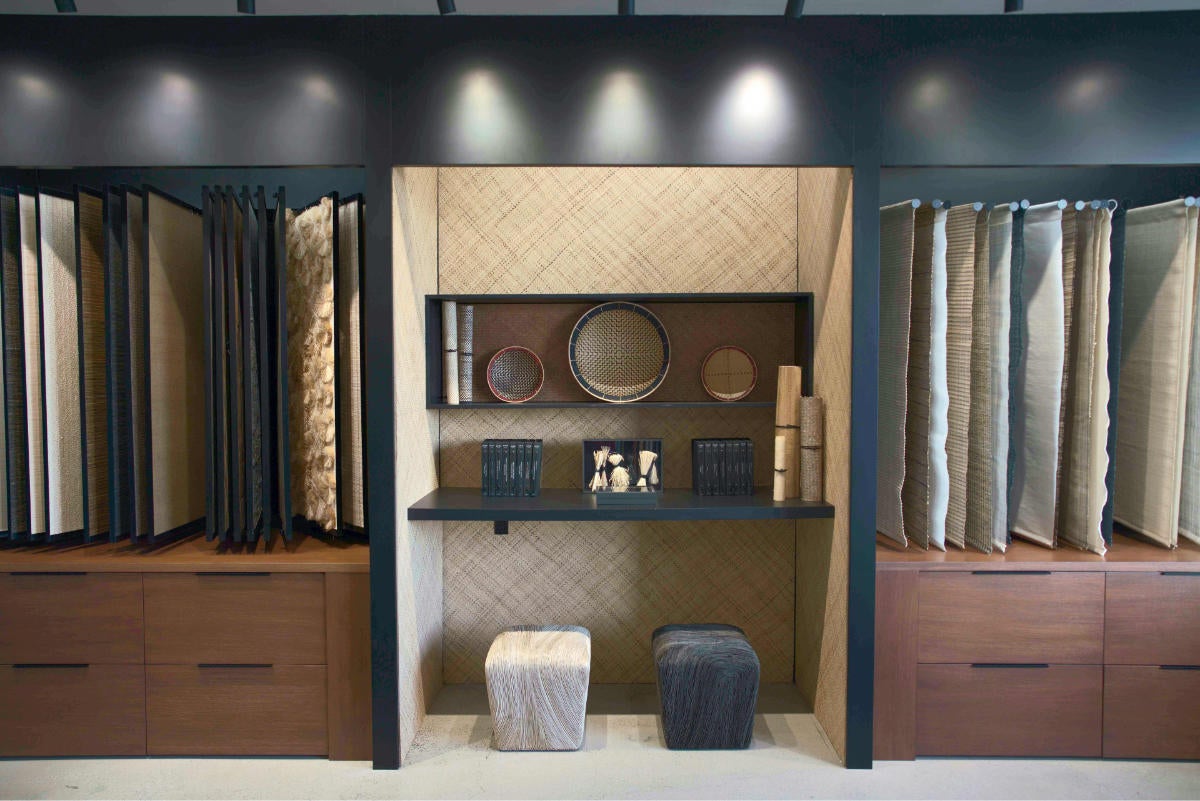 Both spaces are branded standalone showrooms featuring Élitis fabrics, wallpaper, wallcoverings, and accessories, plus CMO Paris wallcoverings and fabrics and Asteré wallpapers. Each was designed internally by the Élitis team, with a focus on creating a warm, inviting atmosphere through millwork and warm wooden accents—a contrast, Thienpont says, to the concrete-heavy industrial aesthetic adopted by many other industry spaces. The focus on comfort reflects Élitis's goal of providing designers with a showroom that feels like "an extension of their office," according to Thienpont—a message that the company hopes to convey as it continues to put down roots across the U.S.
"We're investing in the future, because the U.S. is an incredibly important market for us," says Thienpont. "The goal is always to provide the best service and find the best products, and be a one-stop shop for anything wallcoverings and fabrics."
California
Arcsine announced the opening of its second showroom from architectural tile company Fireclay. Unlike the brand's original trade-focused showroom in San Francisco, the new West Berkeley space is geared towards homeowners and designers looking for more accessible tile options. The 850-square-foot space offers an open and airy home to Fireclay's handmade tiles, with an exposed ceiling, center skylight, light wood tones and an off-white palette.
Florida
Father-daughter design duo Barry and Amanda Lantz opened a new Lantz Collective shop in Naples, Florida. The 1,300-square-foot space includes a variety of furniture, lighting, decorative accessories, gifts and books, along with Barry's trademark colorful abstract landscape paintings. In addition to design services offered in store, Barry's studio will be located in the rear of the shop, where both design and retail clients can request custom commissions.
New York
Brooklyn–based interior design and architecture studio General Assembly opened a brick-and-mortar store in the borough's Boerum Hill neighborhood. Dedicated to providing customers with home improvement offerings from decoration to renovation, the space features decor objects and custom pieces made to order; furnishings from designers such as In Common With, Vonnegut Kraft and Ford Standard; and a curated selection of materials and finishes ranging from flooring and tiles to fabrics, hardware and paint. Owners Sarah Zames and Colin Stief also plan to use the space as a destination for design talks, collection launches, photographic exhibitions, and celebratory dinners between design trade members, clients and DIY enthusiasts.
High-end tabletop and textile store Chilewich opened its second store location at 213 East 59th Street in New York. Designed by Chilewich CEO Joseph Sultan, the space offers a full suite of sample and swatch offerings, an array of customization options and a conference room where designers can meet with clients or colleagues. In spring 2022, the store will also be home to an outdoor garden and event space designed by Brooklyn-based DLANDstudio.
Kravet announces the opening of a new showroom in Woodbury, New York, located alongside the brand's new corporate headquarters. The space showcases an assortment of furniture, fabric, wallcovering, trim, decor, and more, along with spaces where designers can work with clients or Kravet staff in private designer studios. Other features include a shop-in-shop The Shade Store destination, where designers can create custom window treatments with a 10 percent discount when selecting a Kravet fabric, as well as the Kravet archive—where archivists and product developers work to preserve the company's collection of more than 32,000 original documents—visible to designers through a glass divider.
Outdoor furniture brand Brown Jordan announced plans to debut a 6,600-square-foot showroom at the New York Design Center. Slated to open by September 2022, the new location will feature a range of the brand's most popular collections alongside recent releases such as the Oscar and Moto lines by Ann Vering and H by Toan Nguyen, plus furniture collections by iconic designers Walter Lamb and Richard Frinier and special installations from the brand's design archives.
Nevada
Hooker Furnishings moved into a new 8,500-square-foot showroom in the Las Vegas Market. In the space, four of the company's brands—Hooker Furniture, Sam Moore, Bradington-Young and Marq—will be displayed in a format different from Hooker Furnishings's traditional High Point showroom, instead showcasing how pieces work together outside of their collections or brands.
Pennsylvania
Serena & Lily is opening its first Philadelphia area location along the Main Line in Haverford. The Main Line Design Shop, housed in a 4,000-square-foot space, will display a curated assortment of the luxury home brand's furniture, bedding, and home accessories, plus an outdoor space showcasing the company's outdoor collection. Other features include a swatch display featuring more than 300 original textile and wallpaper designs, a rotating gallery of original artworks highlighting Pennsylvania artists, complimentary design services, and a creative workspace for interior designers.
International
Luteca opened its first European flagship—the company's third showroom—in Paris's 2nd Arrondissement. Located at the edge of Galerie Vivienne, the space was designed by Aure Delaroiere of MPM Architecture with a nod to the brand's roots in Mexican ancestral craftsmanship—along with a mix of materials in warm terracotta tones and natural stone finishes, the showroom includes hand-woven palm furniture and indoor trees.
Bathroom brand Coalbrook debuted a new retail store in central London. Situated inside a former tobacco-pipe factory, British design studio Holloway Li re-imagines the space, taking into account the brand's roots in the village of Coalbrooksdale in Shropshire, where high-quality iron was produced during the Industrial Revolution. The space's ground floor is designed to appear like a landscape of industrial chimneys, with casts of Victorian bathroom wall panels displayed in orange and amber resin, while the basement is modeled after a subterranean engine room featuring two industrial boiler replicas hollowed out to display products.
Homepage image: Inside Élitis's new showroom in the South Florida Design Park. | Courtesy of Élitis