Earlier this month, DIFFA: Design Industries Foundation Fighting AIDS hosted its largest and most successful Picnic By Design, raising $50,000-plus to benefit the organization's grants. Twenty designers created and donated themed picnic baskets for the event's annual auction, held this year at the Stage 48 rooftop in New York.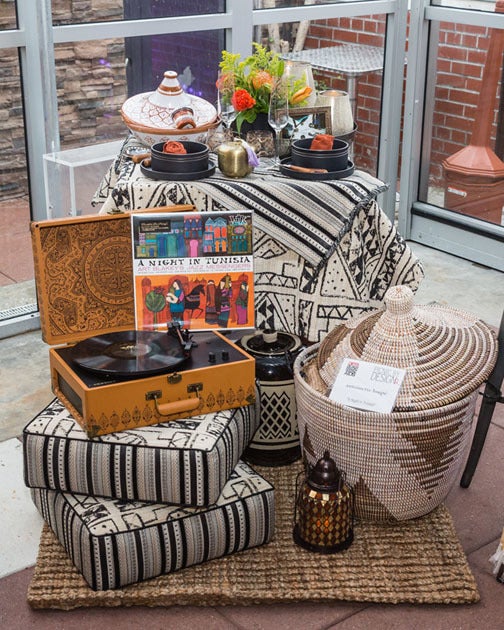 "With our largest and most successful picnic ever, we are overwhelmed by the outpouring of generosity from our designers, sponsors and guests," said Johanna Osburn, DIFFA executive director.
"Representing a range of design disciplines, our supporters fuel our efforts to help fight HIV/AIDS here in New York and across the country," she continued. "Our community comes together to share their creativity and works with us to support organizations who are providing education, direct services and prevention efforts for so many thousands of people at risk or living with HIV."
Among the themes were "A Night in Tunisia" by Antoinette Loupé, "Picnic in Provence" by Stacy Garcia, and "A Romantic Sojourn" by Ted Moudis.
Other designers included Andrea Schumacher Interiors, Canard, DwellStudio, FXFOWLE, Gensler/Studio TK/LUUM Textiles, jesGORDON/properFUN x Dirt Cobain, Lladró, Matouk, Mitchell Hill, Michele Alfano Design in partnership with Tiago Fonseco, NPZ Style + Décor, Scott Brogan Group, Sheila Bridges–Harlem Toile, Stillwell Events NYC with Elegant Affairs NYC, Tito's Handmade Vodka, Vanessa Deleon Associates, Wills Design Associates, World of Wonder's "DragCon Basket" styled by Tyler Wisler, and Yetta Banks for Viacom.
"I am honored to have been chosen to design a basket this year. It's a fun challenge to create a visually appealing and functional display that will be bid on and can be carried home!" said Garcia. "Picnic By Design is always a great event full of old and new friends and inspiring displays. As a designer and ally for the LGBTQ community, I was drawn to DIFFA's work. I have friends that unfortunately lost their battle with HIV and I support DIFFA in their honor."