We've reached a high point as a nation. Medical marijuana is available in 33 states. Recreational marijuana is legal in 10, and bills are pending in a handful of others. Society may be divided on many things, but collectively, we seem to be interested in chilling out. And as the country trades its Puritanical reflexes for CBD oil, the cannabis industry has emerged as a bold new category in design. And that's not just chirpy investor talk: According to New Frontier Data, legal cannabis is forecasted to generate $13 billion in the U.S. this year.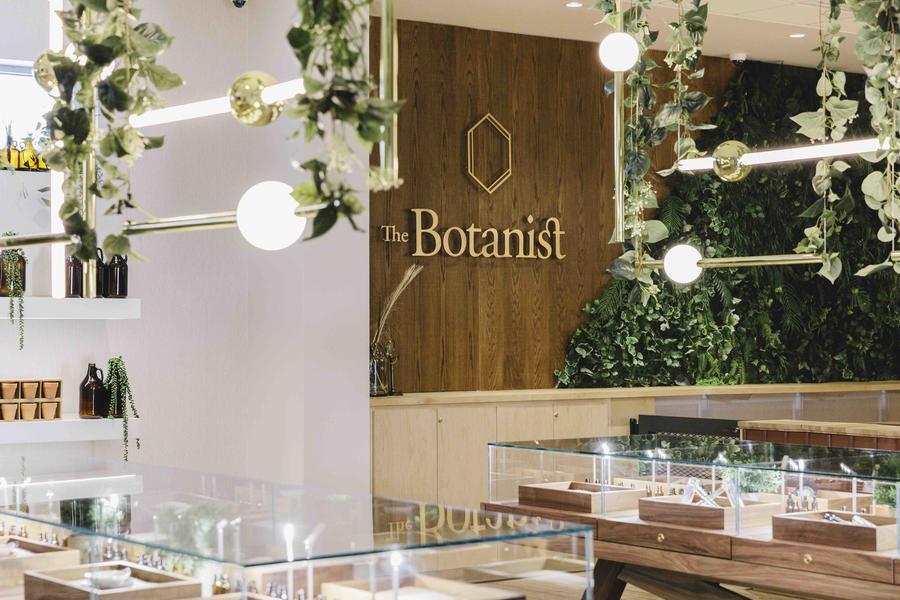 Those projections suggest an opportunity for designers and architects to create beautiful, well-appointed environments to actually get the stuff. "Designers should be excited about helping this industry evolve, there is so much that cannabis dispensaries can learn from hospitality, from flow to menus, and by thinking this way they'll immediately realize the potential," says interior designer Amy Morris. Her Brooklyn-based firm, The Morris Project, is developing the design and style direction for Theory Wellness, a small-batch cannabis company with recreational and medical marijuana dispensaries in the Boston area.
Seedy pot dens are part of marijuana's retro (and formerly illegal) days—the new era of cannabis culture is about inclusion and information. Companies like MedMen, which debuted in 2010, saw the legalization of marijuana as more than a pipe dream. The brand was one of the first to make cannabis procurement a retail transaction instead of an awkward detour to a dealer's place on the other side of town—their locations feel more like Apple Stores than head shops. With a legitimate foundation in place, an enterprising wave of new purveyors are approaching the market with a focus on design and fully informed lifestyle concepts.
In many ways, cannabis has always been a luxury product—it's like buying a really nice bottle of wine
AMY Morris
"Until recently cannabis dispensaries did not give much thought to design [because] they didn't need to," says Morris. "Everyone was curious about the product and there was less competition." Branded vinyl window screens, poor layouts and crammed display cases are among the aesthetic crimes of many dispensaries—all of which highlight the need for real and considered design influence. Morris describes her concept for Theory Wellness as "modernist roots meets urban loft," which "spoke to both the ethos of the company and the bones of the space."
While the project is still in its early stages, she details her plan for the space, which will feature ribbed windows that allow for natural light but maintain privacy from the street; well-organized products and carefully curated sculptural display cases; a reading nook; a water/tea station; and seating areas for customers to come in and learn about the offerings. Creating a sense of community and safe harbor is essential for Wellness Theory. "This is a new product for many—you want them to feel comfortable, give them a place to digest all the information," says Morris.
The Botanist, a wellness-focused medical cannabis dispensary from Acreage Holdings with locations around the country, also places a premium on education. The company has created the Seed Bar, an area designed as a "safe space" for customers to learn and engage. The design is quiet and inviting—picture a walnut island wrapped in terra cotta and surrounded by plant life—and is meant to be a nonjudgmental spot for anyone wanting to learn about medical cannabis without feeling embarrassed, says Claire Coppins, creative director at Acreage. "That doesn't mean that there's a medical vibe to it," she says. "The whole point is to have a beautiful store that is a familiar retail experience, so it doesn't feel intimidating. Obviously, cannabis being so new, people are a little nervous to step into a dispensary for the first time. They have so many questions."
Canadian design studio McKinley Burkart collaborated closely with Acreage on The Botanist concept. Drawing inspiration from 19th-century greenhouses, crafted wooden display cases are meant to evoke an era of scientific inquiry in the natural world. There's a Lee Broom fixture in the Worcester location. "You'll notice a lot of terra cottas and olives and natural materials throughout our dispensaries. It's a thoughtful approach," says Coppins. "With other dispensaries, I've noticed the lack of retail and lifestyle experience in the design."
Making people feel at ease in their surroundings is what interior designers specialize in—whether they're creating a fresh-start residence post-divorce or outfitting a medi-spa that offers the best Botox package in town. Working that magic in burgeoning industry where the laws are still being written presents a unique challenge. Every state has individual regulations to adhere to. And like every business, real estate is a factor. "We can't just go to any street or a mall and move in like we're Zara," says Coppins. "We are limited to where we can get a license. So, we have to be flexible in our design and be able to pivot."
The Botanist has nine locations at present, with plans to expand in 2020. Working in this niche means being mindful of every legal nuance. "We can't display images of the cannabis plant, for example," Coppins says of New York state law. "We of course respect the regulations of the state and put our creative energy into what we can do. That includes using cool typography with botanical illustrations to yield the same effect that images of cannabis might provide. We also place upbeat phrases like 'Sow good seeds' thoughtfully throughout the dispensary's walls and windows. It helps create a more relaxed, happy vibe while a patient navigates the space."
As attitudes about pot change, forward-thinking brands are also paying attention to demographics. "Stoners" are revealing themselves to be top executives, business leaders, parents and regular design-minded people—real luxury consumers, finally able to open the window without fear of reprisal.
Barneys is all too happy to cater to this market with The High End, a cannabis emporium that opened this spring in the store's Beverly Hills location. The fifth-floor space sells elegant accoutrements and deluxe accessories for the look-good, feel-good cognoscenti in addition to a partnership with the brand Beboe, which produces a line of natural cannabis products. The space is chic and minimalist and delivers an upscale experience.
Given that Barneys practically created retail fetish culture, the fact that the brand is on the forefront of the cannabis lifestyle movement is both brilliant and seismic. Now that the luxury tastemaker has invested in the category, it lends cache and credibility to the lifestyle and more possibilities for good design. "In many ways, cannabis has always been a luxury product—it's like buying a really nice bottle of wine and it's great that it's finally being seen this way, that dispensaries have budtenders that can talk about the flavor profile and food pairings," says Morris. "I've always felt the experience should be elevated."