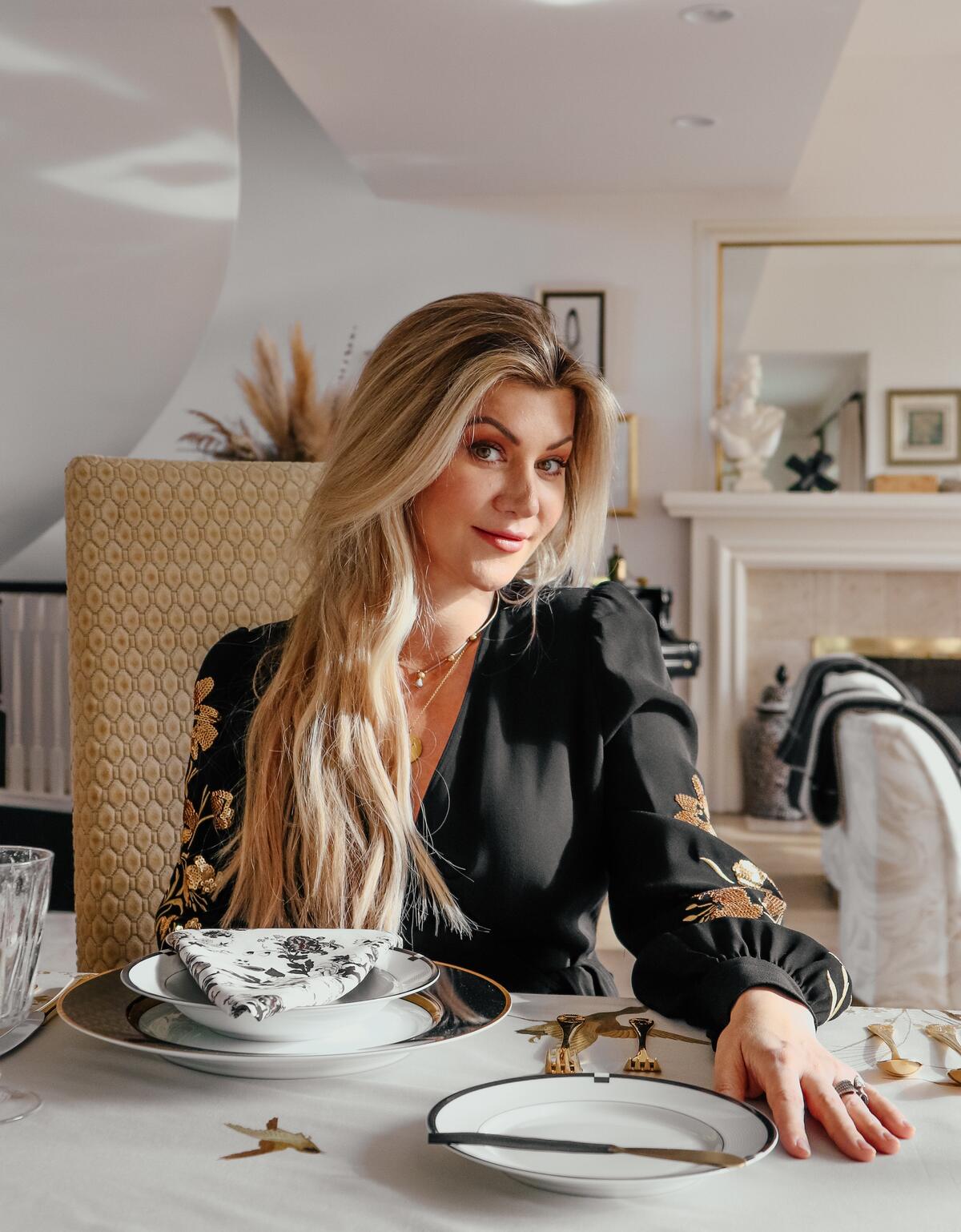 Courtesy of Kelli Fontana
The Tile Shop has a refined eye for talent, teaming up with an array of partners, from centuries-old English labels to of-the-moment reality TV stars. But this summer, the Plymouth, Minnesota–based brand found the perfect collaborator right in its own backyard. Located just outside Minneapolis, creative director and designer Kelli Fontana has managed real estate company West Bay Homes alongside husband and co-founder Richard Vogelgesang for more than 20 years. In that time frame, Fontana has decorated many a handsome house with styles from The Tile Shop. The evolution from neighbor to collaborator was only natural.
"I was beyond excited when The Tile Shop asked if I'd be interested in creating a collection," says Fontana. With two decades of interior projects under her belt, she considered product design the right challenge at the right time. "Developing not just the home but the materials to put into it was the logical next step and something I'd always wanted to do."
In the enviable position to design pretty much whatever she wanted, and aided by The Tile Shop's expert guidance, Fontana narrowed her focus by relying on the tenets that have served her so well so far: "I distill every project down to its essence by asking, 'What do I want to say, and what are the three main pillars to say it?'" She sums up her aesthetic in three words: "Classic, bold and whimsical—that captures my point of view. It's a timeless, statement-making approach that doesn't take itself too seriously."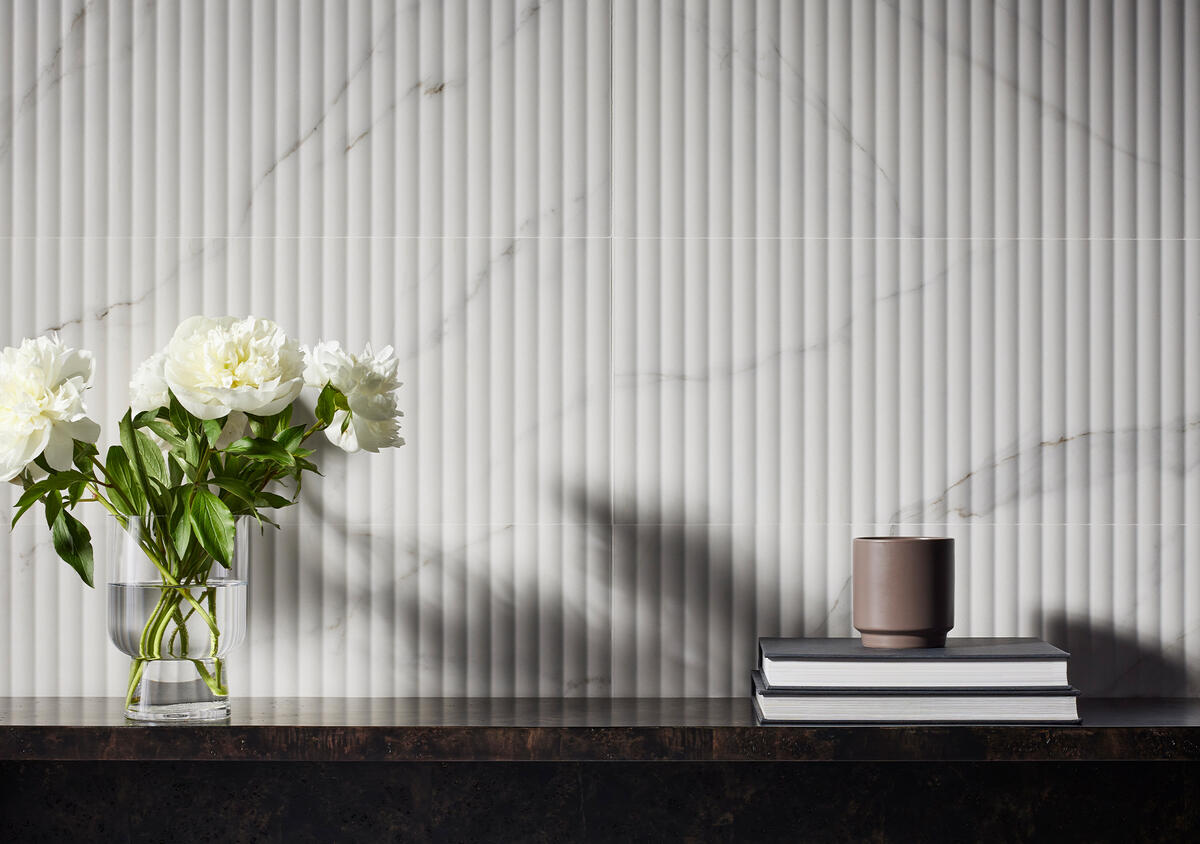 Courtesy of The Tile Shop
The trio of designs in Fontana's Tile Shop collection could be said to embody all three of these characteristics, but if just one were to represent each, Tommas would claim the mantle of classicism. In the Italian marble–mimicking Carrara colorway or soft white Classico, the large-format, matte-finished ceramic wall tiles feature raised, elegantly rounded rows that deliver sculptural dimensionality whether placed horizontally or vertically. "It's as foundational as a Roman column," says Fontana of the fluted, "masculine" style. Named in honor of her father, Thomas, she considers it the tile equivalent of the strong, silent type: "It's quiet but also so powerful in its simplicity," she says.
Supplying a big, bold hit of vintage glam, Patina steals the spotlight—then reflects it back throughout a space. "Oh yes, it's a mirror. You can see yourself in it," says Fontana. For the brave of heart (and body), she suggests an entire bathroom—walls, ceiling, floor—done up in the lustrous amber gold of the Gilded colorway. As a horizontal accent and backsplash along the rear wall of her own kitchen, she used the silver-tinged Siren to make up for an absence of windows. "The tiles reflect the garden view beyond the French doors tracing the perimeter of the room. It's a wonderful way to bring nature into areas that are otherwise not connected to the outside," she says. A designer go-to for creating the illusion of extra space, mirrored tiles may have a reputation for skewing disco, but Fontana knows it all depends on the application.
Courtesy of Spacecrafting Photography
"It's a daring choice, but I use it to highlight architectural details," she says. "You can maximize the dazzling impact if you cover a bathroom in it, but even if you just outline the top of a wall or use it to border a baseboard, Patina does double-duty by adding depth." The tile's lightly weathered finish tempers the surface's shiny newness with a suggestion of history, and the three colorways—Eclipse, a smoky blue-gray, completes the hat trick—expand the potential locales it could adorn. "Patina is a chameleon," says Fontana. "I can picture it in a contemporary home, a minimalistic one and a more rustic one as well. The opportunities are limitless, and I think mirror is a totally enduring material that will never go out of style."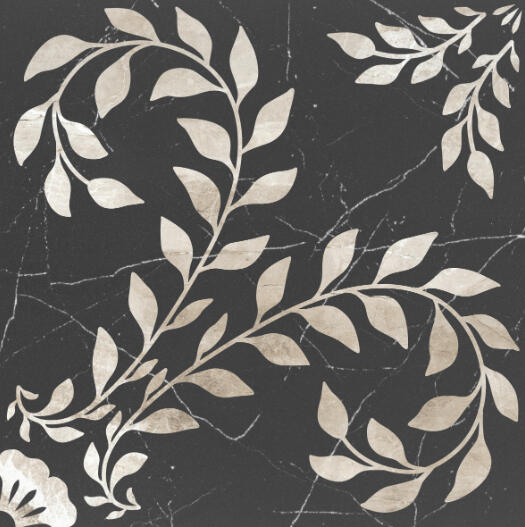 Courtesy of The Tile Shop
A gorgeously ornate counterpoint to the streamlined curves of Tommas and high-glitz decadence of Patina, porcelain Inlay Proper was birthed from Fontana's Bone Inlay wallpaper series and translated into a new medium by The Tile Shop. While the pattern is indeed plenty classical, and with drama to spare, the delicate blooms and winding vines of the square matte tiles can't help but convey a certain sense of whimsy. "It's an elegant, feminine style that would be beautiful on a kitchen floor, in a foyer, a four-season porch and of course a powder room," says Fontana. A palette of neutrals places the tiles anywhere from a sun-bleached beach house to a sleek city apartment: Florence Lace has a white marble-look ground and silvery travertine-like leaves; Naples Beach, a warm taupe with white; and Eden Ode, a rich veined black with beige.
"Working with The Tile Shop has been a dream come true, and being accessible really helped us personalize the collection together. It has so much versatility," says Fontana. "The three designs stand alone but could all be used together. And we were careful to make sure the colorways and sizes would also work well with a broad assortment of tiles." That may come to include more variations on her trademark classic, bold and whimsical method. Fontana has no shortage of ideas for fresh directions, and lucky for her, the best possible partner to bring them to life happens to be just next door.
This story is a paid promotion and was created in partnership with The Tile Shop.
Homepage image: Designer Kelli Fontana's debut collection for The Tile Shop consists of a rich mix of materials, including mirrored Patina tiles in three colorways, fluted Tommas ceramic wall panels and Inlay Proper porcelain squares | Courtesy of The Tile Shop