In our series, What I Love, we're asking designers to build us a mood board of what's inspiring them right now.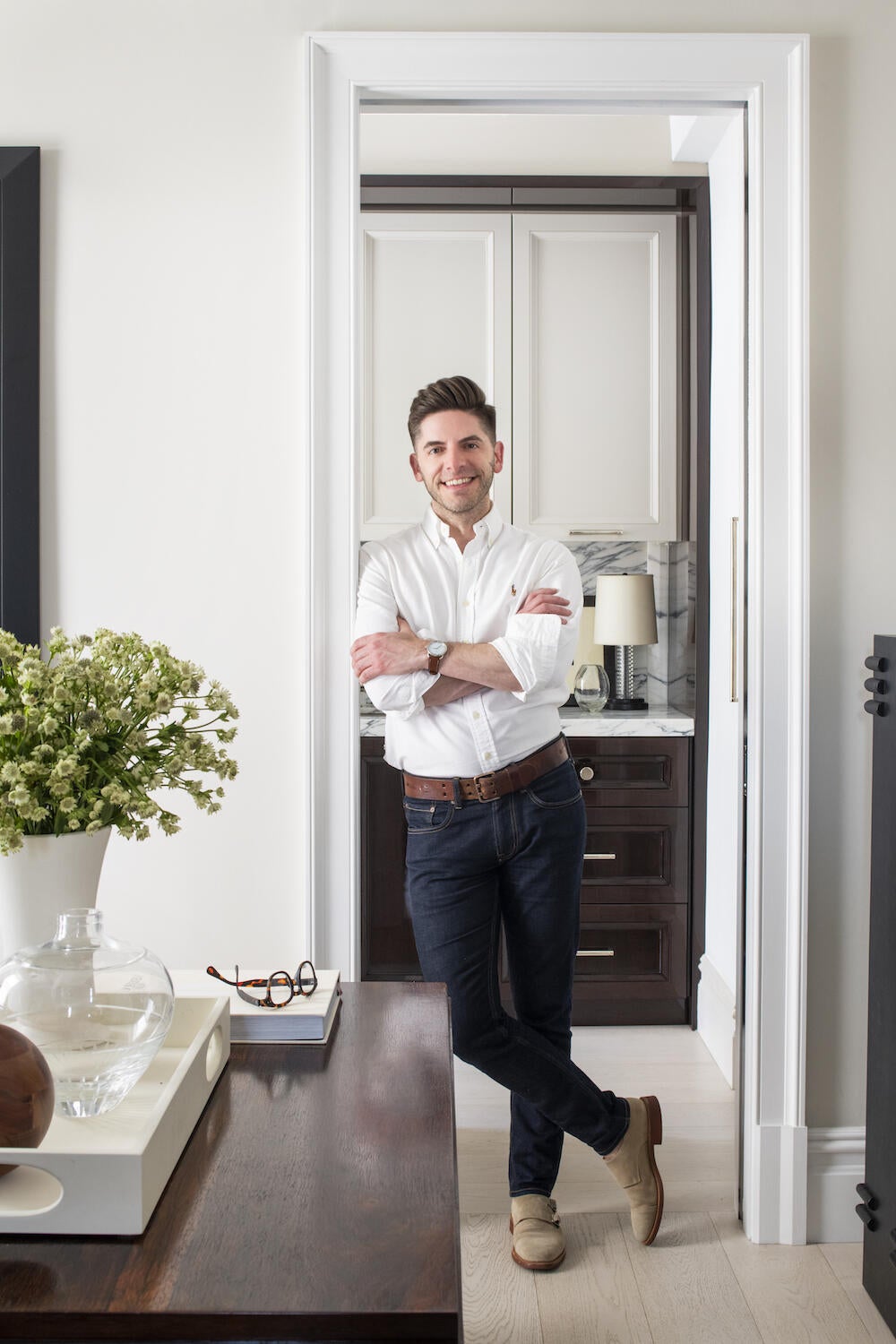 Dan Mazzarini is having a moment with color. Though the New York designer and creative director behind BHDM Design—and Archive by Dan Mazzarini—typically gravitates toward warm, creamy neutrals, lately he's been focusing his attention on bolder hues. "I am in the middle of renovating my home on the North Fork [of New York] and am pulling a lot more color than usual," he tells Business of Home. "Terra cotta, olive, sage and sand all seem to be finding a place in the palette."
His current flat lay—designed with his Long Island property in mind—offers a well-balanced mix of earthy materials and saturated shades. "I'm employing textiles that can live both indoors and outdoors," he says. "I also wanted more texture and color in the space, which is coming through in the form of striped fabrics, patterned wallpaper and even splatterware plates."
The final scheme is equal parts casual and coastal, teeming with rich earth tones and organic motifs. "We want people to make themselves at home in our home, so we're playing up the Americana cottage vibe," he says. "Easy, breezy—with some added color and texture for fun."
Here, Mazzarini breaks down the details, from woven leather pillow covers to hand-printed botanical upholstery.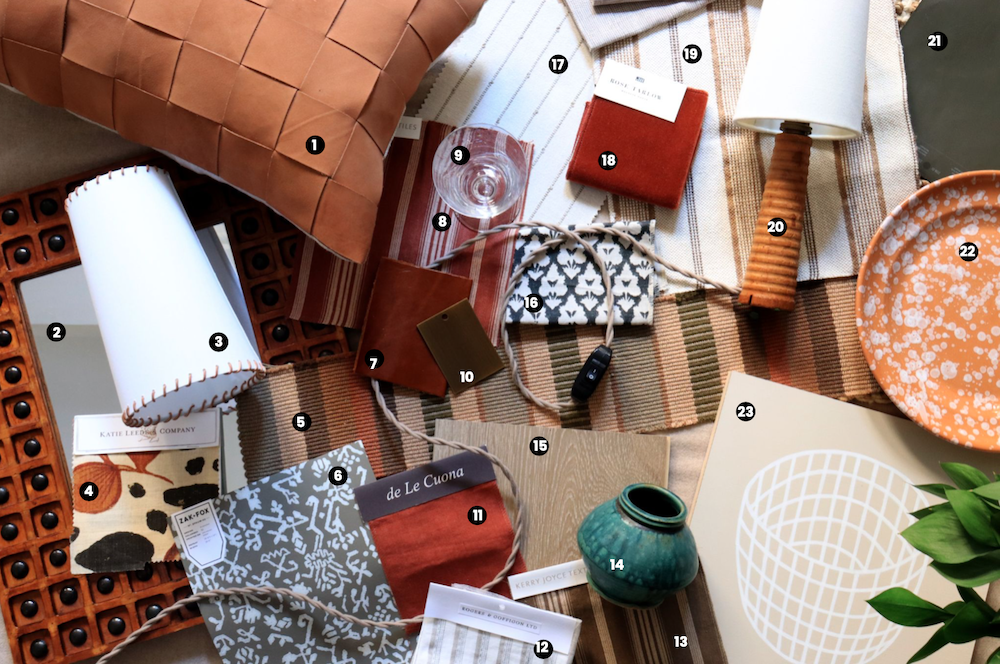 1. WOVEN LEATHER LUMBAR PILLOW COVER BY ARHAUS
"I love this woven leather pillow cover to add some timeless texture. Leather is unexpected on a pillow."
2. VINTAGE MIRROR
"'Crusty, dusty' items, like this vintage mirror, decorate our home and add a sense of heritage."
3. CUSTOM STITCH EDGE LAMPSHADE BY JACK OF ALL SHADES
"I've always loved whipstitch shades, so I had an extra-large coolie pendant light shade made [by Jack Of All Shades] for our dining table."
4. SHADE OF SYCAMORE FABRIC IN SAFFRON BY KATIE LEEDE & COMPANY
"This bold botanical fabric seems to tie together all the colors in our home in one bold pattern."
5. WOODARD WEAVE RUG IN CEDAR HILL BY WOODARD & GREENSTEIN
"I'm stepping outside my usual quiet palette with this striped cotton rug. The overscale stripe and many colors will be a fun and unexpected addition to our living room."
6. AUSPICIOUS WALLCOVERING IN NO. ZFAUW-03 BY ZAK+FOX
"Sometimes materials just call to you—and with this wallcovering, a guest room was born."
7. MONT BLANC LEATHER IN CARAMEL BY MOORE & GILES
"I love some saddle leather in any project. For a beach house, we're using this for built-in banquette cushions."
8. ADDISON STRIPE FABRIC IN BRICK SAND BY KERRY JOYCE
"These Kerry Joyce stripes feel both vintage and timeless, adding quiet sophistication to a space."
9. FRENCH WINE GLASS BY CRATE & BARREL
"Inspired by the grand dame Ina Garten, these wine glasses set the perfect summer table."
10. PLATED ANTIQUE BRASS LIGHT FIXTURE FINISH SAMPLE BY HB LIGHTING
"I used unlacquered brass in all the house's hardware and fixtures. We love the patina and warmth of antiqued brass."
11. ARTIST CANVAS FABRIC IN RED EARTH BY DE LE CUONA
"This handsome linen is rich in texture and weight, making it perfect for a casual all-seasons drapery."
12. PJ 740045-01 FABRIC IN CLOUDBURST BY ROGERS & GOFFIGON LTD
"I'm coming back to cafe curtains, and using this gauzy stripe to add them to our kitchen and baths."
13. ADDISON STRIPE FABRIC IN PEAT SAND BY KERRY JOYCE
"A stripe that's so nice, we used it twice! I love how this earthy colorway complements any neutral palette."
14. VINTAGE POTTERY AT BEALL & BELL ANTIQUES
"Found items can add delightful color to a room or tablescape, and this little teal pot was found at nearby Beall & Bell in Greenport, New York."
15. SAUVIGNON OAK EXTRA-WIDE FLOORING SAMPLE BY CALI BAMBOO
"I've used this flooring in a few projects to great success. It comes in great prefinished colors, and seems to be very durable, even with pets and guests."
16. ARBORETA FABRIC IN CHARCOAL BY THIBAUT
"This pattern adds a bit of graphic heft through pillows on a white sofa."
17. VINEYARD WAY FABRIC IN DESERT LANE BY VALLEY FORGE FABRICS INC.
"I'm using this indoor/outdoor fabric [from Valley Forge Fabrics Inc.] on two of our living room chairs. Since it's made of polyamide, there's no need to worry about wet suits."
18. LUGANO FABRIC IN PAPRIKA BY ROSE TARLOW MELROSE HOUSE
"Mixing in a little velvet adds a luxe layer to my otherwise humble palette."
19. STIRLING FABRIC IN TAUPE BY THREADS AT GRAHAM SANDERSON INTERIORS
"A classic ticking stripe on a larger scale—I love this fabric cut on the 45 to make concentric square pillow covers."
20. VINTAGE RIBBED WOOD LAMP
"Little lamps on a kitchen counter always remind me of my childhood, because my mom always had one. This one adds a warm wood tone to our soapstone counters."
21. GREEN GROVE PAINT BY BENJAMIN MOORE
"I love a contrast door, and I decided to use this mossy color for a nontraditional twist. This plus brass hardware creates a knockout look."
22. WHITE ON TERRACOTTA SPLATTERWARE DINNERWARE BY MARCH
"These are so fun, casual and different from your everyday white dinnerware."
23. CUSTOM BASKET ART BY MICHAEL MCGUIRE
"Michael McGuire's art is both primitive and architectural. I have his pieces in all our homes."
Homepage photo: A flat lay by Dan Mazzarini | Courtesy of BHDM Design