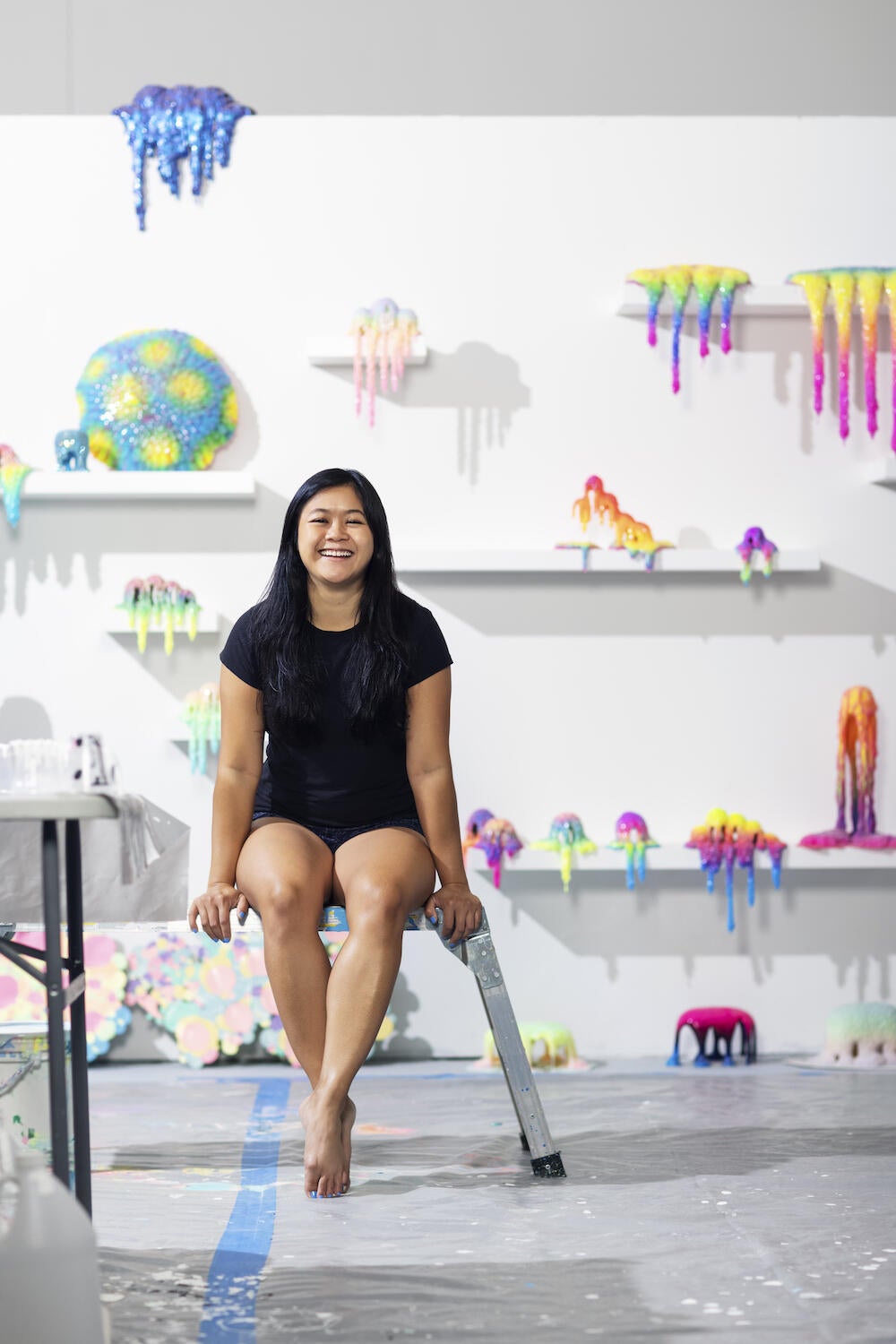 Color is critical to Dan Lam. The Dallas artist employs principles of color theory in her sculptural works to convey certain feelings or reactions. "It's a formal exploration of how the colors interact with one another, as well as an emotional one," she tells Business of Home.
Growing up in Texas, Lam was exposed to art at an early age. "My mom had a job hand-embellishing and painting home goods for a company in Houston, and she'd often take me to work with her," she says. "That influence, plus being an only child, contributed a lot to how I found creating as an outlet."
As an undergraduate, Lam studied drawing and painting at the University of North Texas before earning a master's degree at Arizona State University in the same field. While in graduate school, she started experimenting with ceramics and sculpture. "It always felt natural and made sense to me," she says.
In 2016, she launched her Dallas-based studio inside an 1,800-square-foot loft in the Tin District neighborhood and began exhibiting her work at galleries throughout the country. Since the beginning, her work has taken many forms: "[For] my first solo show, there were around 40 pieces, all varying in sizes and types, including lots of wall works, [which I call] 'blobs,' and shelf sculptures, [or] 'drips.'"
Courtesy of Dan Lam Studio
All of Lam's pieces are hand-made using a variety of nontraditional materials—including polyurethane foam and epoxy resin—and no two sculptures are the same. "Much experimentation goes on in my studio, but the trial-and-error part of the process differs from what's presented in the final works," she says. "A finished piece is usually refined and the result of figuring things out over time."
She first discovered her choice of medium, polyurethane foam—a chemically engineered polymer often used for thermal insulation—while studying the work of sculptor Lynda Benglis in school. "I loved how she used the foam as a gesture, and its puffy, soft appearance," she says. "It's a two-part liquid that you mix before a chemical reaction happens, so there's a short window of time to work with the material before it starts to set. This means I have to work with it, rather than manipulate it precisely to do something."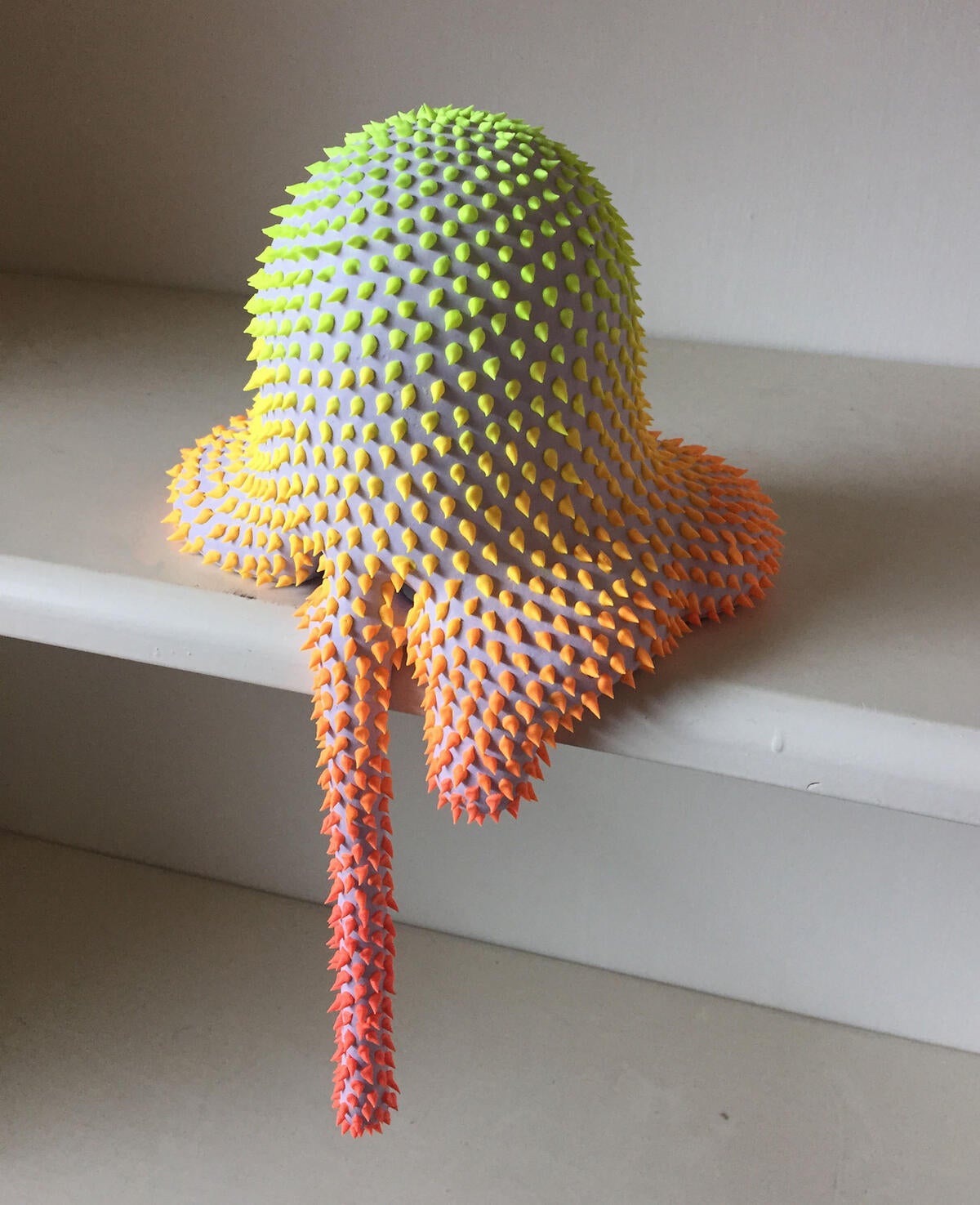 Courtesy of Dan Lamb Studio
Lam looks to the natural world, as well as psychedelics, for inspiration. After forging her trippy, free-form sculptures, she embellishes them with everything from iridescent finishes to rhinestones and spikes made from acrylic paint (applied with a cake piping bag). "I use the spikes to highlight form, play with color and create a visceral feeling in the viewer—like a cactus that looks inviting, but it could hurt you if you touched it," she says. "The crystals and iridescent finishes are a way to basically 'beautify' an 'ugly' material, like sugarcoating something to make it more palatable."
Looking ahead, she'll be hosting exhibitions across the United States throughout the rest of the year, including a large-scale installation for Meow Wolf in Grapevine, Texas, this summer and a solo show at Hashimoto Contemporary in New York in December. "Self-expression is what motivates my work the most," she says. "My mission is to do just that—express myself and connect with others through our shared experience of living."
If you want to learn more about Dan Lam, visit her website or Instagram.
Homepage image: Dan Lam inside her Dallas, Texas studio | Justin Clemons