Dacor is both an old company and a new one. Founded 50 years ago, the luxury kitchen appliance brand has a storied history, but hit hard times in the 2008 recession and went relatively quiet until it was snapped up in 2016 by South Korean giant Samsung. With new ownership came new investment, new technology (the company now offers refrigeration products), new designs (a sleek graphite-steel line called Modernist) and a new mandate to capture the top of the market.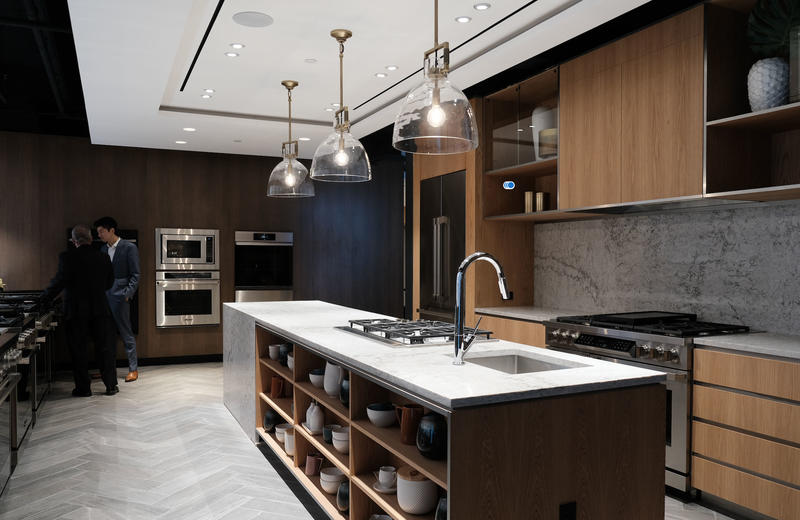 To that end, Dacor has big plans this year. For the first time in its history, the company will open dedicated showrooms: one in the A&D Building in New York, one in TheMart in Chicago and a stand-alone location near the company's U.S. headquarters in Southern California. The New York location, which opened today, is the first to debut—and, in what is fast becoming a must for luxury appliance brands, incorporates a kitchen theater alongside more standard showroom fare.
It's no secret that interior designers drive luxury appliance purchases. Dacor is hoping to woo the design community with a host of decorator-friendly features in its A&D location, including a mini studio where designers can plan with clients; color customization options for range fronts; and luxe features like a refrigerator that incorporates hand-painted porcelain into its interior.
We posed a few questions to brand president Randy Warner, who joined Dacor in March 2018, about the new showroom and what the future looks like for the company.
What was the discussion like when Dacor first decided to open a showroom in New York—and why is now the time to do it?
Dacor has grown and evolved immensely over the past 50 years. That said, we're a brand that hasn't had a dedicated NYC showroom resource for designers, dealers and customers to experience Dacor firsthand. Our intention is to curate a unique environment for both consumers and designers to be excited about Dacor as well as provide designers with a "concierge service" that allows our team to navigate the sale from start to finish. The A&D building, the design hub of New York City, serves as the perfect home to tell our brand legacy story while also showcasing our unique product offerings and innovative technology.
When the showroom was first conceived, what were some things designers said they wanted?
We knew from the start that we wanted to incorporate dedicated areas where designers could bring the designs to life with their clients. This is a common thread you'll find across each of our three new showrooms debuting in 2019: We've created an interactive design studio where we've implemented integrated technology that allows designers to lay out floor plans, select products, download product technology information, and send directly to clients or retail partners.

A lot of appliance brands are pushing to make showrooms as experiential as possible right now. How does Dacor wants the new showroom to stand out?
We are inspired by the philosophy of the "modern entertainer," which means our consumers are those who enjoy cooking as much as entertaining. We're focusing on having not only a beautiful kitchen but also a useful, efficient space that fosters the ideology of modern entertaining.

From partnering with sommeliers who can share their knowledge of how to pair the best wines to floral styling sessions and lessons on how to plate and plan courses and beyond, we are utilizing this space to uniquely present an entire entertainment package and feel this approach will further set us apart from our competitors.

What will constitute success for the showroom?
We want people to know that we're a resource not only when it comes to the products we design, but also with the design services our team is trained and educated on to provide. A win for us is having each visitor leave with the understanding that not only do we sell high-quality and innovative luxury kitchen appliances, but we also offer a collaborative space that provides education on how these products can elevate your home environment.

What are some of the features of the showroom you guys are most excited to share?
The Dacor Kitchen Theater features an interactive design studio offering designers and clients a dedicated space, inclusive of a library wall to seamlessly access samples, create integrated digital flipcharts and determine supplies needed during a consultation to customize any kitchen. The space also highlights our DacorMatch Color System program, which is designed to provide homeowners with endless possibilities to color-customize select Dacor product offerings. Lastly, we have a professional cooking demonstration space, where we're introducing programming and product education led by our in-house chef, Stephen Hualde.