From open-plan new builds to midcentury split-levels to city classic sixes, homes are rarely cookie cutter, so why should rugs be? When more and more customers began requesting popular patterns in one-of-a-kind sizes, Annie Selke, the Berkshire Hills, Massachusetts–based maker of luxury home goods, took notice. Typically, a custom rug required a six-month to year-long lead time to order the materials—hand-woven by artisans in India—cut, finish and ship the final product, but the growing demand called for a more nimble solution. "We decided to bring in big rolls of our most beloved and bestselling micro-hook and flat-weave wool rugs so that our designer and DTC customers could have a made-to-order item in five to 10 days," says Jess Evans, vice president of product design. Two hundred SKUs later (and counting), the brand has never looked back.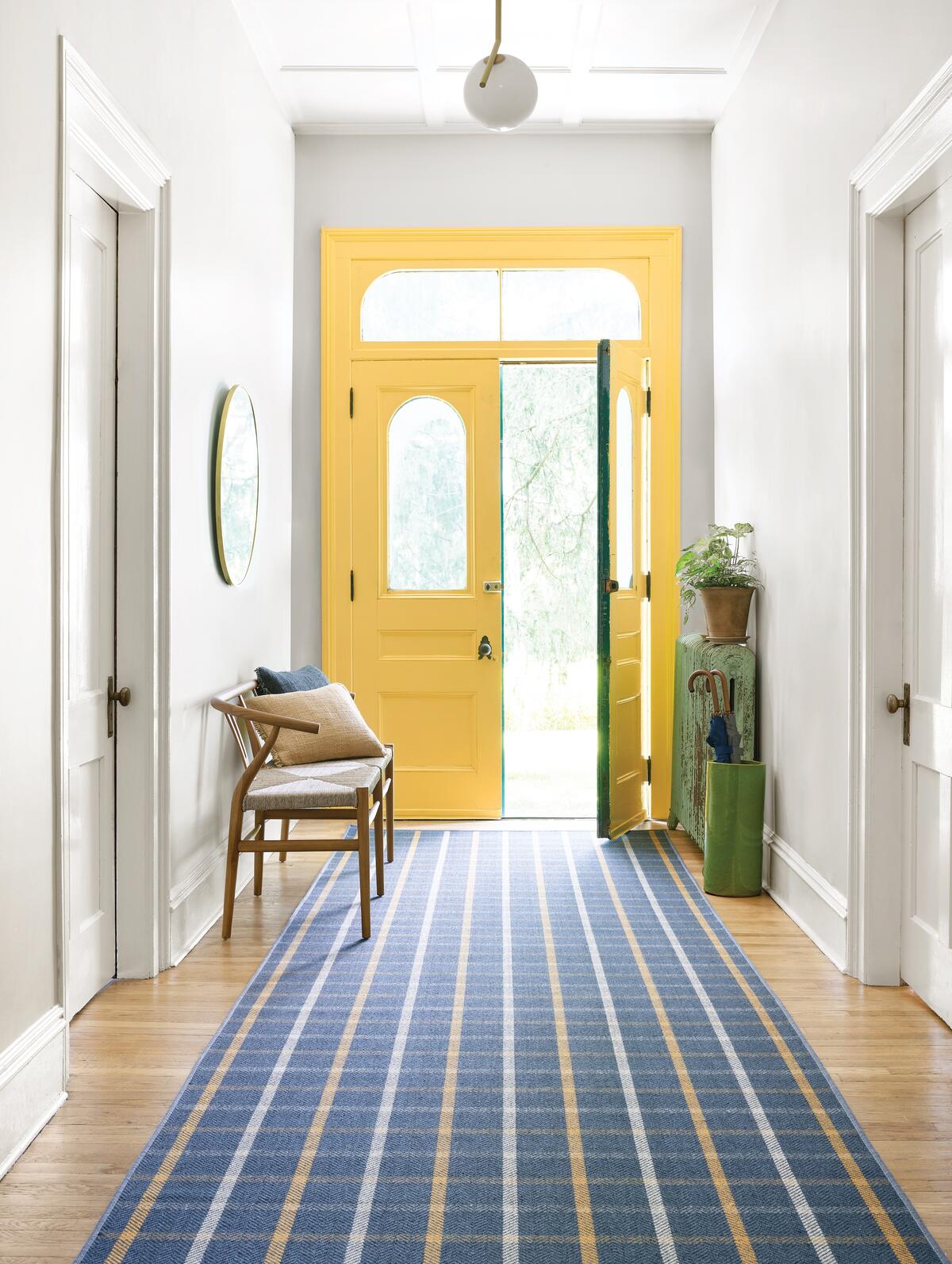 "Our custom rug program is hugely successful and ever evolving," says Evans. "Being able to supply a tailor-made product in such a short time frame is so important to project workflow. Designers know they can order whatever size they want because there's never an inventory issue."
After launching the program in 2019 with a preliminary selection of proprietary Annie Selke designs, the company soon opened it to include partner brands such as Bunny Williams and Marie Flanigan. "They're completely different constructions and serve different purposes," says Evans of the two collaborative lines. "In Bunny's collection for custom, we have wool micro-hooked and indoor-outdoor performance styles. Within Marie's, we have wool and hand-knotted rugs." Styles offered through the custom program are finished with matching serging on all sides, and in most cases come with an attached rug pad as well. Annie Selke account holders also benefit from a 30 percent discount off the retail price. "Designers only have to log in to the trade portal on the website and place their order."
As Annie Selke's custom rug portfolio continues to grow each season, encompassing aesthetics as diverse as bohemian, coastal and farmhouse, Evans foresees more styles that speak to current trends like eco-friendly fibers and improvements to performance materials made from recycled plastics. "Everyone is looking for an item that's going to last, that will withstand whatever their family or lifestyle throws at it," she says. For the perfect fit in size and style, Annie Selke wants to be the designer's go-to source from the start. "The rug is such a significant part of an interior, but sometimes it's the last thing people think of. Why not flip that order and create your palette around it instead? The right rug can completely change how a room comes together." Here, she spotlights some of the standout designs in the custom program.
ANNIE SELKE'S RAINBOW SPLATTERS AND HEIRLOOM PLAIDS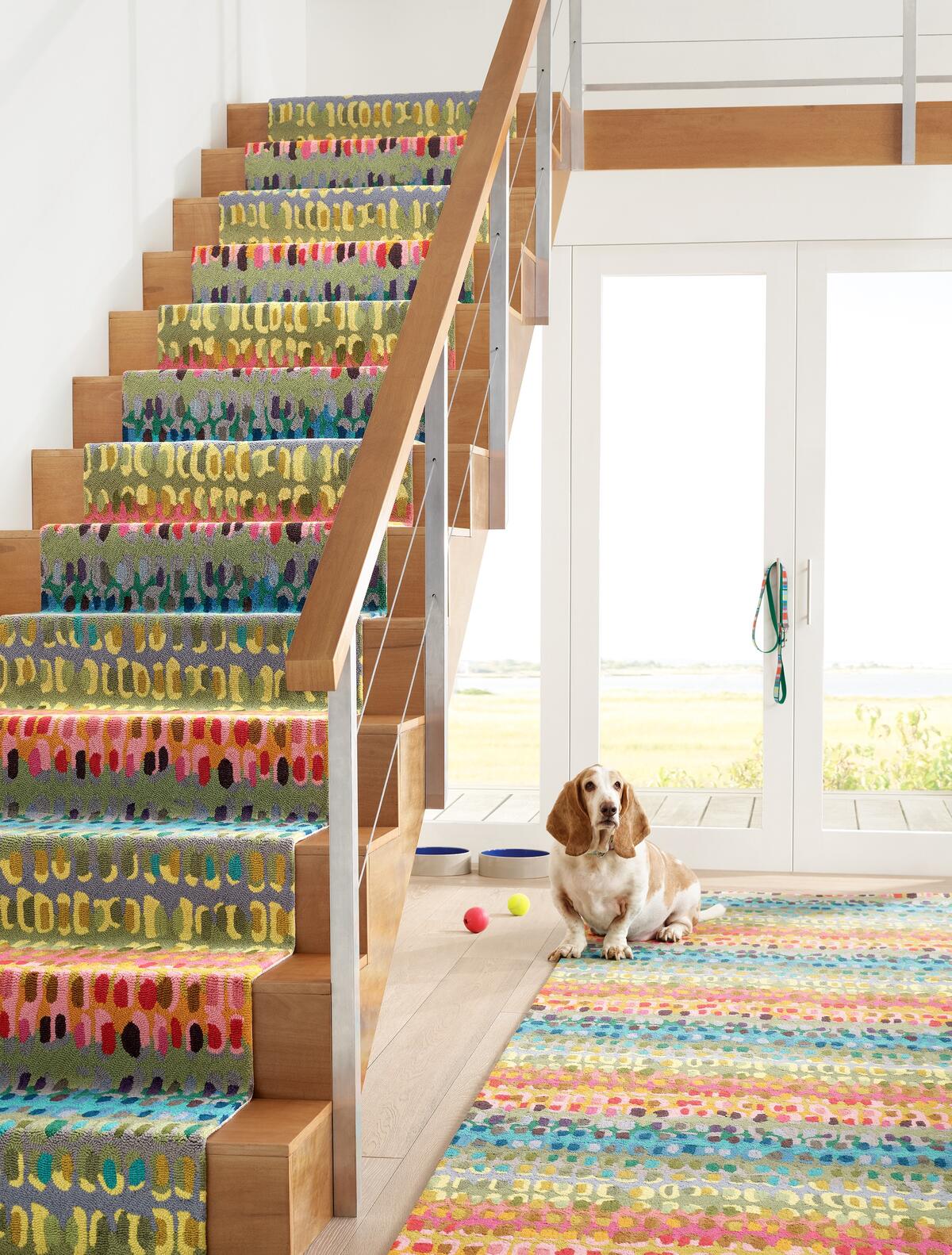 Drawing from its daring use of color and pattern, Annie Selke migrated many of its favorite standard-size designs to its custom category, including the riotous Paint Chip in Multi—inspired by an artist's rainbow splatters—and the cheerfully dappled Cat's Paw, both micro-hooked wool styles. "Other brands might shy away from custom pieces in such bold palettes of pink and turquoise and yellow, but we're seeing a real gravitation toward them, even at a large scale," says Evans. "It's refreshing when customers make such an optimistic statement." New for fall 2023 are more naturally hued styles and all-purpose "rough and tumble" sisals, as well as woven wools—"a nod to getting cozy for the holiday season," Evans adds. Jackson, an heirloom-quality tattersall plaid, is as soft as a blanket. Its five neutral colorways include Navy/Ivory, a dependable deep blue contrasted by orange-gold. Conall, a petite windowpane pattern, serves as a classic checkerboard foundation piece in Grey, Natural and Slate. "If your client is a little bit more timid when it comes to color or pattern, it's a lovely hand-made wool micro hook that can go in pretty much any space," says Evans.
INSIDE OUT WITH BUNNY WILLIAMS FOR DASH & ALBERT
"Next year will be Annie Selke's 10-year anniversary of collaborating with Bunny Williams for our Dash & Albert brand. We knew our designer clients would appreciate custom offerings from her collection because we've had a lot of tried-and-true success with her rugs in standard sizes," says Evans. The legendary decorator's signature combination of tradition and fun is apparent in all her patterns, beginning with the perennially popular cotton striped rugs. The partnership also prioritizes fair labor practices for the craftspeople who create each piece by hand and sustainability in the materials, from jute and wool to performance fibers. "In Black, Grey and Navy, Samson is one of our bestselling indoor-outdoor, go-anywhere styles," says Evans. "It instantly makes a space feel put together yet welcoming." Woven of polyester fiber developed from recycled plastic bottles, the reversible, lightweight, fade-resistant design lends itself to all-weather, high-traffic areas like foyers and porches. With its heathered texture, Bella in Navy or Grey wool is just as durable.
PLUSHNESS UNDERFOOT FROM MARIE FLANIGAN
The Marie Flanigan collaboration, launched in 2022, pairs classic simplicity with a nuanced neutral palette and natural fibers. A mother of three, Flanigan always has families in mind as she designs her collections. "She wants to create rugs children can roll around on in any room of the house," says Evans. Cast in warm Ivory, rich Caramel and smoky Metal colorways, Mina is one such style. Made from durable jute and wool, the densely tufted floor covering adds subtle tonal variations and textural softness to a space. "It has an allover pebble-like design with a sophisticated organic sheen," Evans adds. Like many of Flanigan's hand-crafted rugs, it also features a high pile for plush comfort. "It's all about how inviting they are for everyday living, how they feel underfoot"—no matter how big or small the square footage, thanks to Annie Selke's custom service.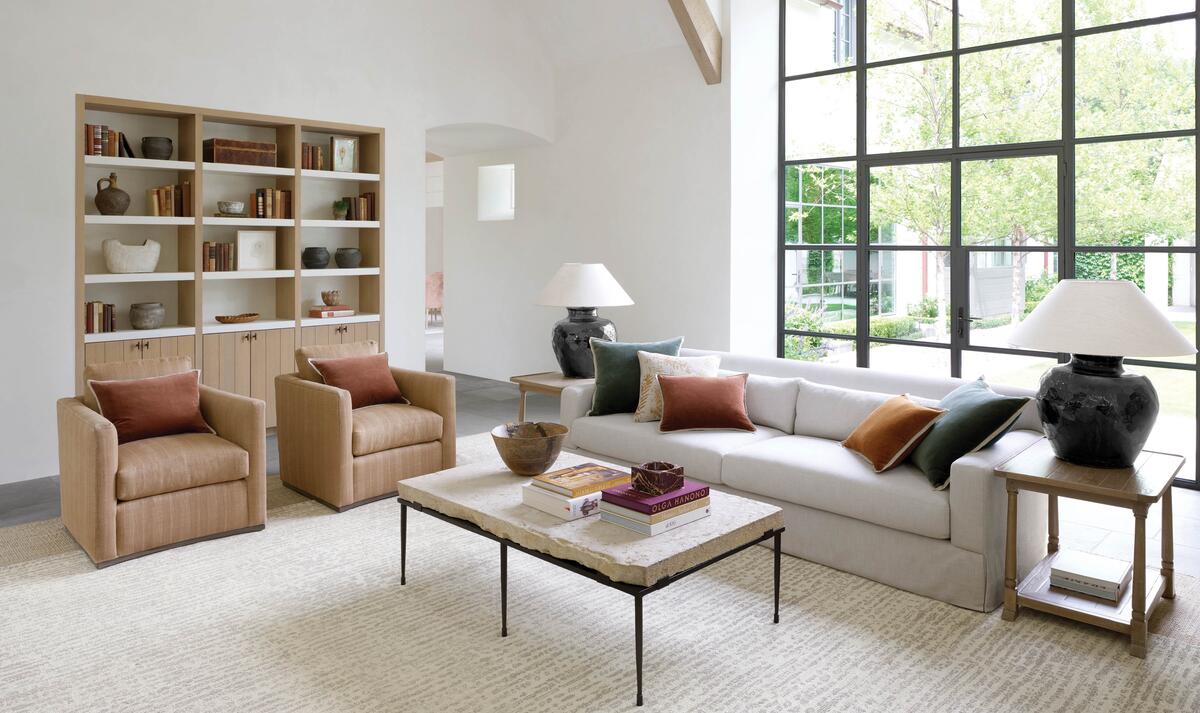 This story is a paid promotion and was created in partnership with Annie Selke.