What do fashion, transparency and technology have to do with a high-end, heritage carpet? Quite a bit, if you ask one of India's largest luxury carpet makers. Obeetee, the brand initially founded as Oakley, Bowden & Taylor nearly a century ago, is embracing tech as one way of informing customers of the fascinating origins of its handcrafted rugs.
Take the brand's second edition of its "Proud to Be Indian" series, now launching at ABC Carpet & Home, was designed in tandem with renowned India fashion and design house Abraham & Thakore. "Each buyer can scan a QR code embedded in the tapestry of the carpet and read details about its weaver and the rich story of its provenance," says Angelique Dhama, OBEETEE's chief marketing officer.
In May, ABC Carpet & Home, which is the exclusive retailer for the collection, hosted a debut event, India's Modern Makers and Muses, which included a 2019/2020 color trends presentation with prominent trend forecaster Lidewij Edelkoort and attracted some 300 design-industry attendees, including designer Frank de Biasi, The New School provost Tim Marshall, and Waris Ahluwalia of House of Waris.
"What attracted us to Abraham & Thakore was their mastery of design, which is both cutting-edge yet tied intricately to India's ethos," says Rudra Chatterjee, chairman of OBEETEE. The hand-knotted carpets themselves may be timeless, but the creation of each one can take OBEETEE artisans more than a year to complete, using varied yarns and finishes, with a knot density of around 200 knots per square inch.
The new collection spans 18 designs in five sizes, ranging from 5 by 7 feet to 10 by 14, and as ABC Carpet & Home vice chairman Graham Head explains, "celebrates modern India and its global impact today, while embracing the country's rich heritage in textile design and its weaving traditions."
It's that merge of past and present, handicraft and technology, that the company seeks to master with collaborators as it approaches its centennial in 2020.
"I speak as an Indian textile and fashion designer," designer David Abraham affirms. "'Proud to Be Indian' is, I think, a very valid statement for a lot of us in the design community, because we're beginning to see ourselves express design through a particularly Indian lens."
And the challenge? "Always to find a contemporary voice for tradition," he says.
Explore the full collection.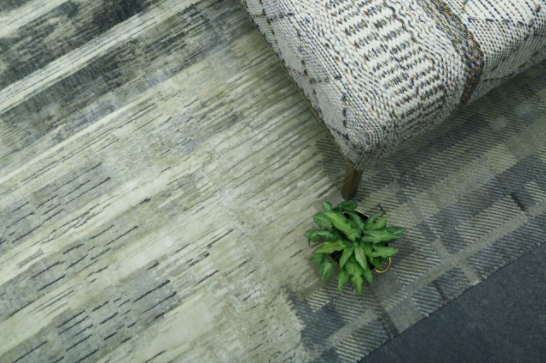 All photos courtesy of Obeetee.