The new year may still be a few weeks away, but CopperSmith, the Minneapolis-based custom metalwork company, isn't wasting time waiting for a ceremonial calendar change. As directed by Ryan Grambart, who founded the firm in 2009, it's carpe diem-ing hard by meeting the future right now.
On November 15, after almost four years in development, CopperSmith upgraded the platform that had already established the brand as the major aggregator of metalwork manufacturers in the digital space. Front and center on the homepage, flashing through a slideshow of infinite custom range hood possibilities, is the all-access link to CopperSmith's new 3D configurator. This innovative high-tech tool empowers consumers and designers alike to render, in crisp 4K resolution, not only hoods but all the soaking tubs, sinks, tabletops and fire pits their hearts desire.
"The complexity of the customization is vast," says Grambart of the many choices for materials, textures and finishes. "You might have 14 different options for a range hood, and within each of those, 20 ways to further refine your design." The tool makes what was once a costly and time-consuming process (he recalls the analog days of "starting with a sketch on a napkin") as seamless and streamlined as any other type of online shopping.
"Customers today want to see what a style looks like in real time—and now, with our configurator, they can," says Grambart. Because the platform is integrated with CopperSmith's showroom, retail and trade partners, manufacturers also benefit from the chance to modify and scale existing product lines in direct response to demand.
Combinations of stainless steel and brass—alternating between the body and decorative straps of the range hood—have been growing in popularity, while the company's namesake copper remains a reliable selection due to its durability, aesthetic warmth and antibacterial properties. Soon to come to the customization menu is powder coating, so that hoods can be color-matched to stoves from "all the major manufacturers," says Grambart.
"We see an opportunity to extend our finishes into hardware too," he adds, "so that faucets and other kitchen accessories can be curated to complement the hood and stove." And so that customers can be spared the guesswork of trying to pair palettes and styles across brands with little more than CGI imagery to guide them.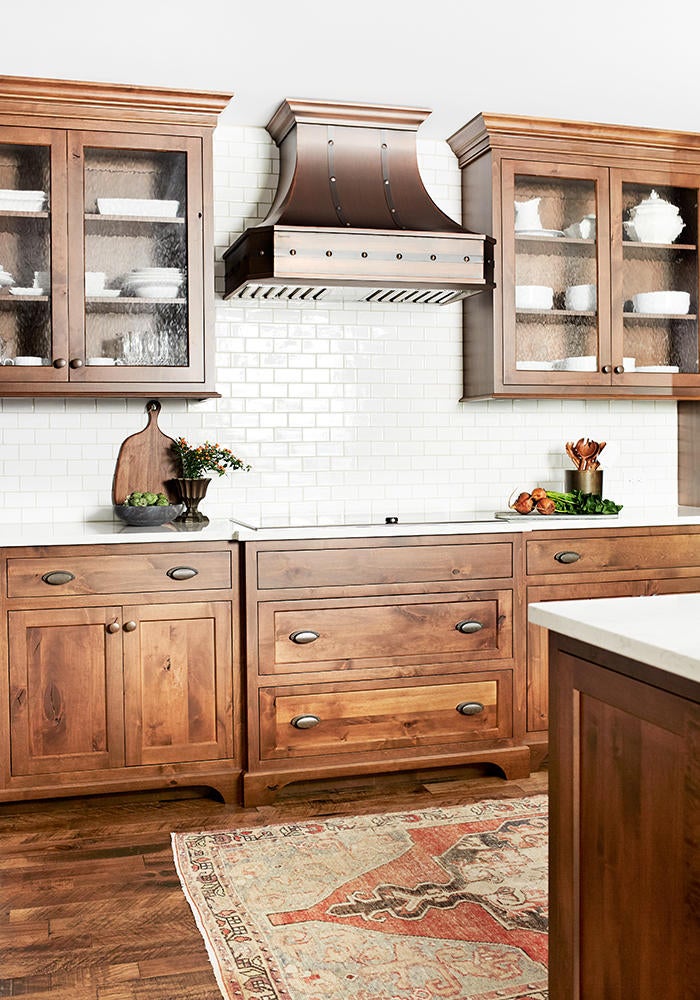 Whether in the kitchen or bathroom, CopperSmith's handcrafted products become the centerpiece of a space. Range hoods make up the majority of the brand's sales, but workstation sinks are increasingly on order. "It's a game changer," says Grambart. He points out that the kitchen sink is "among the most used items in your home, and homeowners underbuy there." CopperSmith customers who splurge on workstation styles report that they don't know how they ever managed without them.
Since launching its initial platform back in 2015, CopperSmith has had over $30 million in booked projects and more than 100 percent growth year-over-year in trade partnerships. In 2020, the site saw 791,000 new users; this year, the company added 1,500 new trade partners—interior designers, contractors and architects. Grambart foresees another $100 million in booked projects within five years. When it comes to expanding the business, he thinks big, both inside and out. There are plans to double the item offerings, produce not just tops but entire tables that mix woods and metals, and even design custom chimney caps.
"We're going to dip our toes into additions to the exterior of a home," says Grambart. If CopperSmith's track record is any indication, the category is sure to be its next success. Plus, it's not exactly foreign territory for the entrepreneur, whose first job out of college was installing gutters, a role that inspired him to open his own firm.
As for the trade, participants in CopperSmith's loyalty program can look forward to enhanced benefits that reward its most active members—and, as always, free metal samples. In February, these samples can also be snatched up at the Kitchen & Bath Industry Show in Orlando, Florida, where the company will be raffling off a 72-inch copper fire pit. What better way to welcome 2022?
This story is a paid promotion and was created in partnership with CopperSmith.
Homepage photo: A hood designed using CopperSmith | Courtesy of CopperSmith