This season, a new home brand will make a big splashy debut, rolling out three enormous California stores, a national marketing campaign and a whole-home product array. Unlike many recent debutantes, it's neither a European import nor the product of a venture capital spending spree, but an established retailer from Down Under. Meet Australia's Coco Republic.
"Our approach is to take the best of international design—whatever's going on in Europe, in the states—and put it through an Australian lens," says Anthony Spon-Smith, the brand's creative director. "This is an Australian brand at its core."
Coco will be unfamiliar to many in the U.S., but it's one of Australia's more significant home furnishings players, with 15 locations and a staff of hundreds. Originally started by Spon-Smith's father in the late 1970s as a small retail shop called Mr. Smith's Interiors, the company has gone through several names and iterations over the years. In the early 2000s, when Spon-Smith joined the family business, it rebranded and established itself as a department-store-like retailer, introducing home goods from Martha Stewart, Ralph Lauren and Jonathan Adler to the Australian market. Over the past decade, Spon-Smith has steered the company toward original designs.
"I realized I was putting a lot of effort into launching brands, and they weren't always adding a lot of value," he says. "So I started to design my own product and went direct to factories. Now, 80 to 90 percent of what we sell is our stuff. We started as a house of brands—now we're a branded house."
Despite a more focused approach to marketing, Coco Republic reflects a kind of restless entrepreneurialism—it's a lot of different enterprises rolled up into one. In Australia, the company runs a staging business and an in-house design service. Coco has branched into wholesaling merchandise for other retailers, and it operates a mini-chain of restaurants out of its expansive stores. It used to run a design school, and Spon-Smith only recently folded an e-comm side hustle, Max Sparrow, that imported lacquer furniture.
Huge showrooms, in-store restaurants and in-house design services inevitably call to mind a certain California retail giant that starts with R and ends with H. Spon-Smith himself has designed product for Restoration Hardware, and he doesn't entirely resist the comparison (though he says Coco did the restaurant-in-a-store thing first). In America, however, Coco isn't aiming to follow RH chairman and CEO Gary Friedman up the luxury mountain. Rather, Spon-Smith wants to bring a lively approach to a more accessible price point.
"If you look at the competition beyond RH—West Elm, Crate & Barrel, Room & Board, Williams-Sonoma—the observation I would make is: They've got great stuff, but they're a little stale and bureaucratic in their approach," he says. "[Our line has things like] pink marbles and colorful fabrics—more playfulness in the design. We're positioning ourselves very differently [from RH] and others. We're looking to add more flavor."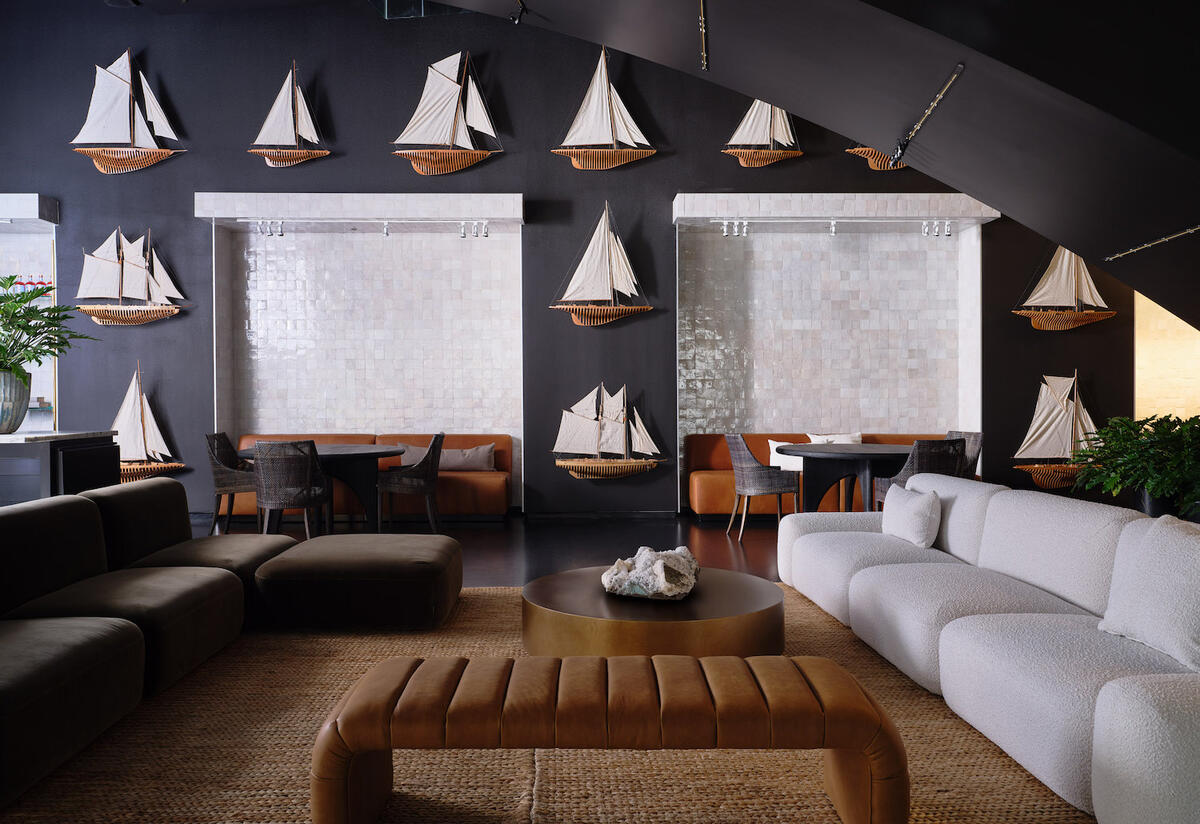 Courtesy of Coco Republic
Like many consumer-facing retailers, Coco is hoping that designers will become fans too and is launching with a trade program in the States. Though its incentives (a 20 percent discount) are in line with competitors, the brand's U.S. president, Skye Wescott, thinks Coco can win on its product. "When I look at what we've sold so far, it's the unique and differentiated pieces that are selling," she says. "It's a Carrara marble console that you're not going to find anywhere else."
Coco's entry to America is partially the result of some high-level business consolidation. Last October, Story3, a private equity firm founded by former Goldman Sachs director Peter Comisar, acquired a controlling stake in both Coco Republic and Los Angeles home retailer HD Buttercup. Since then, the two brands have been in the process of uniting under the Coco Republic banner.
Thanks to the merger, Coco Republic will be launching stateside with the advantage of built-in infrastructure (it already has in the neighborhood of 150 U.S. employees). In addition to taking over HD Buttercup's Southern California locations in L.A. and Costa Mesa, Coco is also opening a sizable flagship in San Francisco's Union Square, in a storefront previously occupied by Crate & Barrel.
Beyond California's logistical advantage, the West Coast is also the right fit for the brand, vibe-wise, says Spon-Smith. "There are a lot of similarities between Australia and California. It's the lifestyle, it's the coastal living thing," he says.
As for the rest of the country? They'll get there. "America is a huge market. California alone is 40 million people—we've only got 25 million people total in Australia," says Spon-Smith. "We don't need a huge part of the market to be successful; we just need to be fun, playful, innovative and different."
Homepage image: Coco Republic's Tasmin modular sofa | Courtesy of Coco Republic