In our series, What I Love, we're asking designers to build us a mood board of what's inspiring them right now.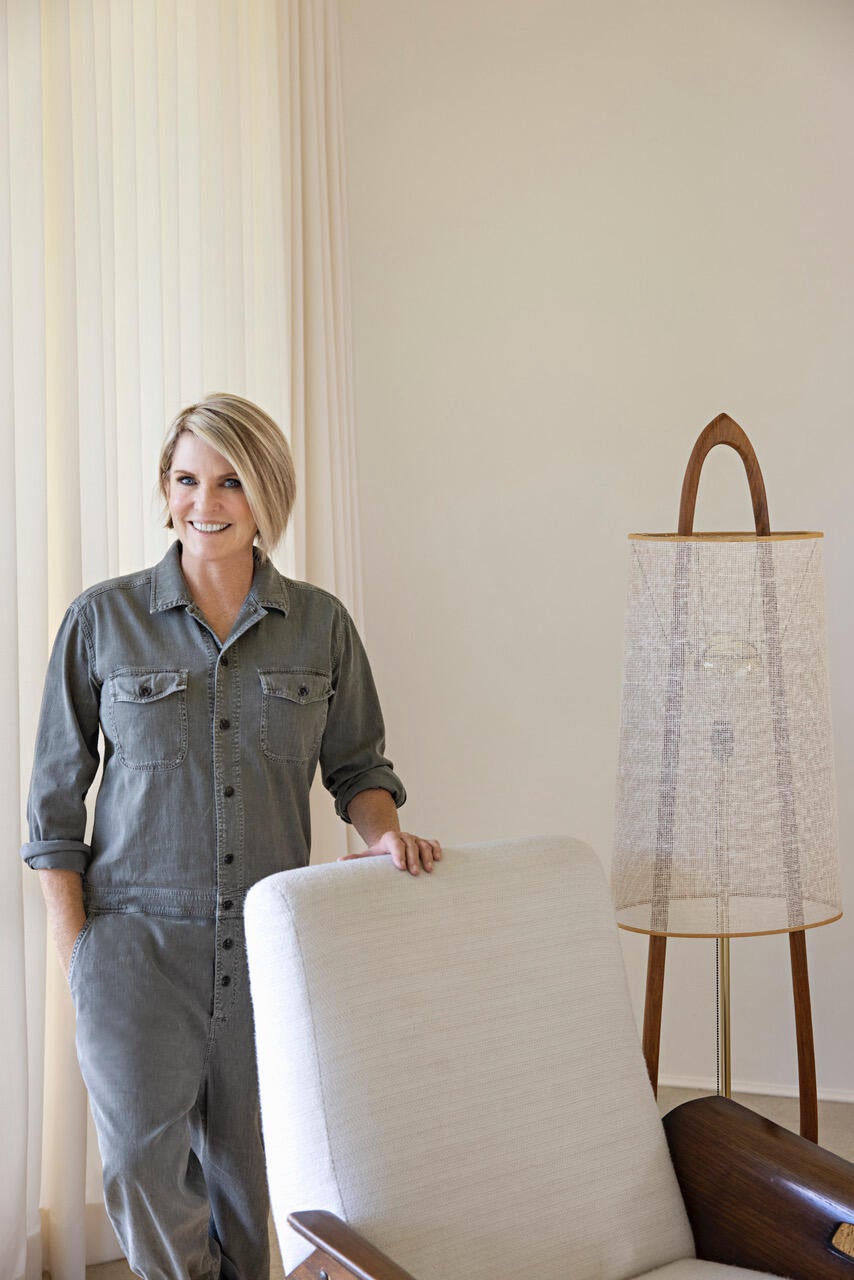 Chris Barrett looks to nature for inspiration. The Los Angeles designer relies on a mix of color-rich raw materials and warm tones to foster comfortable, calming spaces that draw from the natural environment.
The designer's keen eye for earthy hues and textures is evident throughout her current flat lay scheme, which was crafted with a friend's Palm Desert home in mind. "His views of the Santa Rosa mountains in the distance inspired the palette," she tells Business of Home. "The yellows, deep greens and creamy neutrals shine against the tactile finishes."
The final design is a soothing assortment of organic motifs in gradient shades, anchored by the occasional zip of a palatable graphic pattern or an artisanally made antique. "Even in modern spaces, I like to add vintage art and accessories," says Barrett. "This helps create a collected interior with character."
Here, she breaks down the details—from striped alpaca-wool-and-silk rugs to mohair-blend fabrics.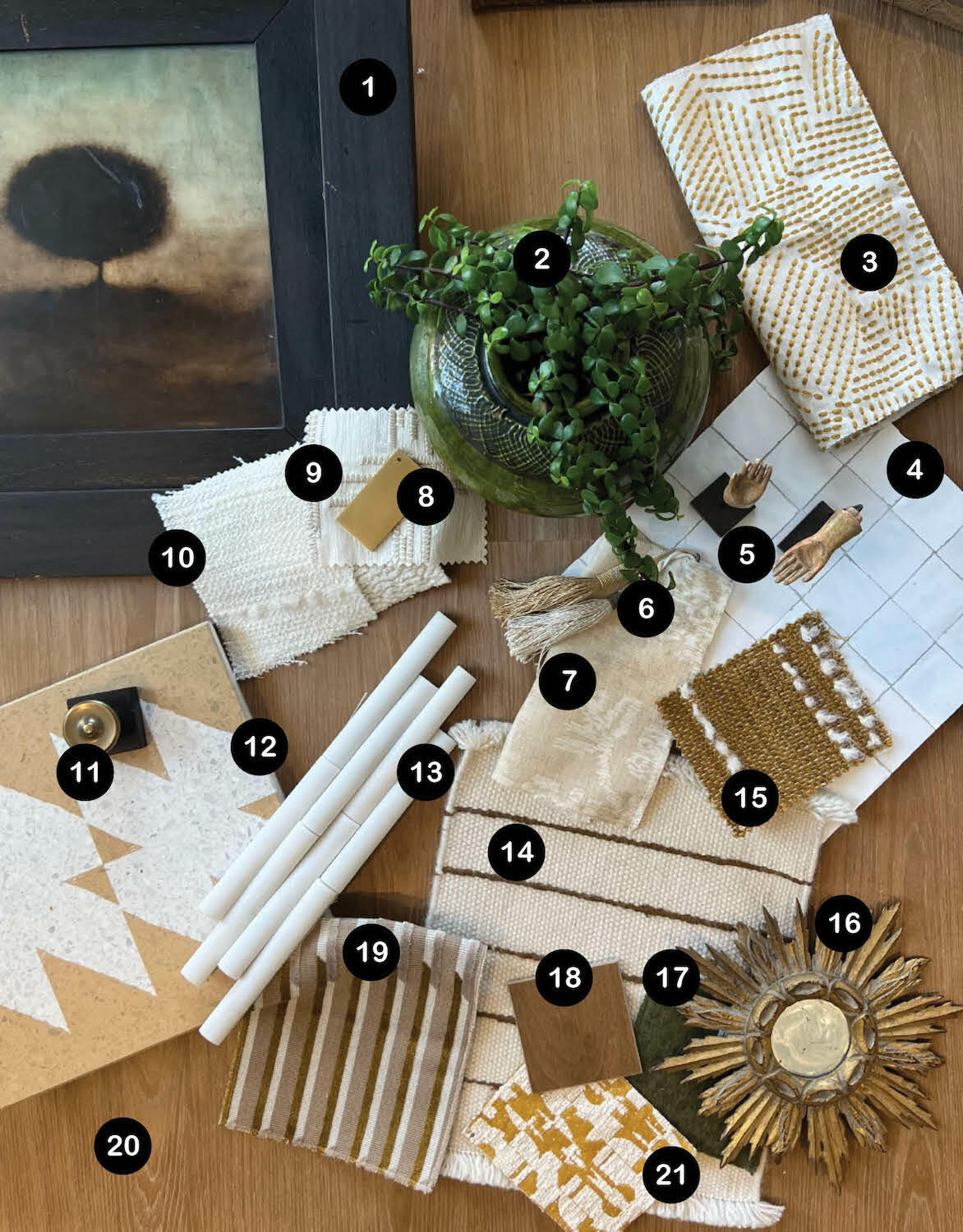 Courtesy of Chris Barrett Design
1. VINTAGE PAINTING
"This painting was found in Italy. Art is an important element for every home. It is a reflection of the homeowner's travels."
2. PLANT IN VINTAGE CONTAINER
"Living plants breathe life into the home."
3. CHORD EMBROIDERY FABRIC IN GOLD BY LEE JOFA
"I always do a mix of texture and pattern when selecting accent pillows. The color and movement of this fabric add a fun element."
4. CUSTOM ZELLIGE MOSAIC TILE BY DESIGN COLLABORATIVE USA
"Zellige tile from Design Collaborative adds a subtle texture to the fireplace. The neutral palette and soft shine of the tile complement the wood bar."
5. VINTAGE HANDS
"Vintage hands are a little quirky character every home needs."
6. LIGHTING TASSEL SAMPLES BY M2C STUDIO
"These tassels are like jewelry for the perfect outfit."
7. SUMATRA FABRIC IN FLINT BY ROSE TARLOW
"An understated fabric print for the Roman shade in the powder room complements the strong finishes without overwhelming."
8. GOLDEN BRASS LIGHTING FINISH SAMPLE BY M2C STUDIO
"The brass finish of a dramatic light fixture gives this space a wow moment."
9. EXPRESSION BRODERIE FABRIC IN DOUCE IMPERFECTION BY ÉLITIS
"This fabric's pattern and thick embroidered texture make for standout drapery that provides beautiful filtered light."
10. HORIZON FLÂNERIE FABRIC IN AUBE FRAÎCHE BY ÉLITIS
"I chose this fabric for its inviting texture. It will make fantastic lounge chairs."
11. NO 8403 CABINET KNOB IN BURNISHED BRASS BY THE NANZ COMPANY
"Oversized antique brass knobs are a great statement. They elevate the clean lines of a modern cabinet."
12. 2 LEAF IN MUSTARD TERRAZZO TILE BY LIVDEN
"The strong color and pattern offers a fresh spin on classic terrazzo and the perfect choice for the powder room floor."
13. CRESCENT MINI CRYSTAL WHITE HONED STONE TILE BY ISLAND STONE
"This very unique tile will be a wonderful addition to the back wall of the powder room. The strong vertical pattern will add height to a smaller space."
14. LINES RUG IN WHITE COGNAC BY ERDEN
"A simple, soft and elegant rug in a combination of silk and alpaca—so luxurious for bare feet."
15. HORIZON FLÂNERIE FABRIC IN REFLET DORÉ BY ÉLITIS
"A stunning fabric for this sophisticated space."
16. VINTAGE GOLD MIRROR
"I found this in an antique shop—the aged gold and its history reflects images of the many faces of the past."
17. ESGII IN NO. ZFEG-03 BY ZAK+FOX
"One of my favorite fabrics and colors, this rich mohair blend is a beautiful texture for a cozy accent chair."
18. CUSTOM WALNUT SAMPLE
"A rich walnut finish on modern cabinetry in the powder room is a great addition mixed with the cooler stone on the floors and wall."
19. VELVET LINES FABRIC IN F3551002 BY PIERRE FREY
"Some pillows upholstered in this vertical, soft raised velvet striped fabric will add elegance to the room."
20. TIMBER TRAILS WALLCOVERING IN CEDAR HOLLOW BY PHILLIP JEFFRIES
"This wood veneer wallcovering is the ideal addition behind the living room bar, where it will make a collection of stemware look like art."
21. ALCHIMIA GIORGIO FABRIC IN COLLINE DE VÉRONE BY ÉLITIS
"Obviously, we need to add this fabric for some of the pillows as well. Such fun and a favorite color."
Homepage photo: A flat lay by Chris Barrett | Courtesy of Chris Barrett Design