You can't talk about Charlotte Moss without talking about Virginia. The legendary designer grew up in Richmond, her childhood steeped in history and a distinctly Southern way of life, with Sundays after church occupied by a buffet at her grandmother's house where the whole family gathered. ("We did everything together," says Moss.) Early on, she relished opportunities to stand out from her four siblings—in high school, Moss did as many extracurriculars as she could, including a stint on the cheerleading squad. "Being a cheerleader was ... my chance to go scream; you know, everybody was gonna hear you," she says with a laugh.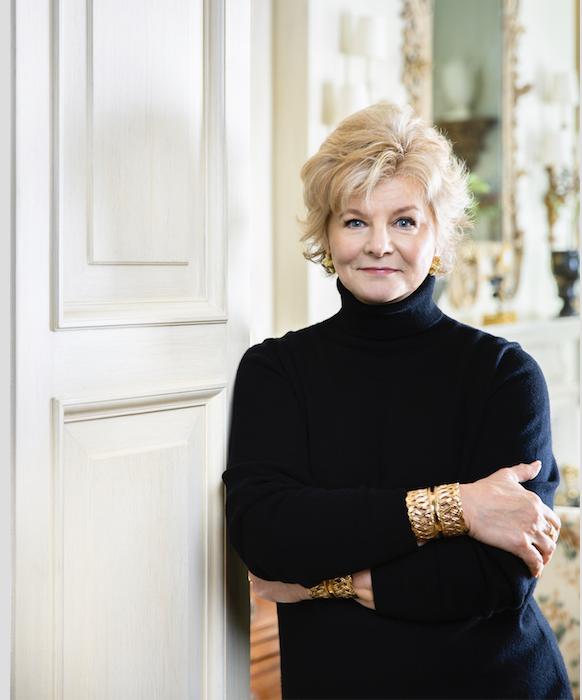 After graduating from Virginia Commonwealth University, when a friend moved to New York, Moss jumped to follow, and ended up working on Wall Street. For an English major, the experience was a "primer in business" but not a final destination. Moss saved up, took her bonus and went over to England to fill up a container with antiques to jumpstart her decorating business—she had always known she wouldn't be on Wall Street forever: "I was the one reading Architectural Digest on the plane when everyone else was reading Institutional Investor."
In a wide-ranging conversation with host Dennis Scully, on the latest episode of the Business of Home podcast (sponsored by Chairish and Google), Moss shares stories from an iconic career, her take on how tech has changed the industry, and nuggets of wisdom on business and life.
Below, listen to the episode and check out a few highlights. If you like what you hear, subscribe (free of charge) on Apple Podcasts.
SALES TACTICS FROM WALL STREET
On Wall Street, Moss learned the secret of making a sale: distillation. "One day, on a Friday, my boss just gave me six prospectuses and said, 'Well, hope you're not doing much this weekend. ... I need a one-page summary on each deal on Monday,'" she recounts. "I knew exactly what he wanted—he wanted bullet points, he wanted the top hits. … You had to learn to distill it to that thimbleful, because that's the moment you had to sell it. And if it took longer than that? Game's over. … That broker doesn't have the time, his client doesn't have the time, and if you can't tell him the reason he needs to buy that in a short period of time, then he's not going to be listening."
THE THRILL OF THE HUNT
Though Moss's projects are elegant and layered—the kind of rooms that are frequently described as "opulent"—one of her greatest pleasures as a designer is getting great value for her clients. An example: "[A client] wanted cashmere curtains," says Moss. "And I said, well that's not within the budget. So I went to one of these uniform companies ... And we found a loden-green flannel, that was absolutely scrumptious—felt like cashmere, but was like $50 a yard. ... You had to think about: Where else might these things come from? … How do you take something ordinary and make it fabulous?"
DEAL OR NO LICENSING DEAL
Over the course of a 35-year career, Moss has explored a wide variety of licensing opportunities, from linens and china to a recent jewelry collab with P.E. Guerin. One of her most crucial takeaways? Respect the financial commitment to your partners, and make sure you're genuinely filling a hole in the market, not just putting your name on stuff. Another? Realize that some licensing deals might be less profitable than others, but money isn't everything. "There are always things that you're gonna [do] just because you've got that itch, because if you don't do it, you're going to be asking yourself later on, Why the hell not?"