In our series, What I Love, we're asking designers to build us a mood board of what's inspiring them right now.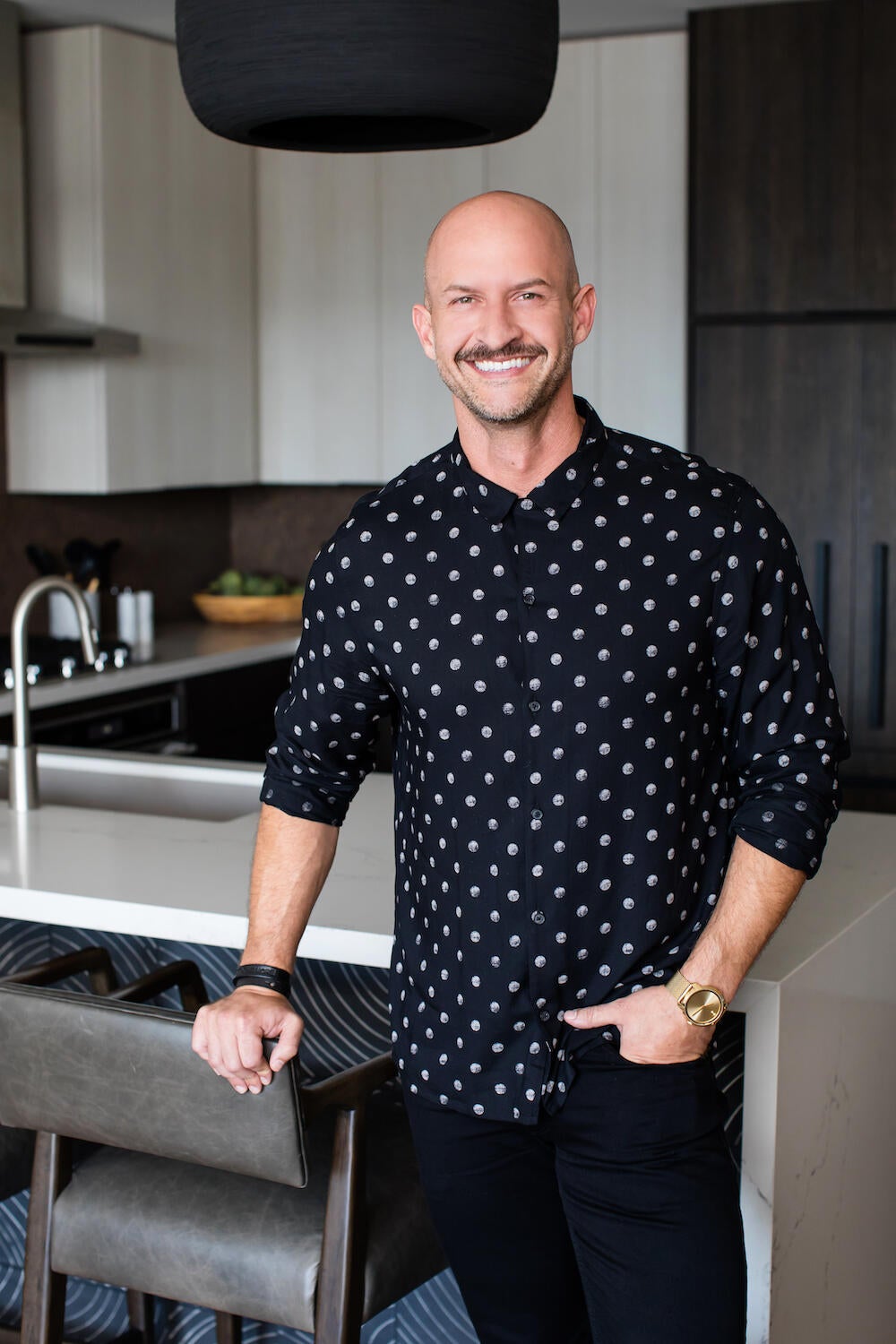 Courtesy of Brian Brown Studio
Brian Brown takes a laid-back approach to his projects. The San Diego designer—a self-proclaimed "beach lover and dog dad of two"—draws inspiration from the coastal landscape and easygoing SoCal lifestyle when crafting his relaxed-yet-refined interiors.
Take, for instance, his current mood board. Designed with his new studio and showroom in mind, the scheme teems with neutral hues and organic textures that evoke the natural environment. "I'm inspired by the beauty of my hometown," he tells Business of Home. "The beaches and surrounding mountains and deserts offer beautiful contrasting palettes of warm and cool neutrals."
An enviable array of touchable raw materials and soothing earth tones define the flat lay. "Nature is dynamic and serene all at the same time," says Brown. "That's what I wanted to achieve in my new studio."
Here, he breaks down the details, from found rock formations to white oak finish samples.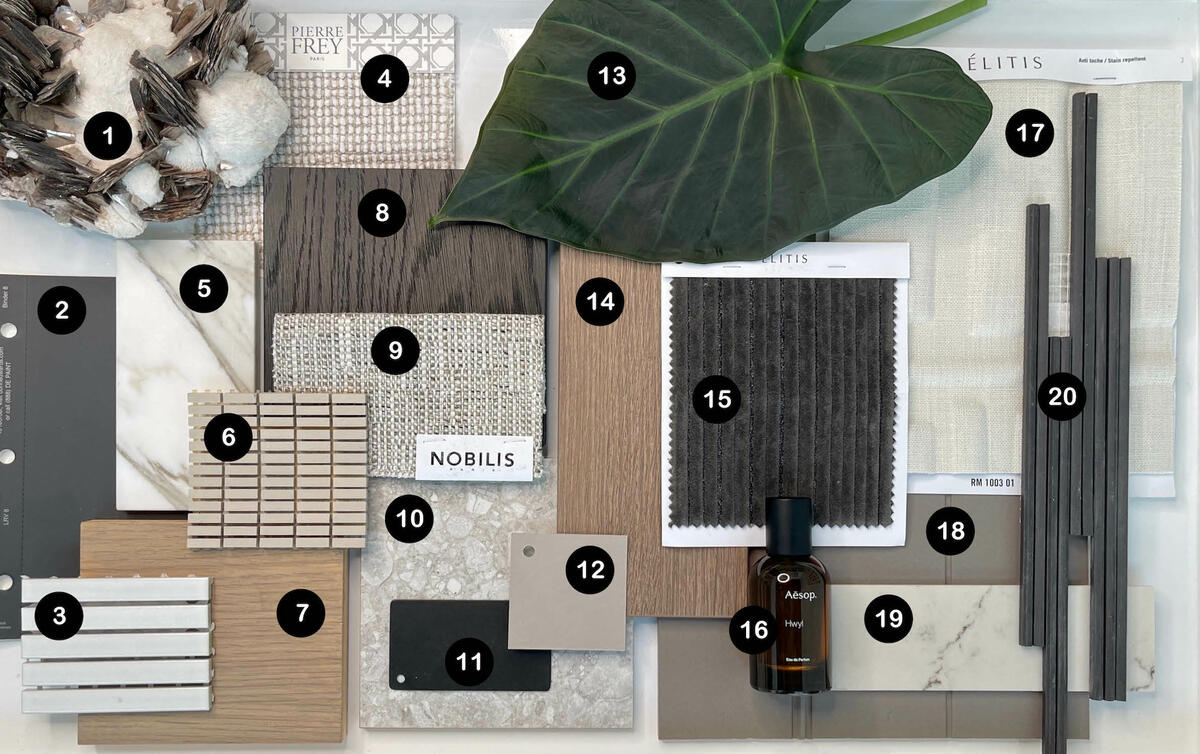 Courtesy of Brian Brown Studio
1. NATURAL QUARTZ AND MICA ROCK FORMATION
"Our planet is such a beautiful place and produces natural sculptural masterpieces that just blow my mind. I picked up this formation while on my first date with my now-fiancé."
2. CAVERNOUS PAINT BY DUNN-EDWARDS
"This is the perfect not-so-black black. I love the undertone of Cavernous. It's neither too warm nor too cool, making it a great accent to a natural palette."
3. INAX YOHEN BORDER TILE IN WHITE BY SPECCERAMICS
"This porcelain tile provides tonal contrast to some of the darker finishes, but also a contrast in texture. I like adding something very uniform and structured with natural elements to bring balance to the overall design."
4. GROIX FABRIC IN LIN BY PIERRE FREY
"This is one of my favorite fabrics on the market. It has this really cool natural-looking texture and hand, but it's an indoor/outdoor fabric that will really take a beating. I recently used it on a sofa for a family with dogs, and it's working out fabulously."
5. CALACATTA BORGHINI EXTRA MARBLE SLAB BY STONE SOURCE
"I love this marble for its bold veining in subtle warm and cool tones. That makes this a very versatile stone, offering a good balance between other materials."
6. GRIGIO TILE IN ROCK BY STONE SOURCE
"I would call this tile a micro-brick. When grouted, it creates a beautiful warm texture that is also very durable and slip-resistant if used on a shower floor."
7. CUSTOM RIFT-CUT WHITE OAK FINISH SAMPLE
"It's on trend, natural and beautiful. Not much else to say."
8. ROZELLE DINING CHAIR FINISH SAMPLE IN OAK BROWN BY HARBOUR
"In contrast to the rift-cut white oak, Harbour makes a beautiful brown oak dining chair that is simple, elegant and contemporary. I'll have these on display in my new showroom."
9. BARCELONA FABRIC BY NOBILIS
"Love this texture and the contrasting threads. Both make it a very versatile fabric, for drapery, upholstery or pillows. You can't go wrong."
10. LOMBARDA TILE IN BIANCO BY SPECCERAMICS
"This is my favorite porcelain tile. It offers a clean, contemporary look while adding a natural feel to the floor. And it has somewhat of a terrazzo feel, without being terrazzo."
11. CUSTOM BLACKENED STEEL FINISH SAMPLE
"If I have the choice between a black powder coat or blackened steel, I'll choose the steel every time. There's a depth to it that you can't get from powder coating. That said, I do love a black powder coat if that's the only option."
12. RÉPUBLIQUE LIME WASH SPECIALTY FINISH BY PORTOLA PAINTS & GLAZES
"The color online is nothing close to the physical sample, so order a sample! It's a beautiful warm gray that has depth and richness. I'm using it on concrete walls that were sadly painted white at some point."
13. ALOCASIA REGAL SHIELDS PLANT BY PLANT THE FUTURE
"The leaves on this alocasia can grow to be giant in the right light. They look architectural and grand."
14. MARALUNGA PANEL SAMPLE IN SABLÈ BY CLEAF
"I use this product a lot—this time for our display kitchen and sample library. It's warm, realistic, durable and available in a wide variety of colors."
15. RENDEZ-VOUS FABRIC IN BATZ LB 973 73 BY ÉLITIS
"Texture, texture, texture. Love this almost-corduroy fabric. It's super soft and durable, and the depth of this color plays nicely with the lighter fabrics around it."
16. HWYL EAU DE PARFUM BY AESOP
"This woodsy, earthy fragrance just has something more going on that makes it exciting to smell."
17. GALERIE WALLCOVERING IN BOUDOIR LIN BY ÉLITIS
"My jaw dropped when I first saw this wallcovering, so it'll be the first thing you see when you walk into the new studio."
18. DOVE LARGE TILE BY STONE SOURCE
"This tile just came out, and I got it into a project right away. It's matte, warm and architectural. I haven't seen another tile like it."
19. STATUARIO NUVO HONED STONE BY CAESARSTONE
"I don't even know how many projects I've used this stone in, and now it's going to be the back countertop in the new studio kitchen."
20. NERO TILE IN RAIN A BY STONE SOURCE
"I love, love, love texture in a contrasting neutral color—the depth and warmth of this tile is stunning."
Homepage photo: A flat lay by Brian Brown | Courtesy of Brian Brown Studio