In our series, What I Love, we're asking designers to build us a mood board of what's inspiring them right now.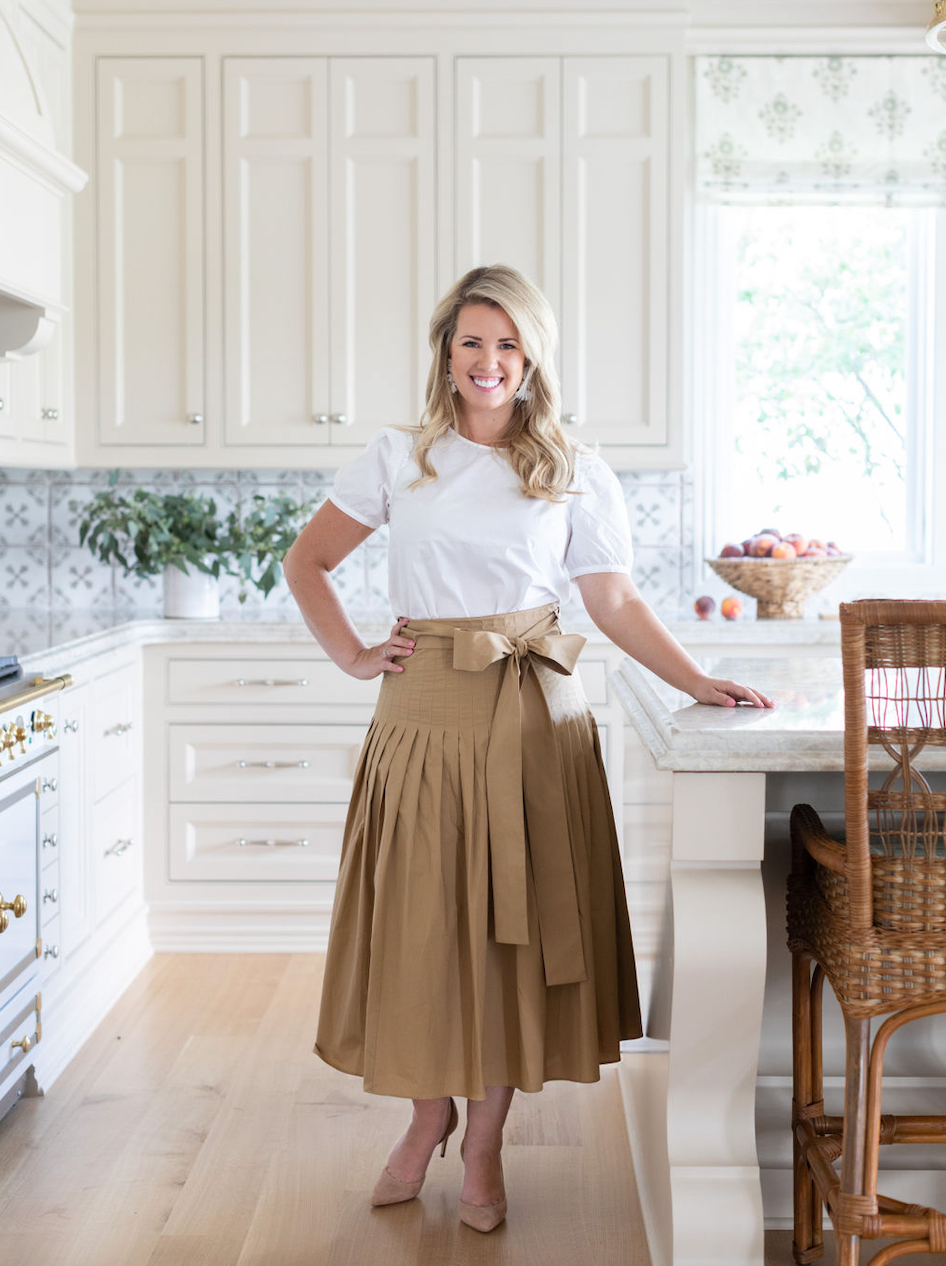 Bria Hammel believes the best spaces are more than beautiful, they're experiential. The Minnesota designer relies on a comforting mix of muted colors and romantic motifs to create spaces that are elegant and unfussy.
Her current mood board is a perfect example. Inspired by Schumacher's flowery Cabanon Stripe fabric, Hammel designed the scheme with her ideal project in mind. "Any dream space of mine would include this pattern," she tells Business of Home. "I'm always drawn to subtle, vintage details, and this pattern encapsulates that perfectly."
A supporting cast of understated plaids and warm neutral tones help balance out the prettier pieces in the flat lay, but not without the occasional pop of a cool pale blue hue. "I always tell my clients that to achieve a truly timeless design, opposites need to attract," she says.
Here, she breaks down the details, from sea-salt-scented candles to oiled white oak samples.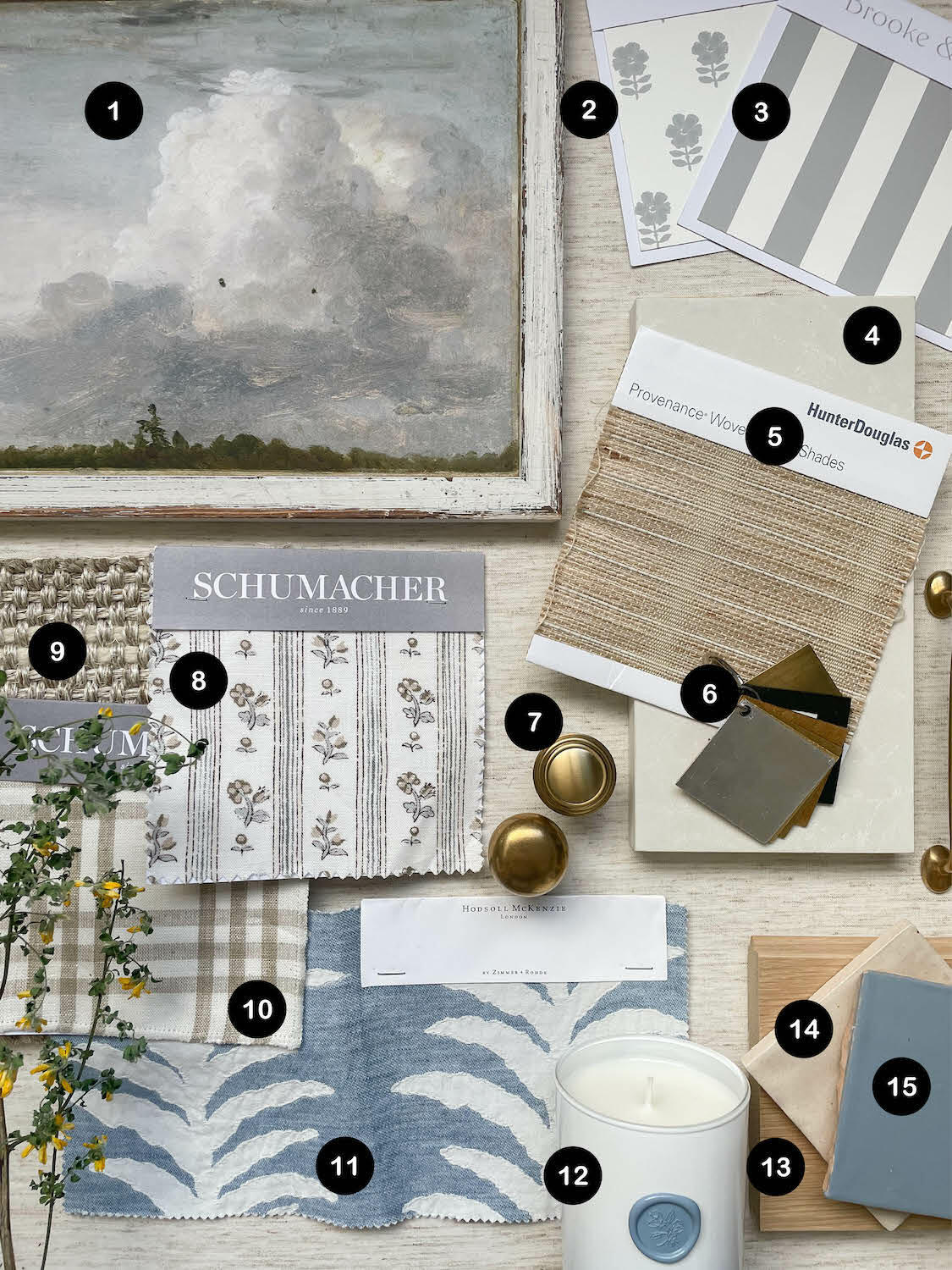 Courtesy of Bria Hammel Interiors
1. STORM CLOUDS ARTWORK BY BROOKE & LOU
"This art is the perfect size for incorporating into a gallery wall, hanging on its own or even styled on a bookshelf."
2. LULU FLORAL WALLPAPER IN STONE GREY BY BROOKE & LOU
"This small, vintage floral design has a block-print feel."
3. COASTAL STRIPE WALLPAPER IN GREY BY BROOKE & LOU
"For this design scheme, a bit of coastal influence was appropriate. I like the subtleness of this wallpaper and its timeless pattern."
4. SHELL WHITE QUARTZ SAMPLE BY MSI
"This quartz has the perfect unfussy, natural look. It's a bright white without feeling too stark and can be used in so many ways."
5. PROVENANCE WOVEN WOOD SHADES IN BURLAP SACK BY HUNTER DOUGLAS
"This is our go-to window treatment for our clients. It's functional, beautiful and adds the perfect amount of texture to a space."
6. LIGHTING FINISH SAMPLES BY VISUAL COMFORT
"Deciding on lighting is easier than ever before with these different finish options [from Visual Comfort]. For this design, we're gravitating toward bronze and brass."
7. REEDED KNOB IN HONEY BRONZE BY TOP KNOBS
"This hardware is a classic option, but the reeded detail really gives it something special and unique."
8. CABANON STRIPE FABRIC IN FAWN BY SCHUMACHER
"This is the pattern that inspired the entire flat lay. It is one of my favorites of all time—I love the vintage influence, floral motif and muted color palette."
9. ORADELL CARPET IN DOVE BY PRESTIGE MILLS
"Speaking of texture, this carpet is a great woven option with a subtle plaid pattern. I love the muted colors—they're so versatile."
10. IMOGEN FABRIC IN FAWN BY SCHUMACHER
"It wouldn't be a Bria Hammel Interiors design without a little plaid. I love the complementary colors of this one and the oversize scale."
11. KENDALL VINE FABRIC IN 21228595 BY HODSOLL MCKENZIE AT ZIMMER + ROHDE
"For a pop of color, this soft blue fabric is a showstopper. It has a subtle botanical influence without being too in your face."
12. GARDEN RAIN CANDLE BY BROOKE & LOU
"To me, a special scent can transform an entire design scheme. This soft candle with notes of sea salt and jasmine immediately screams spring."
13. PREFINISHED OILED WHITE OAK SAMPLE IN TROMSO AT STONEWOOD PRODUCTS
"This is a great not-too-cool but not-too-warm wood floor option. I especially enjoy its light brown tones and smooth texture."
14. ZELLIGE UNMOUNTED SQUARE TILE IN NATURAL BY CLÉ TILE
"This natural tile is a great option for those who love a more imperfect look. We love how it appears hand-made and special."
15. ZELLIGE SQUARE TILE IN SKY BLOOM BY CLÉ TILE
"I've been loving incorporating more colored tile into our designs lately, and this blue option has the perfect textured surface and hand-made look."
Homepage photo: A flat lay by Bria Hammel | Courtesy of Bria Hammel Interiors