Product Preview is a weekly series spotlighting the latest and greatest debuts in the marketplace. Check back every Friday for what's new and notable.
We're hot on the heels of KBIS and IBS, and creative new collections keep dropping left and right. From hand-woven fish-scale-inspired silk rugs to evil-eye-shaped cabinet knobs, here are 10 standouts from the latest round of releases.
Courtesy of Lawson-Fenning
Lawson-Fenning's Spero is an ode to vintage Scandinavian design. The six-piece collection includes a side table, nightstand, coffee table, console and two credenzas bedecked in rounded corners, fluted facades and characterful cutouts that pay homage to the meticulously crafted, rustic furniture styles that reigned supreme throughout the 1960s and '70s.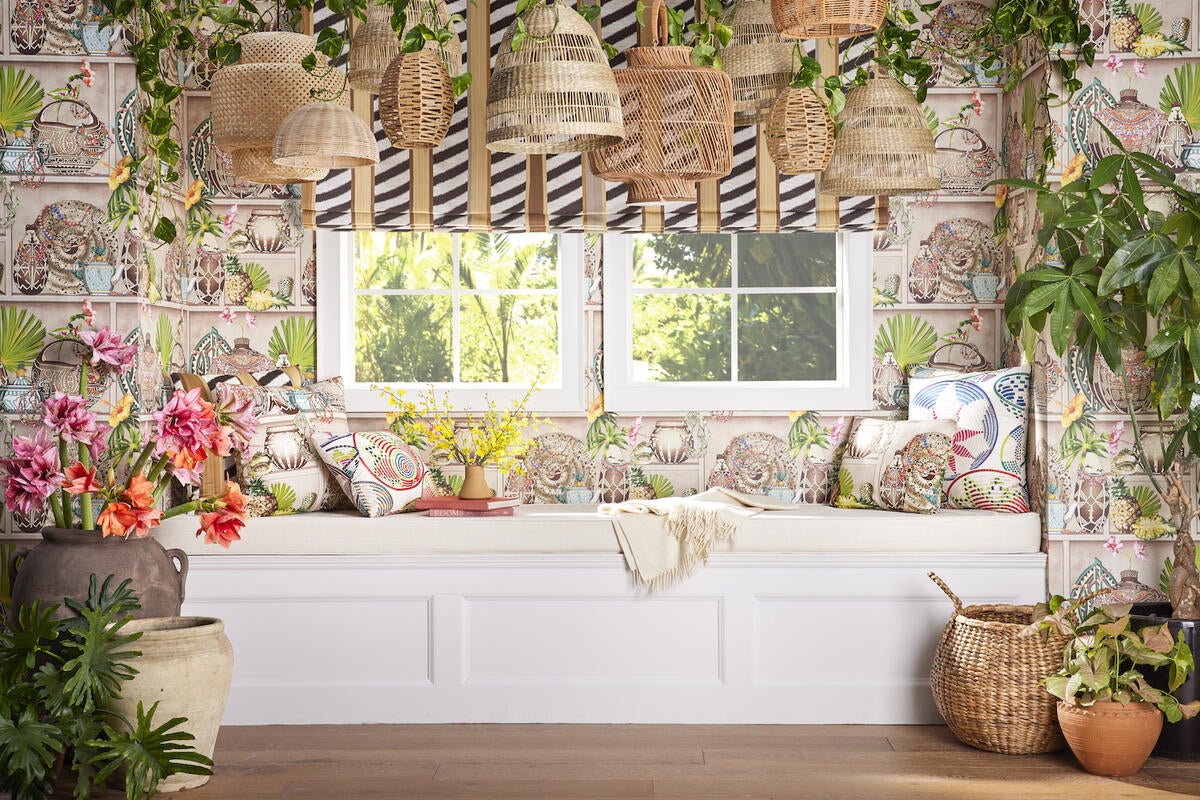 Brunschwig & Fils's latest launch is a love letter to the Jardin Majorelle in Marrakech. The collection—which takes its name from the famed garden—features an exuberant assortment of fabrics and wallcoverings adorned in vibrant motifs, such as the high-contrast, leopard-skin-and-palm-leaf-patterned Mambo Print, the trompe-l'oeil-style Maizan Print and the colorfully embroidered Bendi Emb.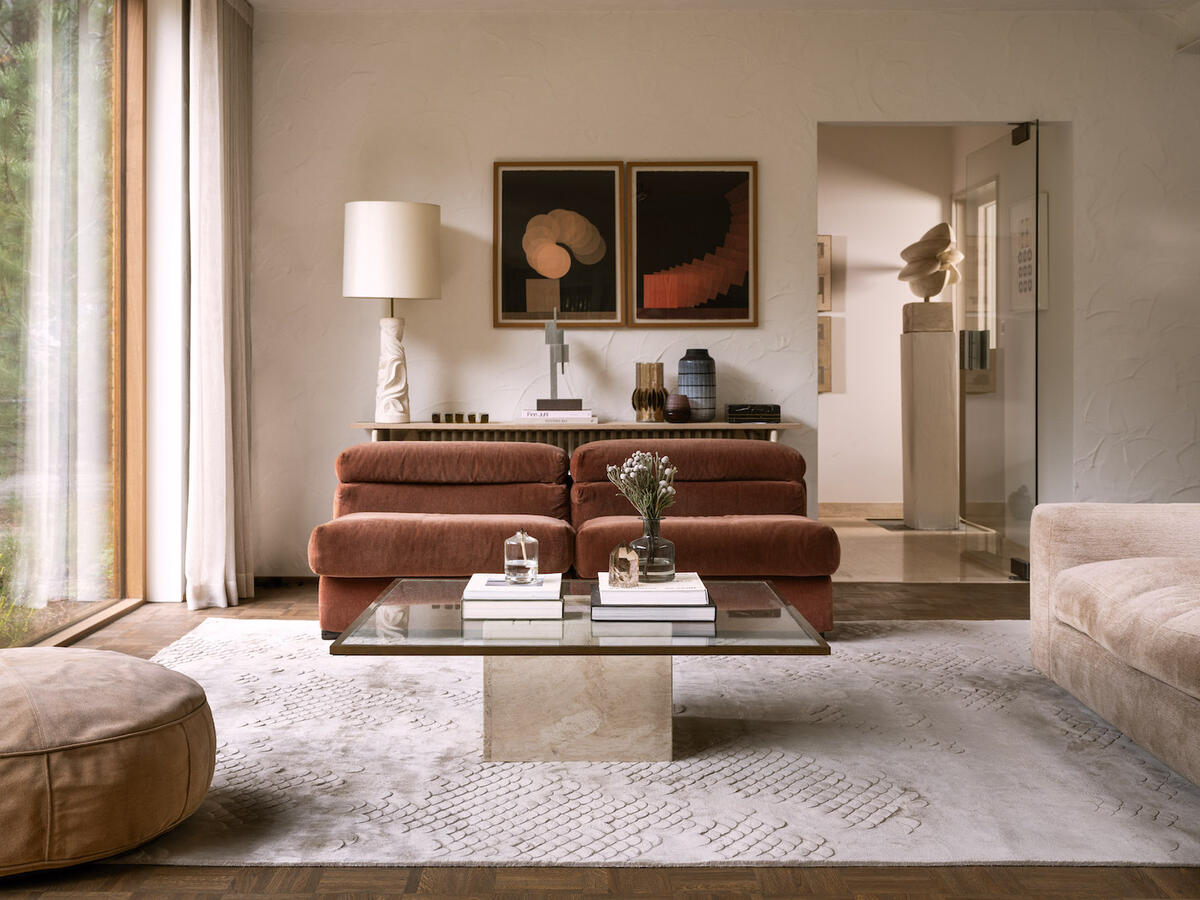 Courtesy of The Rug Company
The Rug Company introduced the Tidal Silks collection by artist Helen Amy Murray. The selection includes four sumptuous silk rug designs with hand-carved raised-pile motifs, including the shimmery scalloped Scales Pearl and the undulating ombre-style Shoal Mist.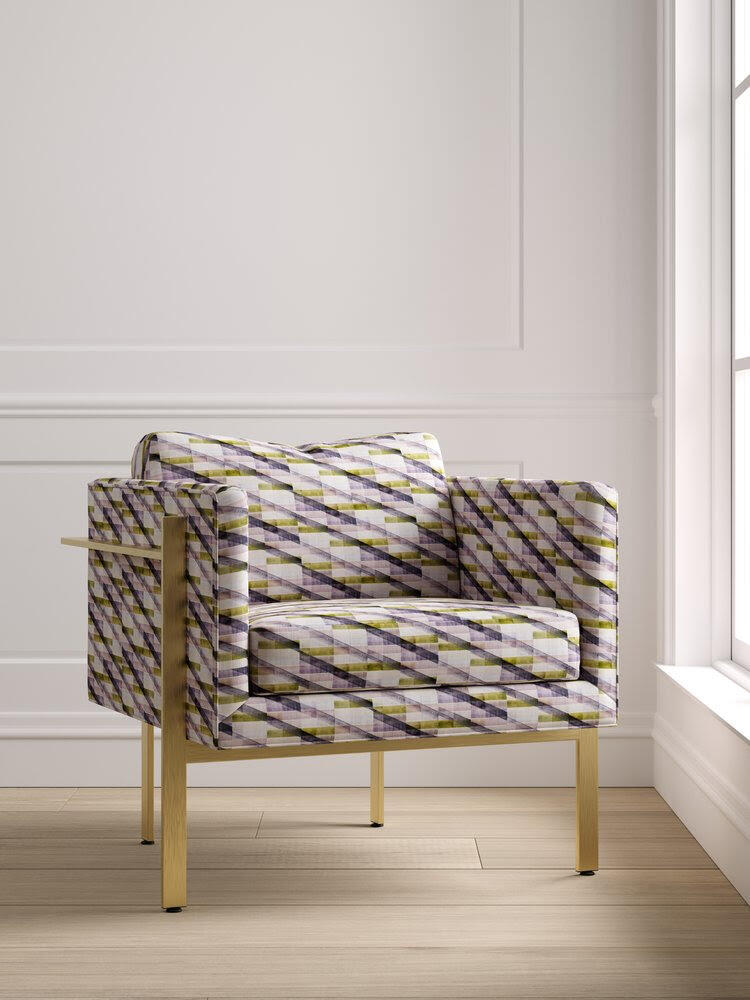 Courtesy of Sarah Von Dreele
Sarah Von Dreele debuted a dreamy winter collection called Intersections. The line features four abstract textile patterns based on original paintings in an assortment of ethereal colorways such as the arch-filled Little Deb, the cuboid-clad Avery and the brushstroke-banded Seher.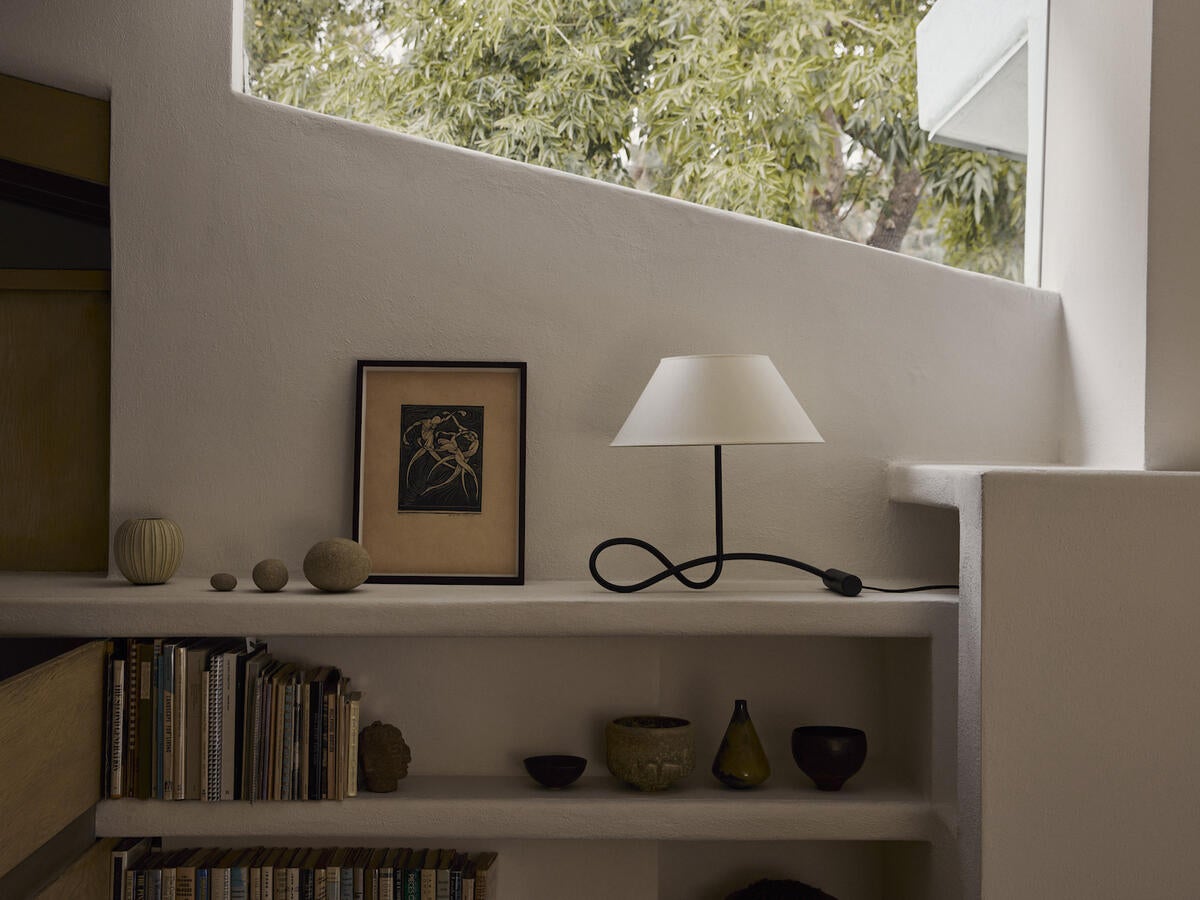 Courtesy of Hudson Valley Lighting Group
Troy Lighting premiered its inaugural designer collaboration with Colin King. The collection spans 27 fixtures punctuated by modern silhouettes and dapper details, such as a squiggly stemmed table lamp named Alameda and a two-toned brass pendant with exposed joints dubbed Roux.
Artemest unveiled Marmo inside its New York Galleria showroom. The series—on display through May—showcases more than 50 marble designs crafted by an array of imaginative international artisans, including a multicolored checkered tray made from discarded scraps by Manuel Coltri and a pedestal table with a paper-thin, wabi-sabi-style top by Luce Di Carrara.
Scandinavian brand Muuto rolled out Relevo, an artful collaboration with Milan-based Studiopepe. Available in two sizes and four monochromatic colorways, the series draws inspiration from three-dimensional relief sculptures and boasts a swooping hand-tufted geometric pattern composed of different pile heights.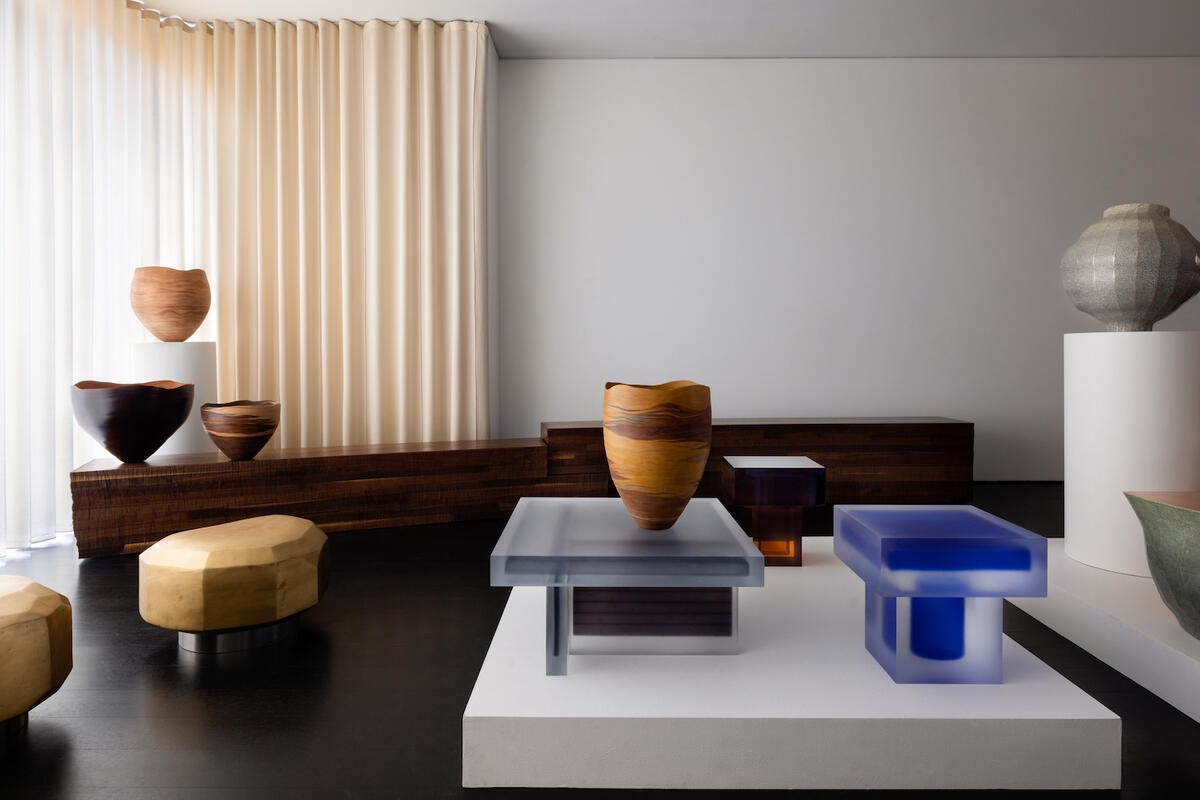 The Future Perfect revealed "정Jeon: An Exhibition of Contemporary Korean Design" inside its West Village outpost. On display through March 17, the shoppable collection features a medley of avant-garde designs from rising artists in the region, including a bulbous lounge chair fashioned from epoxy-coated balloons by Seungjin Yang and a resin side table with a bright blue acrylic-cast core by Rahee Yoon.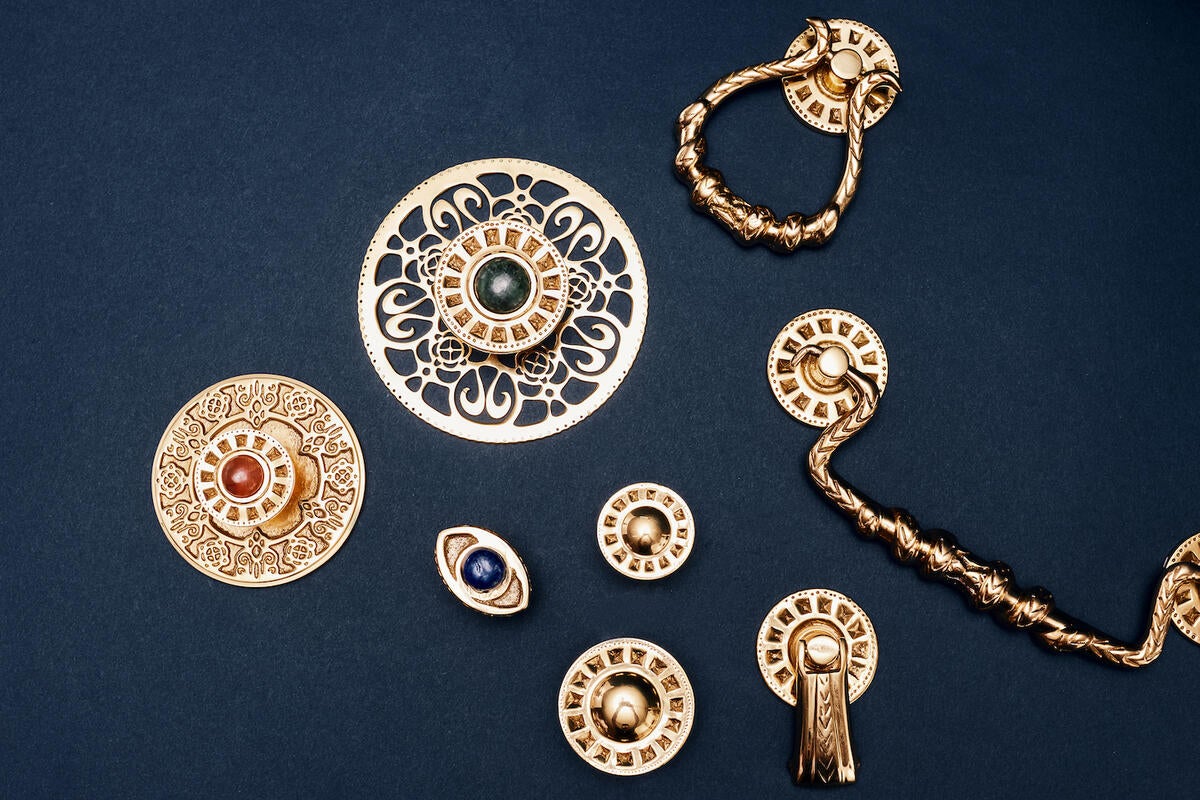 Courtesy of Modern Matter
Young Huh designed two delightful collections for Modern Matter. The first, Jeweled Enchantress, offers everything from customizable Evil Eye cabinet knobs to brass pulls covered in curling snakes, while the Across the Pond series features 19 whimsical pieces including a cat-shaped paperweight and a hand-etched dish that evokes a blossoming flower.
Levity launched its first-ever designer collaboration with Jonathan Adler. The ultrafunctional collection offers four sleek solid wood furniture designs available in 17 maximalist—and machine-washable—upholstery-cover prints, including a walnut lounge chair with a trippy op-art-esque cushion pattern called Vallauris and a midcentury-style ottoman outfitted in a mazelike fabric motif named Labyrinth.