This past February, Julia Duke and Molly Bates took the reins from Susan Becher at Susan Becher & Associates, the design industry PR firm she founded in 1982, and are now running a business that counts among its clients Thomas Jayne, Janson Goldstein, Gien and Scott Group Studio. Becher tells EAL, "I did not anticipate that the changing of the guard would happen so quickly; however, I was always confident that both Julia and Molly would succeed with anything they put their minds to."
Duke and Bates discuss future plans, past progressions and what the interiors world can expect with them at the helm.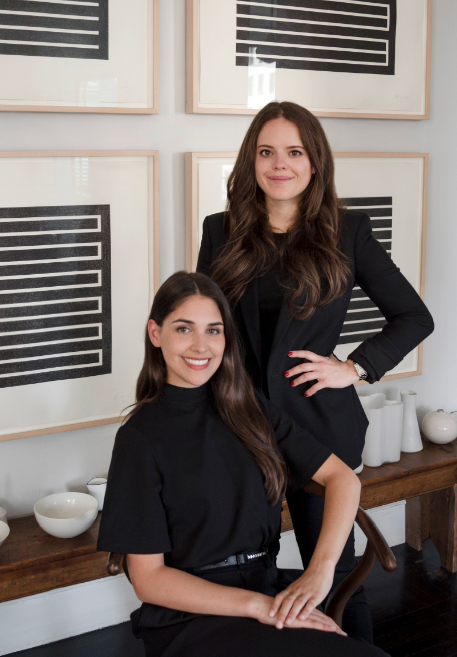 When did you each start at Susan Becher? How have your roles changed over time?
Julia Duke: Molly and I started working for Susan within two weeks of one another, around three years ago, and Susan was already beginning to take a step back. She trusted our abilities and let us take the lead with our clients. She never defined our roles, but still guided us in the right direction.
Molly Bates: Yes, and the transition has been very organic for that reason. From the beginning, Susan wanted us to figure out what we liked about our jobs and what we were good at. I think that allowed us to enjoy our work day-to-day and become more independent in our positions over time.
How did you come to acquire the company? Is Susan still involved?
Bates: Susan very much wanted to keep the business in the family, so to speak. She kept it a small firm for all these years and we share her appreciation for an intimate work environment and close client relationships. We were surprised when she came to us with the news and offer, but it was a leap we felt confident taking.
Duke: Susan still consults for us on top-line items. She built this company over 35 years and knows just about everyone in the industry, so she offers perspective, not to mention words of wisdom and advice.
What are the joys—and challenges—of running a business together?
Bates: We've been fortunate to have so much support from Susan, our families and friends, that the challenges during the transition have been so minimal. Of course, running a small business means you have to do everything yourself from top to bottom, so switching gears and being efficient every day is sometimes easier said than done.
Duke: Molly and I are pretty like-minded. We have different personalities, but very similar work styles, interests and tastes, so we don't disagree on a lot. On the other hand, when we do, it's nice to have different opinions to bring to the table.
Bates: We also get equally excited about great design and being able to share that with someone you work with is a lucky thing. And, getting to know people in the industry and build those relationships is always more fun with a partner.
What are you looking forward to in the future in terms of clients and projects?
Duke: Like Susan has over the years, we both love working in the design industry and with design-oriented clients. We hope to help brands (like us) that are starting out and doing something they're passionate about define who they want to be and lead with their best foot forward.
Bates: That's the end goal, and we're lucky to get to work with new brands and talented designers and architects, as well as well-known companies, to realize their vision. We like having that mix, because it's always a unique process and keeps us on our toes.
Duke: As far as the future, if we have half the success and respect that Susan has achieved—we'll be happy. That's something to work toward.