Carl Hansen & Son has launched its latest products for summer and fall 2017, including a rug collection by Naja Utzon Popov, furniture reissues by Danish masters Ole Wanscher, Poul Kjærholm and Hans J. Wegner, and a contemporary take on a classic rocking chair by emerging talent Anker Bak. Third-generation CEO Knud Erik Hansen chats with EAL about the brand's latest happenings. 
Walk us through the latest collection. What's the common vision?
This year, we presented a great selection of products, including everything from a series of new chairs to a beautiful new rug collection. The common thread between all of the pieces is our attention to detail, craftsmanship and timeless design.
Our newly launched products, designed by renowned Danish masters and up-and-coming talents, include the reissued CH23 by Hans J. Wegner and the sculptural Beak Chair by Ole Wanscher, a chair that showcases exactly why Wanscher was known for creating elegant furniture with sophisticated, function details.
This year we also welcome Poul Kjærholm's first dining chair—the PK1—to our collection. It is an outstanding example of the designer's unique ability to lend vitality to steel. We are also welcoming two Danish designers to Carl Hansen & Son's collection: Naja Utzon Popov with her new rug collections Oceania and Botanica, and Anker Bak, who created the Rocking Nest Chair.
Both have an interesting way of interweaving the past and the present into a new, unexpected context. As you can see, we have a strong focus on preserving classic Danish design while expanding our collection by representing new designers. We chose designers like Utzon Popov and Bak because they uphold the core Danish principles of simplicity, functionality and craftsmanship. Every collaboration we undertake is rooted in shared respect for thoughtful design and production, and in perspectives that bring new dimensions to our portfolio while building on our more than 100-year craftsmanship tradition.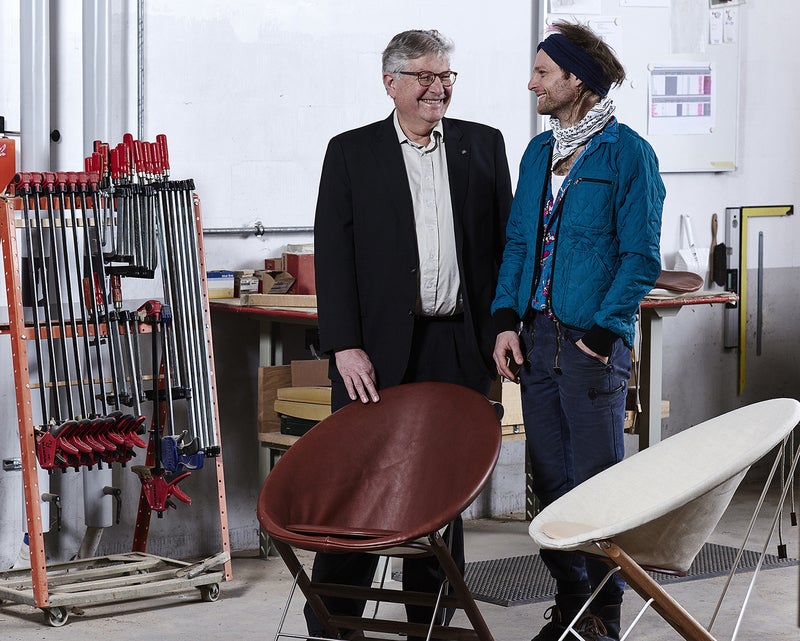 Do you have any favorite pieces, or collaborators, launching now?
It is very interesting to work with new designers like Naja Utzon Popov and Anker Bak, who expand our collection with pieces that rethink certain typologies. It's so interesting to see each designer's creativity take shape and their ability to push technologies to new limits, all while marrying innovation with sustainability. Both designers are interesting artists whose design philosophy is in perfect harmony with our own.
It's important for us that a design partnership both complements our approach to craftsmanship and puts it into perspective, while skillfully interpreting the DNA that characterizes Carl Hansen & Son.
With these new and very inspiring collaborations I feel a strong kinship with my father who formed a partnership with the then-unknown designer Hans J. Wegner in 1950 making sure that his design visions were brought to life. Meanwhile I also enjoy the close collaboration we have with the Danish design masters' families and studios such as Hans J. Wegner, Poul Kjærholm and Ole Wanscher, ensuring absolute adherence to their visions. Our aim is to manufacture iconic furniture that is instantly recognizable to design lovers across continents. Each piece creates a collision of something familiar while adding the personal story.