In Ask an Influencer, Business of Home explores the creator economy. This week, we spoke with Vancouver-based interior designer and content creator Jordan Samson.
By the time he was a fifth grader, Jordan Samson was already achieving viral success for his design skills. His medium: the Sims online video game, where templates for the virtual houses he built and designed were downloaded by thousands of people. In the real world, design just didn't seem like a viable option at the time.
"I always wanted to be a designer, but I was a painfully insecure teen living in the closet and growing up in a different world, where being gay and being feminine was seen as less than," says Samson. "I foolishly shut out any aspects of being that would be perceived that way, which in my mind at the time was interior designer—looking back, it was a crazy thought to have, but that was my reality."
Instead, Samson went on to study marketing and communications, eventually landing a job at an influencer marketing agency. He began negotiating rates and navigating contracts for creators—information that would become valuable later on—but soon found his way back to design with a job in real estate marketing for presale condo developments in Vancouver. Before long, he was taking on consulting work for developers and builders while enrolled in design school part-time—all while sharing what he was learning on Instagram and TikTok. That was in 2021. Today, Samson has an audience of 100,000 TikTok followers and 315,000 Instagram followers, who tune in to hear his design tips and tricks, often taking part in his virtual design services too.
Ahead, Samson shares why he pivoted away from the voice that caused his early content to go viral, what "sneaky marketing" tactics he uses to advertise his services, and how to boost engagement with a few simple content tweaks.
When did you find a content strategy that worked for you?
I joined Instagram six months before I started TikTok, and nothing was really happening there for a while. A friend of mine was like, "You should make videos on TikTok." I took her up on it—and the second video I posted got 2 million views. Granted, it was for all the wrong reasons. I used a really horrible hook that I would never use now: "Things that are making your home look cheap," which can obviously be a little bit degrading toward people's homes, which is not the content I wanted to make. It still kind of haunts me. Very quickly, I had to course-correct my content and be more thoughtful. I'm sure I lost a lot of those initial followers [who were more into that snarky tone], but from there, I just had this ongoing stream of viral videos that were in that same realm but a little bit more thoughtful. [One of them] was something about "How to design an entryway," and I gave five things that every entryway needs—that one also got 2 million views, and when I reposted it on Instagram, it blew up over there. Then I started reposting videos that went viral on TikTok over on Instagram, and I think it was timing, but a lot of those got over a million views as well. I went from a few thousand followers to probably 75,000 [practically] overnight.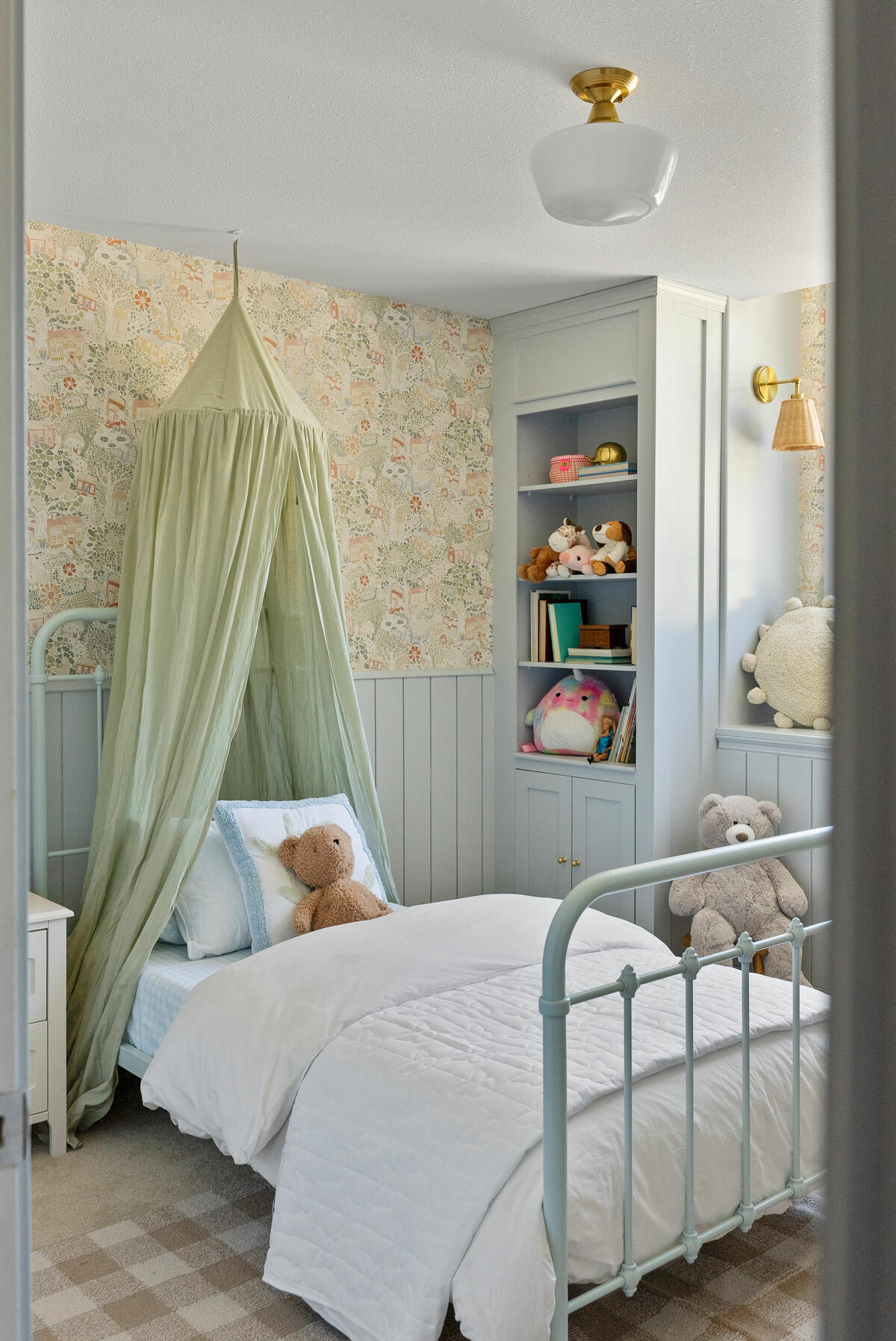 Courtesy of Jordan Samson
Why did you decide to pull back from that original tone you took at the beginning?
It definitely wasn't the brand identity that I was hoping for. I think my goal with all of this is to make design accessible and approachable. It's more than just choosing pretty things and making your home look really dialed. Your home is very personal—it's where you … should be very comfortable. You don't necessarily need to dump a ton of money into it [through] luxury items. [Those early videos] were just really bad and did not convey what I'm trying to say now. And yes, I got tons of hate comments and a lot of trolls, because it was, like, my second video, and I don't think TikTok even knew the audience I was trying to promote to. It was just a perfect storm.
How would you describe your social media persona today?
I try to be an expert in my field, but I don't want to come across as unapproachable. A majority of my content is infotainment—rather than simply design inspiration, I really started with tips and tricks and commentary on trends. I've been sprinkling in more projects and more client work, but with the approach of explaining the rationale behind certain design choices rather than just showing pretty images and videos, which doesn't work as well—with my audience, at least.
What does the process of producing content look like for you?
If I'm doing a how-to video, I start in the research phase of that topic. I rely a lot now on what my clients' questions are, and I keep a running spreadsheet of common questions that people ask. In the Google search bar, if you type in a really basic question, like "how to hang art properly," it prompts you with other Google searches that people are looking for related to that topic, so you'll get, like, 10 more prompts. There, you have maybe five additional videos that you can make. I also use Reddit basically as a Google search—there are quite a few threads that are home-renovation-focused, with everyday people showing a picture of their space and asking a question, so there's lots of good insight in there as well.
Then, I create a framework of what the video is going to look like, almost like a storyboard, to make it really easy to follow, and I cut out all the fluff that I don't think is necessary. I spend a lot of time searching images on Pinterest and Instagram to find things that relate to what I'm talking about. I'll edit those photos, add graphics and arrows, script everything—because short-form content is too short to not be scripted—and then the least amount of time is spent actually recording voice-overs. Editing is another bit of a time suck. It's a long, drawn-out process, but I want to make sure I'm giving as much information as I can.
How does social media factor into your business?
All of my clients come from TikTok or Instagram. My business is pretty unique in that I work almost entirely remotely, which kind of happened naturally because my audience across all social media is 90 percent located in the U.S., and then Canada. But my own city, Vancouver, is barely even on that list. I pivoted my business to virtual design, and a lot of my viewers and clients are everyday people looking to learn a bit more about design, or they have current projects ongoing, and that's how they found me. Virtual design is often a lot more affordable than a full-service, in-person designer, and allows them to take on their projects at their own pace.
I think it would be impossible to keep up the momentum that I have right now on social media while taking on full-service, in-person projects. I would eventually like to move toward primarily in-person design, and maybe some sort of e-commerce, but for now, I'm riding the social media wave, and it's working for me. I think everyone has to enter social media realizing it's not likely a forever thing. Ride the wave while you can, and find ways to build your business that works for you and your online presence, but also set yourself up for a time when the algorithm is no longer bringing new clients.
That's a really interesting take—do you see social media as something you'll stick with long-term?
I always describe it as: It feels like you're standing on this mountain of sand that you built that can just fall beneath your feet tomorrow. Any business kind of feels that way—you're not sure the phone is gonna ring. I find that social media is that times one hundred, because you really never know what's going on. So, personally, I don't think social media is forever for me. I think it would be really hard to stay relevant for that long. People's interests change; as a society, our interests change—right now, design and home decor is really big, but maybe that could totally change. I kind of struggle with that, and I don't really know what the answer is. I'm just trying to monetize it as much as I can and be prepared for the day that maybe that door closes. And I'm OK with that.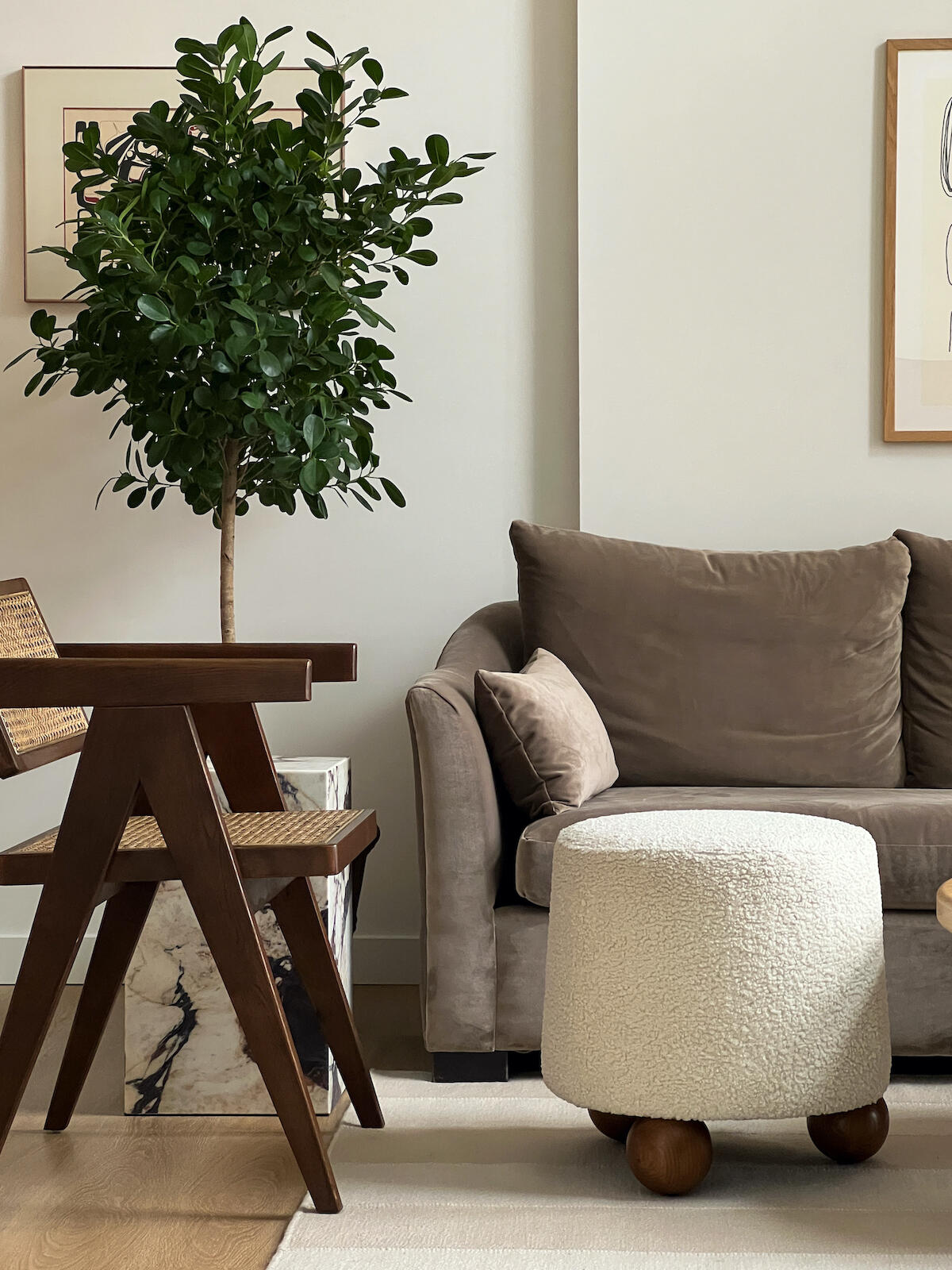 Courtesy of Jordan Samson
Do you work with brands?
I'm very, very particular with branded partnerships. It's a great supplement to your income, but it's not everything to me. I'm very grateful that I get to work with brands, because it's allowed me to maybe take on fewer clients some months, but everything fluctuates. Right now, it's about 50-50. I try to prioritize bigger brands, larger campaigns, so I don't have to do them as frequently, because I don't want to become a quote-unquote influencer who's just promoting products all the time.
Do you have management?
I don't—I do my own negotiations. I think having worked on the back end, I learned a lot in terms of negotiating and how to read contracts. I would not recommend that anyone not have management. I think everyone probably should. [Brands] put some weird stuff in contracts sometimes that you're just not aware of, and it's a lot of work to manage that. Usage is a big one. I've seen contracts where they'll ask for usage in perpetuity—never, ever do that; usage should be about a year. If they're asking for that and not paying you accordingly, that's a red flag.
I actually had one of my very early brand deals—and this was a mistake on my part—but the brand had a little note in [the contract] that if the video did not get the views that they thought it should, I would have to keep posting videos until I got to that number. If you ever see that, absolutely say no—you should not be doing weird things like that. Payment terms are another one. People are quick to just sign contracts, but you can negotiate how people are paying you, especially if you're doing a big brand deal. I was working with Home Depot on two campaigns and originally it was one lump-sum payment at the very end, but you can negotiate to get that split into multiple payments.
How does your business factor into your content?
I do kind of sneaky marketing to promote my services. Sometimes—very rarely—I will lay out on [Instagram] Stories what my services are if I have spots available, but I find that more of my marketing is just in the information that I'm relaying in videos and how my brain works when I'm looking at a space. Videos that do really well for me are when I go through a client's space and talk about the questions they have or things that they're struggling with, and then go through the space planning and the mood board and the core finishes that we went with based on their style—but always giving rationale behind everything that I'm doing and explaining why that works. I think that's my marketing in itself.
What can people do to improve their engagement on social media?
There are a few things people can do. I think the most effective, in video, is to ask a question. I did one where I was doing my own bedroom makeover and asked people's opinions on options—that got me 200-plus comments. People really like to feel involved in the process. On Stories, polls work really, really well, and it's not very public, so [users] can choose something and move on. Just engaging with your own community [is important] as well; like, I make an effort to comment on other people's videos and engage with other creators. I'm genuinely friends with a lot of these people, and I really enjoy their content, so I make meaningful comments, and maybe people will see my replies, click on them and engage more with my videos. Responding to a DM is also a good way to improve engagement, even if it's just a quick response. If people feel like you are giving them time and answering their questions, they may feel more inclined to interact with your videos.
Another really good [strategy is to figure out] when your audience is actually active. For me, Sunday, Monday, Tuesday at 9 a.m. is my highest engagement, so that's when I prioritize posting. That's in your analytics, and it should show you, to the hour, when your followers are most active.
Is social media ever overwhelming for you?
It can be really hard to keep up with trending content styles, and I don't mean just trending [video editing and packaging methods like] audio and transitions. I find the topics that people are interested in change so quickly. Things that worked a month ago don't work anymore. Less-dialed content is working better than super-polished [shots] with studio lighting—and it's all gonna change again in, like, two months. It can be extremely overwhelming to keep up with that. I try to be off my phone and present, but it's also part of my job to be on top of what's working and what isn't. That's when comparison issues are really heightened. That's when I take a break and realize that my focus is really my clients and my interior design business—I dive into that world instead, and won't post for a week and a half. I know the algorithm is probably going to hate me, but it's worth it for my mental sanity to just take a little break. Posting every single day is insane—I don't think anyone should; it can't be good for you. Take a break, and it's going to be fine.
What's something you're analyzing about your business right now on social media?
I try really hard to [offer] value and help people, but I do find that social media gets blurred into this hyper-consumerism atmosphere, which I really don't like. It's a little bit ironic, because interior design is basically about consumerism in some way. But on the flip side, it makes me happy that we're realizing that maybe this isn't working as much as it used to in terms of shilling out products to people. It's shifting to become a little bit more relatable.
In general, I feel like the landscape is changing—the creative economy is shifting. What worked a few years ago is maybe not working anymore, which can be a challenge to keep up with, but it's also a good thing. I think creators, in general, are changing from day-in-the-life or lifestyle influencers to being people who have careers, and this is their marketing tool. I feel like that's where the creative economy is heading: to people who are giving their insight and value online versus just selling a lifestyle. So, [for] anyone thinking about diving into social media who has an interior design business, I think this is a really good time to do it, because you are the expert in that field, and there's a lot of value there.