In our series, What I Love, we're asking designers to build us a mood board of what's inspiring them right now.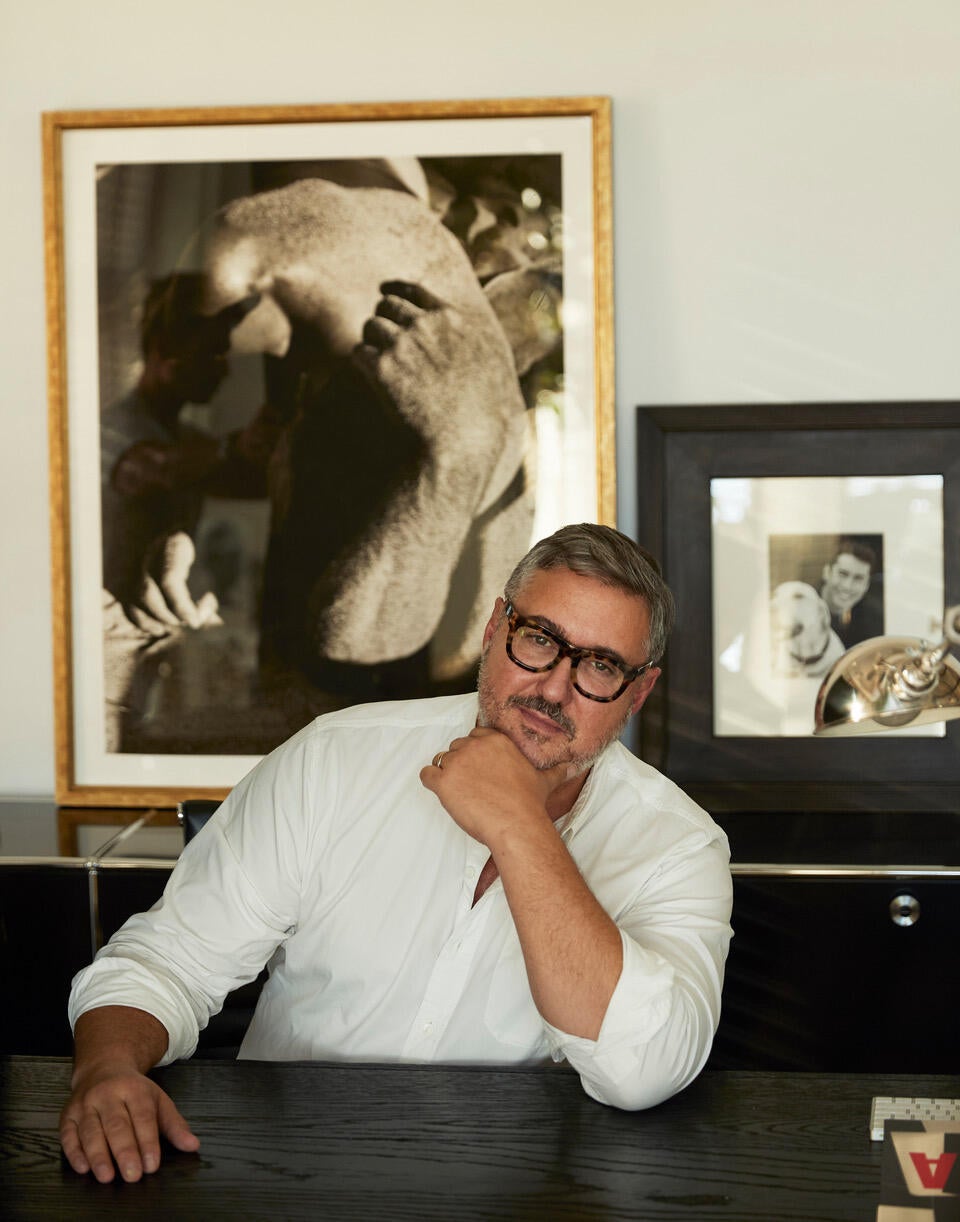 Alfredo Paredes has a keen eye for craftsmanship. The New York–based designer relies on hand-crafted items made from simple yet sustainable materials to infuse his interiors with timeless appeal. "My appreciation of craft and materials goes all the way back to my childhood," he tells Business of Home. "My parents immigrated to the United States before I was born, and I'm constantly going back to my upbringing in Coconut Grove, Florida, as a source of inspiration."
For his current mood board, Paredes employed an array of sophisticated artisanal textiles and finishes adorned with organic motifs. "This flat lay feels confident and very self-aware," he says. "It's functional and purposeful, but also retains an elevated beauty."
The final scheme showcases a blend of old-school elements and of-the-moment finds that pay homage to Paredes's history. "It's definitely a look into who I am," he says. "It's a bit of everything—rustic but elegant, simple but chic, a bit of the old world meeting new—all drawn from, and influenced by, my varied heritages. In that way, it feels very authentically American."
Here, Paredes breaks down the details—from glossy glazed brick tiles to ombre striped alpaca fabrics.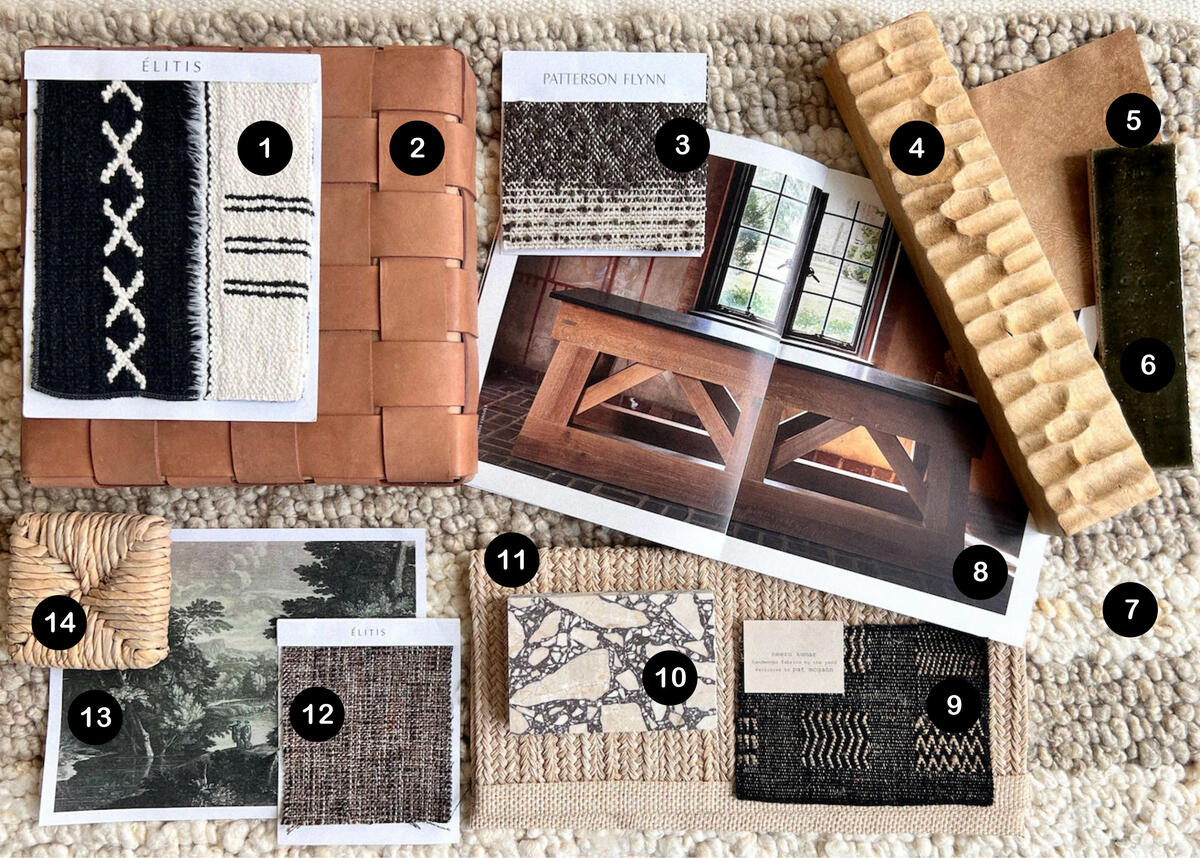 Courtesy of Alfredo Paredes Studio
1. ESCALE FABRIC IN LI 878 80 BY ÉLITIS
"I love the geometric patterns on this fabric, as well as the contrasting colors. It feels very kinetic."
2. SEVILLA WOVEN LEATHER OTTOMAN SAMPLE BY ALFREDO PAREDES AT EJ VICTOR
"I've always been drawn to woven leather. It's sculptural, timeless and quite versatile. Most recently, I used it in a coffee table that doubles as an ottoman."
3. JESSEN ALPACA STRIPE FABRIC IN BROWN BY PATTERSON FLYNN
"The neutral ombre gradient reminds me of the Miami beaches and sunsets where I grew up."
4. ANA ETAGERE BY EJ VICTOR
"I used this wood for a bookcase in one of my previous collections. I love the allure of the metallic finish—a minimal yet artful touch to bring dimension to the material."
5. STALLONE LEATHER IN AZTEC SUN BY CARROLL LEATHER
"I use leather in all of my projects and across my furniture collections too. I love the warmth that this colorway brings."
6. MODERN FARMHOUSE BRICK TILE IN DEEP GREEN GLOSS BY CLÉ TILE
"This glazed brick brings an urban edge to an everyday material. I especially love the deep green, adding in an organic, rustic feel."
7. TAPANGA RUG IN IVORY AND SAND BY ALFREDO PAREDES
"All of our rugs are hand-made and textural. This ivory and sand color combination is the perfect way to accentuate varied materials within a room, or in this case, a visual board of the things I love."
8. ALHAMBRA CONSOLE BY ALFREDO PAREDES
"I like to weave both traditional and modern elements into my furniture designs—it's such a personal and creative exercise for me."
9. NEERU KUMAR HANDWOVEN WINDOW WEAVE BLACK UPHOLSTERY WEIGHT FABRIC BY PAT MCGANN
"I'm always gravitating toward neutral furnishings, with an accent pattern or color that pops. This would be the perfect pillow cover for a cream or gray couch."
10. CAPRINO PIEDRA TILE BY DDS TILE & STONE
"The beauty in this terrazzo tile speaks for itself. The wide, natural marble chips are so unique and undeniably chic."
11. TAPETE ACQUA RUG SAMPLE BY NANI CHINELLATO
"Nani Chinellato hails from São Paulo, Brazil, and creates these incredibly durable rugs of synthetic fibers. I use them in a lot of my projects for covered terraces and high-traffic areas, including my entry in my own home."
12. TAILOR FABRIC IN LW 240 71 BY ÉLITIS
"I've used this tweed fabric in some of my shoreside properties and other outdoor projects. It does not wear under UV light, so it's incredibly useful."
13. OLYMPUS SMALL PAPER WALLCOVERING BY FINE & DANDY CO.
"I love referencing and utilizing historic designs and patterns in my projects. When it comes to wallcoverings, I always go to Fine & Dandy Co.!"
14. SANTA MARIA TRAY TOP COFFEE TABLE FINISH SAMPLE BY ALFREDO PAREDES AT EJ VICTOR
"This weave is from a coffee table that I launched at High Point Market this year. It feels rustic yet elegant—and pairs great with a bold oak."
Homepage photo: A flat lay by Alfredo Paredes | Courtesy of Alfredo Paredes Studio