Product Preview is a weekly series spotlighting the latest and greatest debuts in the marketplace. Check back every Friday for what's new and notable.
It was a whirlwind week in North Carolina. More than 75,000 industry aficionados from across the globe—including yours truly and BOH editor in chief Kaitlin Petersen—congregated in High Point on a mission to unearth the latest and greatest designs. From agave-shaped console tables to tufted puffer-jacket-inspired dining chairs, here are 18 of my favorite finds at Spring Market.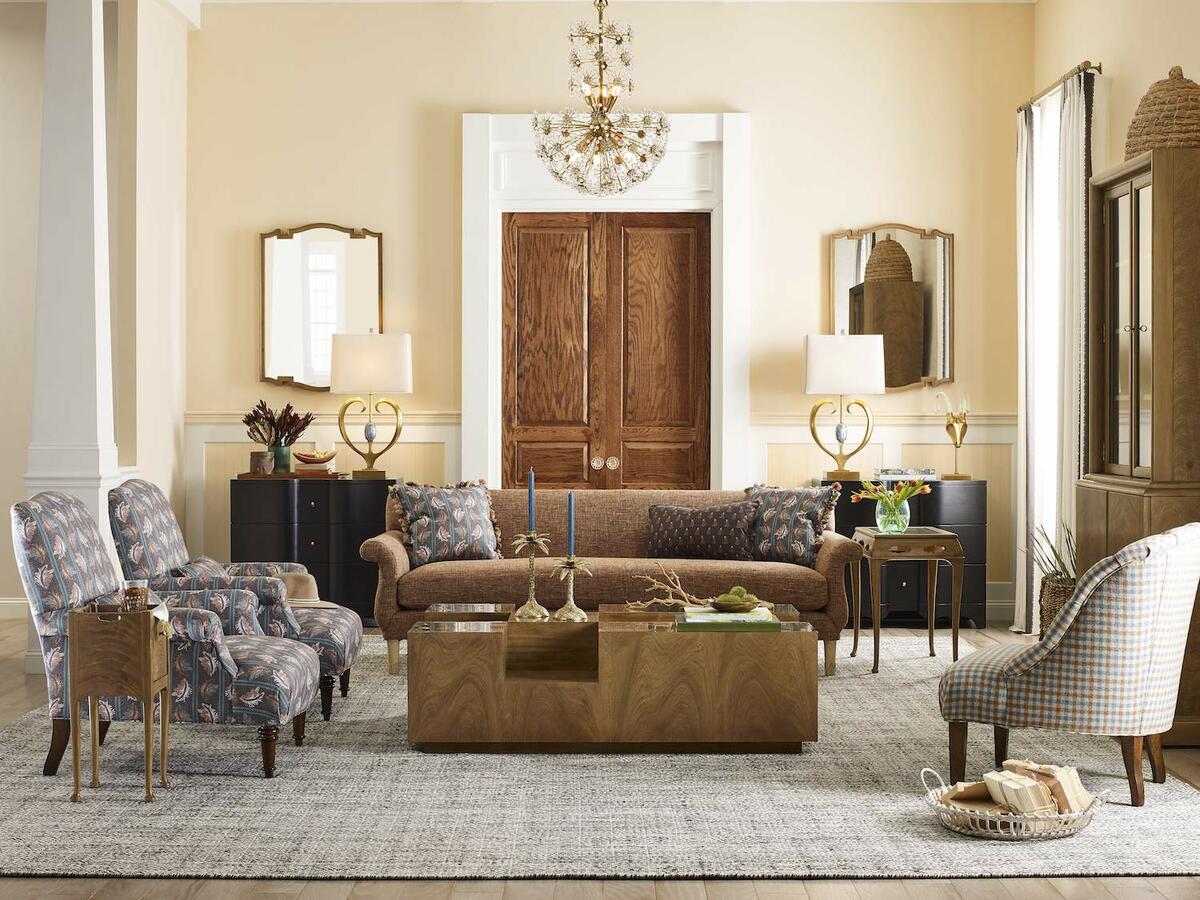 Inside 200 Steele, Celerie Kemble was just as excited to show us her line for Taylor King and Woodbridge as we were to see it. Teeming with tassels and scallops, the collection spans 35 spirited SKUs bedecked in punchy motifs and whimsical details, including a gold-accented cocktail table with staggered storage compartments and a side table with a caned top and cutouts shaped like cumulus clouds.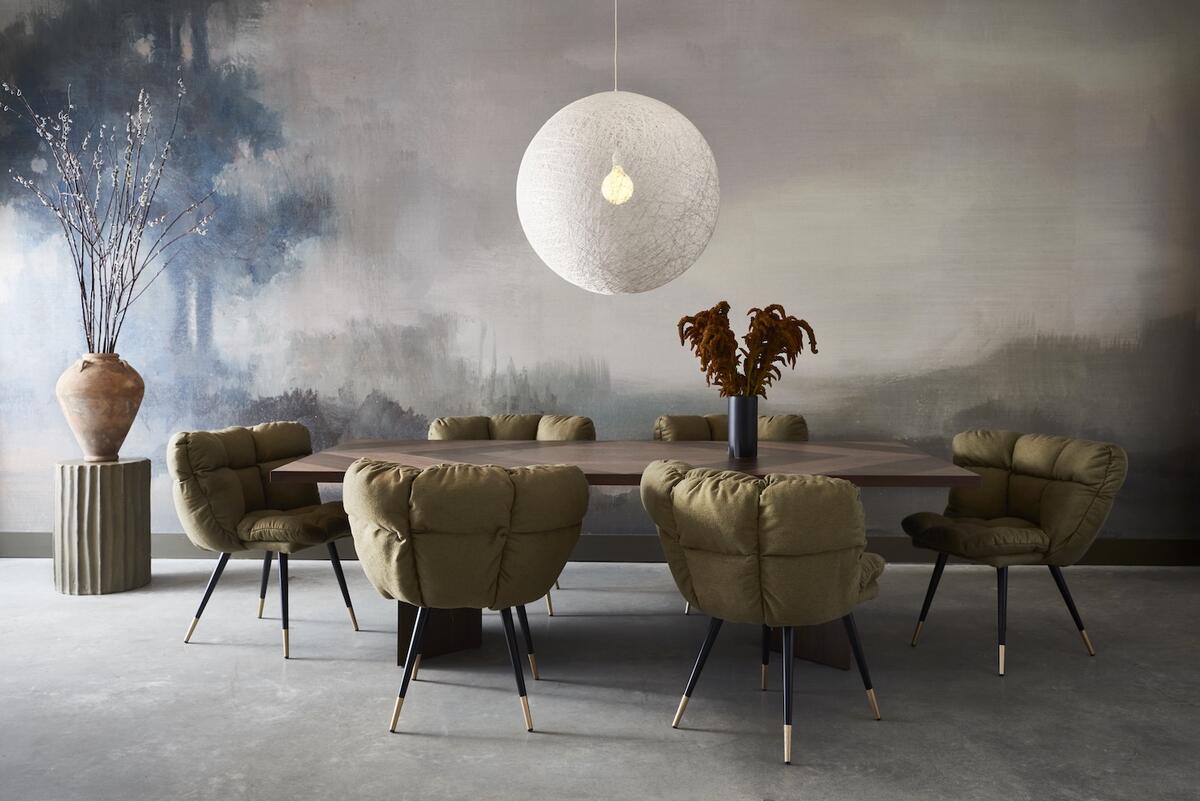 Bradley USA's booth at the International Home Furnishings Center transported us straight back to the 1970s and '80s. Along with a Memphis Milano–esque console clad in plaster and Matisse-like cutouts, the charismatic setup featured a dining table with a chevron inlay top and tufted dining chairs inspired by vintage puffer jackets.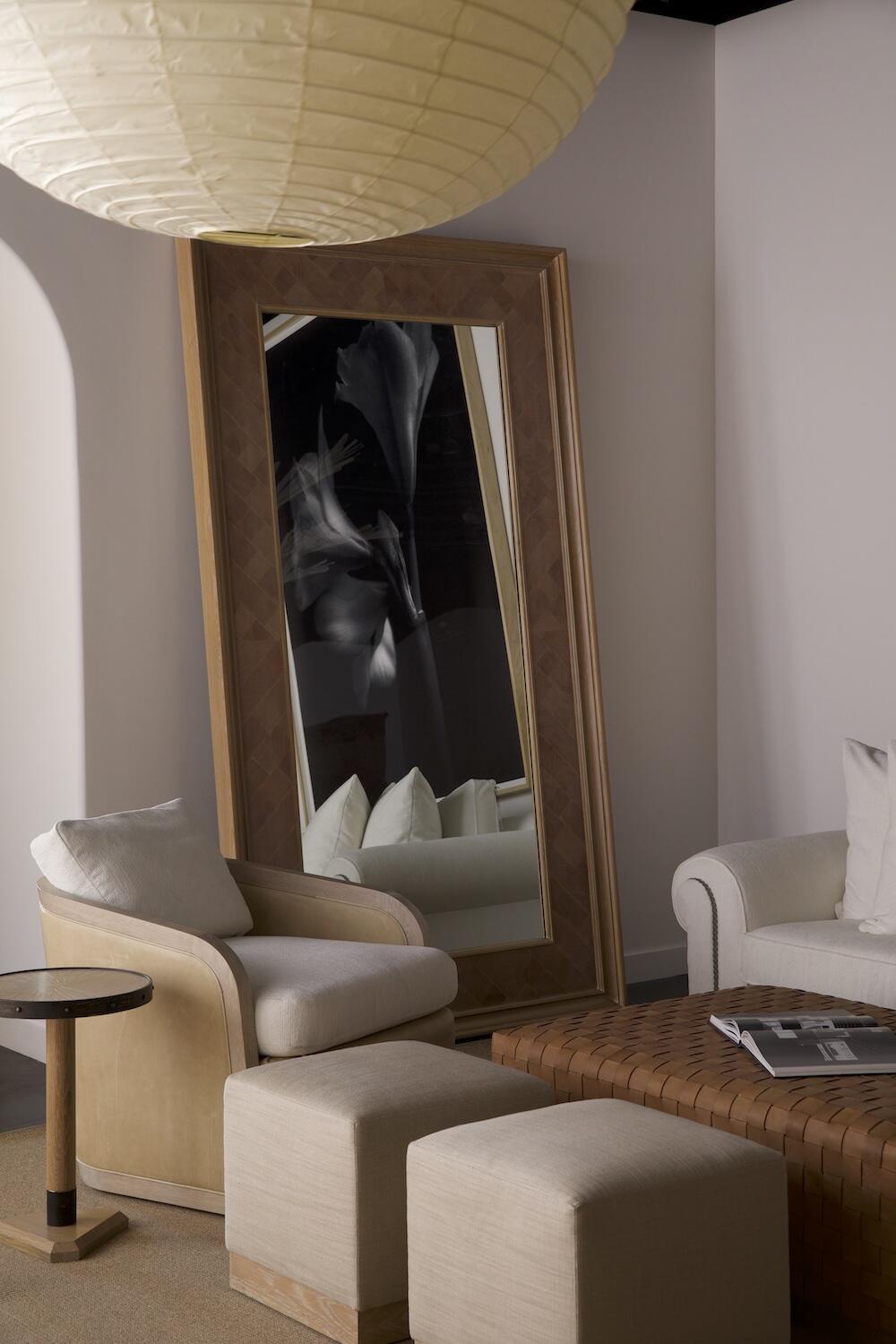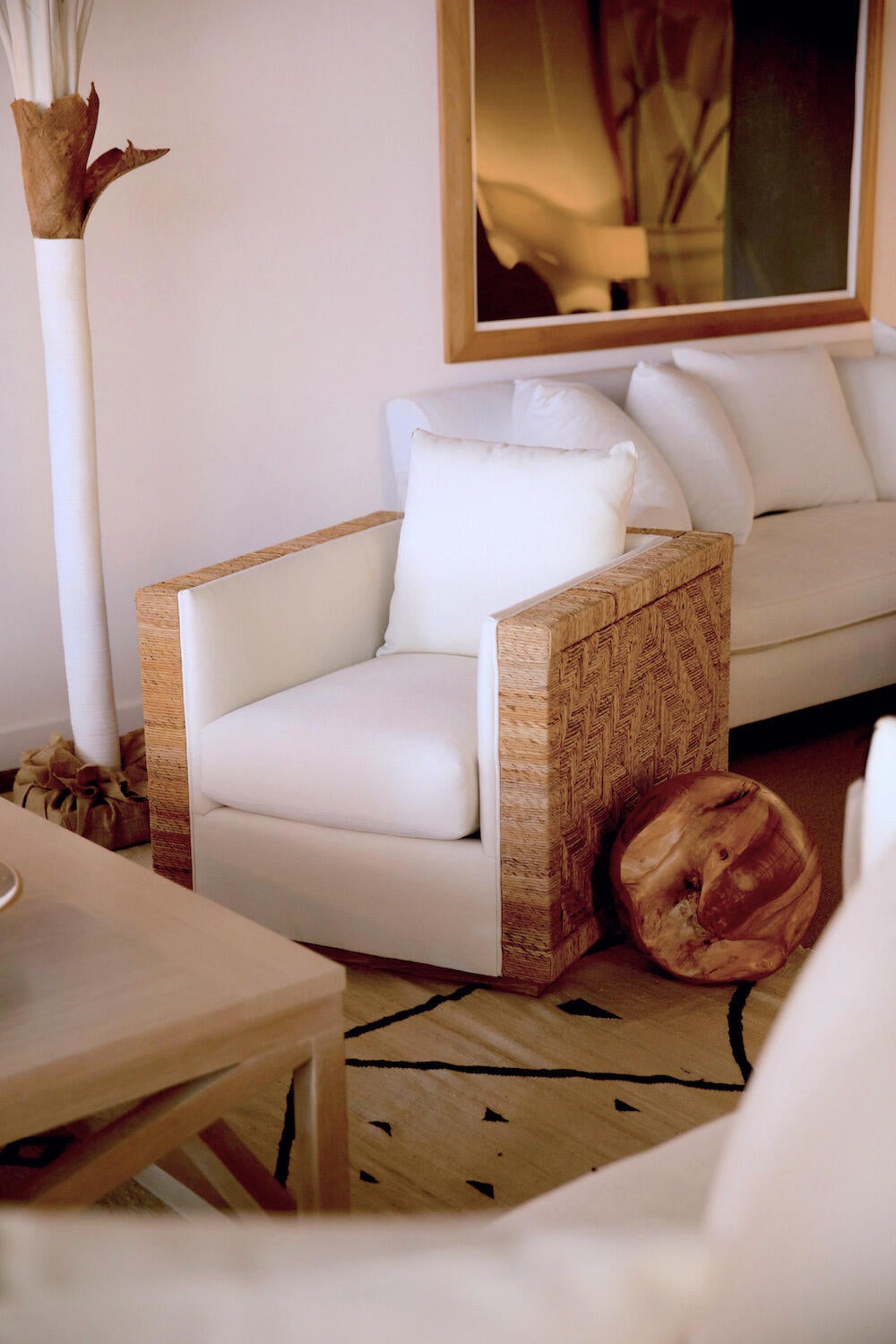 Inside EJ Victor, Alfredo Paredes walked us through his newly expanded namesake collection. An ode to his Cuban roots, debuts include Sevilla, a woven belting leather ottoman that doubles as a coffee table and a club chair with a lozenge-patterned rattan frame named San Miguel.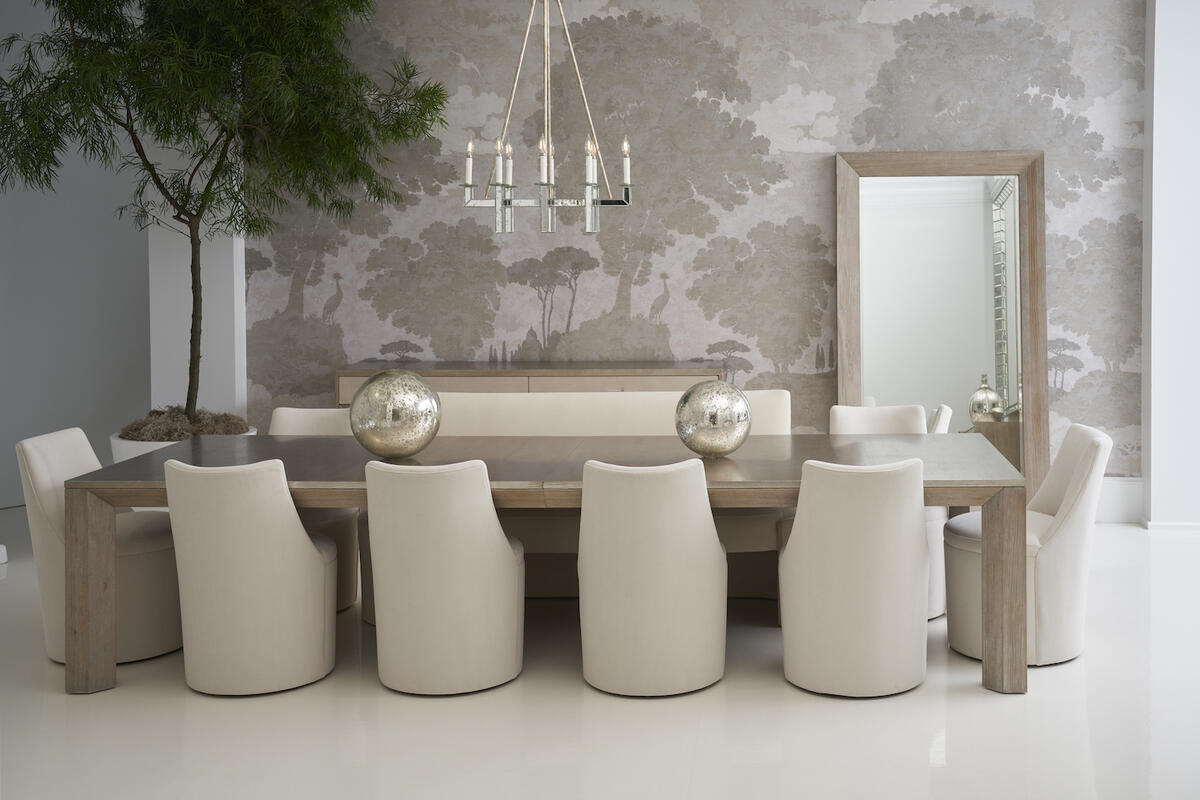 Caracole's latest launches are brimming with exquisite details. In addition to introductions such as a shimmering solid wood dining table and gently angled double barrel dining chairs, standouts include a vanity desk with scalloped edges and a blush-hued velvet bench lined in a long row of pink fringe.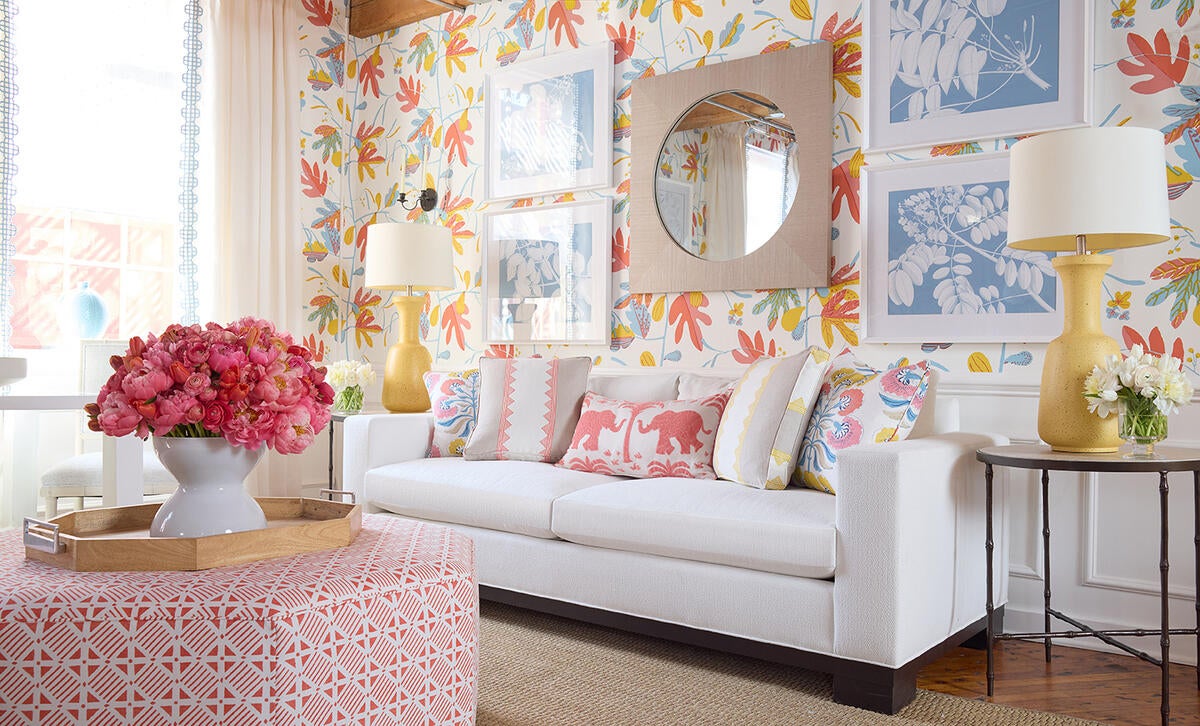 Thibaut's showcase at Market Square was more energizing than our morning cups of Café Bustelo. (Pro tip: BYO percolator.) Not only was the polychromatic, Matisse Leaf–swathed front room sprightly enough to keep us inspired for the rest of day, the flower-filled bedroom scene—enveloped in the brand's soon-to-be-launched Dahlia wallpaper and fabric by Anna French—also took our breath away.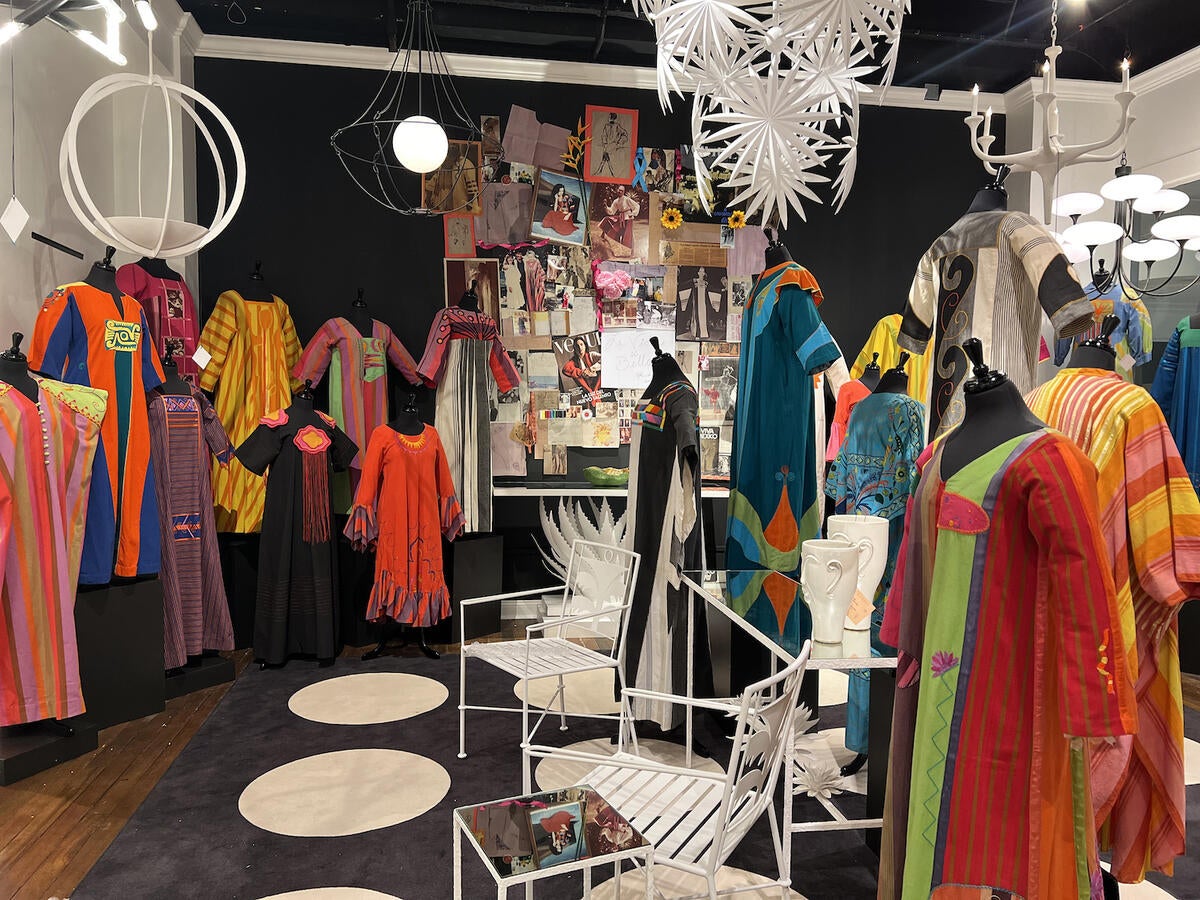 Courtesy of Currey & Company
After a long day of walking, Marjorie Skouras's "La Vida Es Bella" exhibit at Currey & Company perked us up immediamente. The installation featured two dozen colorful vintage Mexican dresses from the 1960s and '70s, showcased alongside 12 Yucatán-inspired additions to the designer's collection for the brand, including a console table with an agave-shaped base and a wrought iron armchair with a palm leaf backrest motif.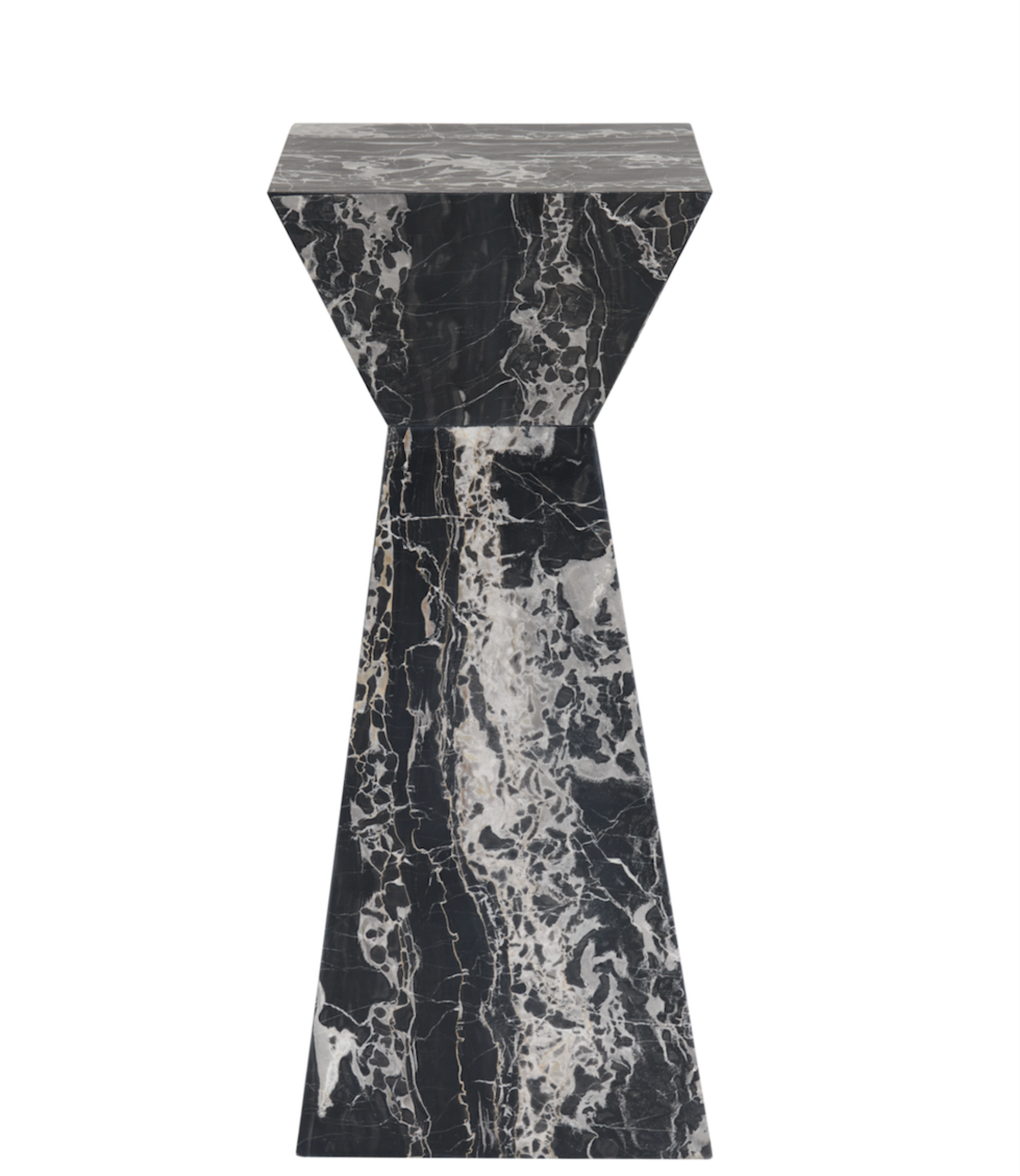 Universal Furniture unveiled a neoclassical collection called Coalesce. A tribute to traditional European designs, the series offers more than 40 architectural pieces, such as a paneled bed with an inset upholstered headboard and footboard, a zigzag metal-framed étagère, and a sculptural Portero marble side table gleaming with golden-white veining.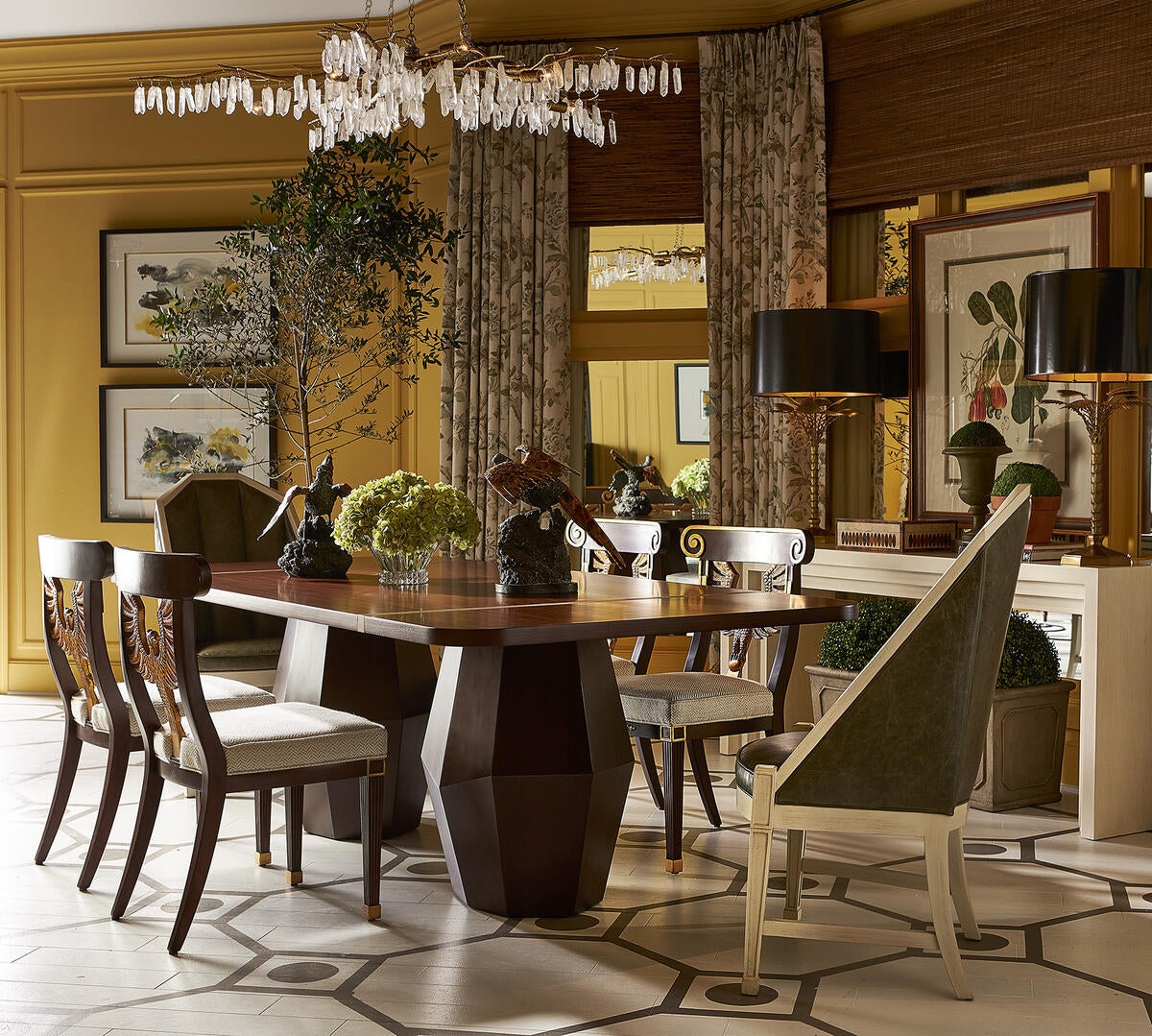 Courtesy of Maitland-Smith
Corey Damen Jenkins introduced an assortment of striking new designs into his ongoing collaboration with Maitland-Smith. Drawing from the New York designer's personal archive of sketches, the additions include an eye-catching dining table with faceted pedestal-style legs and a glossy leather lounge chair with luxe nailhead trim.
As always, Eichholtz was a wonderland of exuberant of-the-moment designs. The centerpiece of the showroom was the Residenza, a free-form, river-stone-inspired sectional sofa with moveable backrests that offered more than enough room for all of us to kick up our feet for a momentary respite.
Courtesy of Hooker Furniture
Hooker Furniture showed off its recently launched M brand inside an expansive new showroom. The line offers an array of markedly modern furniture designs bearing warm earth tones and simple lines, such as a low-lying olive green leather-upholstered sofa called Raine and a mahogany wood coffee table with a curved trestle base named Harlow.
Courtesy of Sherrill Furniture
Nellie Jane Howard Ossi's capsule collection for Mr. & Mrs. Howard at Sherrill Furniture is a grandmillennial's dream. Though the sweetly scalloped Angie slipper chair first captured our imaginations, it was the Elizabeth sofa—complete with romantic scrolled arms and a ruffly box pleated skirt—that made us late to our next appointment.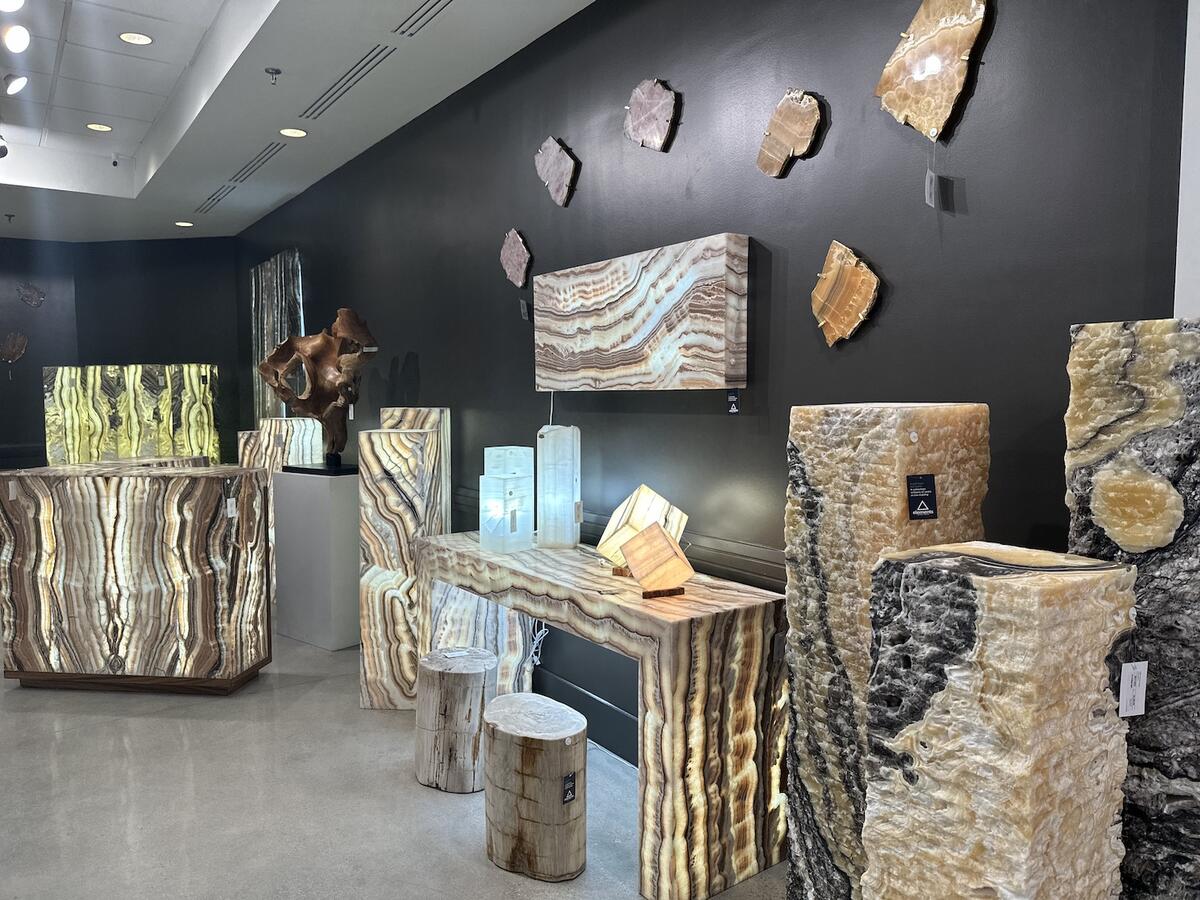 Courtesy of Phillips Collection
The new Phillips Collection showroom on South Main Street was every bit as wild and whimsical as we'd expected. Brimming with characterful accent pieces ranging from chairs crafted from seat belt straps to clover-shaped stone coffee tables, our favorite display featured the Luminaries line, a selection of LED-powered furnishings and light fixtures constructed of natural stone that cast a cool translucent glow.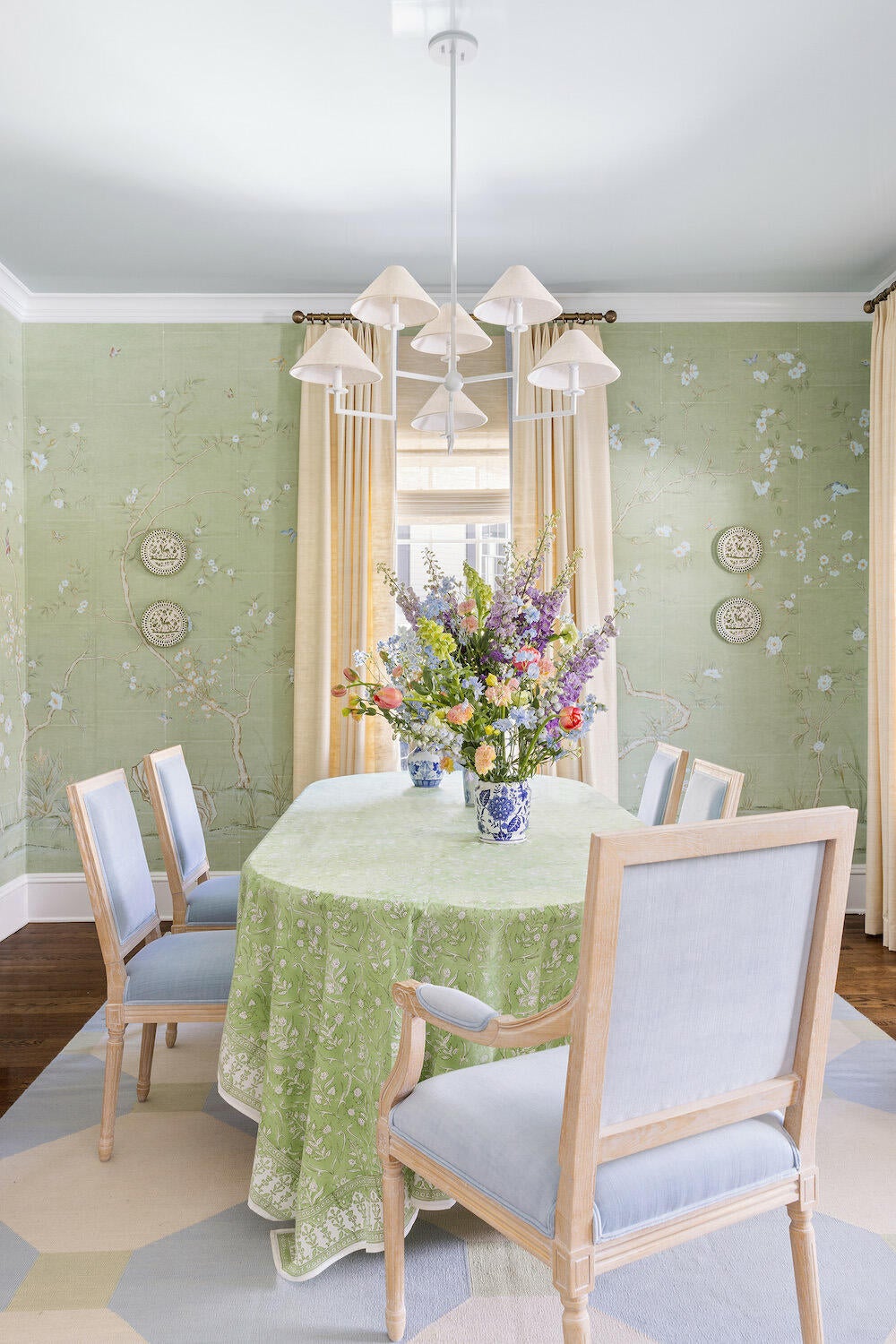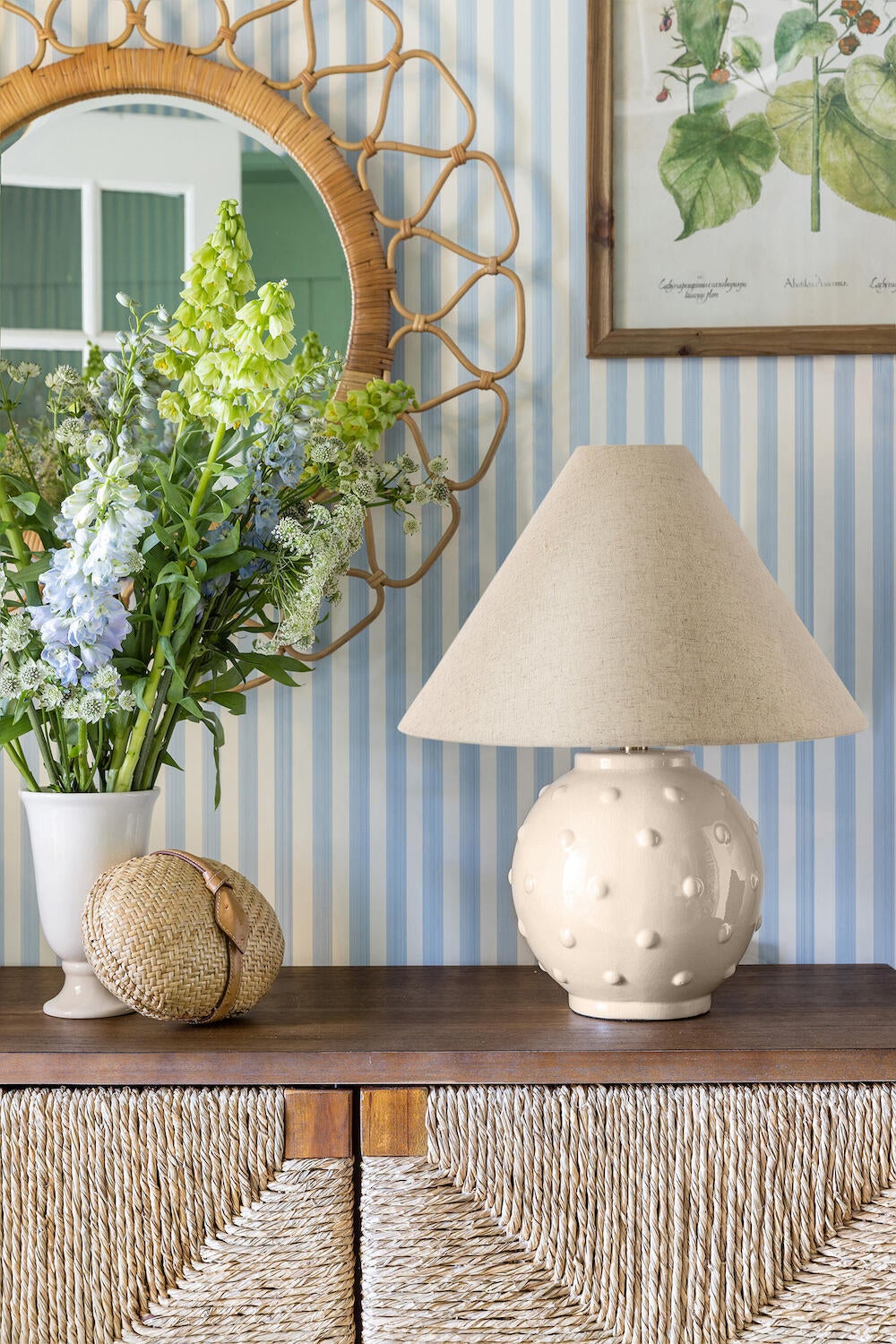 Ariel Okin's collaboration with Mitzi was on full display at Hudson Valley Lighting Group. The collection translates the New York designer's modern traditionalist aesthetic into more than two dozen delightful lighting designs, such as Annabelle, a ceramic table lamp adorned in raised polka dots, and Banyan, a clean-lined chandelier with natural linen shades.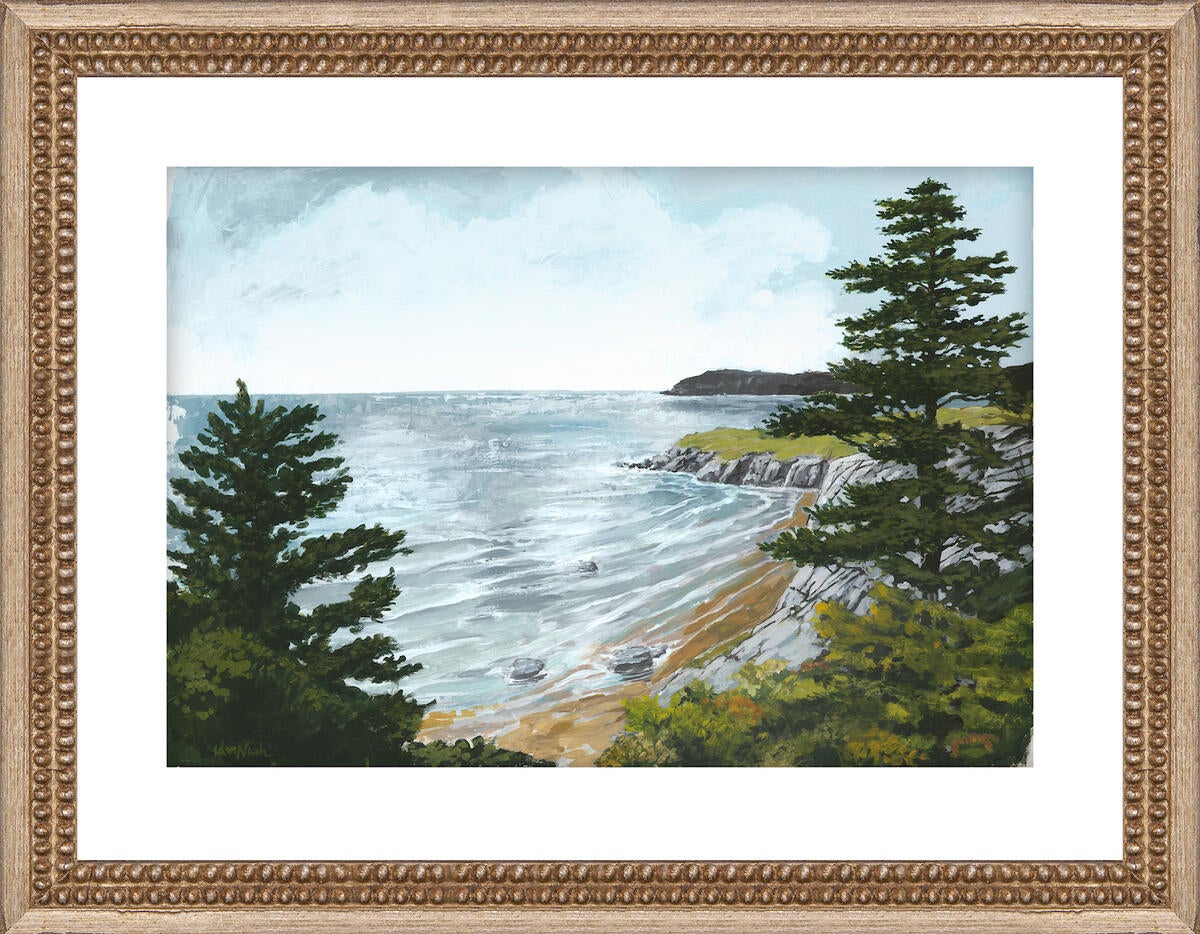 Pure Salt Interiors's collab with Leftbank Art is a love song to the great outdoors. The collection offers a mix of photography, still lifes and landscape prints selected by the Newport Beach, California–based studio, including the impressionistic Waves of the Coast and a dreamy, pine-tree-filled seaside scene called A Verdant Coast.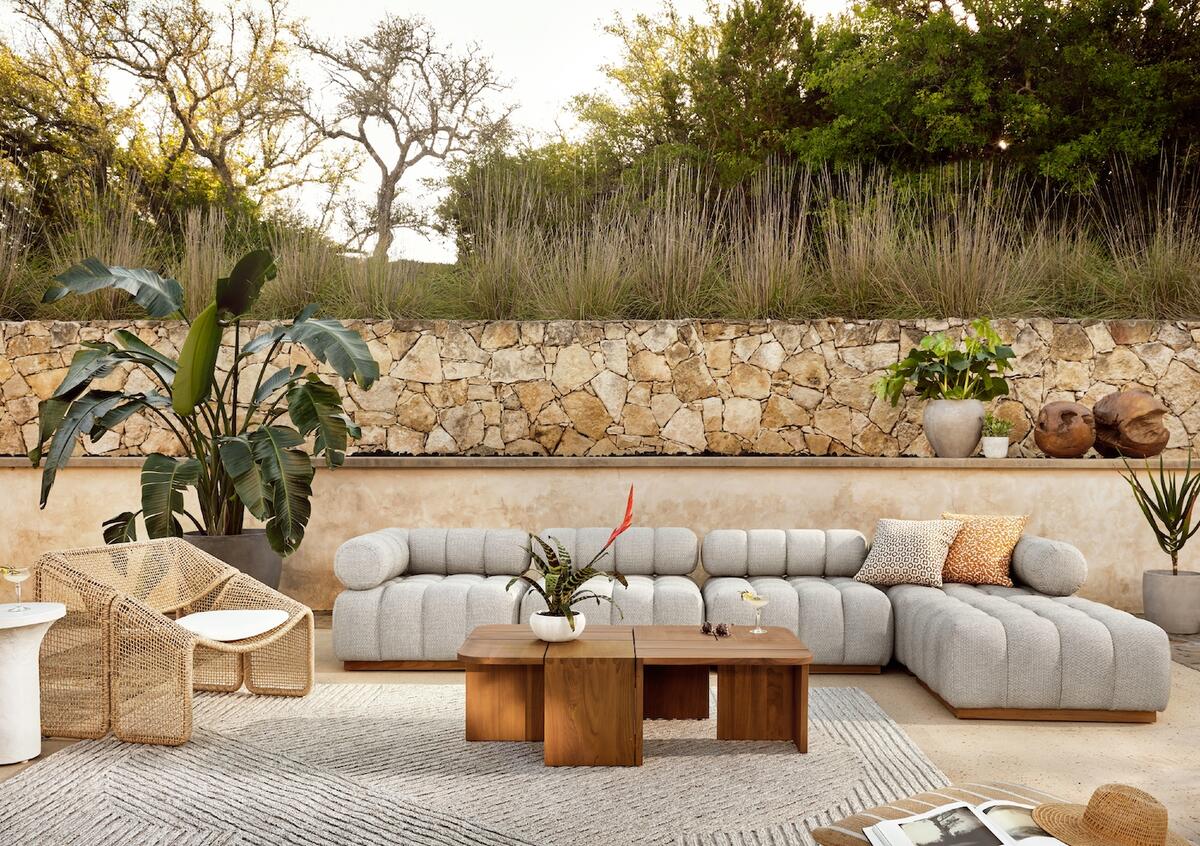 Four Hands's modernist Roma Outdoor sectional stopped us straight in our tracks. Not only does the voluminous (and customizable) design pay homage to midcentury Italian styles, it also boasts a weather-safe teakwood plinth base and channel-tufted waterproof upholstery to boot.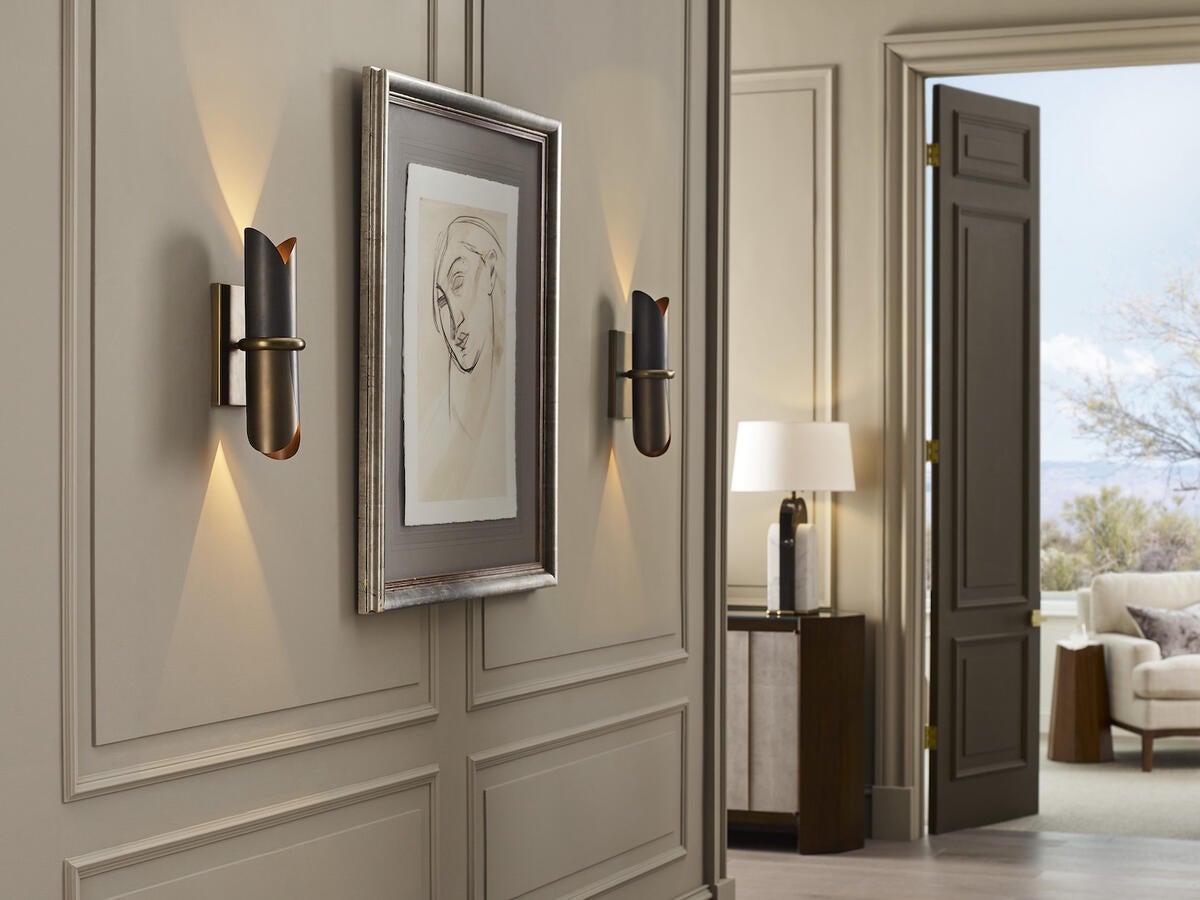 At 200 N. Hamilton, Denise McGaha talked us through her material-driven designs for Wildwood. The 30-piece collection features lighting, furniture and decor pieces punctuated by strong silhouettes and natural elements, including an art deco accent table composed of intersecting marble and oakwood arches, as well as cylindrical brass-and-bronze sconces.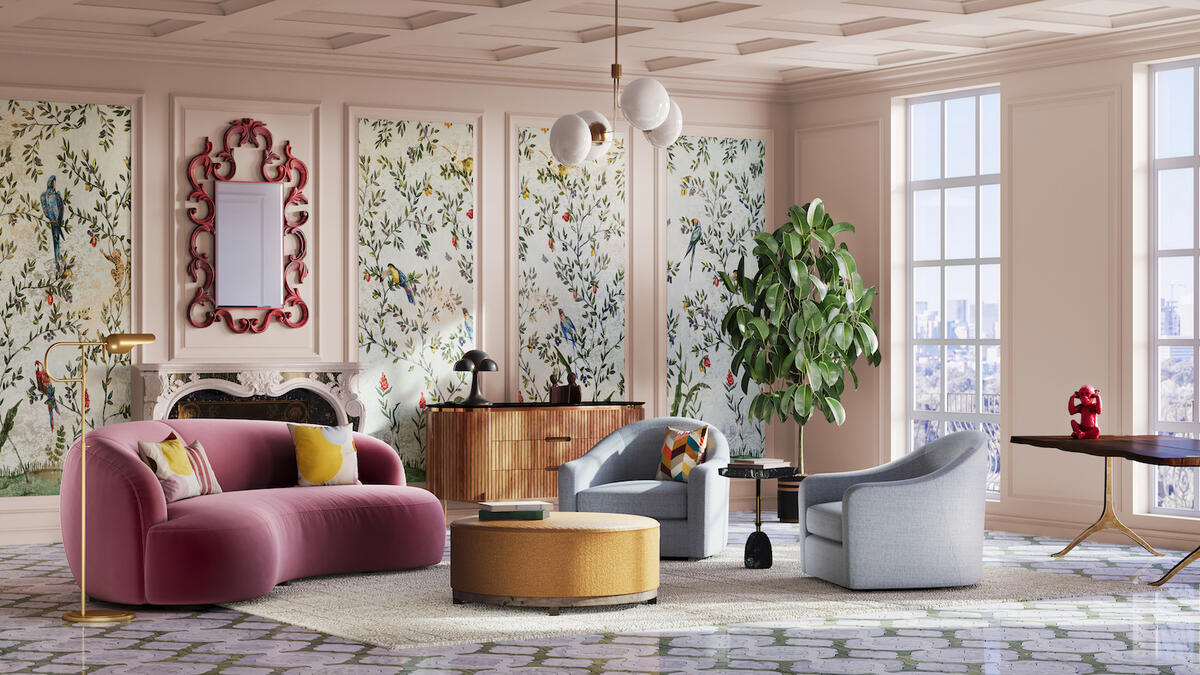 Odette's new showroom on Centennial Street was a sight for sore eyes. The expansive space was sprinkled with insanely cool designs from the Birmingham, Alabama–based brand's signature collection—including the sinuous, kidney-bean-shaped Sophia Curved sofa and sleek, swiveling Milo chair—as well as a selection of artworks by artists from Design Supply's gallery and upcycled antique finds.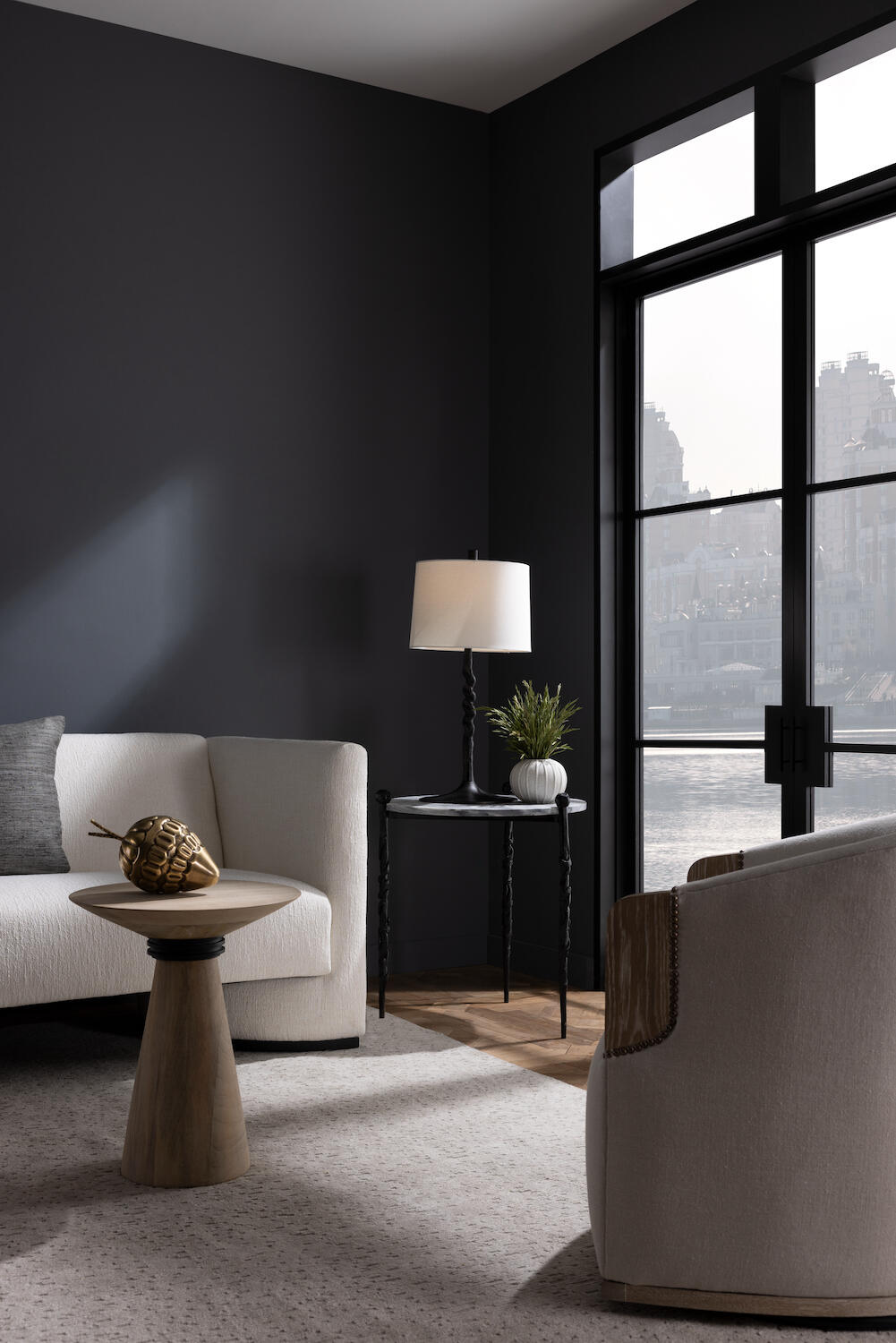 Last but not least was Barry Dixon's latest line for Arteriors, which made us want to break out in song. Inspired by a mosquito that landed on him while taking a stroll at his Virginia farm, the series offers 19 delicate yet dynamic designs, including the daintily legged Blackthorn end table and the gold ombre glass Corona sconce.